COUNTLESS days of sibling rivalry have helped Jamaal and Darnell Robateau forge a formidable combination.
The duo starred for Maroochydore Clippers during the opening two rounds of the inaugural Sunshine Coast Basketball League.
Jamaal told sunshinecoastnews.com.au that their battles on the practice court as juniors ultimately created a strong sense of unity and understanding.
"When we were young, we just used to play one-on-one against each other pretty much every day.
"On the school holidays, we'd play one-on-one to 100, so it would take all day and I think we just built that chemistry.
"Once we got a bit older, we played under-21s and under-23s and SBL (Southern Basketball League) together and we always had really successful seasons playing together."
Like this story? Get more just like it direct to your inbox by subscribing to our free daily news feed: Go to SUBSCRIBE at top of this article to register
As juniors, they flourished under their father and respected coach Vern (pictured below) at Maroochydore.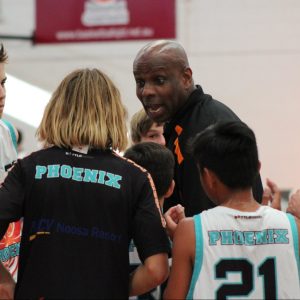 Vern, who fared well at school and college basketball in the United States before playing overseas and becoming a coach, would tell the boys "don't pass up shots".
"I pretty much played all my juniors there (Maroochydore) and we won three championships and we went to nationals," Jamaal said.
Jamaal linked with Northside for a season before playing in the United States with North Idaho College and also Gardner Webb University, North Carolina.
He had a stint as a development player with the Adelaide 36ers in the National Basketball League and he has played for the Sunshine Coast and Rockhampton in the state competition.
Jamaal played for the Sunshine Coast Phoenix this year in the Queensland State League, but is unsure what next year holds.
Darnell, 23, was at Point Loma University, San Diego, but returned to the Sunshine Coast recently after the university season was put on hold.
He could return overseas during the next couple of months, but for now the duo will relish playing in the SCBL.
The nine-round competition, with a final, features two Maroochydore Clippers teams, the Noosa Cyclones and the Caloundra Heat.
"A lot of (good) players have gone back to play for the clubs they kind of grew up with, like me," Jamaal said.
"There are guys who have played NBL1 (state competition) like big Nelson (Kahler) who is playing with Noosa, and the Caloundra boys are playing with Caloundra, so I think it's pretty good.
"The concept's good and I think it's also a good pathway for the younger guys to show their talents to potentially get into the NBL1."
The brothers have been a force in the opening couple of rounds, helping Clippers Purple to wins over Clippers Orange and Noosa.
Jamaal has scored 66 points and Darnell 51, across two games.
Round 3 will be contested at Maroochydore Basketball Stadium on Friday night from 6.30pm.