I needed to find my mojo again. And with only a weekend to spare, I had to find it quickly.
Who knew it would be hiding just up the road in Eumundi, of all places?
And to borrow a line from one of my favourite romantic comedies, Eumundi had me at "hello".
Well, technically "HOLA", which means "hello" in Spanish.
Ah, actually, that's not right either. HOLA Boutique Hotel really stands for House Of Local Art), smack bang in the heart of the Noosa hinterland market town.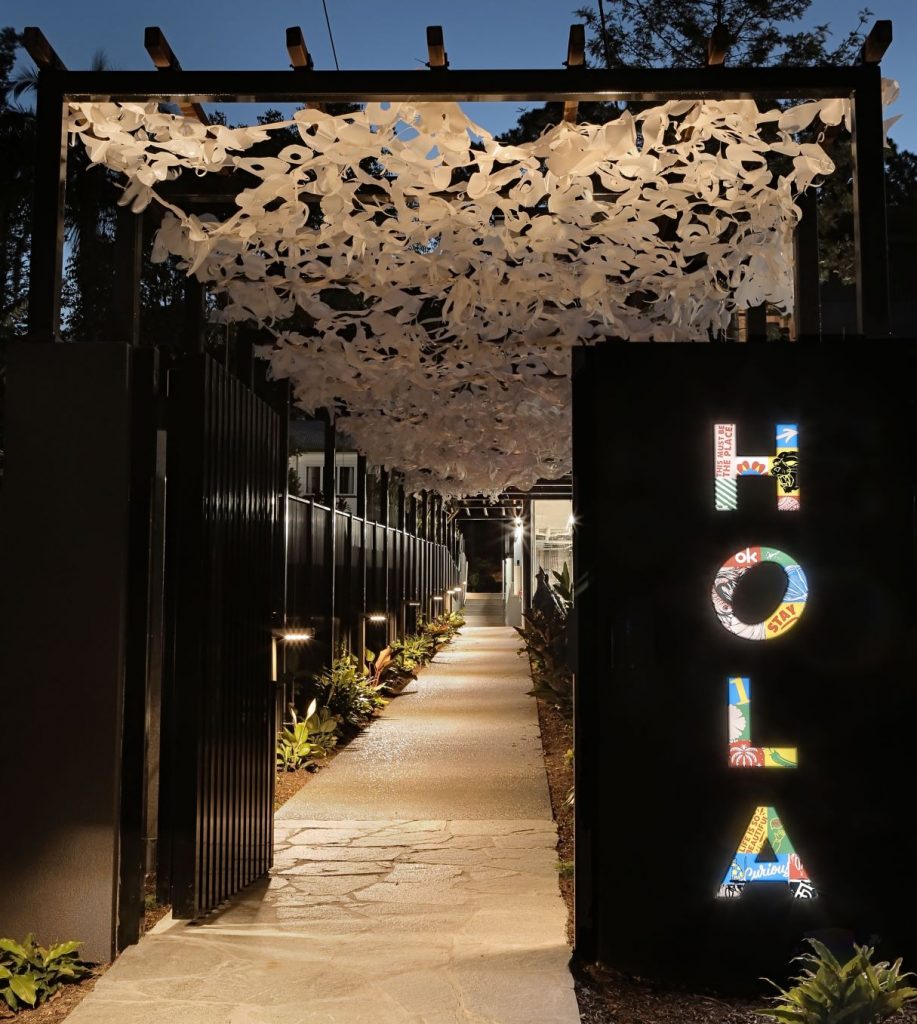 I couldn't pass up the opportunity to, firstly,  simply relax, secondly, be entertained without much effort, and thirdly, rediscover the quaint country hospitality and friendliness Eumundi is known for and which I had only recently encountered up close on a night out for a rock gig at The Imperial Hotel.
I forgot what I'd been missing.
This particular Friday, I found myself stressed out from dealing with a family crisis, driving north up the Bruce Highway in pouring rain with more ominous, foreboding clouds ahead.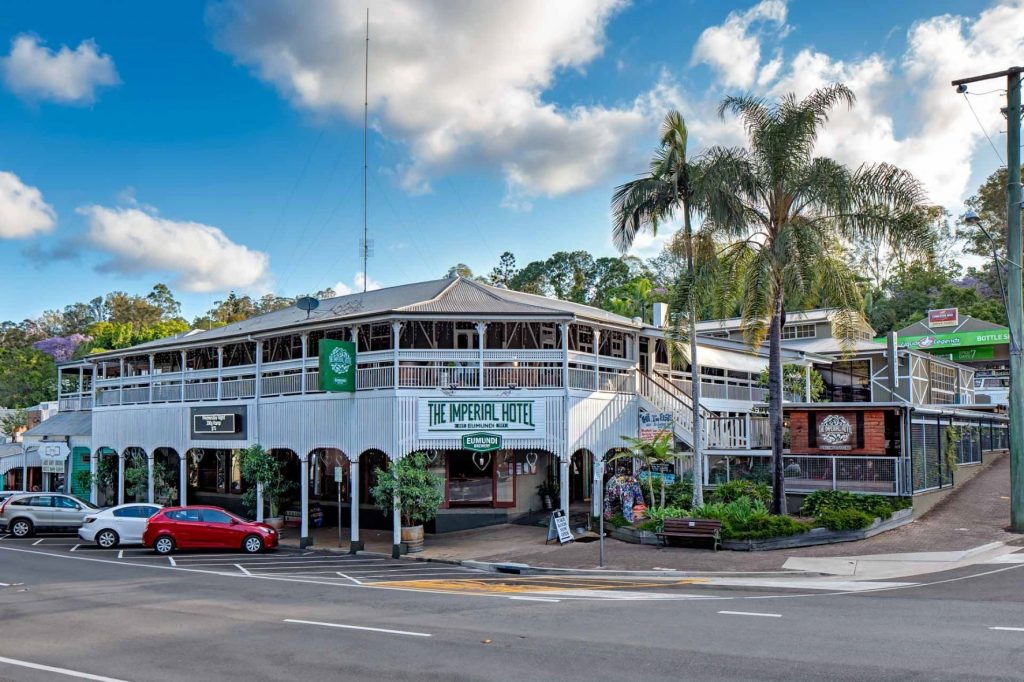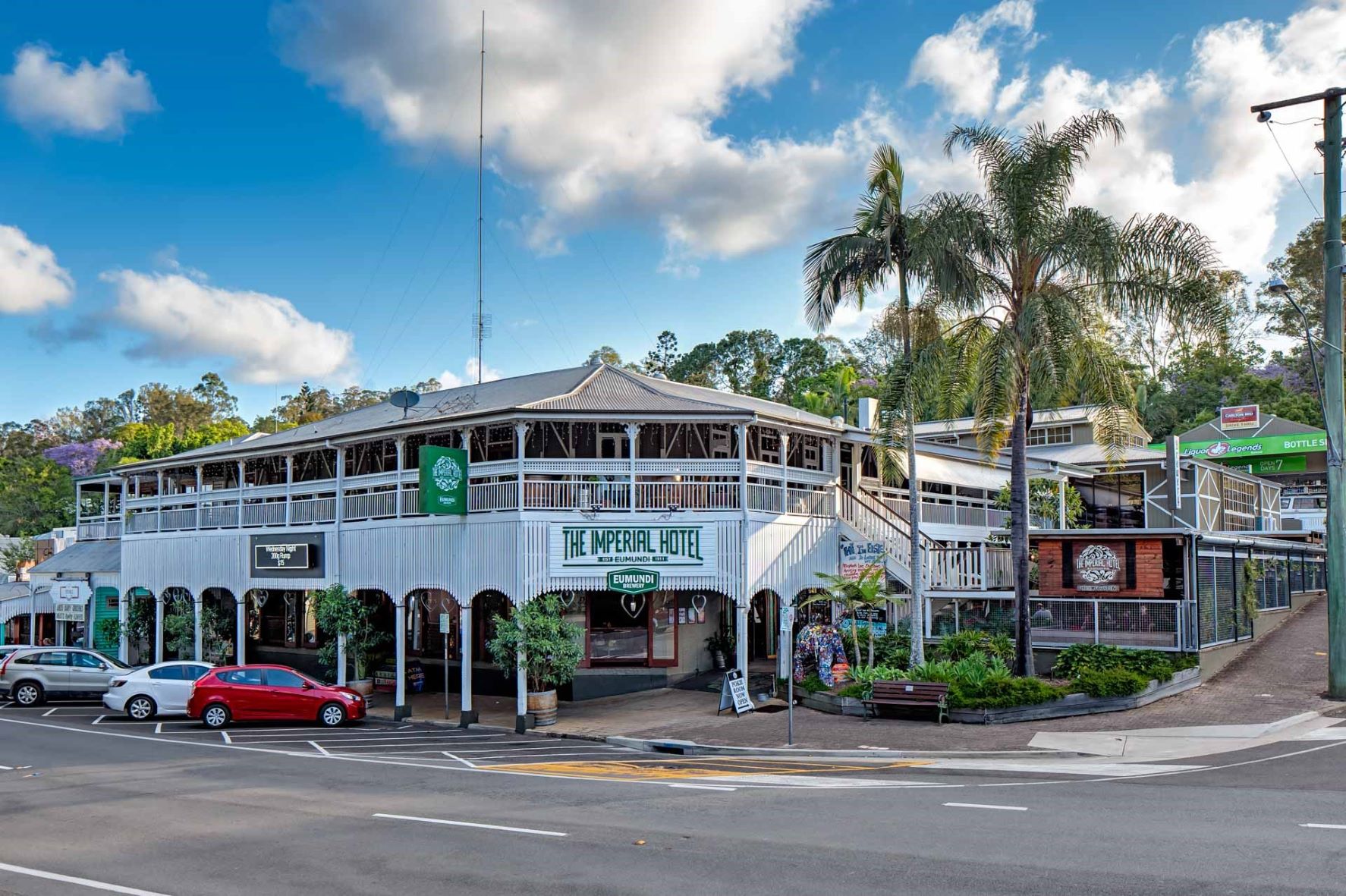 But Eumundi beckoned as a little ray of sunshine emerging just past the turn-off on to the Memorial Drive main street.
All I wanted to do was park up the car for the whole weekend, switch off the mobile phones and social media, flop on a comfortable bed AND JUST BREATHE for a few hours.
Sure, I was still in my own backyard on the Coast but Eumundi is a world away from the Coast and the fresh country air can soothe away just about any troubles.
After a late-lunch stop at The Bakehouse in the main street for a vegie pastie and curried steak pie, HOLA delivered on a promise to myself of a no-fuss break.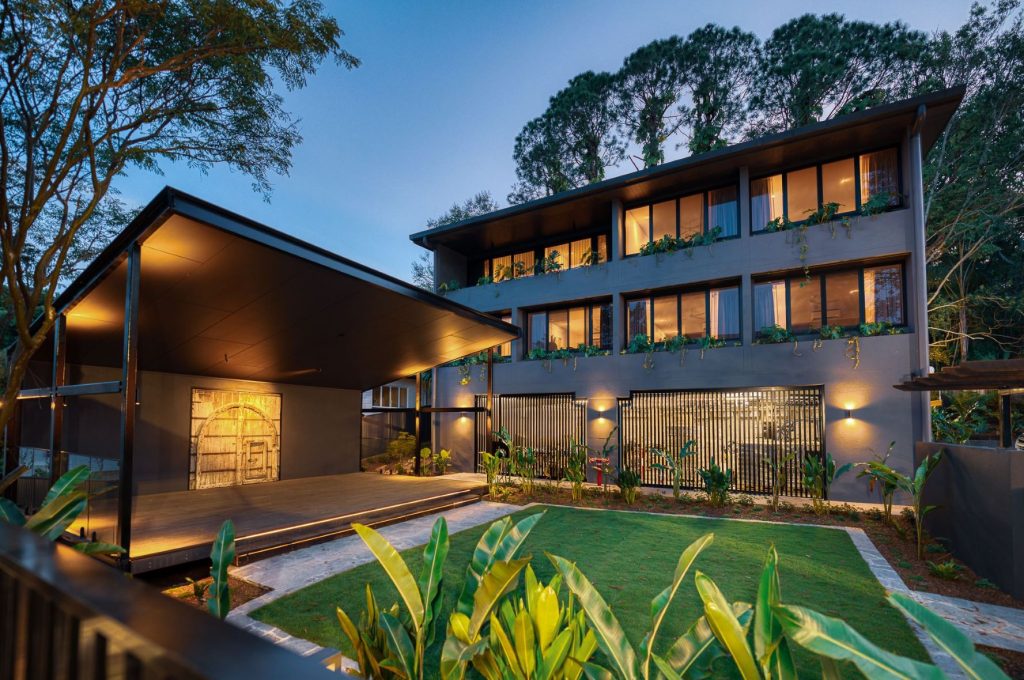 HOLA's two, two-storey buildings have been designed to connect with nature and are set either side of a tropical courtyard and pavilion smack bang in the heart of the town, next door to its parent company The Imperial Hotel, housing Eumundi Distillers and Eumundi Brewery, and right across the road from the world-famous Original Eumundi Markets.
From the pleasant HOLA Lounge check-in (where we took advantage of some local knowledge on the best gin cocktail for later that afternoon), hubbie and I headed up the stairs to the Studio Apartment with Balcony.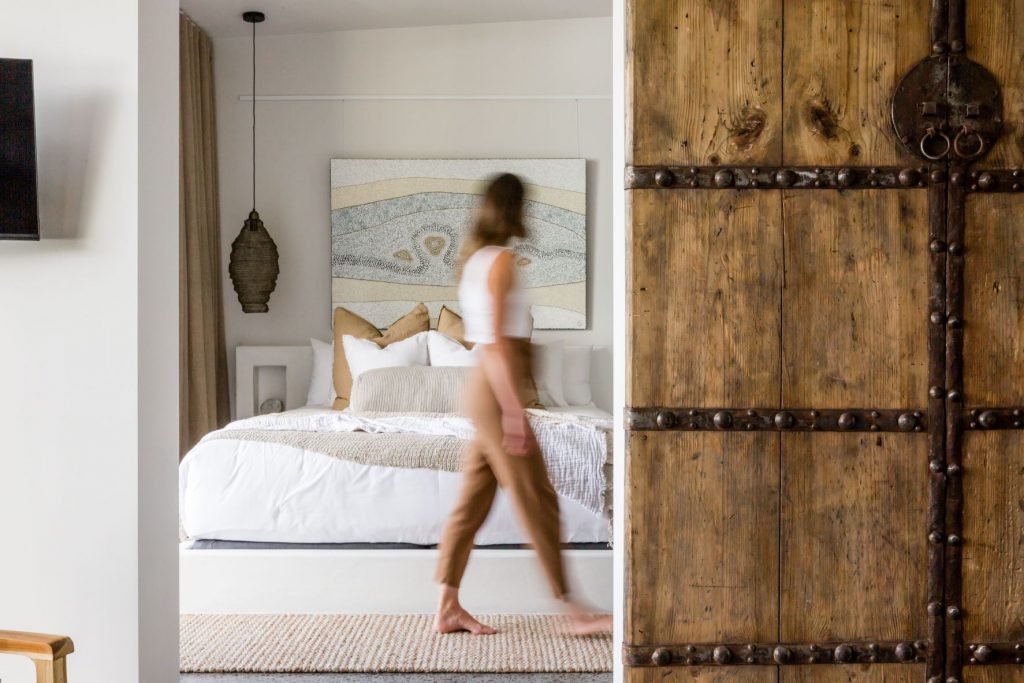 (For even more luxurious accommodation, treat yourself to the HOLA Suite – a haven of relaxation with separate lounge and dining area leading into the bedroom through an artisan barn door, a long balcony and freestanding bath among its features.)
Planter holders designed and made by timber craftsman David Suters greet guests at the keyless entry to each apartment.
But nothing says "welcome" more than a king-size bed offering a view while your head is still on the pillow.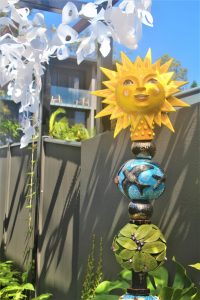 Add to this an overhead fan coping admirably with the humid day outside (with air-conditioner remote control at the ready, just in case), rainhead shower and free alcoholic and non-alcoholic beverages in the bar fridge as a "thank you" for your booking and I was in pig heaven, as they say in the country and further afield.
The "Cast Away"-style lampshades over the pendant lights hanging from the ceiling throw mesmerising patterns on the opposite wall around the smart TV to calm and soothe.
And the view of the passing procession of cars and people on the main street comes courtesy of comfy chairs on the undercover balcony.
Once I'd "regrouped" sufficiently, I could actually take note of what the letters in HOLA mean in a creative sense.
HOLA is as much an art gallery as it is a hotel.
The 15 contemporary chic rooms boast their own individual collections of local art.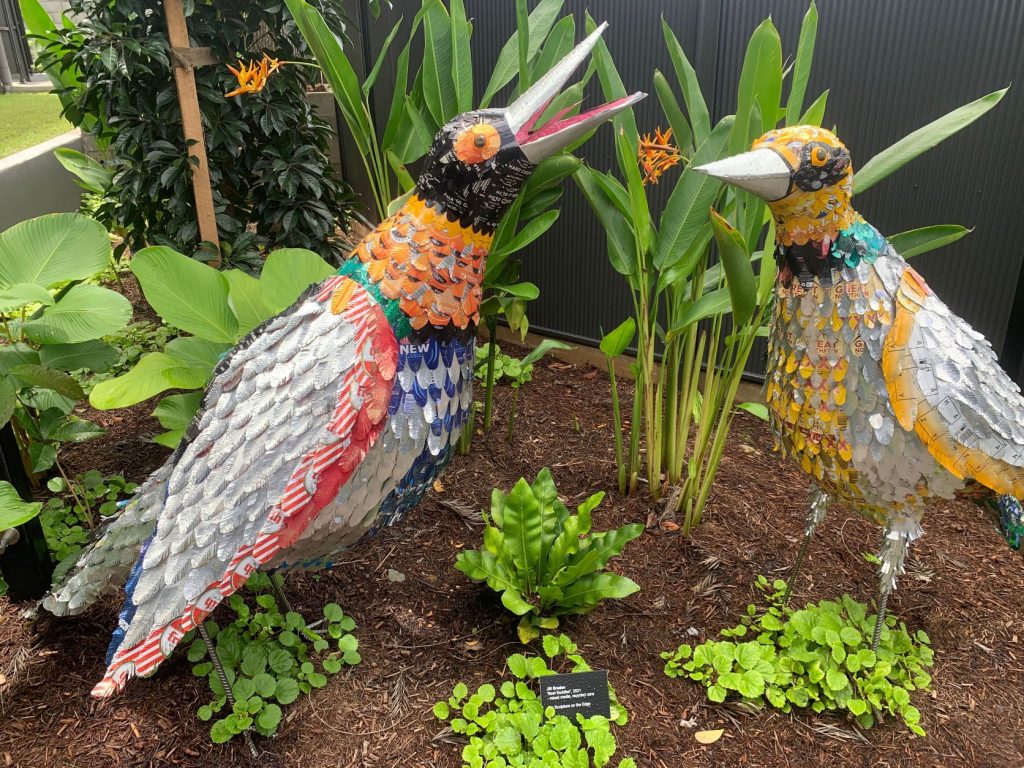 In total, 45 original artworks on the walls, more than 100 ceramic pieces on bedside tables, in wall units and bathroom, plus 12 impressive sculptures in the grounds and gardens.
HOLA's artistic bent translates into the quirky sculptures by Cooroibah artist Sophy Blake you see it in the landscaped gardens (my fave is the two colourful birds made from carefully cut beer cans in the entrance walkway) and the large white handmade basins by Andrea Borelli in the ensuite.
From eye-catching angels by ceramicist Jenny McElhinney to "do not disturb" signs by multimedia artist Rene McGovern and Suters' sturdy timber handcrafted chair that is more comfortable than it looks, curiosities are everywhere.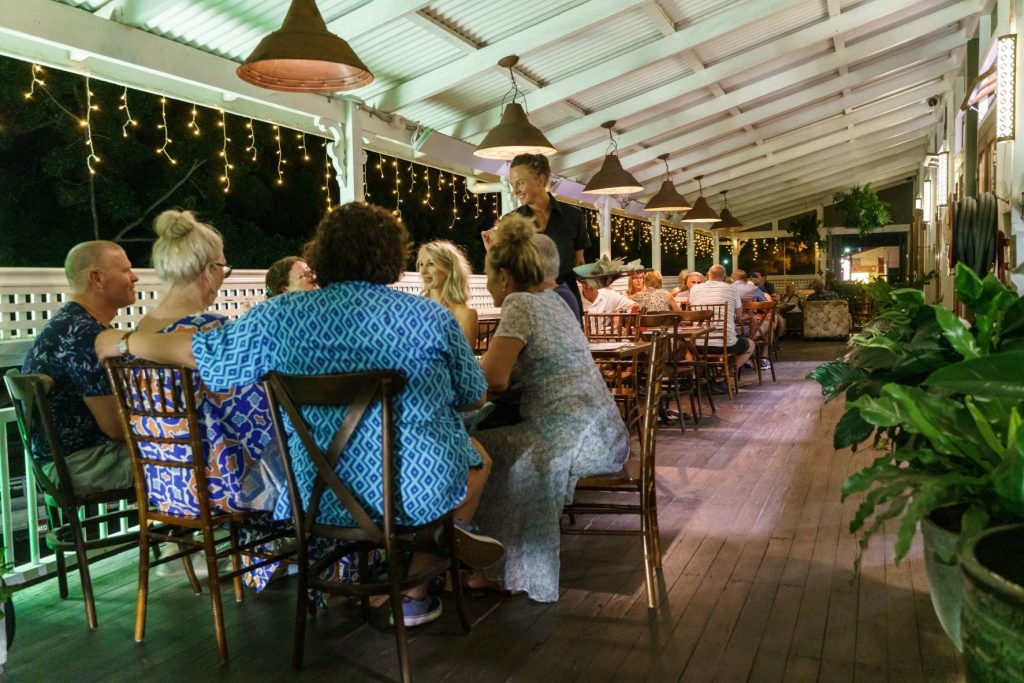 Of course, the focal point of our room is Latvian-born and Maleny-based artist Laura Vecmane's painting showcased behind the bed which I first mistakenly thought to be an Indigenous work.
The Bush to Bay installation at the Memorial Drive entrance to HOLA is a 30m x 3m canopy of hand-cut recycled polyethylene that acts as a functional shade but also casts beautiful shapes that dance in the breeze on to the walkway below.
The HOLA directory in each apartment details the pieces, the artists and their backgrounds.
For bookings and further information, visit the website.
But my weekend life reset was only just beginning …
The hub of town life
They call it the "centrepiece of Eumundi's history".
Officially opened on November 15, 1912, the Queensland Heritage-Listed School of Arts – perched atop the main street of Memorial Drive – is still a focal point of life in the town, 110 years later.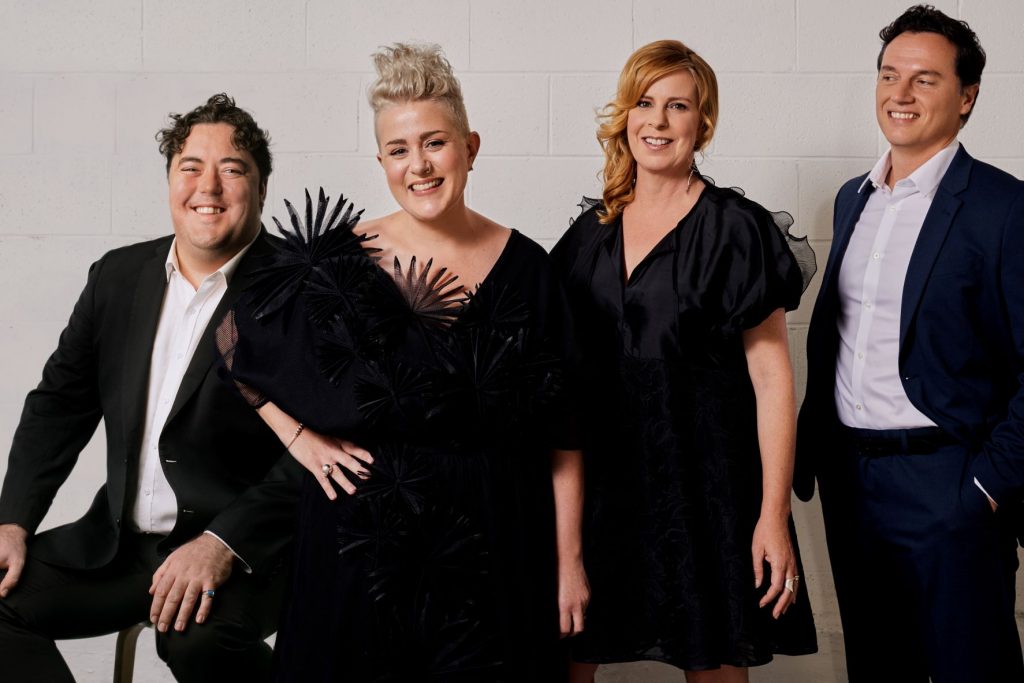 A recent a cappella concert by Australian vocal ensemble, Ave, featuring local girl and five-times ARIA Award-winning artist Katie Noonan (soprano) as part of the Tumbling Like Stars national tour, showcased the hall in all its evening glory.
The four-part harmonies of the quartet – also featuring Fiona Campbell (mezzo soprano), Andrew Goodwin (tenor) and Andrew O'Connor (bass baritone) – gave audience members goosebumps and was made all the more special in the convivial country atmosphere.
The surprising acoustics of the humble hall only served to heighten the mesmerising performance. We could close our eyes and soar to the heavens with angelic voices one moment, dive back down to the depths of an underground cave where monks sing baroque hymns another, and have rousing poems set to humorously whimsical melodies sprinkled elsewhere.
The friendliness of the volunteers serving drinks at the community-run hall added extra sparkle to this state treasure.
Bask in foodie heaven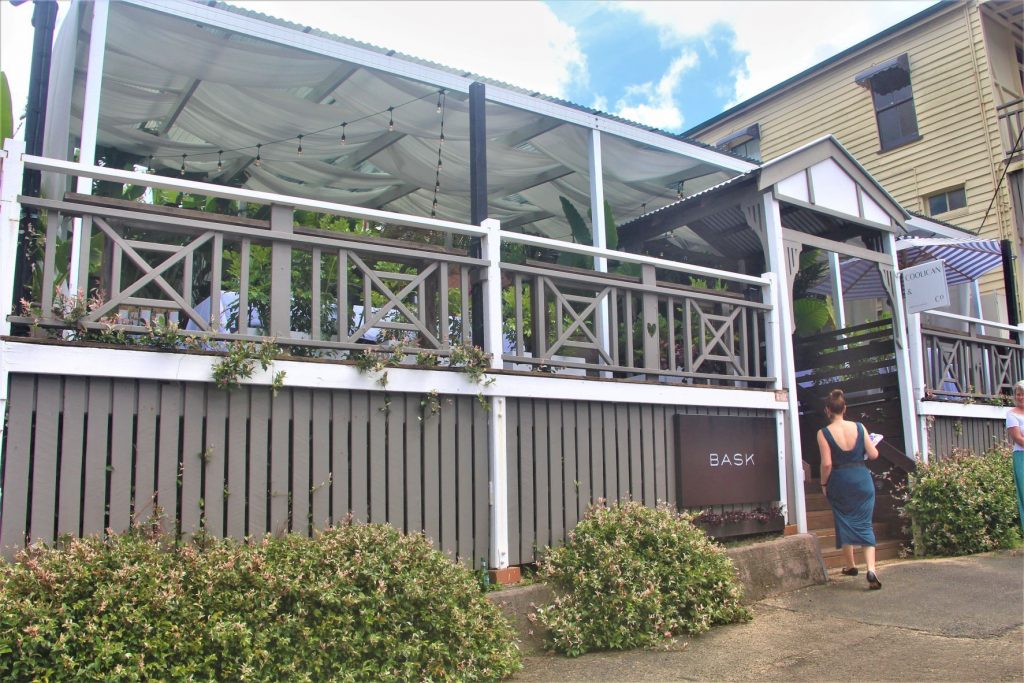 It came highly recommended, but the Saturday Long Lunch at Bask goes above and beyond expectations of an afternoon indulgence in fine wine and multiple courses.
White tablecloths, hand-thrown pottery dinnerware and rustic décor gracing long festive groups or intimate tables for two create a casual yet sophisticated ambience on the terraced veranda of the Old Bakery building.
Bask would be a winner anywhere in the world but is fast becoming another of Eumundi's claims to fame.
Long before the first bite, the carefully curated seasonal menu starts the mouth watering with dishes explained under the headings of "Tempt, Taste, Savour and Linger".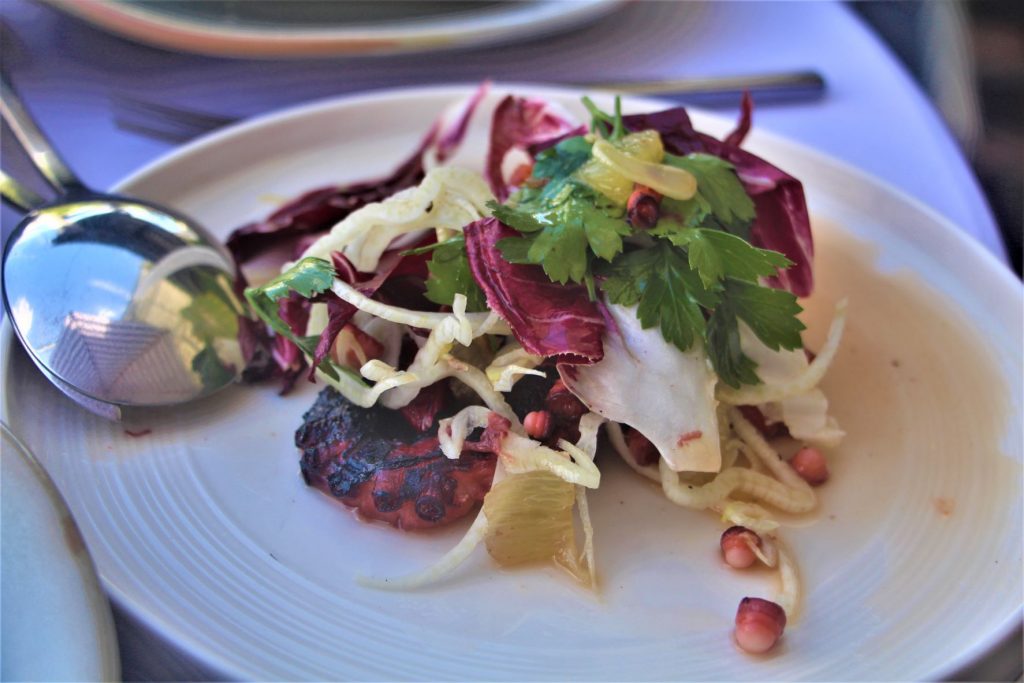 The delicate flavours are so well-matched – testament to chef Jack Madden's skills – and come together in a visual artwork on the plate.
The house-baked country loaf with roast fennel, whipped almond cream and truffle is so divine that the table next to us asks for an extra piece of bread to wipe up leftovers on the sides!
The entrée itself is a mini tour through Europe: sweetcorn and smoked trout tart followed by Bask's signature dish: chargrilled octopus, limoncello, fennel and pepper with a side dish of local figs with buffalo mozzarella, local honey and serrano (like a Spanish version of prosciutto).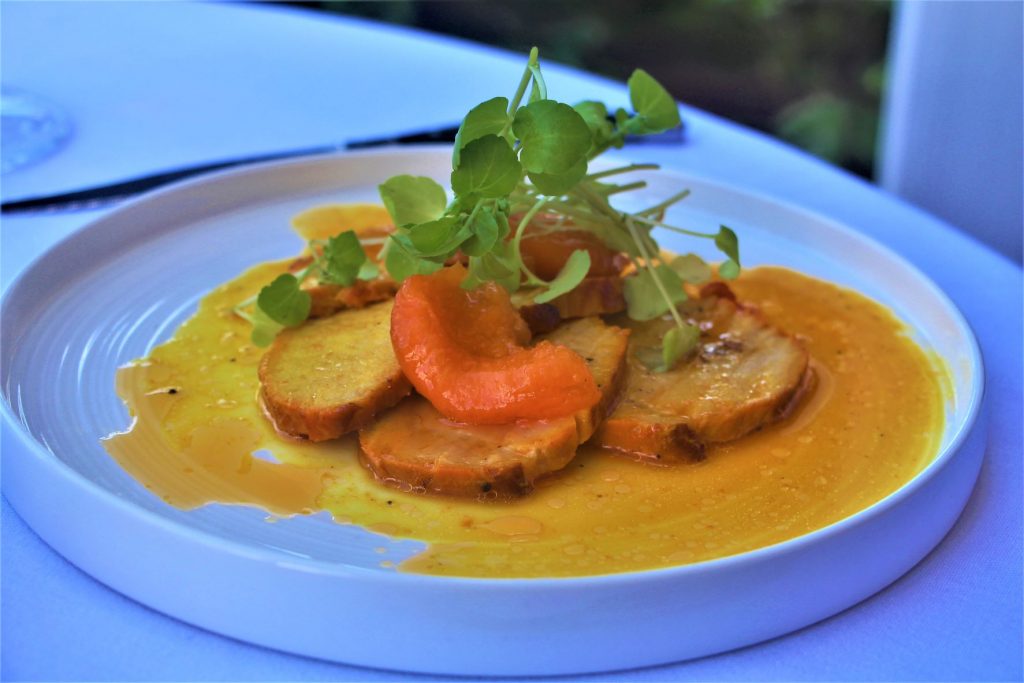 For the main attraction, the roasted pork loin is teamed with saffron confit, roasted apricot and macadamia nut salsa (a generous slice of kingfish is substituted for my pescatarian dietary request on booking).
Two side dishes – Gympie green beans, salted zucchini and goats cheese, as well as potato Bravas and ricotta salata –  just about fill my appetite quota.
But this is a lazy long lunch, remember?
So that means plenty of time to try that French Provence rose I have my eye on and chuckle at motorists attempting to reverse park in the on-street car spaces.
By the time the olive oil cake with pear caramel and black plum arrives, I know I need no dinner tonight.
We remain relaxing and sipping our wine as chef Jack steps away from his one-man-band kitchen (yes, he even acts as dish pig) to speak with his guests at each table.
The former Brisbane boy seems to have "come of age" in his own restaurant after 18 years' experience as a chef, including Noosa establishment Bistro C, where he first met and worked with partner Jess Coolican, the United Kingdom (notably Edinburgh Castle) and eight years in some of Melbourne's best Asian and seafood restaurants.
With their two daughters, Jack and Jess arrived on the Sunshine Coast just eight months before COVID-19 hit, with Jack returning to Noosa to work in the kitchen at Sails restaurant on the edge of the white sands of Main Beach.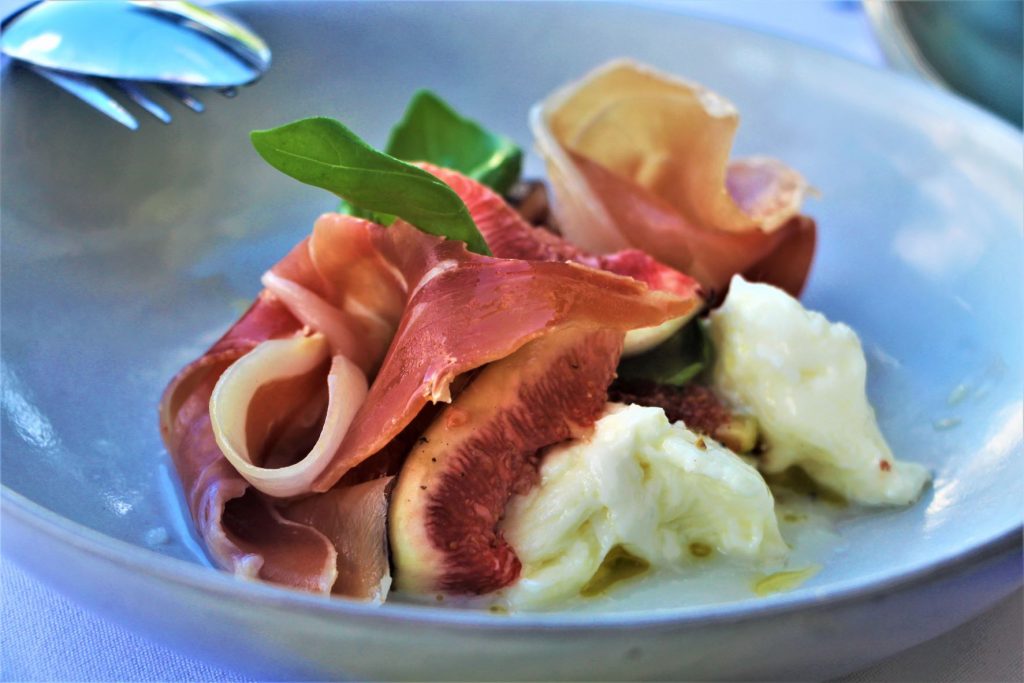 Now king of his own domain (and with Jess basing her own successful design studio Coolican & Co in the same space), Jack explains how he's trying to create a true farm-to-plate experience using local produce as much as possible, but also drawing on the region's ocean highlights – all with a Mediterranean influence.
Once we realise the "serrano" in our entrée comes from the Sierra Mountains – the backdrop to the stunningly beautiful Alhambra palace and fortress complex in Granada in Spain's Andalusia, the conversation takes a turn towards memories we all share of driving through Spain in vans.
Certainly an afternoon to remember.
Bask is open Thursday evenings, Fridays and Saturday, with Lng Lunches held every Saturday from 12.30pm.
The restaurant is open for a la carte dining and "Wine and Bites" on Friday afternoons and evenings.
Refreshing gin cocktail, anyone?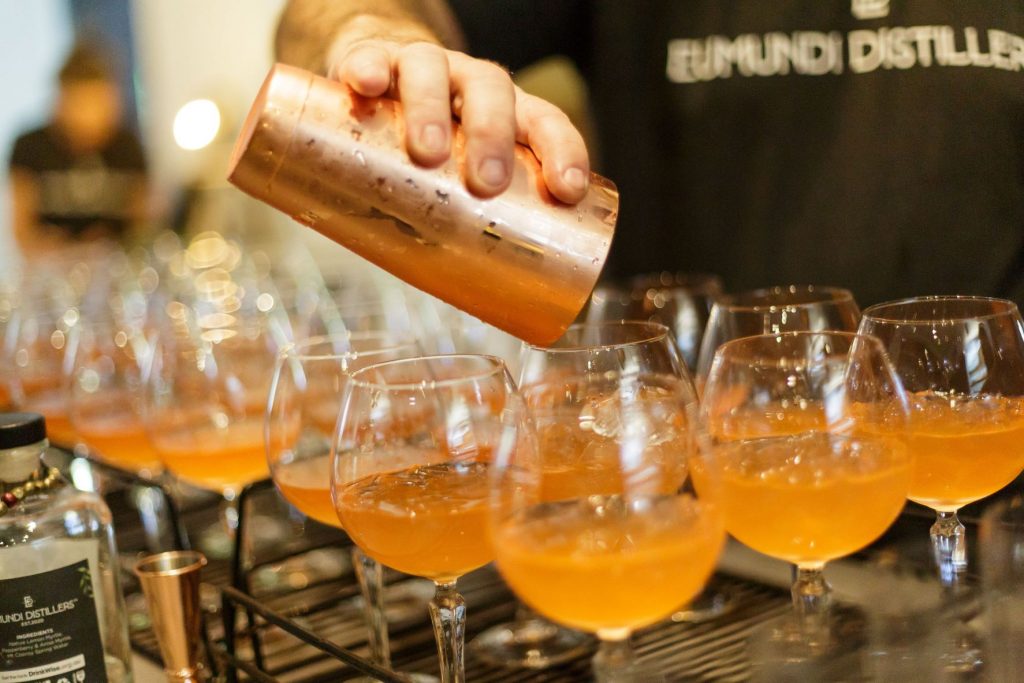 You may never return to traditional late-afternoon gin and tonics after you've tasted some of the cocktails at boutique Eumundi Distillers.
The Kaffir Lime Ginger Gin cocktail (Folktale Eumundi Kaffir Lime Gin with fresh mint and Eumundi Ginger Beer) is a must-do for drink o'clock at the new distillery based in The Imperial Hotel Eumundi.
And after two or three across a very relaxed afternoon, chatting with bartenders and locals on the Tasting Bar stools, the new Folktale Gin label has my stamp of approval.
Head distiller Mick Reif's small-batch gins are crafted on-site in a custom-built copper still (an attraction in itself) – an ideal complement to the well-established Eumundi Brewery.
His signature Folktale Eumundi Gin, which has a 43% ABV, combines the finest traditional ingredients (English juniper, English angelica root, coriander seed, lavender flower, cassia bark, cardamom and fresh citrus) with Australian botanicals (native lemon and anise myrtles and pepperberry), as well as Cooroy Mountain spring water.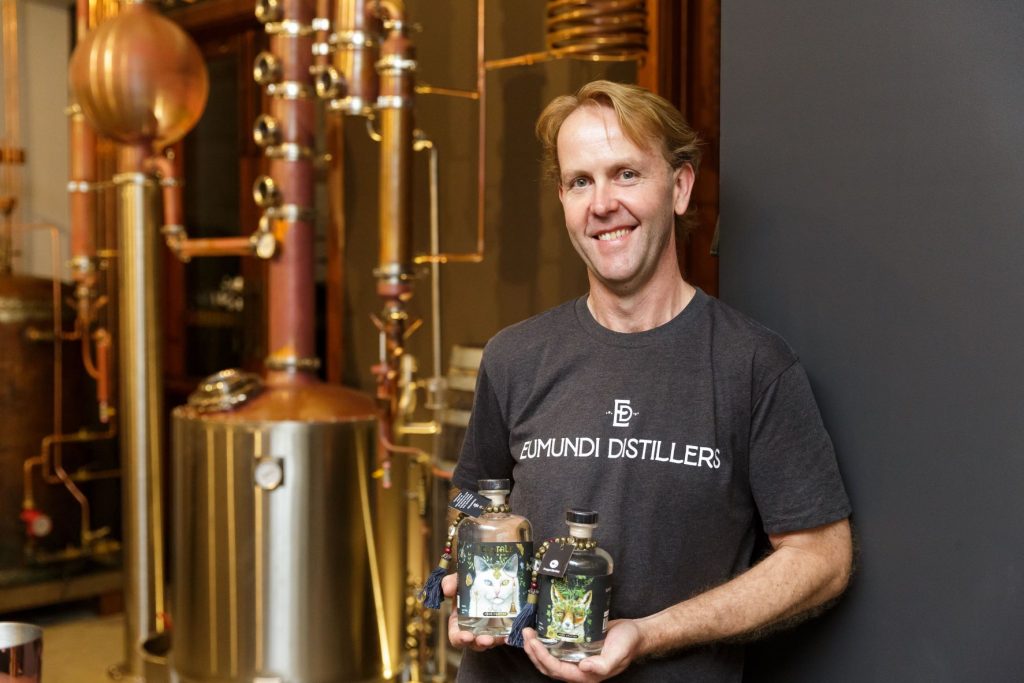 Folktale Gin pledges to support local farmers and growers wherever possible.
And signature product, the Folktale Navy Strength Eumundi Gin, bottled at 57.1% ABV, is another nod to quality locally grown goodness, using fresh ginger, limes and lemon myrtle.
It's certainly worth a trip to Eumundi because, in addition to the signature gins, the distilling team will also be releasing a range of ongoing seasonal varieties – strawberry gin, using fresh Eumundi fruit, to a spicy Tom Yum gin made with local galangal, lemongrass and kaffir lime. But these will only be available at the Tasting Bar.
Always something new for bookworms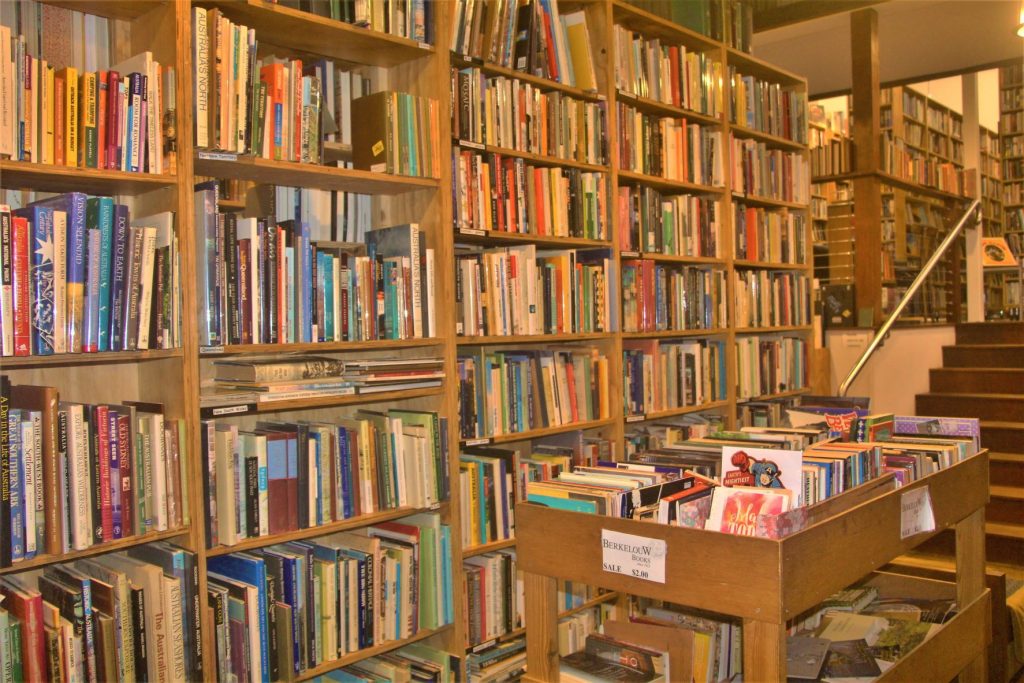 The Berkelouw family first made a name for itself selling books in Rotterdam in The Netherlands in 1812.
The fine tradition has carried on for 210 years and six generations, through the tragedy of war and misadventure, and across the waves to Sydney in 1948 for a fresh start.
Now Berkelouw Book Barn, in the old Trading Post building, has already established quite a following of Sunshine Coast locals and visitors since opening in the main street opposite the Original Eumundi Markets in 2007.
Berkelouw boasts Australia's largest collection of secondhand and antiquarian books and this gem of a bookshop maintains that reputation with 100,000 pre-loved, rare, specialty and early out-of-print titles as well as 80,000 new releases and imports that are not available from Australian publishers.
Time flies as you wander around the library-like shelves that are stacked floor to ceiling, spying childhood favourites and long-sought-after titles, as well as local souvenirs, gifts and other products.
The Berkelouw Café next door is an ideal place to peruse your purchases over coffee, a brekky wrap or lunch toastie.
New streetscape design is coming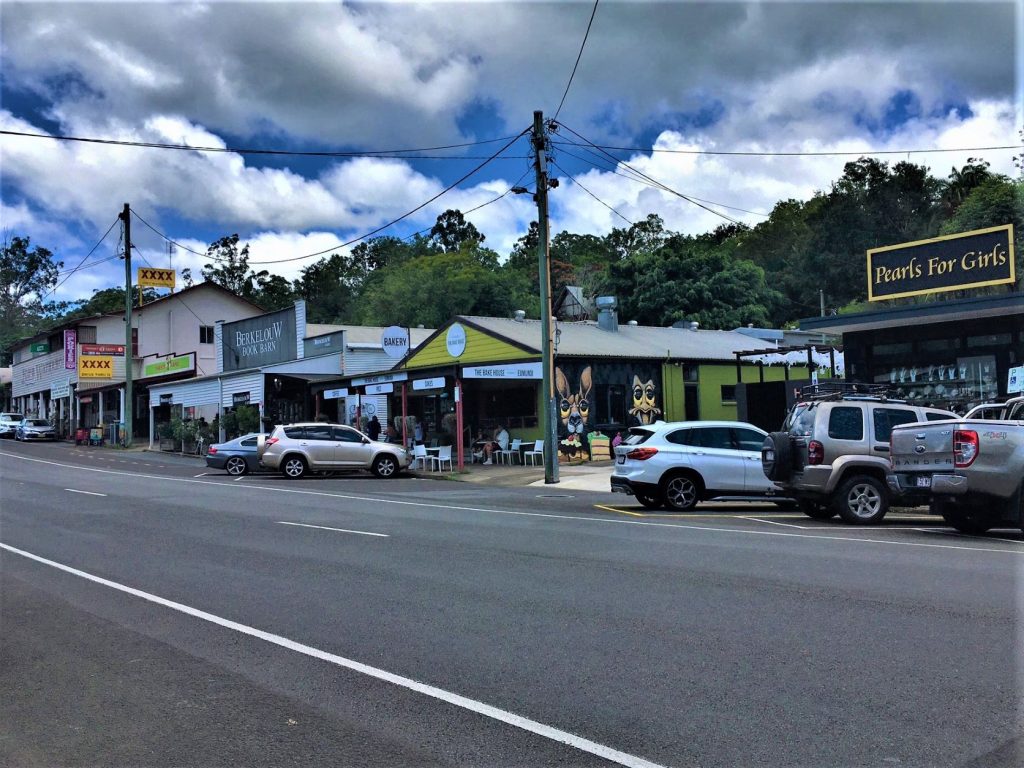 Eumundi village's heritage and character are about to be enhanced by a new streetscape design for Memorial Drive.
The $1.77 million Eumundi Streetscape Placemaking design and construction project has been funded by council, with $500,000 contributed by the Queensland Government's COVID Works for Queensland program.
Local residents, businesses and community groups have been consulted to find their vision and values for the future of their main street.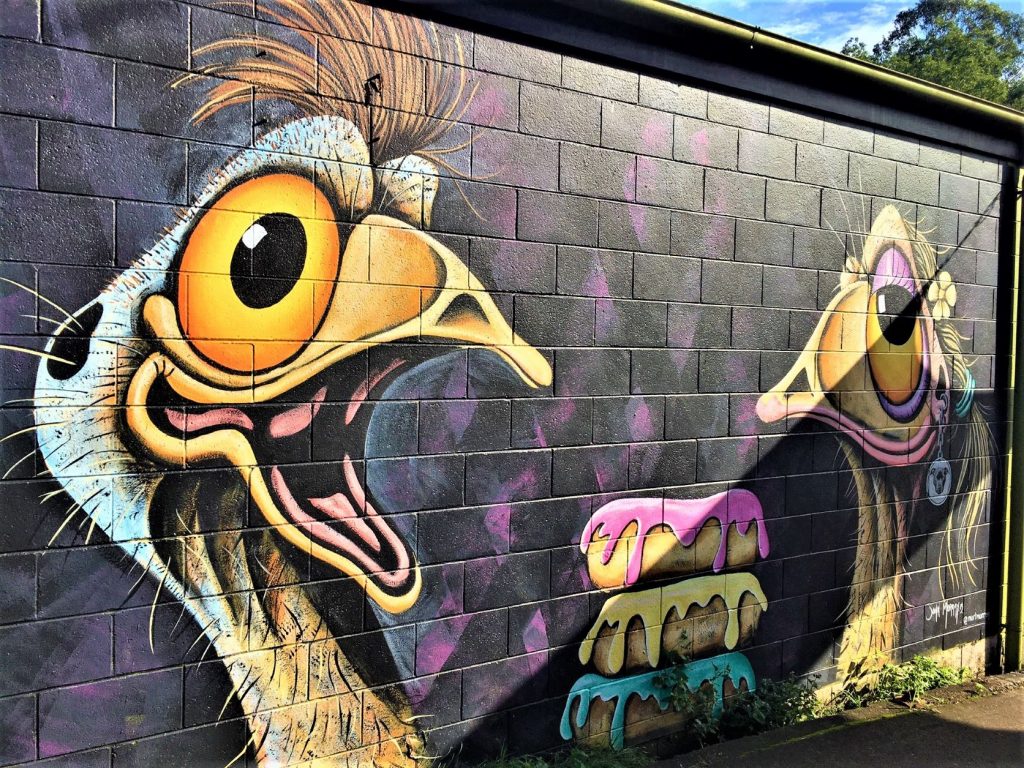 Sunshine Coast Council Division 10 Councillor David Law said the valuable feedback had been collated to develop the draft streetscape design which was now ready for further feedback.
The community's priorities to date have included a desire for an improved pedestrian experience, artistic lighting features and enhancement of memorial fig trees.
Strong support is also shown for pedestrian linkages from Memorial Drive to Napier Road to improve access to existing car-parking areas.
More information about the placemaking project can be found on the Have Your Say website.