The inherent abilities of a young Sunshine Coast racehorse and his stablemates to be able to comfort humans in need is being harnessed to bring smiles to the faces of people with a disability.
Caloundra trainer Damien Batters is collaborating with disability support provider Sunshine Lucia, to allow clients to spend time with his charismatic juvenile horse 'Bestowed Like Barry', as well as his friends, to experience the horse's positive vibe as he journeys towards life on the track.
"The impact that these animals have with people is second to none, and to see them smile and leave their disabilities behind, so to speak, and see what horses can bring out in people, it's amazing, it's miracle stuff," he said.
The informal visits take place at Mr Batters' serene spelling property among the picturesque peaks of the Glass House Mountains – and they're achieving amazing supportive results, attracting the praise of Coolum's Nash Thoars, who has cerebral palsy, and Gold Coaster Jana Chadd, who lives with narcolepsy.
"I find it to be calming. It's very moving to just let go of everything and sit down in this incredible place and feel that energetic connection without wearing the label of my condition or human judgments," Mr Thoars said of his experiences.
"Sunshine Lucia and Damien facilitated this in a way that made me feel understood, the day was almost transformational.
"To be out in the mountains, with the horses, it's something to be taken aback by; it's very, very peaceful every time and I'm already looking forward to my next opportunity."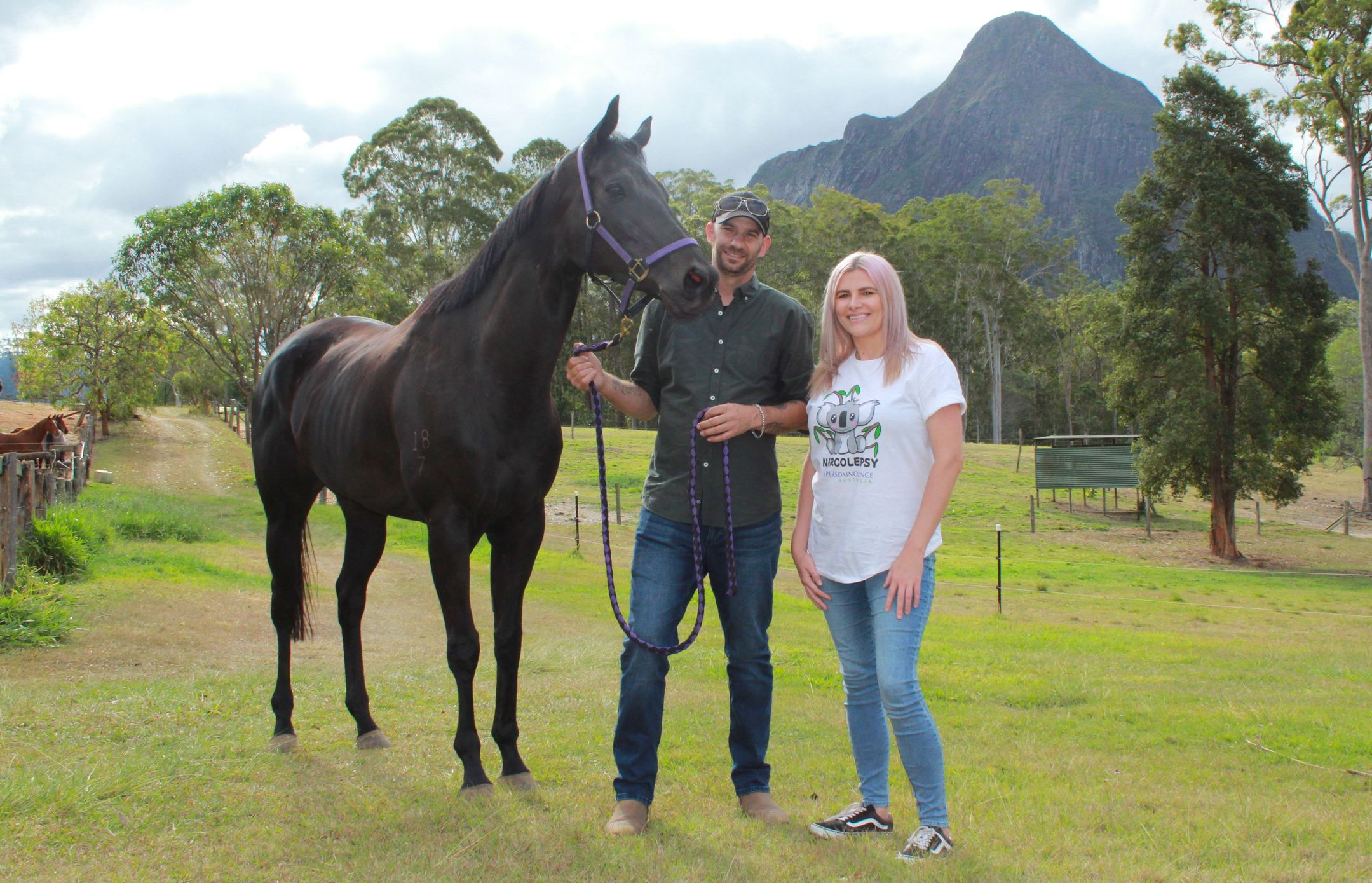 Ms Chadd said it was "brilliant".
"I know friends who have benefited from spending time with horses for many different things, so it's definitely a good opportunity for Sunshine Lucia participants to be able to experience that," she said.
"It wasn't what I expected. I previously had a fear of horses and after experiencing the day there, with people that understood me, I just can't wait to be back.
"You tend to go a bit 'hermit' when you're not feeling the best, so it definitely helps having experiences that bring you out of isolation at your own pace, and finding new passions you weren't looking at because you were just trying to live."
Bestowed Like Barry arrived at Mr Batters' stables in a roundabout fashion – his breeder and previous owner was diagnosed with cancer so she put out the word that two of her racehorse foals needed new owners, where she'd hoped they would be able to be nurtured to their full potential once she was unable to do so herself.
Through his contacts in the industry, Mr Batters learned of Bestowed Like Barry's plight, took him in and is now preparing the young horse for his first races – parallel to his support work – while the search continues for a new owner.
"He's got the right confirmation, he's a lovely type of horse, he's got a good brain," Mr Batters said of Bestowed Like Barry's double role.
"You can kind of get an indication when they're young – some are a bit stubborn and take a bit more time, or you get these horses that come out and are more forward and they say, 'Yep, I want to do this' … and he's definitely doing that."
Mr Batters has been around animals and horses ever since his childhood in South Australia.
He had dreams of becoming a vet and, as a teen, volunteered with his local Riding for the Disabled. He came to appreciate the positive influence of horses on people, an understanding that has never left him.
"They're just unbelievable magnificent animals," he said.
"When you connect with them in the way that we do at our stables, we like to be one-on-one with them, and understand the horses – they're always pleasing and just amazing to be around.
"Anything that can help anyone that's going through any kind of struggles – it doesn't matter if it's just disability, or mental health, or anything like that – and can have a positive impact. It's worth it, absolutely it is, there's no words to describe that feeling."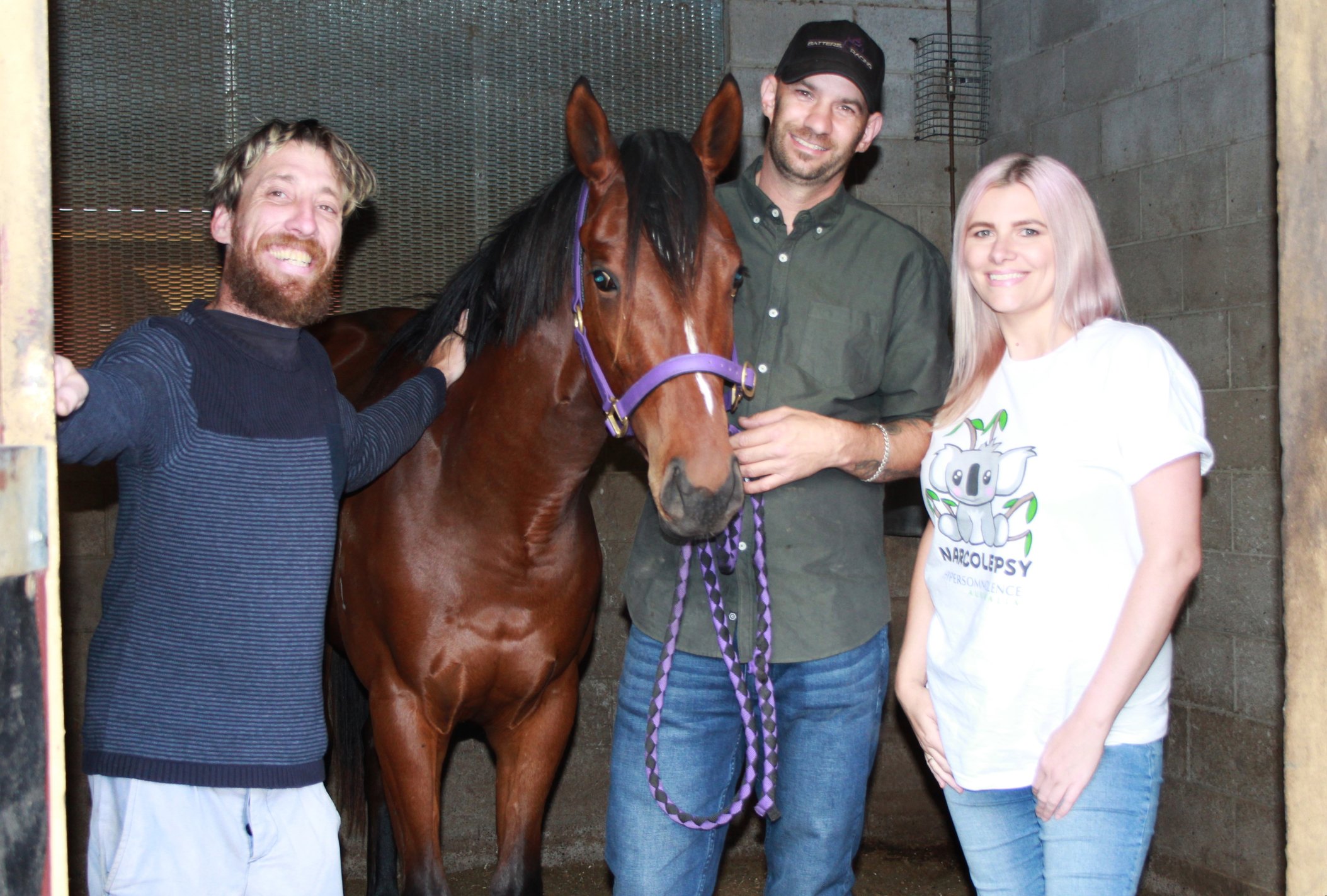 Mr Batters has been training for eight years – full-time for the past three years – having achieved great success with Party for Two, which placed second in the prestigious Blue Diamond Prelude (Fillies) at Caulfield earlier this year.
His work supporting people with disabilities provides a welcome and rewarding addition to his traditional racehorse work.
"To be involved with bringing people with disabilities out to the farm, to get an experience around horses, I thought was a really good idea because it's something we don't really get to do when we're training horses," he said.
"Being able to step back and see things for what they are – the day-to-day training regime, the 3am starts – to see there's so much more to the things we do in life other than just working, and to be able to be part of something like that, just breaks it all up I guess."
Sunshine Lucia said the unconventional partnership with Mr Batters, Bestowed Like Barry and other horses provided a unique activity for people who benefit from relaxed, supportive experiences.
"Damien has a passion for the horses that's very genuine and infectious," Sunshine Lucia representative Audrey Sin said.
"Horses are so majestic and have the clairsentient ability and intuition to feel the energy around them, which makes them empathetic when dealing with people. It fits the Sunshine Lucia profile.
"We're really thankful that Damien resonated with what we wanted to achieve for the people we support and agreed to facilitate this together."
As for Barry's visitors, like Mr Thoars, interest in the young racehorse looks set to continue when he takes his first steps on the track.
"I know it's going to win, so of course I'm going to follow him. I'm a big supporter, yep," Mr Thoars said.
Scroll down to SUBSCRIBE for our FREE news feed, direct to your inbox daily.