A state-of-the-art Coolum boat-building facility is attracting celebrity interest for its multi-million-dollar vessels that are putting the Sunshine Coast on the world map in design and manufacturing.
Cure Marine CEO Carl Bird expects the company to be "a significant player in the global boat-building scene within the next five years" as a result of the luxurious, high-performance and sustainable ocean-going vessels.
And while he won't mention names publicly, it is understood that ocean-loving celebrities have made inquiries.
The Quanda Road-based company is already fulfilling the founders' dream of supplying class-leading multihulls to clients all over the globe in the performance cruising market.
David Biggar and Ian McMahon established Cure Composites in 2005 and grew the company over the next 17 years to become one of Australia's leading manufacturers and suppliers of flat-panel product in the industrial sector. It is also respected as an industry leader in using technology to streamline the production process.
Scroll down to SUBSCRIBE for our FREE news feed, direct to your inbox daily.
For David – introduced to sailing at a young age, and with a father obsessed with high-performance motorsport, yachting and aviation – the business aligns with a life-long challenge to build any new design he requires with the philosophy of "lighter, stronger, faster, better".
Composites meet the brief by combining two or more different materials to make a product stronger and more durable.
When Cure Composites moved into boat building, it started getting noticed after producing high-performance multihulls including Zero (Schionning G-Force 1800 SSS) and Chill Pill (Schionning G-Force 1500).
Its industry reputation has since attracted a wealth of experience to the new boat-building division, including team members who have worked on America's Cup contenders and Sydney to Hobart Yacht Race winners.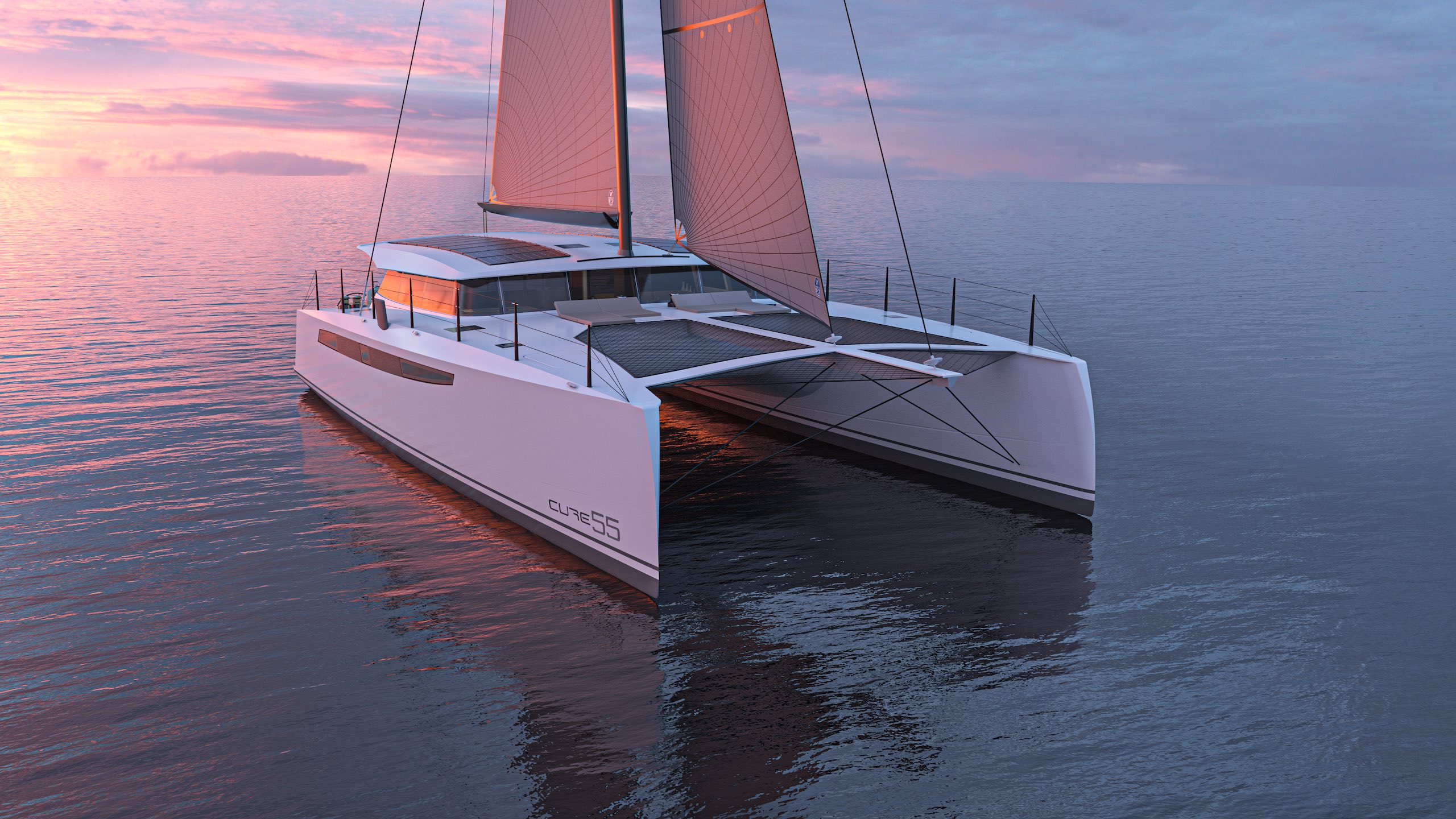 But 2022 was a turning point: Dave, seasoned boat-builder Ian and their team, in conjunction with sister companies Zone RV and One Composites, launched the full carbon fibre Cure 55 Catamaran on December 1 as the first major foray into the global boating market.
"2023 has definitely been a year for setting up production process and refinement of the Cure 55 design and 2024 promises to be enormous with the opening of a new 4500sqm Cure Marine facility and the build of the first four Cure 55s," Carl said.
"The company mantra for 2023 has been all about raising the bar, rather than reinventing the wheel. The application of industry-leading technology and a true focus on Industry 4.0, as well as the design for manufacture process, will allow Cure Marine to accurately produce class-leading multihulls for clientele anywhere in the world."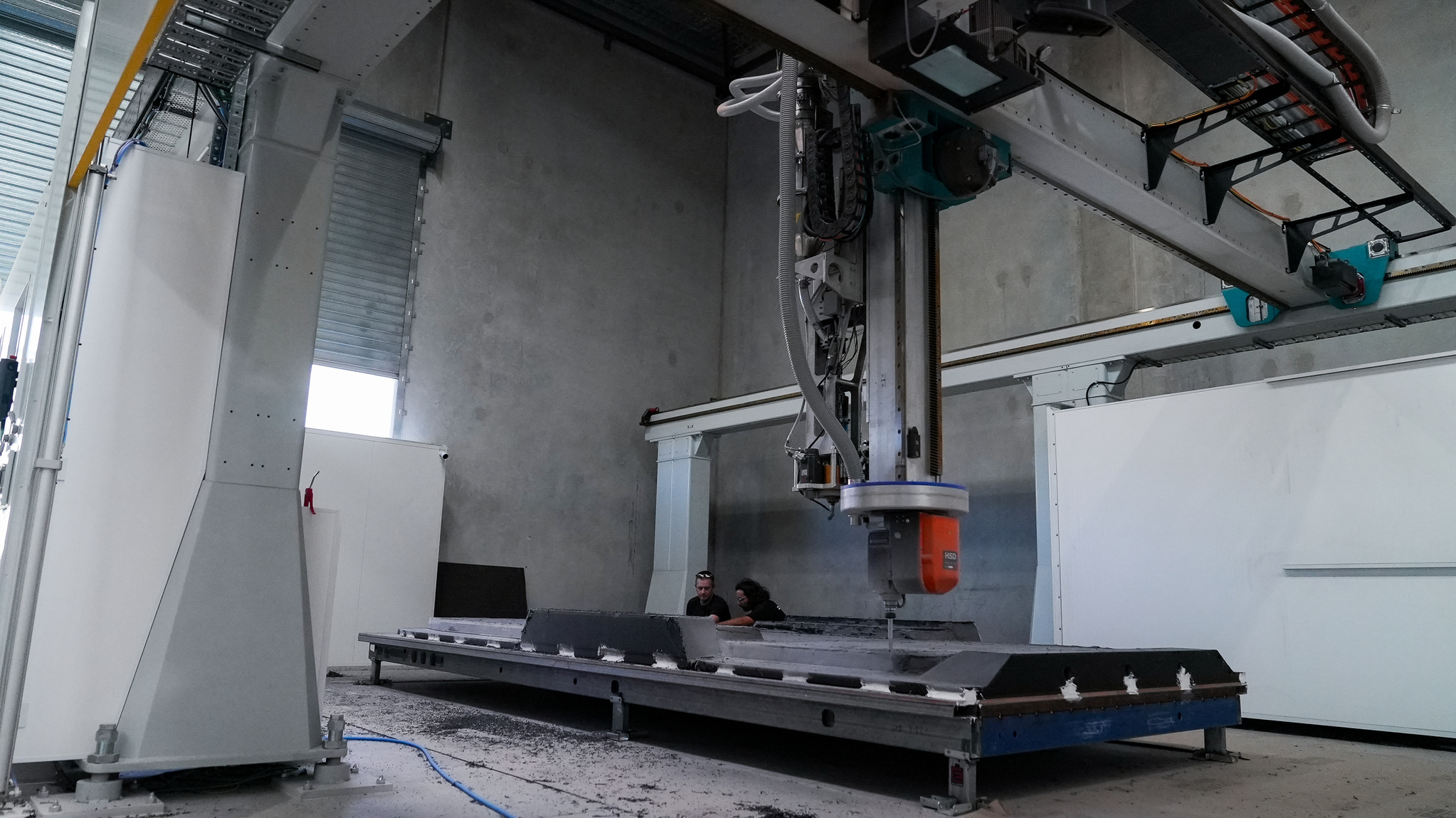 An important piece of the puzzle is the group owning the largest 3D printer in the southern hemisphere.
Carl said the printer allowed the group to produce tooling and prototypes in a fraction of the time that the industry traditionally had seen.
(The building of the actual vessel componentry is undertaken using the vacuum infusion method in carbon and epoxy.)
But the group's greatest strengths lie in its parts and the synergy it enjoys with the sister companies.
"Cure Marine is undoubtably the beneficiary of having a strong common ownership group with sister companies that are also leading the way in their respective fields," Carl said.
"Being able to share technology and access high-end talent from the whole group has allowed us to efficiently allocate resources and effectively 'short-cut' the process of establishing production process.
"We're still a pretty small-size employer, with only about 50 people. But between us and Zone RV and a few of the others, there's a good few hundred people. And if you put them all together, you're probably looking at a couple of $100m across the group businesses.
"An incredibly important part of the Cure Marine story is the company's ability to not only attract experts in multiple fields but also people that truly have saltwater running in their veins.
"Multiple national champions and tens-of-thousands of ocean miles, both racing and cruising, allowed the team to really focus in on the important and defining criteria for the optimum 55ft cruising platform.
"This resulted in the Cure 55."
David calls the Cure 55 a "no-compromise boat" for attention to detail, space, liveability and visibility.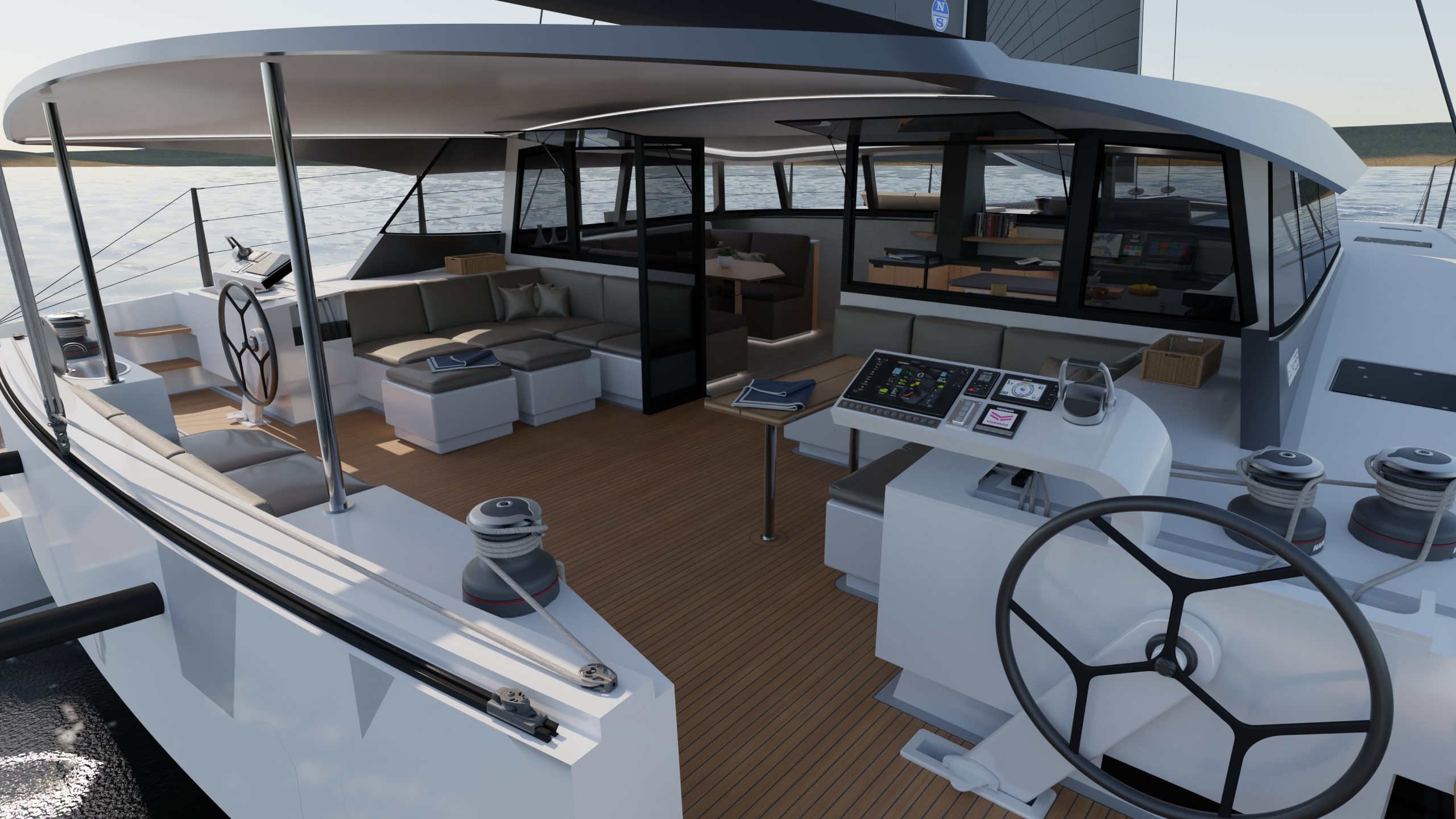 On a video on the company website, he enthuses: "We've got all the makings there for what we believe is going to be the most high-performance, all-round 55ft cruising boat in the world".
Carl said Cure 55 appealed to discerning buyers seeking "the perfect balance of performance, safety and luxury".
"Ensuring that we are building to lighter weights and exacting standards has flow-on effects to manageable sail sizes and control systems which make the Cure 55 the ideal vessel for cruising couples that enjoy fast, efficient passage making," he said.
Do you have an opinion to share? Submit a Letter to the Editor at Sunshine Coast News via news@sunshinecoastnews.com.au. You must include your name and suburb.
Carl said that in the future, Cure Marine would likely announce the Cure 65 model, while plans also were afoot to launch a range of power catamarans.
The company would continue to take on custom projects for clients "that are looking for something truly bespoke", he said.
Recently, Cure Marine was responsible for making the Cure Custom 70 bespoke vessel a reality.
While the company remains tight-lipped on its total price for the private client, it is understood custom builds like this would cost upwards of $5 million.
The biggest vessel to be launched by Cure Marine to date, Carl described the 70ft project as "the first all-carbon fibre sailing vessel that we are aware of that has been built in this country in the last five years" ­– a true feather in the cap of Sunshine Coast innovation.
"The Cure Custom 70 will be remembered as the vessel that launched the new era of Cure Marine," he said.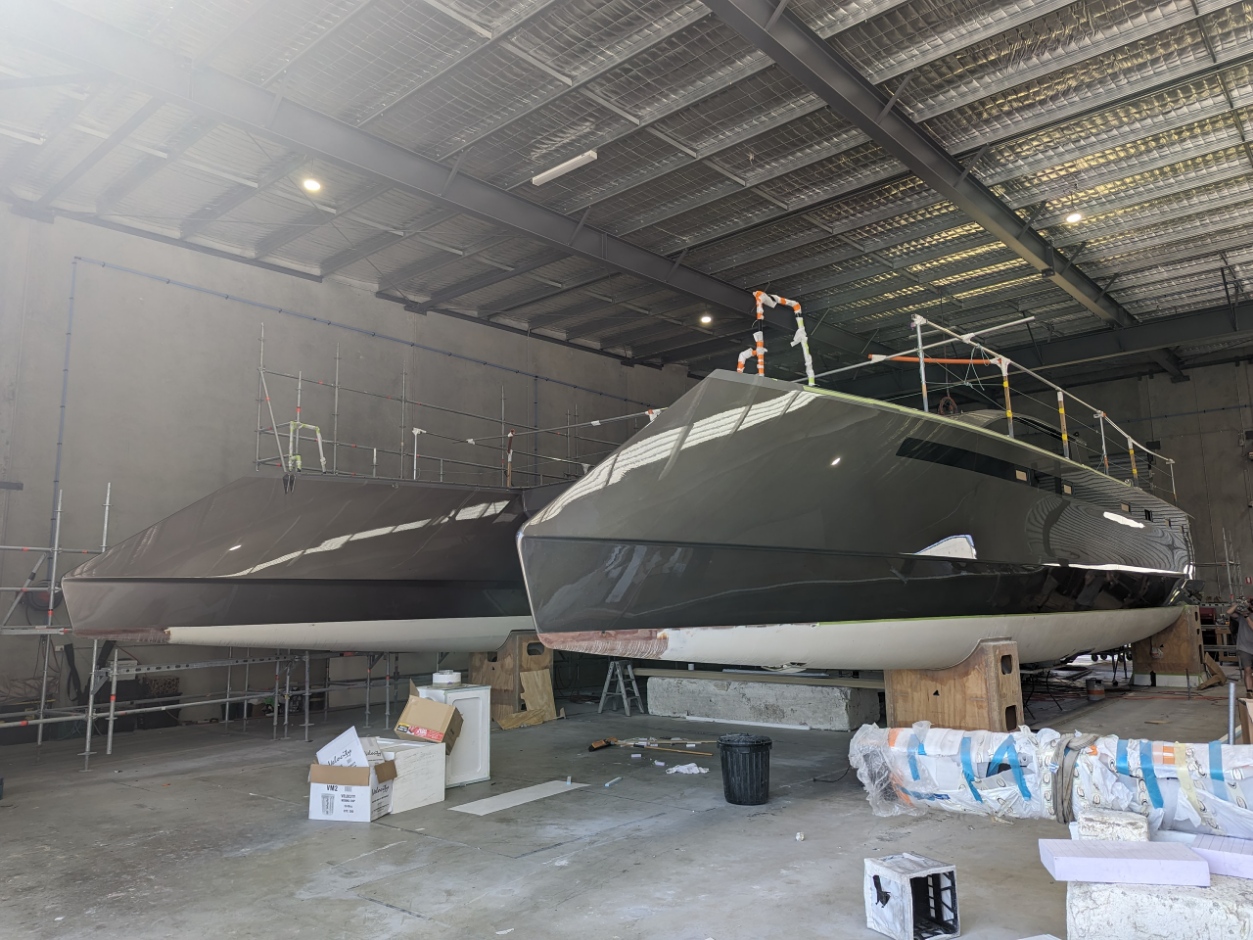 "Director Ian McMahon always talks about building boats being addictive and when he was presented with the framework for this project, he did not hesitate to say yes.
"Being the first all carbon sailing catamaran to be built in Australia over the last five years is undoubtably a massive point of pride and we couldn't be happier to be part of a new age in Australian manufacturing on the Sunshine Coast.
"It's important to note that the Cure Custom 70 is a full custom project and is an embodiment of her owner's dreams and experience over numerous boats and a lifetime of boating.
"At 21m long, nearly nine metres wide and a sail area approaching 400 square metres, she will undoubtably be an impressive sight at sea or at anchor.
"Being of all-carbon construction and featuring carbon mast, boom, longeron and forebeam from Lorima in France, as well as the latest technology North 3Di sails, she really is the culmination of a 'best of the best' approach."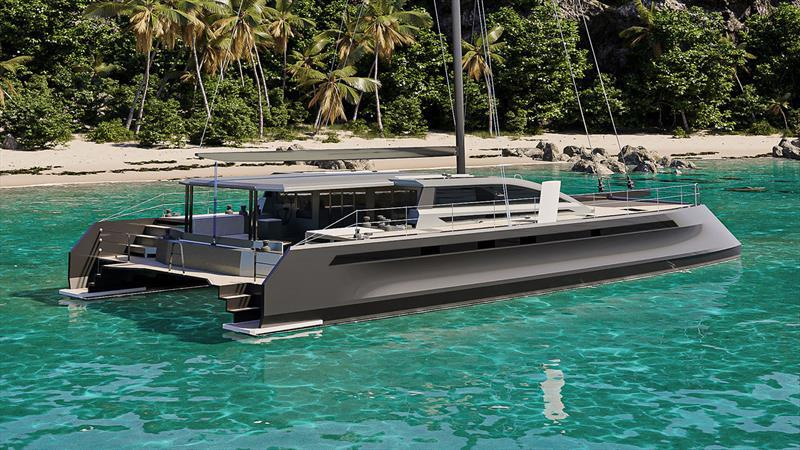 The Cure Custom 70 will be based in Manly in Brisbane but will be cruised extensively in the South Pacific.
"The owners have previously owned numerous performance catamarans and large powerboats so they really wanted a vessel that combined all of the best aspects of their previous boats so that they can enjoy cruising with an ever-growing family," Carl said.
"In working with Cure Marine, Stuart Bloomfield (commercial boat design technical engineer) and Angelo Finocchiaro (interior designer) to create the Cure Custom 70, they look to have achieved that goal."
Like stories about Sunshine Coast people doing great things? Help us deliver more by registering for our FREE daily news feed. All it requires is your name and email at the bottom of this article.