Fingers are getting twitchy on the Fly Bonza app and travellers are checking calendars as Australia's only independent low-cost airline prepares for take-off on its first commercial flight.
The airline, based on the Sunshine Coast, was granted its Air Operator Certificate from the Civil Aviation Safety Authority on January 12, in what Bonza CEO Tim Jordan described as an historic moment in Australian aviation.
SUBSCRIBE here now for our FREE news feed, direct to your inbox daily!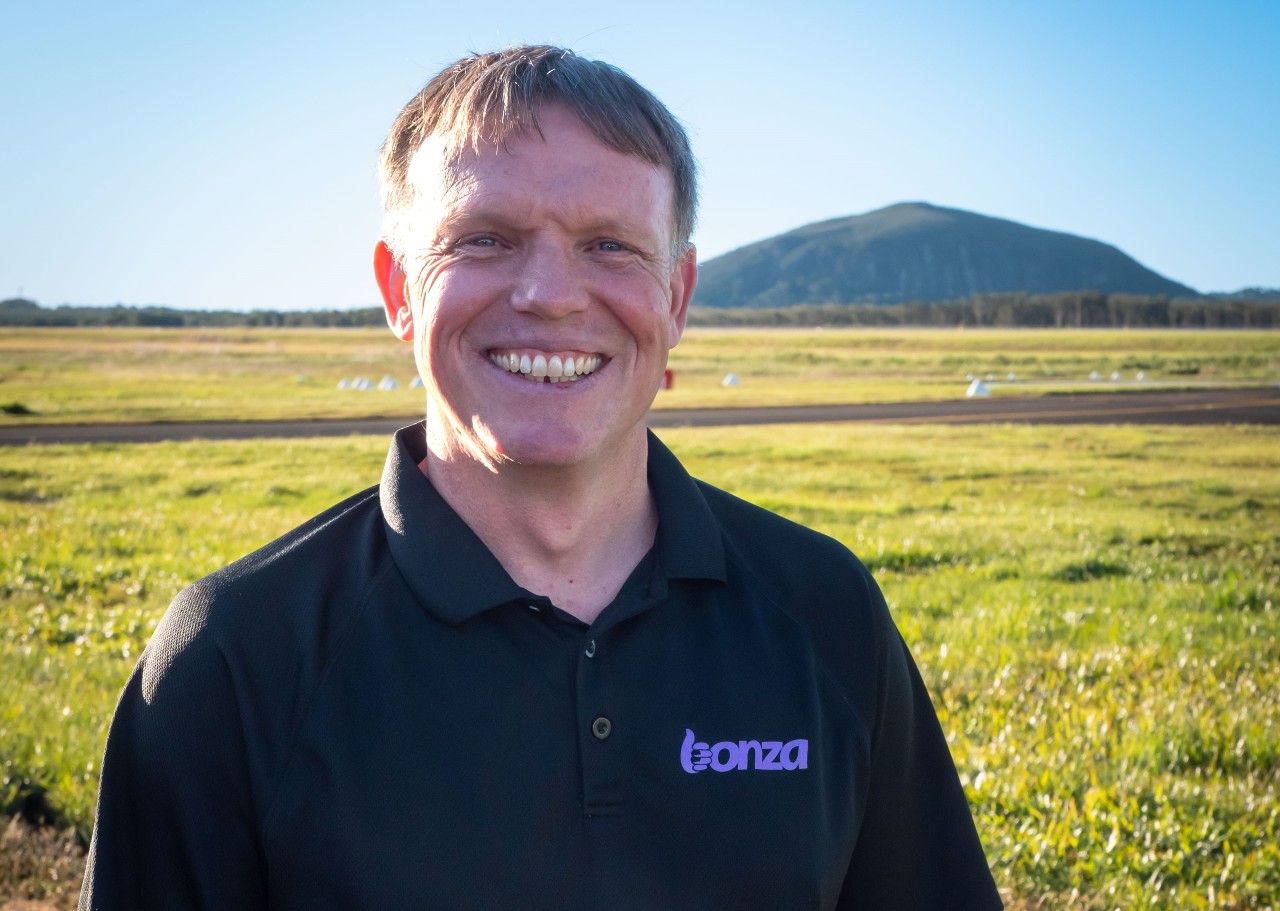 "The excitement for what we are about to deliver is palpable and the timing couldn't be better," he said of the first airline to launch in Australia in more than 15 years.
But future passengers are equally excited at the prospect of flying with the airline that promises "simple, sustainable, affordable" travel.
Bonza has announced that it will have wheels up on Tuesday, January 31, on its first flight.
The flight will leave Sunshine Coast Airport at 8am, bound for the Whitsunday Coast (Proserpine). It is scheduled to land at 9.35am.
Breakfast festivities for invited guests and a media conference, featuring Mr Jordan and chief commercial officer Carly Povey, will celebrate the milestone from 7am at Sunshine Coast Airport departure lounge.
Sunshine Coast News understands that the make-up of that first flight is still being finalised, but airport officials, dignitaries and media won't be the only ones on board.
Deserving Sunshine Coast community members also will go along for the ride, as a small way to say a big thanks for the work they do in 'Bonza's Backyard'.
Details are still being confirmed and no date has yet been set for when any Bonza tickets will go on sale to the public.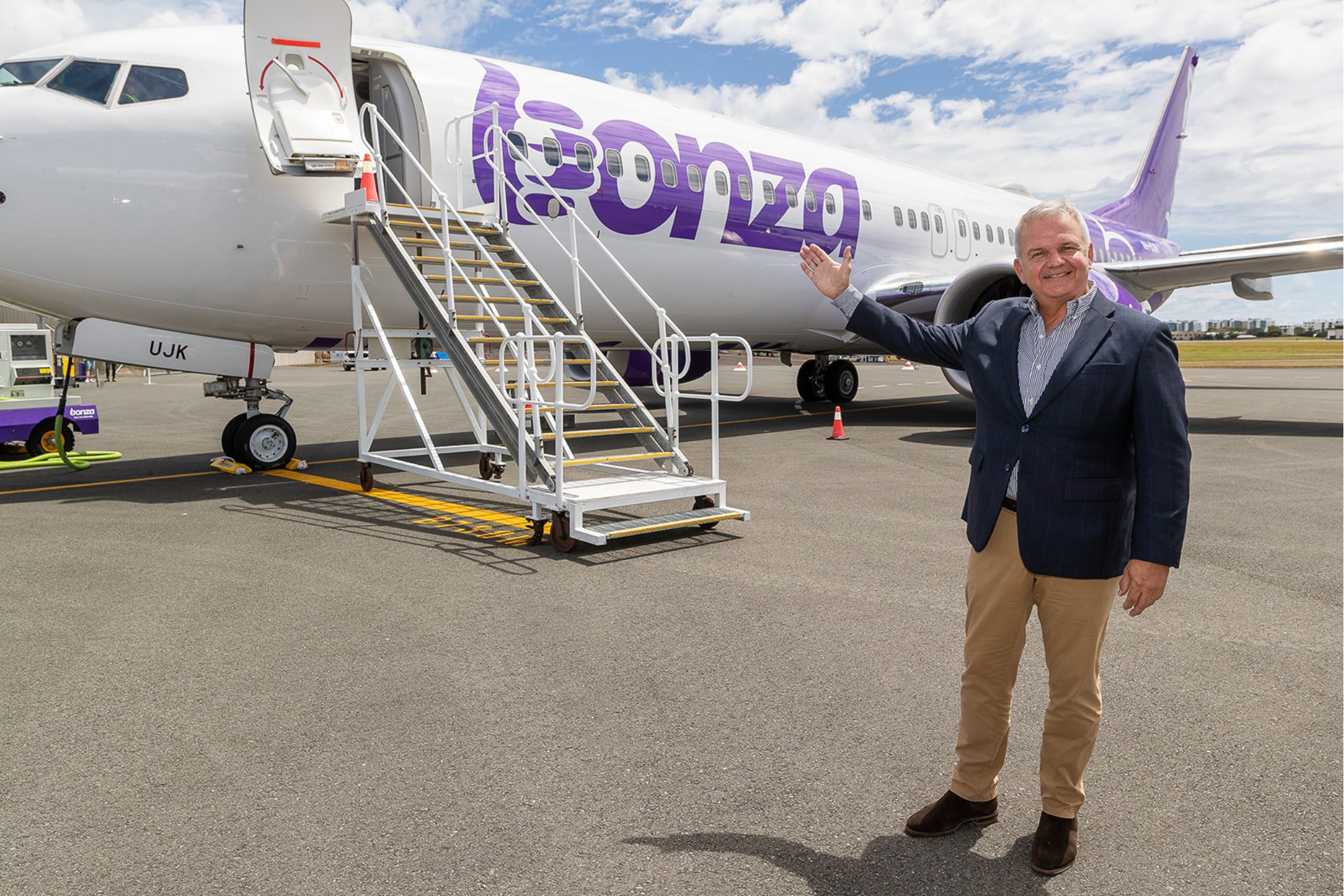 "We're excited to confirm our first flight from the Sunshine Coast to the Whitsunday Coast will be on 31 January as we paint the Australian skies purple for the first time," Mr Jordan said this week.
"As we finalise our on-sale preparations, we encourage everyone to download the Fly Bonza app and sign up to be the first to know when flights are on sale."
Bonza will initially service 13 destinations directly from the Sunshine Coast, 10 of which have never been previously serviced.
The airline will connect our region to Townsville, Mackay, Proserpine (Whitsundays), Rockhampton, Tamworth, Coffs Harbour, Port Macquarie, Albury, Avalon and Mildura for the first time, as well as the previously serviced routes to Cairns, Newcastle and Melbourne.
Watching an AFL football match in Geelong (Avalon Airport), enjoying a weekend among the vines in the Hunter Valley (Newcastle Airport), or perhaps catching up with family in smaller regional towns including Rockhampton, Mildura and Tamworth are all within easier reach.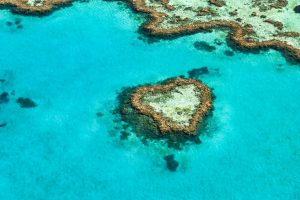 The convenience of flying hassle-free between the Sunshine Coast and other beach beauties including the Whitsundays, Mackay, Coffs Harbour and Port Macquarie is sure to appeal to those sick of clocking up hundreds of highway kilometres before starting a holiday.
And a relaxing getaway in tropical North Queensland (Cairns and Townsville) or hitting the culinary, cultural and sporting capital of Melbourne is always a good idea.
The Fly Bonza app (available from the App Store and Google Play) is already showing the initial number of services each week.
QUEENSLAND
To and from the Sunshine Coast:
Rockhampton: 3
Mackay: 3
Cairns: 5
Townsville: 4
Whitsunday Coast: 3
NSW
To and from the Sunshine Coast:
Albury: 2
Coffs Harbour: 2
Newcastle: 4
Port Macquarie: 2
Tamworth: 2
VICTORIA
To and from the Sunshine Coast:
Melbourne: 4
Mildura: 2
Avalon: 3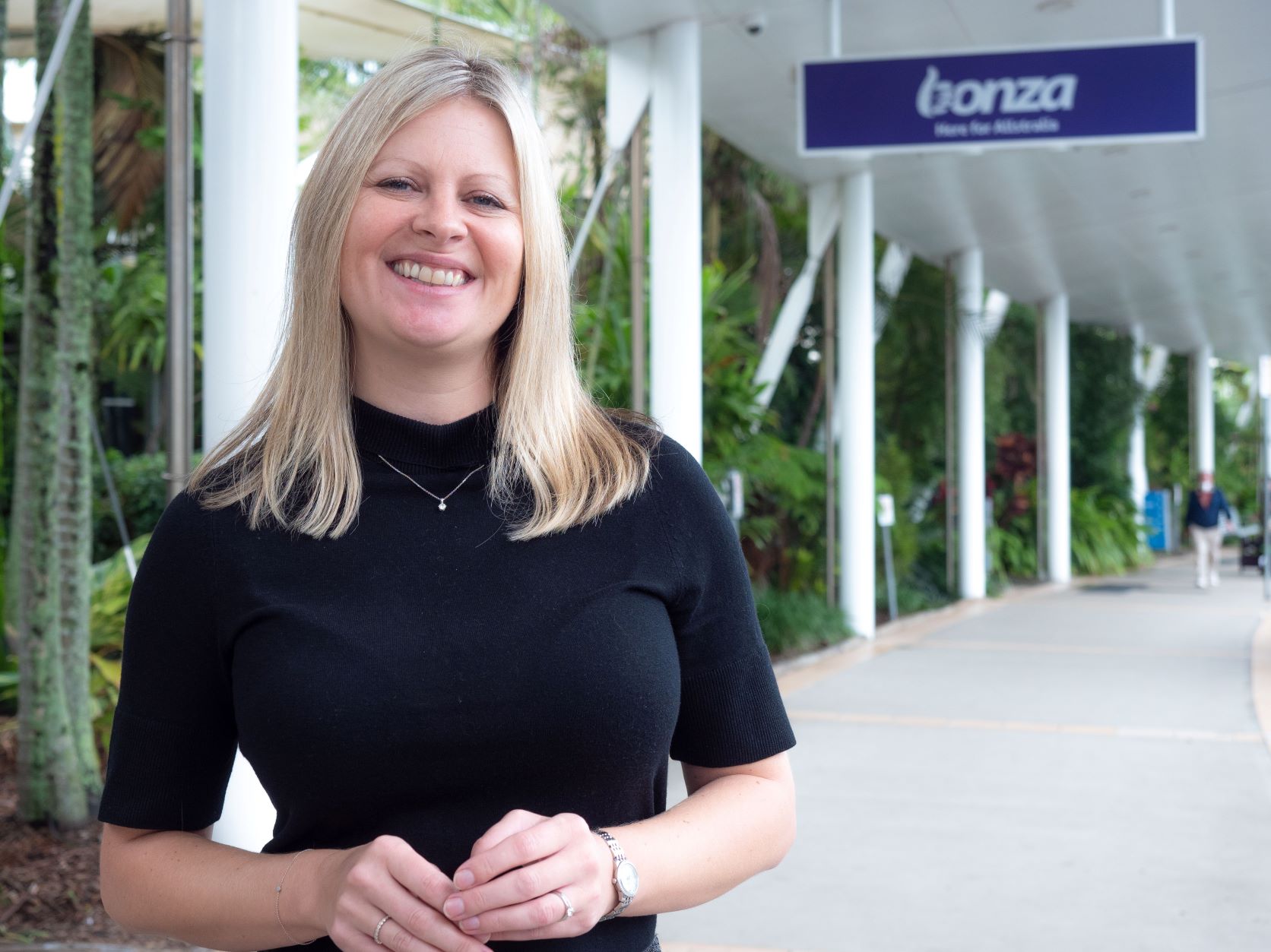 Sunshine Coast News understands that the first routes to go on sale will be those using the Sunshine Coast base.
The second lot of routes to be rolled out will be those using Bonza's Melbourne base.
For example, the Sunshine Coast to Melbourne and Sunshine Coast to Tamworth use the Melbourne-based aircraft, so those two routes will go on sale and be rolled out in the second wave.
Routes going on sale soon via the Fly Bonza app:
To/From
To/From
Flights per week
Sunshine Coast
Mackay
3
Whitsunday Coast
3
Albury
2
Avalon
3
Cairns
5
Coffs Harbour
2
Mildura
2
Newcastle
4
Port Macquarie
2
Rockhampton
3
Cairns
Rockhampton
2
Mackay
2
Newcastle
Whitsunday Coast
2
Rockhampton
Townsville
3
Melbourne base routes to go on sale at a future date:
From/To
To/From
Flights per week
Melbourne
Bundaberg
2
Gladstone
2
Mackay
2
Mildura
3
Port Macquarie
2
Rockhampton
3
Sunshine Coast
4
Tamworth
2
Toowoomba Wellcamp
4
Toowoomba Wellcamp
Townsville
2
Whitsunday Coast
2
Tamworth
Sunshine Coast
2
In a one-on-one interview last year, Ms Povey told Sunshine Coast News the low-cost airline would do things a little differently and give people "their travel freedom back".
The airline aimed to "overdeliver against expectations", including a whole fleet of new aircraft that would give 20 per cent more fuel efficiency, she said.
Like stories about Sunshine Coast people doing great things? Help us deliver more by registering for our free daily news feed. All it requires is your name and email. See SUBSCRIBE at the top of this article.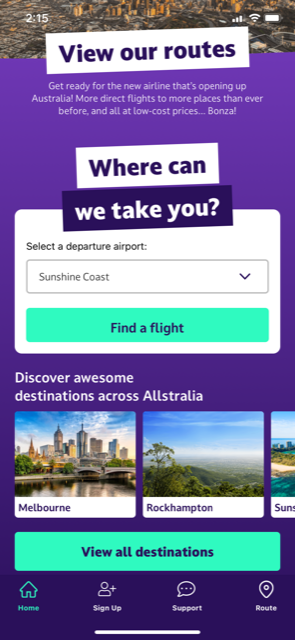 While bookings are available through travel agents, the Fly Bonza app will be the most convenient way to book flights, meals, drinks and extra luggage, and to communicate with the airline.
Bonza's baggage policy allows an 8kg cabin bag for free for every passenger.
Customer choice options allow passengers to pay for extra baggage up to a maximum 32kg. Baggage allowance will always be cheaper to buy at the time of booking.
The app tells travellers there's three good reasons to fly with Bonza:
Simple: book and travel exclusively through the app. No more paperwork.
Sustainable: no more food wastage from in-flight meals or unnecessary paperwork.
Affordable: keeping things simple and sustainable saves the airline time, hassle and dollars so it can keep prices low and "our service sky high".