As countless classic Sunshine Coast homes are detonated for new-wave designs, a prominent businessman embarked on a mission to save a very special property.
Tristan Kurz had a heartfelt reason for wanting to preserve a 1960s '"treasure" at Caloundra – and the outcome has been nothing short of spectacular.
As a teenager, he had been captivated by the unique mid-century design of the home next door to his uncle's house.
The property, designed by renowned Brisbane-based architect Vitaly Gzell, was built in 1965 for the Geddes family on a massive 1517 sqm block, with sweeping views over Kings Beach, Shelly Beach and Bribie Island.
Tristan's vision to resurrect the original charm of 13 Burgess Street is the fulfilment of a 25-year-old dream.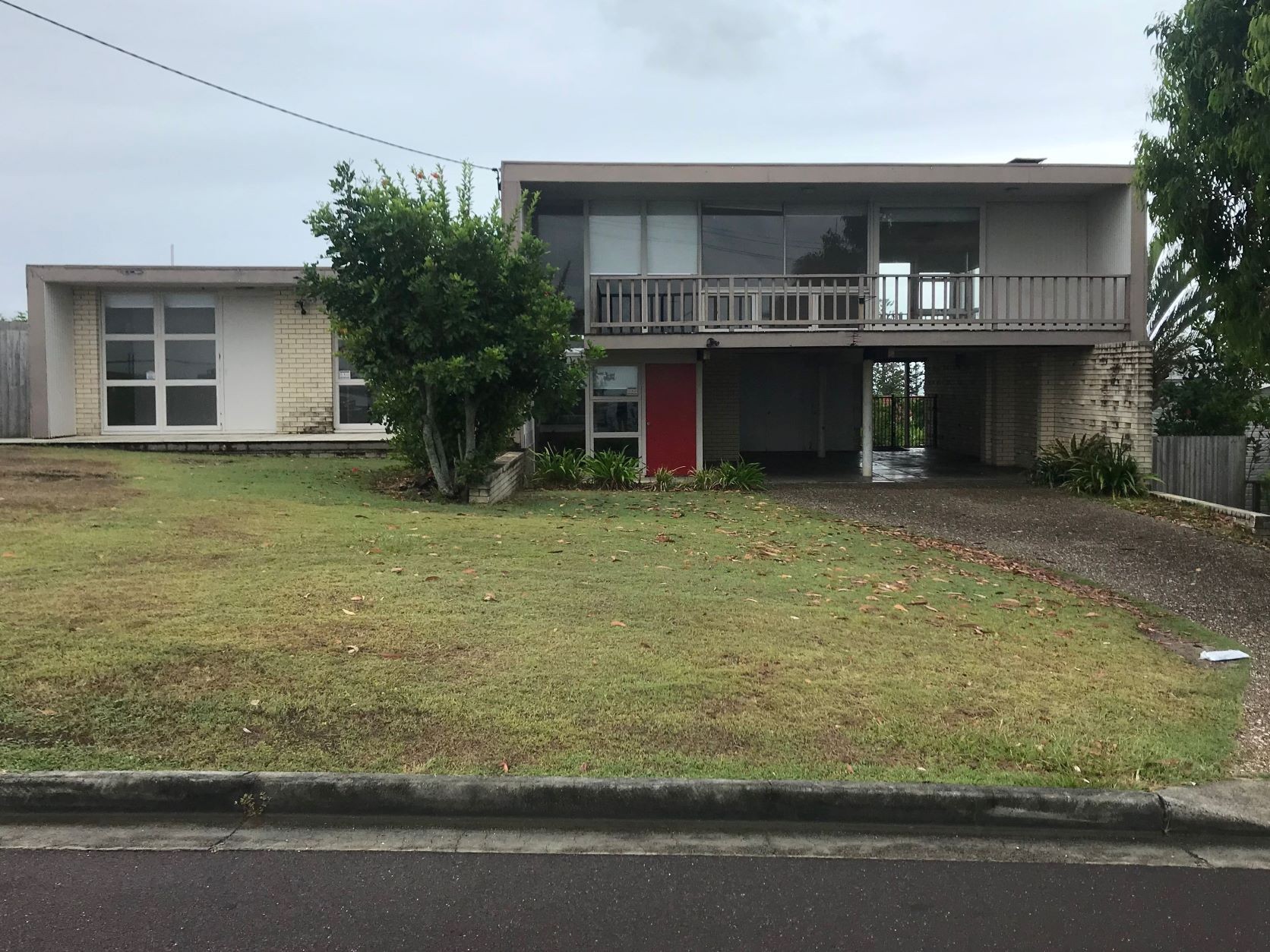 "I used to go to that house of my uncle's and I thought, 'Wow' (of the place next door)," he recalled.
"I didn't know that street. I didn't know they had big blocks of land. I didn't know anything about architecture, but I just kept looking at this house and  going, 'I don't know what it is, but there's something about it I really, really love'.
Scroll down to see the home's amazing transformation
"Fast forward 20 years, I kept walking up and down the street every six months, knocking on doors saying,  'Would you consider selling?' to anyone in the street.
"I really wanted to get on that street. And then low and behold, the opportunity came up in 2017 to get – out of all the houses – the one that I really wanted.
"The block of land is actually part of the old police stables from the first police station in Caloundra.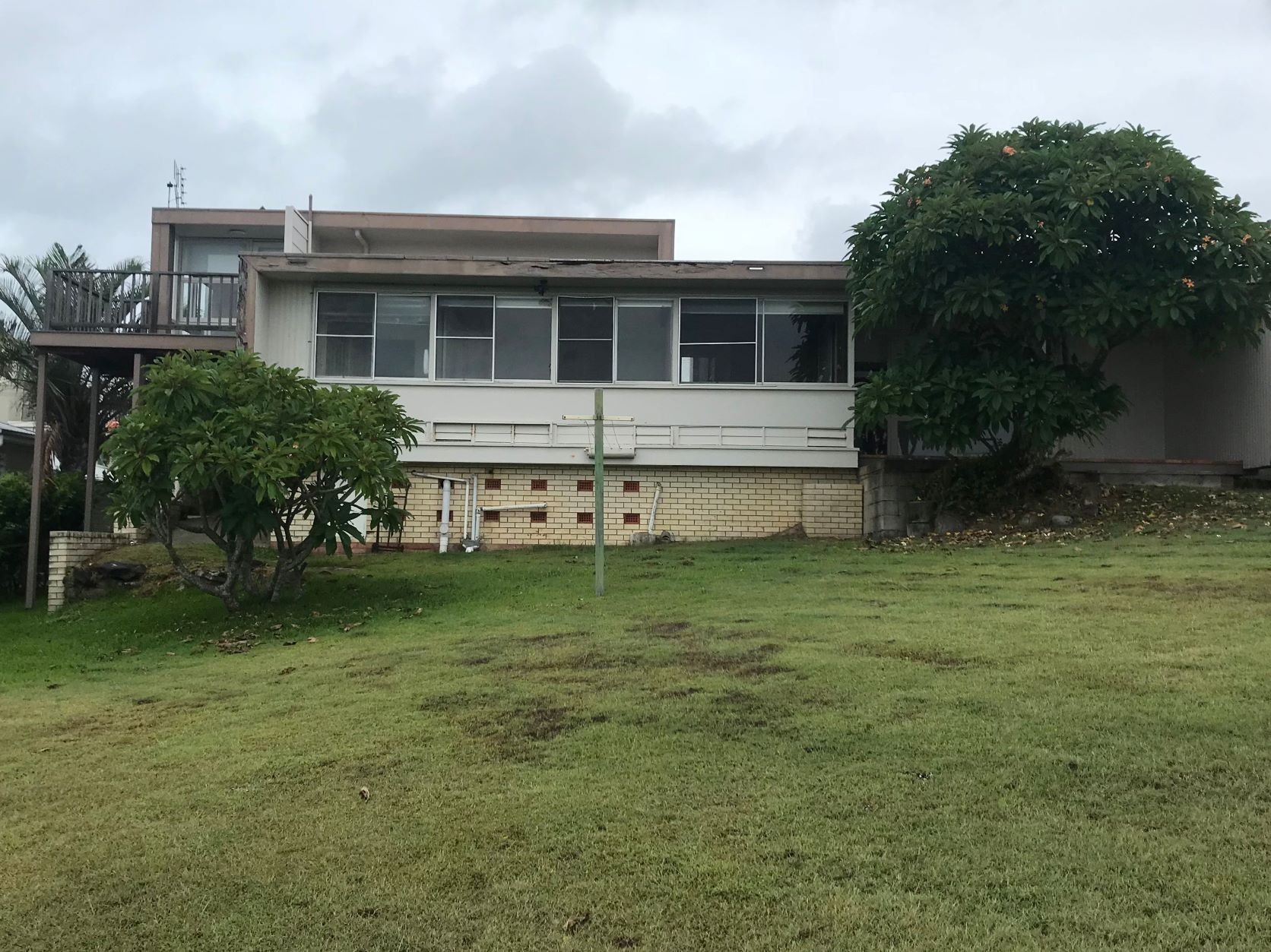 "That police station is still standing on King Street. It's being renovated as we speak."
Tristan has long been concerned about the growing trend of detonation of beachside properties, with many owners opting to bulldoze original designs from last century to erect modern mansions.
He believes we should be celebrating and preserving these classic seaside homes.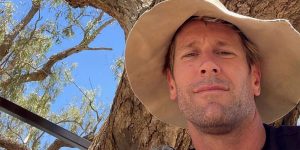 What do you think? Submit a Letter to the Editor with your name and suburb at Sunshine Coast News via: news@sunshinecoastnews.com.au
Tristan realised after living for more than a year in The Geddes, as it is affectionately known, that it had historic value and was brimming with character.
The home deserved to be returned to its former glory as much as possible, highlighting features including the distinctively modernist facade, expansive windows and impressive brick work.
"The plan was to renovate it and bring it back to new," Tristan said.
"I had a few builders come through and they all  said, 'No, mate. She's buggered. Knock it down. It's a waste of time. Waste of money. You're crazy if you do it.'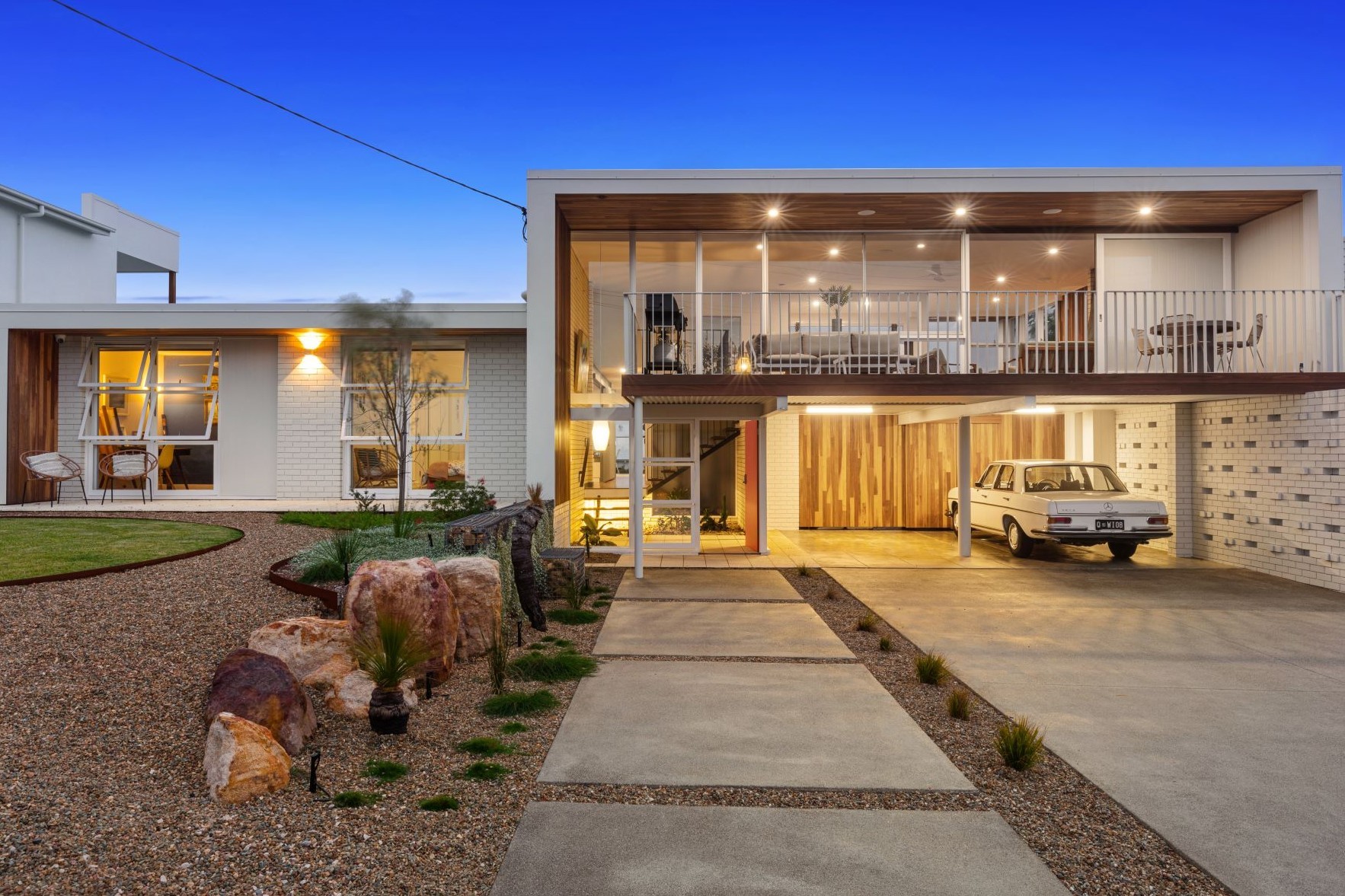 Local journalists supporting local people. Help keep independent andfair Sunshine Coast news coming by subscribing to our free daily news feed. All it requires is your name and email. See SUBSCRIBE at the top of this article. 
"Everyone told me that. But a guy who I grew up with (Chris Hagan of Warana's C2 Projects), his father-in-law had worked on many houses built in that period.
"He, an engineer and Chris came over one afternoon … had a look-through and the consensus was 'We can save it'. It changed everything.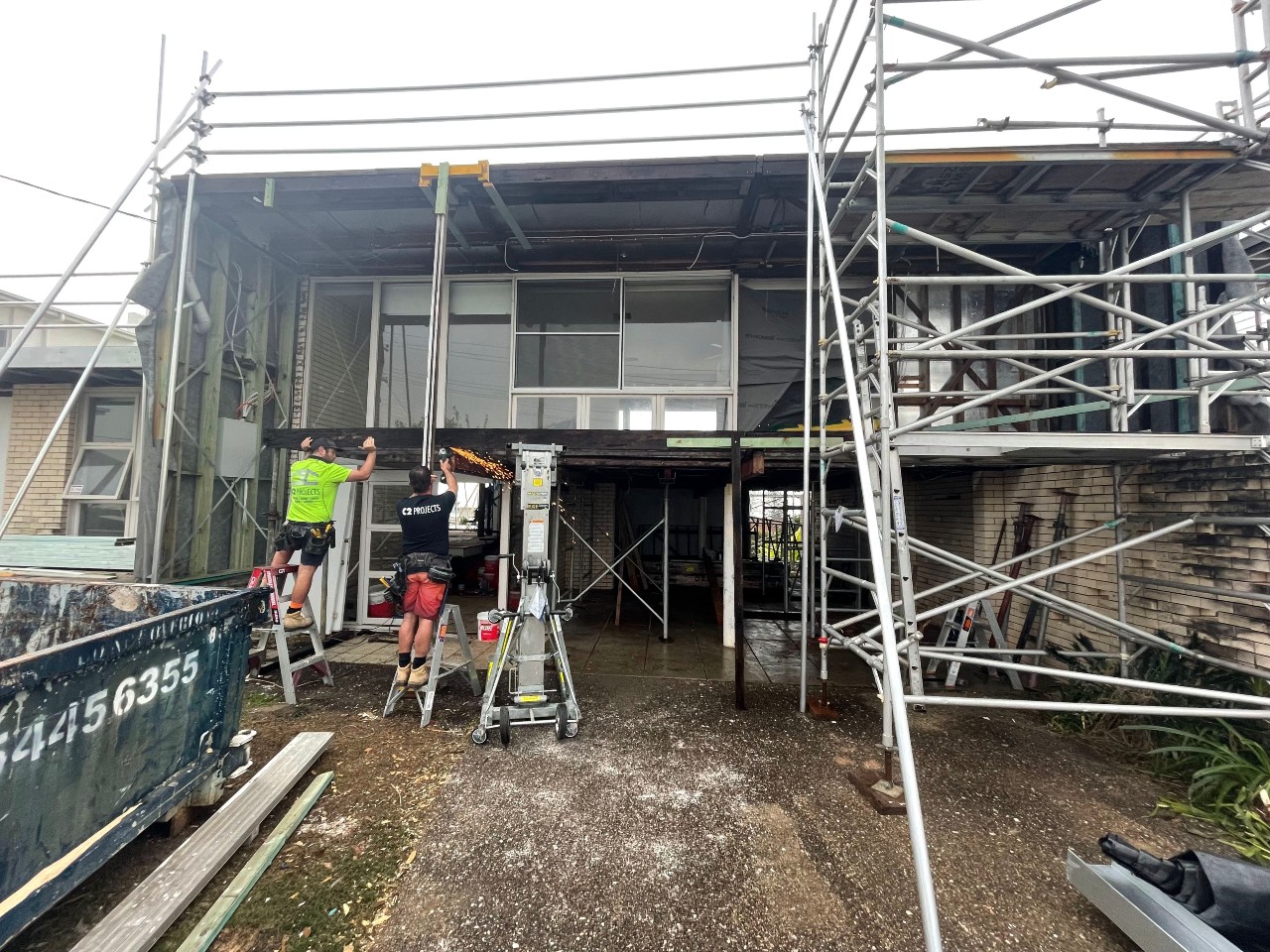 "There are so many beautiful houses with so much character but it's all too hard and they are thrown away.
"We're really trying to say, 'OK, this is what used to happen in Caloundra and this must have been the most amazing house when it was built in the '60s.
"Let's try and take it back to that and not do a revamped reno of it to try and make it like a house from today."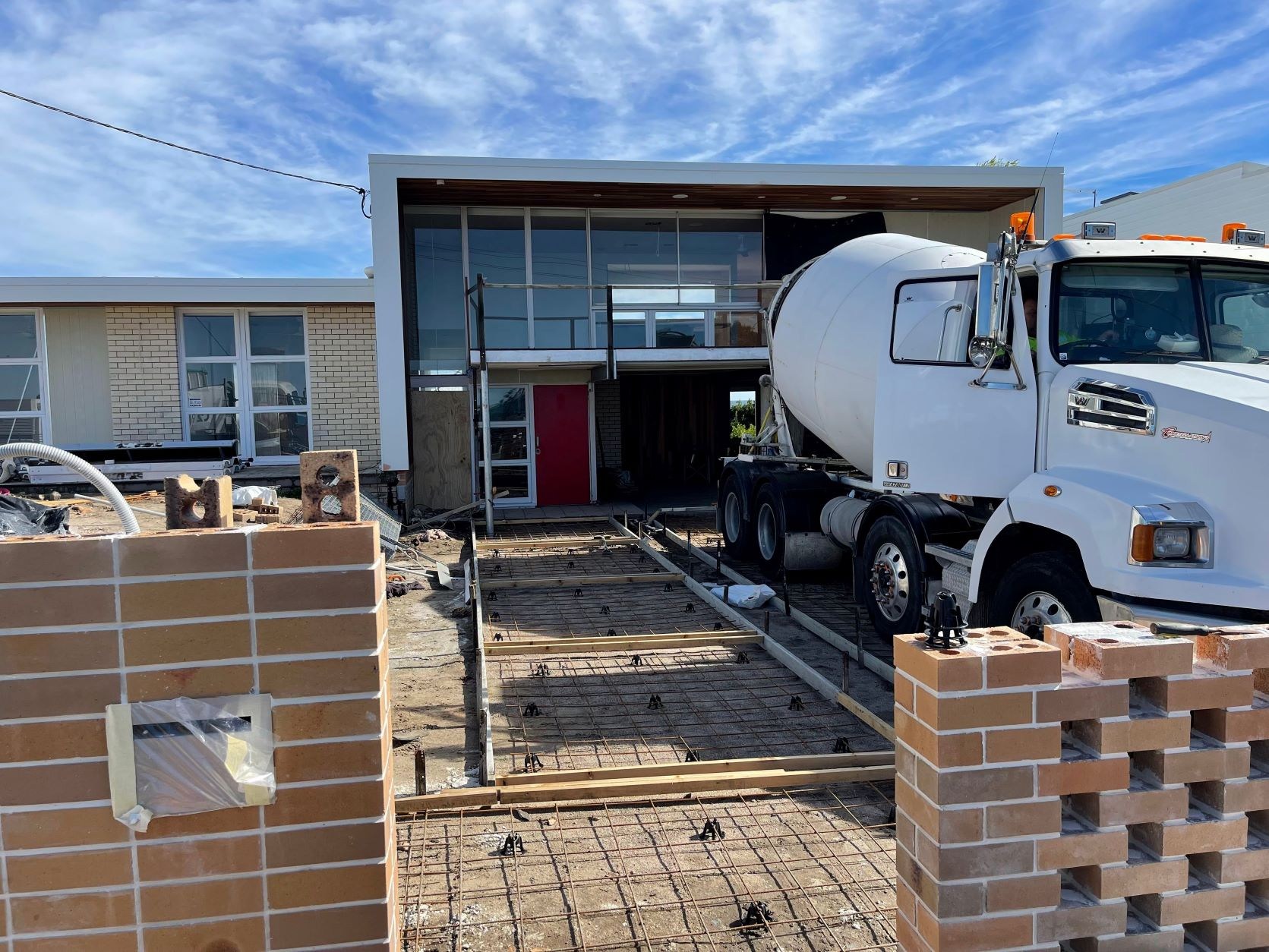 Tristan worked closely with John Robertson, Meg Ryan and the team at OGE Group Architects for the design and C2 Projects for the entire build.
The design brief included creating more liveable space downstairs, maximising the view of the northern outlook towards Shelly Beach, and ensuring energy efficiency.
The challenges presented themselves at every turn, before and during the nine months of construction.
However, the result has seen "Saving The Geddes" submitted for the Master Builders Housing and Construction Awards 2022 in the Home Renovation/Remodelling Project category.
The C2 Projects team Chris and Christen Hagan say in their award submission that the renovation had been "as complex as it was beautiful", but the end result is truly "a work of art".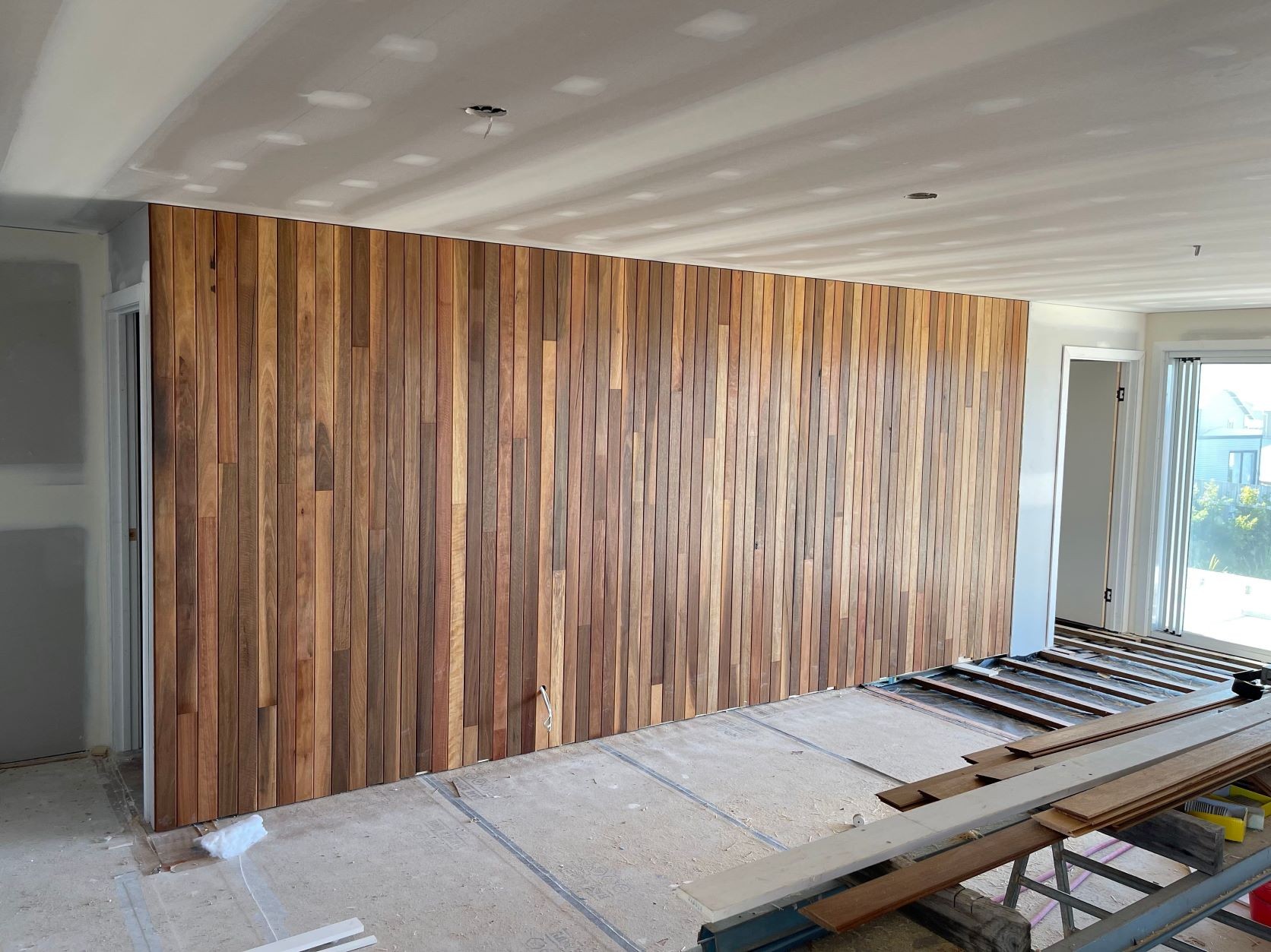 Chris and Christen said the overall design and elements, such as the original crows ash timber flooring and bathroom mosaic work, pointed to The Geddes being a prestigious home in its hey-day.
"The main challenge was the structure being so close to the ocean," Christen said.
"There was quite a lot of structure rotting away – timber, steel  and external cladding and those sorts of things.
"When my husband removed the external cladding, there was some hardwood framing that had had some structural issues as well regarding rot.
"Then there were the structural steel beams that were exposed that were rusting away.
"So, he basically replaced the majority of the steel structure. That was a big undertaking."
The integrity and workmanship of the original structural canvas is testament to Gzell's original work.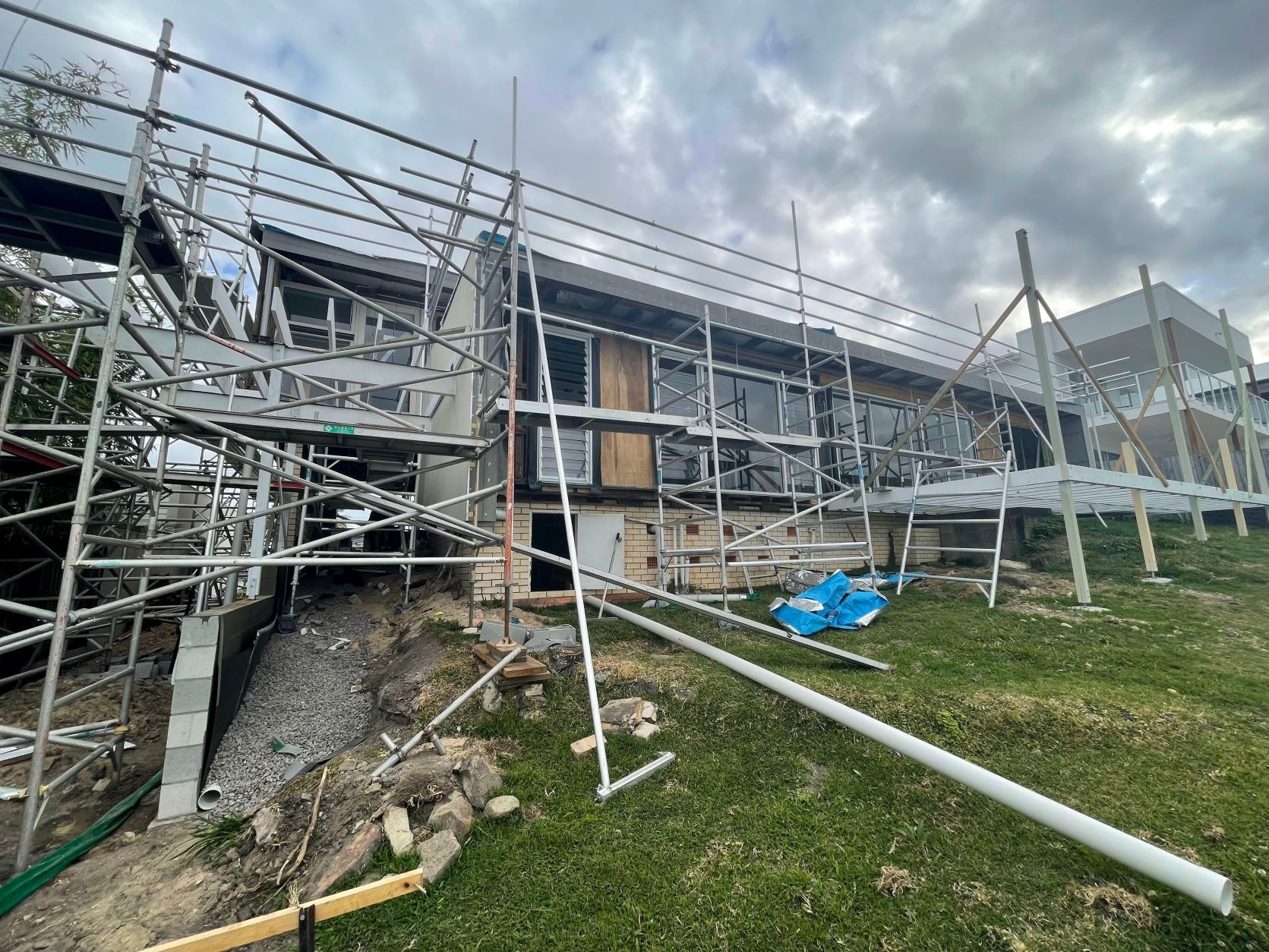 Some of his most notable designs with Blackburne & Gzell architects, where he began as a draughtsman, and his own architectural firm from 1953-1974 included Dunk Island Tourist Resort (1935) and Brisbane's Twelfth Night Theatre in Bowen Hills (1969), as well as various high-end homes in the then emerging suburbs of St Lucia, Toowong and Indooroopilly in the 1950s and '60s.
"It took a lot of time to research it all to try and make sure it all fit in the way that it should," Tristan said.
"One of my favourite parts was the balustrading on the decks because when I got the property, (the balustrading) was terrible and it looked like it had nothing to do with what  was originally there.
"The architect has been dead for a long, long time now. So, I  couldn't just pick up the phone and say, 'Hey, what did you have here?'.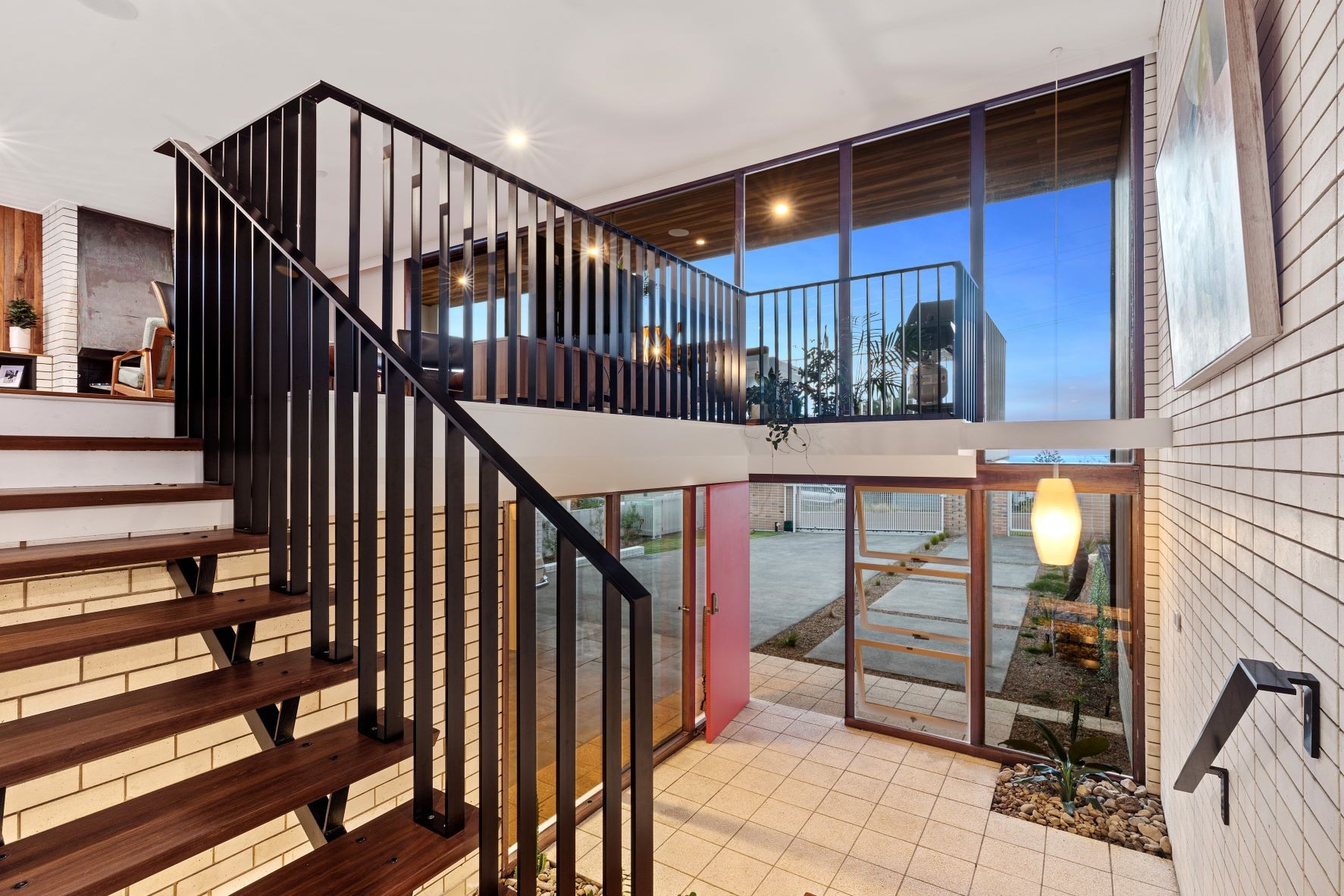 "We tracked down some of the other houses in Brisbane that had been designed by Vitaly and  found one that was a two-level house and had its original balustrading.
"We were able to get a photo of that and then from there, we could almost bring The Geddes back to exactly how Vitaly would have designed it and the other houses from exactly the same era."
The re-imagined four-bedroom, two-bathroom home with expansive decks has been a personal triumph for Tristan – not only fulfilling a long-held  dream but also because of his input in the end product and the wealth of history uncovered.
"It's the time that was taken just to think about how to do things and what materials to use and which bits to keep," he said.
"The tiles, for example, the mosaics in the ensuite, they were laid as single tiles.  They're about 2cm by 2cm each.
"The son who grew up in the Geddes family house, he came down to the house and he told me  how his parents had actually found these tilers who were living down on the Hawkesbury River in NSW. They they basically came up and camped for a month to do this.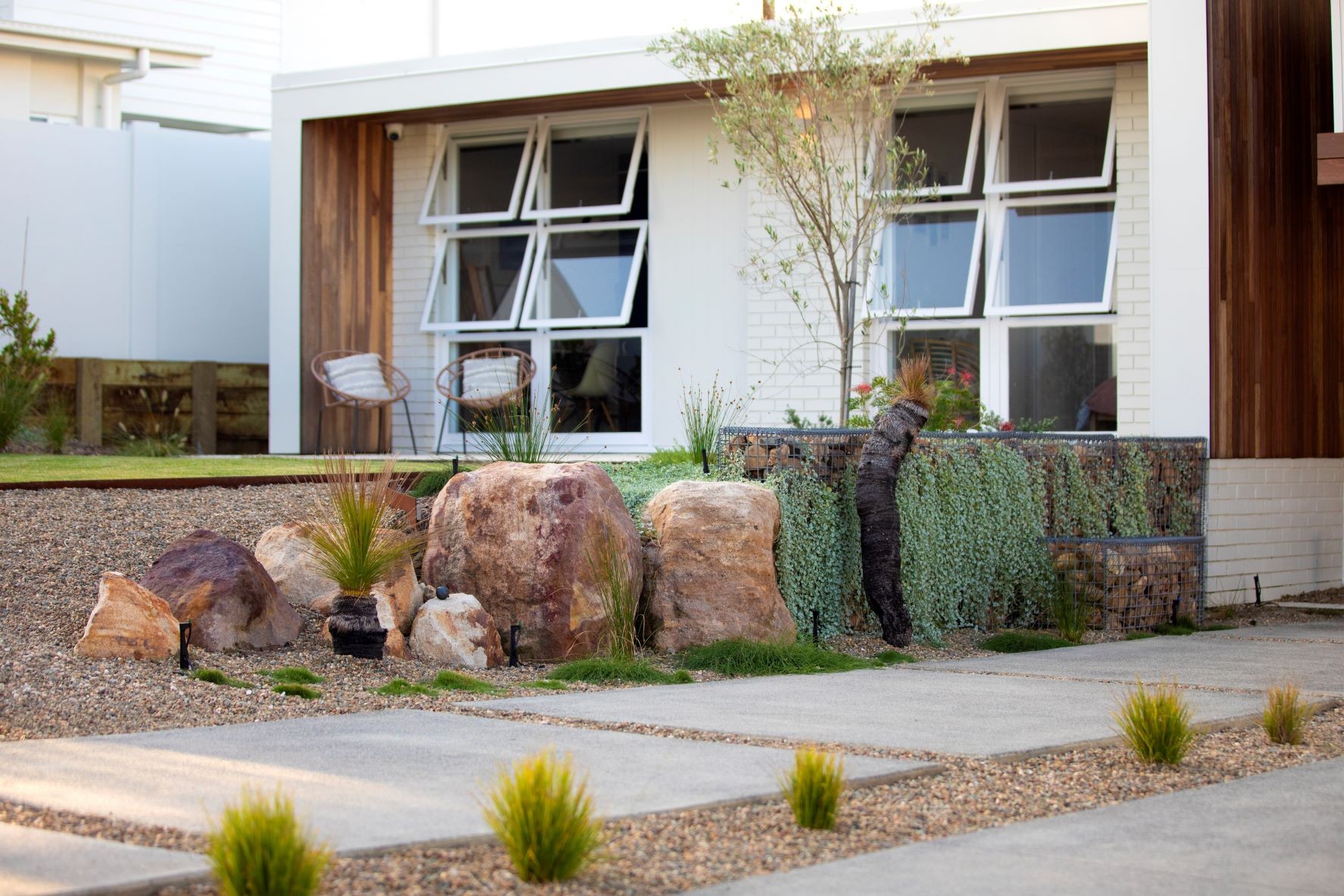 "There's all these stories like the guy who did the refurbishment of all the windows because we wanted to keep the original windows.
"It turned out  it was his father who had actually built the windows in the first place in the '60s for  the house.  So, it was really special."
Tristan admits he "may have slightly blown the budget" for the arduous rebuild, once new furniture, landscaping and pool are taken into account.
But he believes he has found his "forever home" that is also a joy for his two daughters and their pet dog.
"Ultimately, you can't escape the beauty of  the views on both sides," he said.
"In the  mornings, to be on the northern  side,  watching the sun come up over Shelly Beach is really special.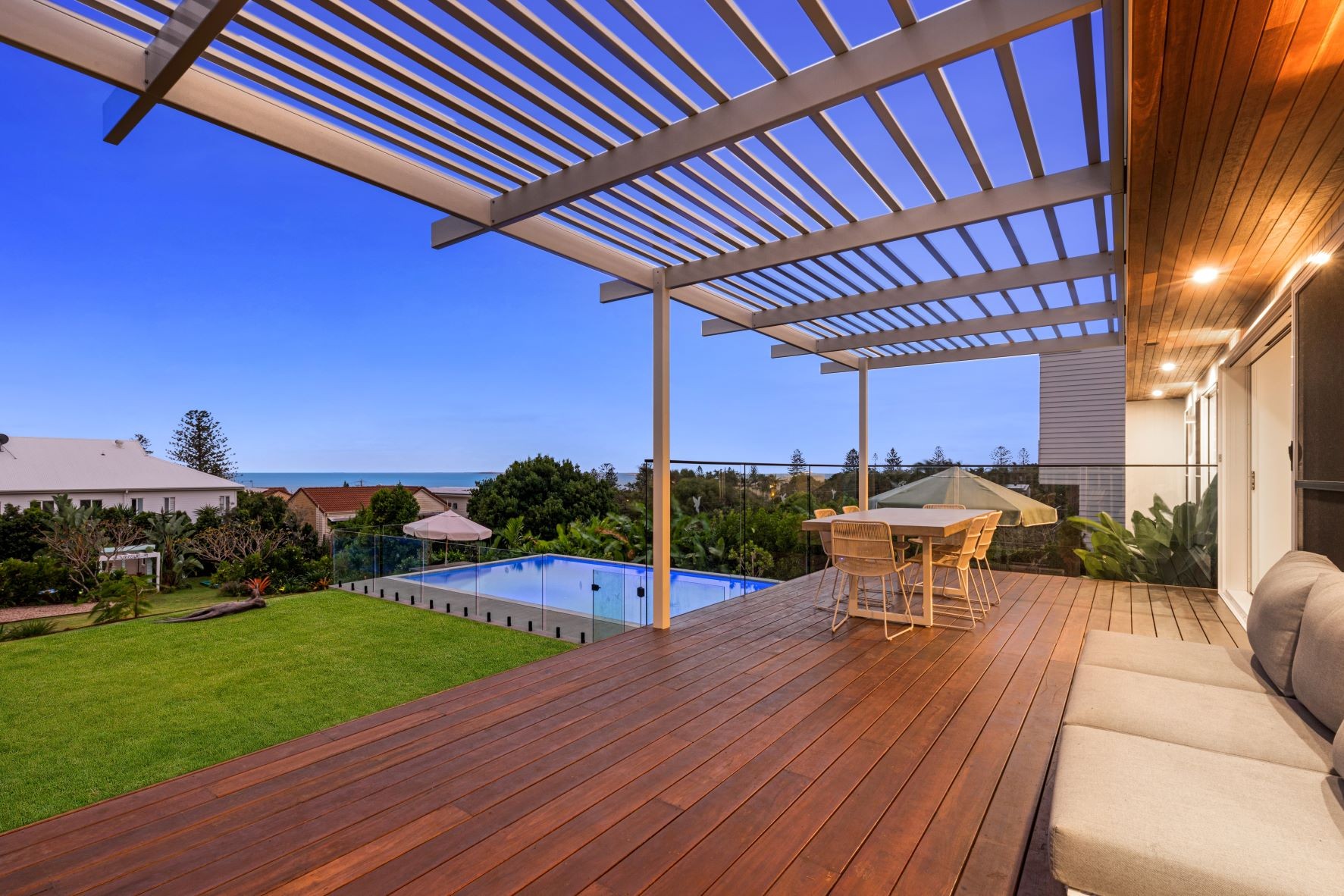 "Then in the evenings, to watch the day fade off over Pumicestone Passage and the Glass House Mountains.
"The  unfortunate thing about it is that it makes it almost impossible not to drink wine every night.
"You sit on that deck with a glass of water and you feel like you're not giving the view the justice it deserves.
"To have that plan and the garden for the children and the views and the proximity to the beaches, there's nowhere else to go."
THE GEDDES 2.0