Our turn to shout! The Sunshine Coast's top brewers are frothing about their latest accolades on the world stage of beer making.
The best beers in the world have been tasted and judged at the prestigious 2022 Australian International Beer Awards.
And our region's very own Moffat Beach Brewing Co is still in celebratory mode after taking home some of the night's biggest trophies.
The small, but rapidly growing operation claimed the title for two of the most hotly contested categories: Best International Pale Ale with the Shadow Of The Moon Strong Pale Ale, as well as Best Traditional India Pale Ale with the hugely popular Trilogy Best Coast IPA.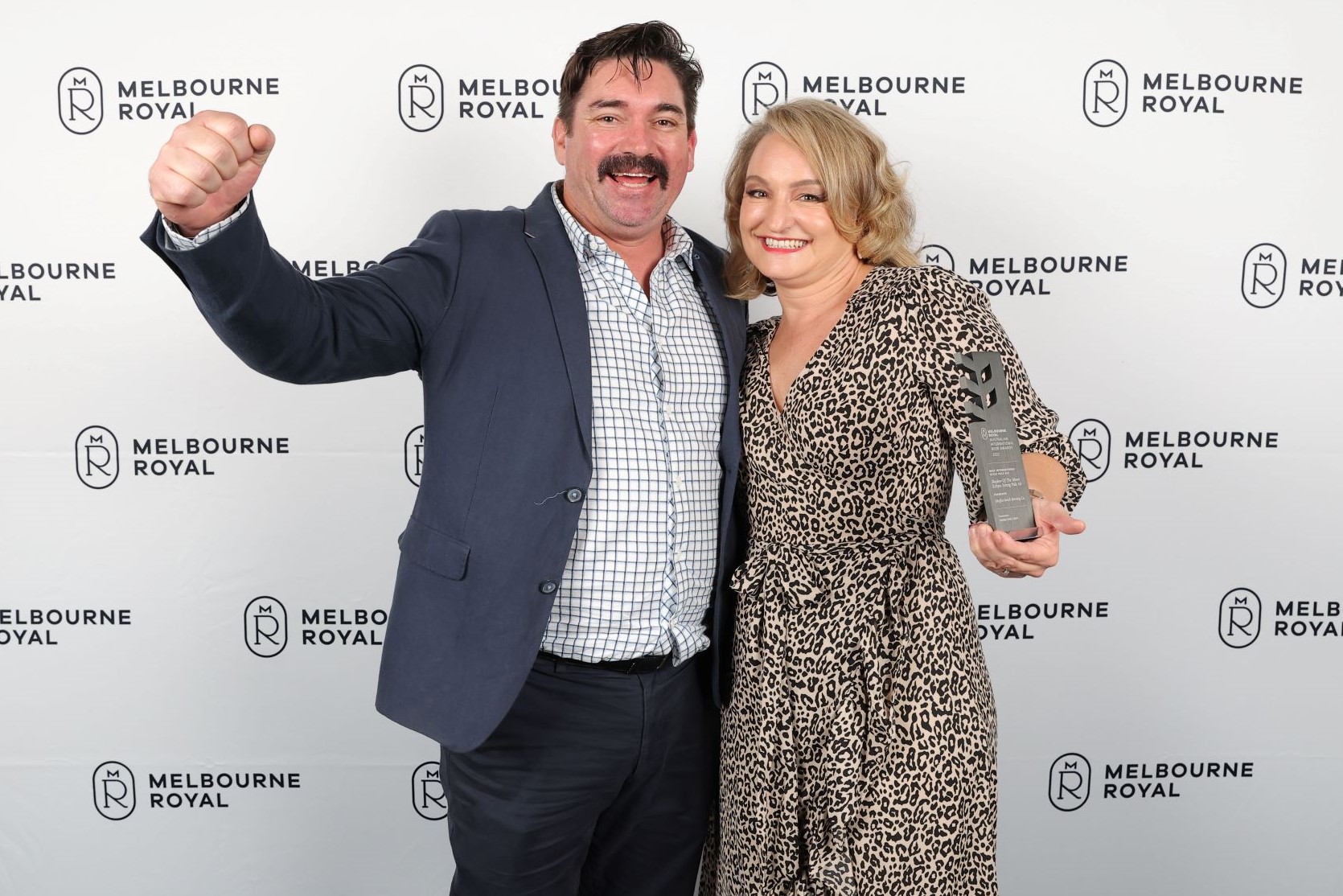 The team, led by co-founders Matt and Sharynne Wilson, also earned an impressive nine gold medals, one silver medal and three bronze medals.
Gold medals were awarded to beers including Moff's Summer Ale, Passenger Pale Ale, Reset Red IPA, and Social Jam Pale Mid.
Rounding out the night's success, Moffat Beach Brewing Co was named Champion Small Australian Brewery.
Local journalists supporting local people. Help keep independent and fair Sunshine Coast news coming by subscribing to our free daily news feed. All it requires is your name and email. See SUBSCRIBE at the top of this article. 
The Melbourne Royal Australian International Beer Awards is the largest annual competition in the world judging both draught and packaged beer.
Renowned for showcasing the highest-quality beer and for celebrating brewing excellence in Australia and around the world, the awards are open to brewers and breweries of all sizes, from small and medium volume to large-scale commercial production.
Celebrating 29 years, the 2022 awards saw about 60 industry experts assess more than 2600 beers across five days in May, with entries received from Australia and around the world.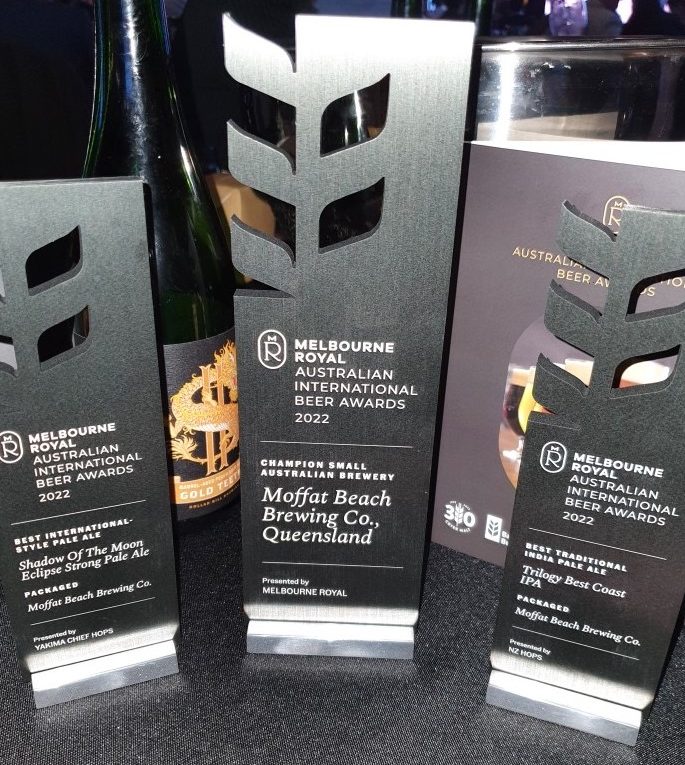 Moffat Beach Brewing Co head brewer and co-founder Matt Wilson expressed great pride in his team's achievements.
"We're beyond excited to see all of our hard work come to fruition tonight," he said of the awards.
"For the craft beer industry, the AIBAs offer an opportunity to benchmark your beers against the very best in the world.
Like stories about Sunshine Coast people doing great things? Help us deliver more by registering for our free daily news feed. All it requires is your name and email. See SUBSCRIBE at the top of this article. 
"It's incredibly humbling to receive these trophies, and to see our whole team's commitment to brewing quality beer recognised on the highest of stages."
With brewpubs located in Moffat Beach and Caloundra, the company led the charge for the Sunshine Coast, a region fast becoming known as Australia's craft beer capital.
More than 20 breweries now call the area home.
Of those, Heads Of Noosa, Boiling Pot Brewing, Land & Sea Brewery, Noosa Hinterland Brewing Co and Sunshine Coast Brewery also claimed a number of medals.
OTHER COAST BREWERY RESULTS:
BEST AUSTRALIAN STYLE LAGER
1A – AUSTRALIAN STYLE LAGER
9828 Noosa Beer Draught, Can
Land & Sea Brewing Co: Bronze
BEST EUROPEAN STYLE LAGER
2A – MUNICH STYLE HELLES
9548 Lager, Can
Land & Sea Brewing Co: Bronze
2D – OTHER EUROPEAN LAGER
6193 Our Lager, Can
Boiling Pot Brewing Co: Bronze
3A – AMERICAN STYLE LAGER
8894 Japanese Lager, Bottle
Heads of Noosa Brewing Co: Gold
3D – OTHER INTERNATIONAL STYLE LAGER
1238 Japanese Rice Lager, Can
Land & Sea Brewing Co: Silver
4A – GERMAN STYLE PILSNER
4649 Pilsner, Bottle
Heads of Noosa Brewing Co: Bronze
5B – GERMAN STYLE SCHWARZBIER
8516 Bat Migration, Can
Boiling Pot Brewing Co: Silver
5C – AMERICAN STYLE AMBER LAGER
1594 Summer Dusk , Bottle
Heads of Noosa Brewing Co: Bronze
BEST AUSTRALIAN STYLE PALE ALE
6B – AUSTRALIAN STYLE PALE ALE
4323 Golden Ale, Can
Boiling Pot Brewing Co: Silver
BEST INTERNATIONAL STYLE PALE ALE
8B – AMERICAN STYLE
7241 First Point Pale Ale, Can
Land & Sea Brewing Co: Silver
8C – AMERICAN STRONG STYLE
9923 Pale Ale, Draught
Noosa Hinterland Brewing Co: Bronze
BEST TRADITIONAL INDIA PALE ALE
10C – AMERICAN STYLE IMPERIAL OR DOUBLE INDIA PALE ALE
4031 High Voltage, Can
Boiling Pot Brewing Co: Bronze
12A – IRISH STYLE RED
1312 Sunshine Coast Brewery Irish Red,
Draught, Sunshine Coast Brewery: Bronze
BEST FLAVOURED SPECIALTY BEER
21A – HERB & SPICE
3523 Sunshine Coast Brewery Ginger Kegs,
Draught, Sunshine Coast Brewery: Silver