Vessels are striking more trouble than ever as calls to safeguard the treacherous entrance to Mooloolaba Harbour by extending the seawall continue to be ignored.
Mooloolaba Coast Guard and local State MP Fiona Simpson have called for "urgent" action as a build-up of sand makes entering and leaving the Mooloolah River a nightmare.
The crisis escalated over the weekend with fishing boats running aground and a police vessel requiring special assistance.
Ms Simpson, the Member for Maroochydore, said she again had raised the matter with Transport Minister Mark Bailey, saying "lives will be lost" unless urgent action is taken.
"There must be a bigger dredge used to get outside of the entrance and dredge the problem shoals so people can safely get in and out," Ms Simpson said.
Negotiating the mouth of the Mooloolah River has been an issue for decades and it has become more dangerous recently after prolonged weather events during 2022.
However, detailed design work on a proposed 60m breakwater extension has been at a standstill since 2019.
The State Government told Sunshine Coast News that while this was still under consideration, no funding had been allocated to progress the project.
Do you have an opinion to share? Submit a Letter to the Editor with your name and suburb at Sunshine Coast News via: news@sunshinecoastnews.com.au
A major yacht race from Moreton Bay to Mooloolaba over the Labour Day long weekend was cancelled due to safety fears.
Maritime Safety Queensland (MSQ), which maintains the crossing, aims to keep the entrance clear to navigable depths at all times. That depth is 2.5m Lowest Astronomical Tide (LAT).
A recent hydrographic survey on April 22 indicated the depth at the centre of the entrance at about 1.2m LAT and as low as 0.9m on the western side.
In the late 1960s, the Mooloolaba Harbour and entrance training (east breakwater) walls were built to minimise destruction from channel shoaling, often caused by weather events or shifting tides.
Since that time, sand shoaling events have occurred regularly in the entrance channel and dredging has been used to pump sand out of the river entrance.
Senior skipper, Rod Ashlin, has been at the Mooloolaba Coast Guard for 14 years. He told SCN vessels were landing in trouble more often than ever, which also put the Coast Guard team at risk.
Local journalists supporting local people. Help keep independent and fair Sunshine Coast news coming by subscribing to our free daily news feed. All it requires is your name and email. See SUBSCRIBE at the top of this article 
The former deputy commander for the local Coast Guard said the small dredge currently used to shift sand from the area offered more of a "bucket and spade" approach.
"Something needs to be done and right now it is very, very bad," he said.
"Vessels are getting in trouble on a very constant basis and we have to go out and guide people back in.
"It's even risky for us a lot of the time. There are breaking waves, so you have got to duck around them.
"Even if you know the best track to get through, there's only 1.5m depth at lowest tide and that can be even less if you are in the trough of a wave at the time. It's meant to be 2.5m."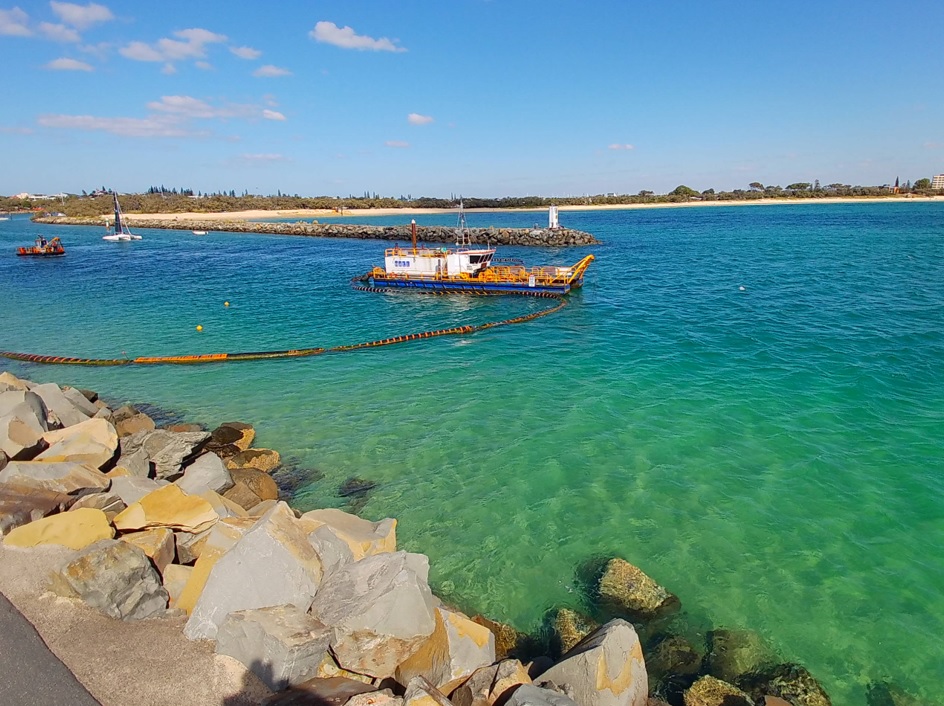 Currently, a small cutter suction dredge is used to dredge the Mooloolaba channel entrance on an as needs basis. It is small enough for boats to pass when in use.
A permanent pipeline, which was installed in 2013, runs along the eastern breakwater wall and across the channel anchored on the riverbed and pumps dredged sand onto Mooloolaba Beach.
"The dredge is a small dredge and it's like trying to tackle the beach with a bucket and spade," Mr Ashlin said.
"They dig a little trench to the required depth but they don't take all the sand away from either side, so as soon as you get bad weather it fills back in again."
Mr Ashlin said the most feasible solution was an extension to the east breakwater wall, and this is something Mr Simpson echoed.
Ms Simpson said she had been informed a visiting police vessel required Coast Guard help to safely navigate out of the harbour entrance on Sunday.
"Numerous fishers who are extremely experienced skippers are also telling me tales of horror about coming aground and risking being swamped while navigating the harbour entrance," she said.
"There's also increasingly stories of other vessels bypassing Mooloolaba – which used to be known as a safe harbour – because of the lack of certainty of safe access in and out. That also has an economic impact to the local industries.
"The pilots who service the Moreton Bay shipping channels also are based out of Mooloolaba Harbour and they are impacted."
Questions from SCN to Mr Bailey's office regarding the harbour entrance were referred to the Transport and Main Roads department, which incorporates Maritime Safety Queensland (MSQ).
A TMR spokesperson said MSQ continued to actively manage the shoaling at the Mooloolah River entrance.
"This is a complex area affected by tides, weather and flooding events. A dredge is currently working to remove shoaling in the entrance channel when swell conditions allow," the spokesperson said.
"We always encourage mariners to exercise extreme caution when entering river channels as conditions and depths frequently change."
The spokesperson said MSQ was investigating options for longer-term solutions, one of which was a potential extension of the river entrance breakwater.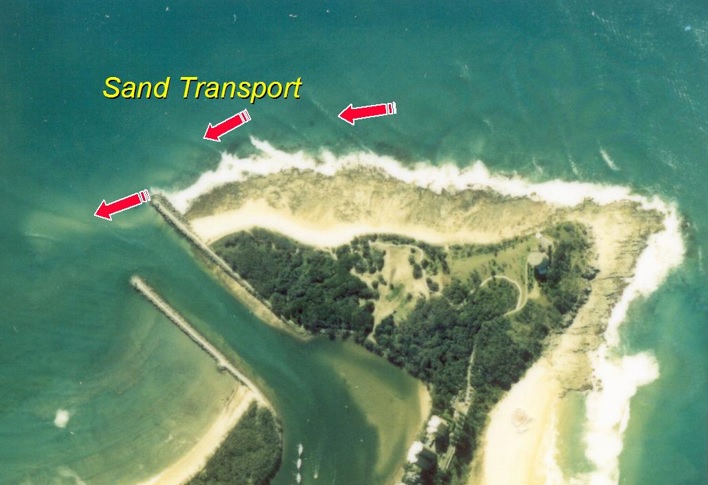 Further information on this proposal is available on the MSQ webpage.
"Funding has not yet been allocated for project delivery and will be considered in future budget rounds."
An extension to the eastern breakwater to intercept large shoaling events was assessed in a 2014 options study, with a 60m breakwater extension confirmed as the preferred option in 2018.
In February 2019, coastal engineering consultants Kellogg Brown & Root Pty Ltd started the detailed design work of the 60m breakwater extension.
The design was tested at the Queensland Government Hydraulic Laboratory through physical modelling using a 1 in 41 scale model. The design was modified and included analysis of concrete armour units for the construction of the breakwater.
But having long advocated for an urgent solution, Ms Simpson said there was still no time frame in place to see the solution delivered.
"This is a matter of life and death as well as one impacting the economy, not only of our fishing industry but shipping into Brisbane as pilots who navigate the major ships into Moreton Bay are based out of Mooloolaba," Ms Simpson told SCN.
"I received the latest response to my question in Parliament from the Transport Minister and he still is not stating a timeframe for action.
"I'm wanting them to release all the options they've studied and act on the best solution that addresses marine safety as well as the environmental issues but this needs to be released for public scrutiny.
"I don't believe they have released all the studies – because if a wall extension is the best solution, this can't be done without sand-bypass solutions to keep beaches nourished and they haven't released any studies that indicate how this impacts."