Nestled in the rolling green hills deep in the Noosa hinterland is a hidden town oozing with charm, full of history and worthy of a visit.
Unspoilt by the influence of technology and thriving in simplicity, it's easy to feel as though you've stepped into the pictures of a history book when you visit here.
From romantic farm stays or a family digital detox to recently renovated beer gardens and a network of pristine adventure trails, Kin Kin offers today's traveller so much.
It's even had its own "007" moment and a brush with Hollywood. Read on to discover more.
A visit to this hinterland gem will give you the chance to hit pause on the hustle and bustle of life and breathe in the fresh country air.
A 40-minute drive from Noosa, Kin Kin is believed to be named after the Aboriginal term "kauin kauin" meaning "plenty plenty, black ants" and referring to the many small insects that inhabited the area – so common that they decided to name it twice!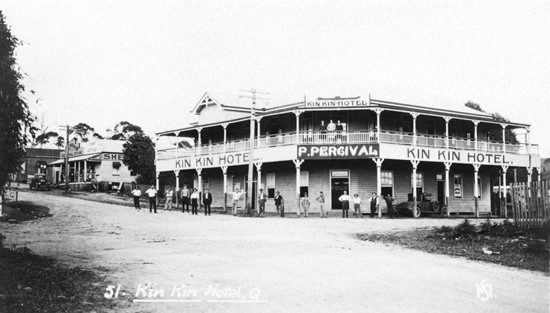 Love nostalgia? So do we. Help keep more great Coast memories alive by subscribing to our free daily news feed. Go to Subscribe at the top of this story and add your name and email. It's that simple.
The area was originally home to the Dulingbara people, who are part of the Kabi Kabi language group.
Kin Kin was opened for land selection in 1905 but the current township didn't develop until around 1910 during an era of logging in the surrounding areas of Boreen and Elanda points.
The first road into town was established in 1904 and the Kin Kin began its days as a timber town, famous because of its much sought-after cedars and eucalypts.
In later years, it became an ideal area for dairy farming and growing bananas, pineapples and beans.
Kin Kin Butter Factory opened on January 1, 1914, with Kin Kin Dairy Co running from 1914 to 1937.
Today, the town is home to a variety of producers, artists and creators thriving off the natural resources and its proximity to Noosa and Gympie.
Some well-patronised local businesses include Kin Kin Tea, Hello Honey Australia and Kin Kin Naturals.
It is also a popular destination for classic car and bike groups to enjoy a country drive.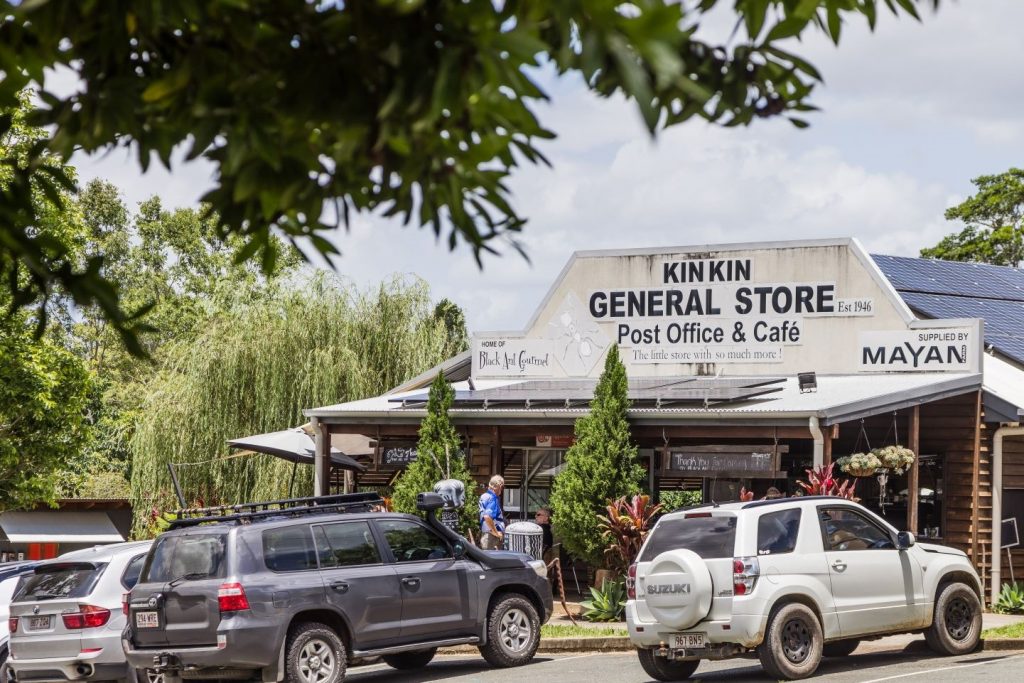 Jodie Williams's great-grandparents first came to town during its logging heyday.
The talented chef and passionate resident now runs the popular Black Ant Gourmet cafe located at Kin Kin General Store.
A sixth-generation Noosa Shire local, Jodie was naturally drawn back to the town her family helped shape and initially opened Black Ant Gourmet in 2014 as a space for her commercial catering kitchen.
The business, very much like the produce that grows in the garden, expanded organically from there.
"I've always been in hospitality," Jodie says.
"When I was 13, I got my first job at the old Dolphin Snack Bar in Noosa.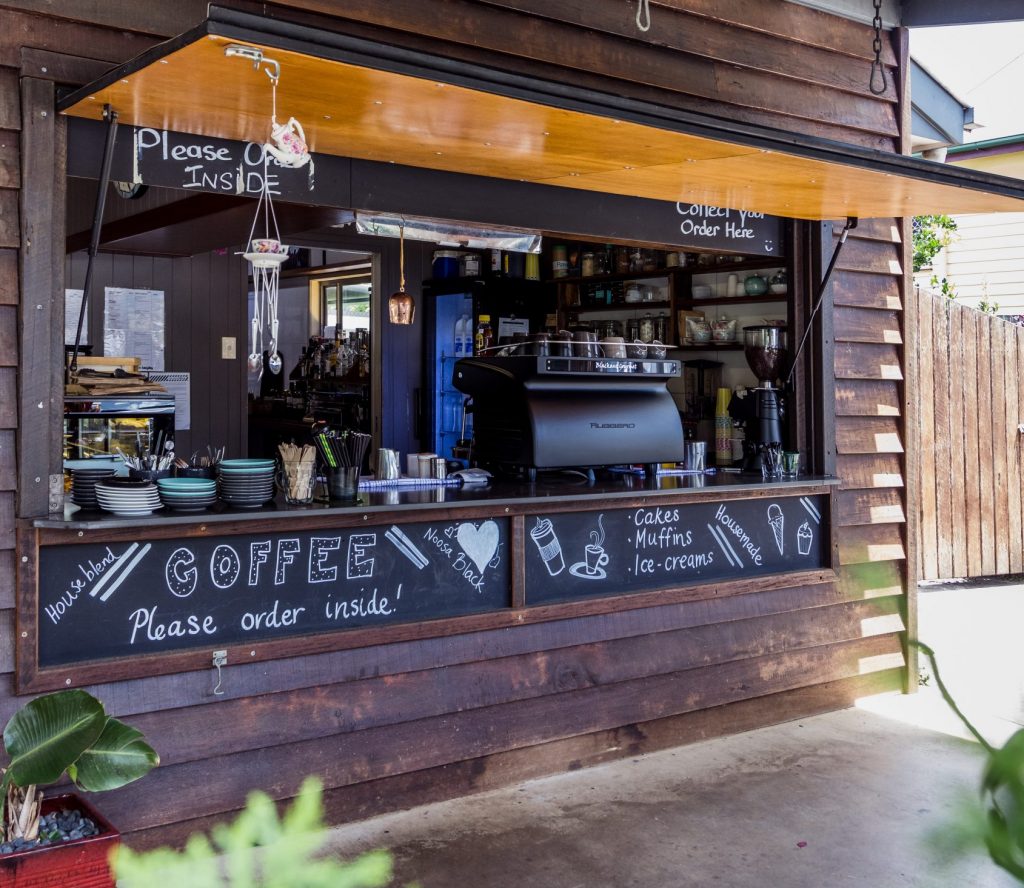 "I then became a chef. I decided to move out here because I wanted to continue cooking and wanted a commercial kitchen.
"I wanted to live somewhere that was close to everything but just far enough away.
"We were originally doing our offsite catering and opening for basic supplies and takeaway for the locals.
"Then my catering clients started coming out to visit for lunch and that's why we started doing the cafe and restaurant."
Offering a true paddock-to-plate experience, Black Ant dishes up breakfast and lunch, as well as a great cup of coffee made with Noosa Black Coffee beans, grown in Kin Kin.
There is also an extensive wine and cocktail list and great choice of local beers, with gourmet wood-fired pizzas available on Friday nights and for Sunday lunches.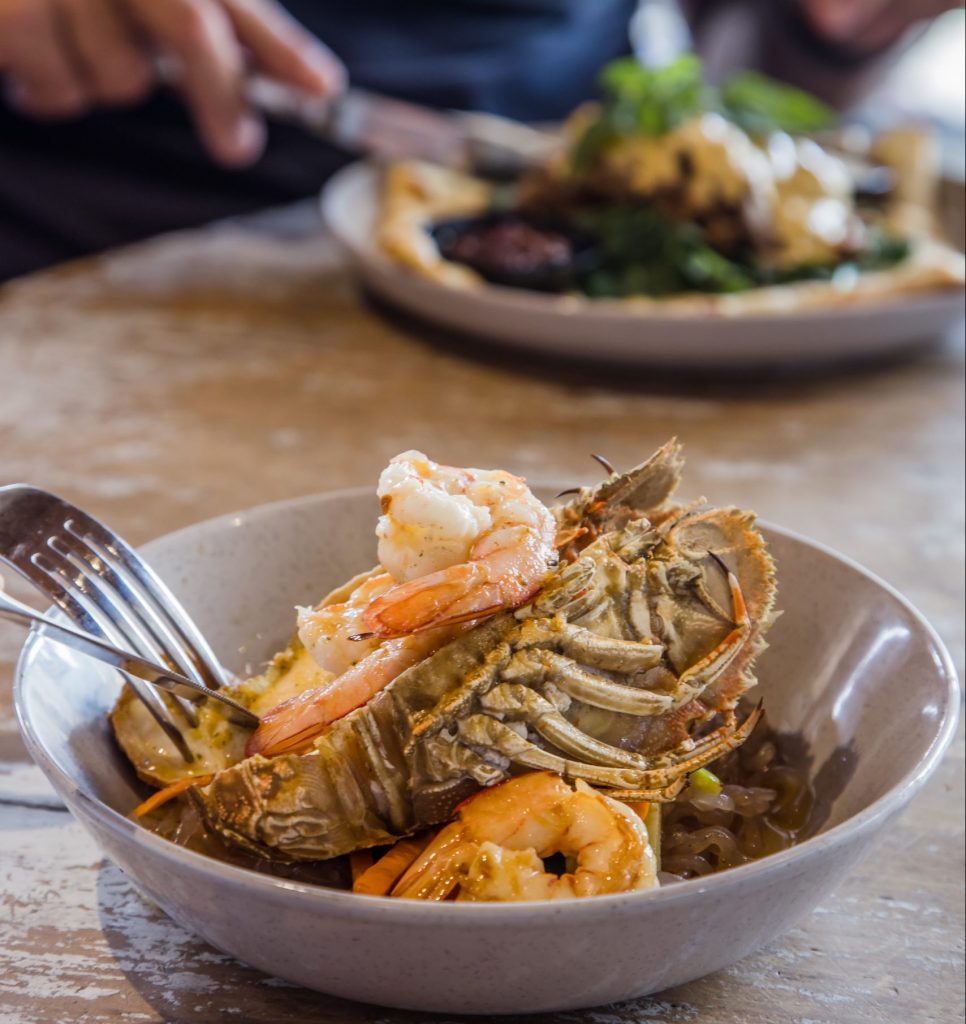 Capitalising on the abundance of local produce, the menu offers seasonal dishes inspired by what's in the garden.
"We grow a fair bit here – chillies, kaffir lime, lemongrass, all the herbs you can think of, all the flowers you can think of," Jodie says.
"There are about 20 different edible flowers out there, so we pick daily."
Black Ant Gourmet also grows its own seasonal produce, including mulberries, blueberries, pumpkins, beans, capsicum, zucchinis, corn and tomatoes.
"We might only have six things that we grow and then we focus our specials around that," Jodie says.
"We also buy local fruits and veg from the farmers and meat from the local butcher. Our seafood comes from Tin Can Bay."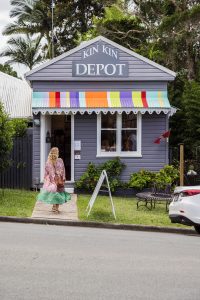 Across the road is Kin Kin Depot: the store that has a gift for everyone.
Run by Josie Wiles, the shop is full of vintage and new local art, homewares and collectables.
Main Street is also home to the Country Life Hotel, where movie royalty Sean Connery and Diane Cilento stayed in the 1960s.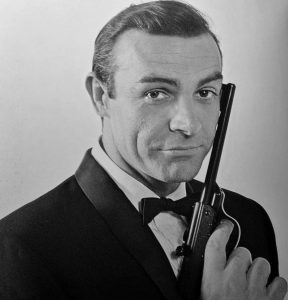 The pub featured in the movie Silent Reach, starring Robert Vaughn, Helen Morse and Graham Kennedy.
David Ezrine and Mathew Flynn bought the historic pub in August 2021 and plan to breathe new life into the charming building.
They recently opened a stunning beer garden offering a provisional menu and are planning to renovate its accommodation and create a boutique hotel stay.
Overlooking the green pastures, the pub is a great place to spend a Saturday afternoon with friends sharing pizza and enjoying the range of local brews on tap.
Mathew's mother is Kin Kin born and raised, and David says he was drawn to the building.
"When you see a pub like this – an old heritage pub that has these kinds of bones – it's definitely an eye-catcher and that's what lured me.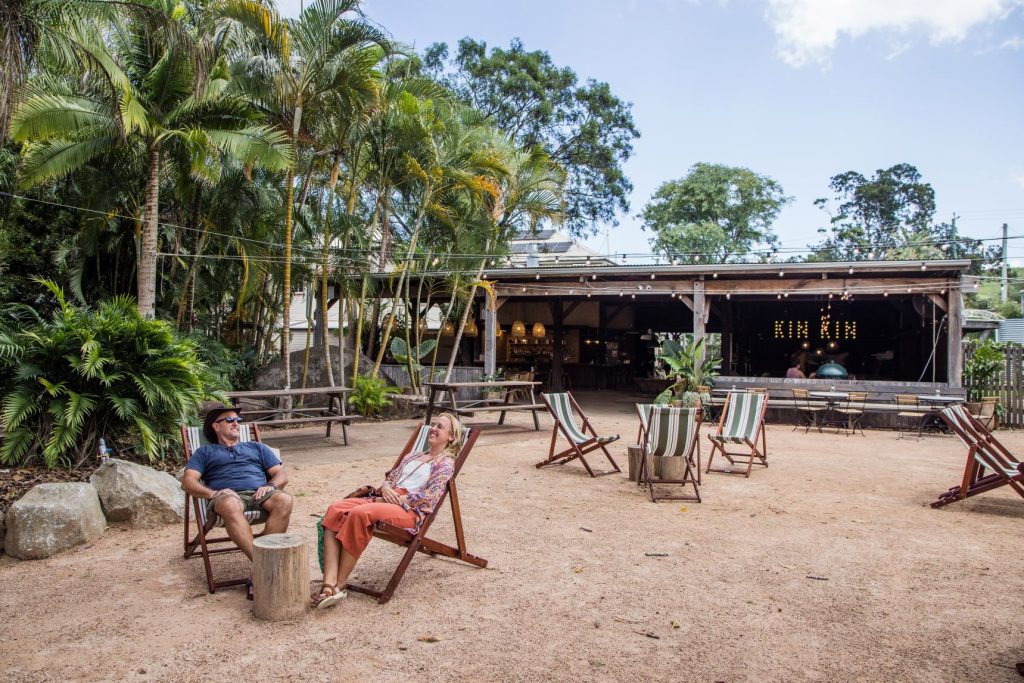 "We are looking to reinstate all those heritage features the pub has enjoyed for so many years.
"We are looking to put back the wood floors in the main pub and bring the rooms upstairs back to their original splendour."
Renovations to the main pub are under way and, once open, its full menu will offer a chop house and grill, cooking over flame and serving up an exciting food offering.
David also has plans to open a wood-fired bakery in town and to expand and invest in other local food supply chains, including a herd of buffalo to create buffalo mozzarella and ice cream.
"We want to do it in a way that brings even more of a food program to Kin Kin," he says.
"We are looking to invest in a lot of those local supply chains as part of our menu offering for the pub."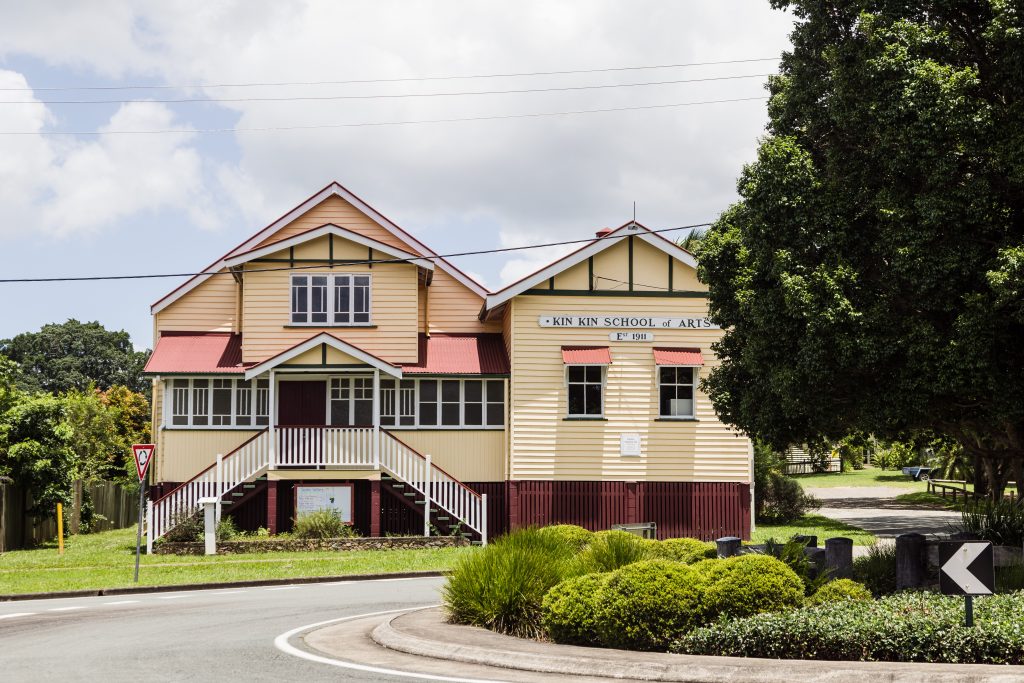 Just up the road is Kin Kin Memorial School of Arts Hall, managed by the Kin Kin Community Group.
Opening in 1911, the first school of arts built between Brisbane and Gympie had an original building housing a library room and hall with a small stage and piano.
In 1924, a severe storm blew the roof off the hall – but this wasn't the only natural disaster to have hit the town.
Local journalists supporting local people. Help keep independent and fair Sunshine Coast news coming by subscribing to our free daily news feed. All it requires is your name and email. See SUBSCRIBE at the top of this article. 
A tornado ripped through in 1971, with another in 1985 destroying the old Kin Kin Butter Factory.
A devastating 3m flood in 2009 sent some of the town underwater, including the Country Life Hotel.
A popular town attraction is the Kin Kin Market, held on the first Sunday of every month.
This vibrant event on the town's oval has a range of local artisans and producers, second-hand treasures and food and drink stalls.
Visitors can browse, meet the makers and purchase a special item.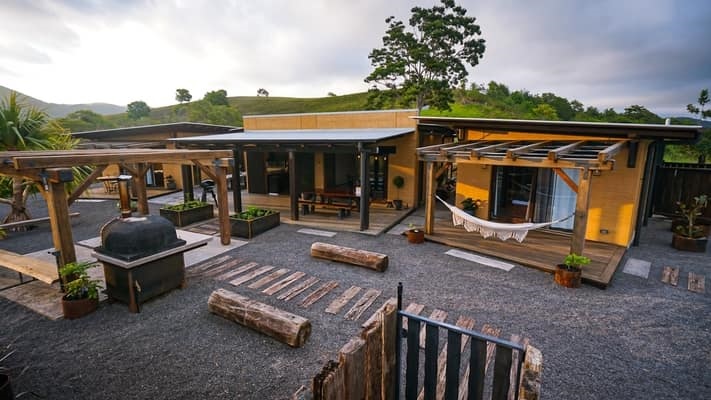 There is also an abundance of accommodation options to make your stay last a little longer – ranging from the bespoke Mayan Luxe Villas to country cottages, camping on the oval and a plethora of short-term accommodation including Airbnbs boasting stunning views.
To appreciate some of Kin Kin's craftmanship, it's worth a stroll through the gardens at The Croft Garden Gallery to view the range of sculptured planters, landscaping features and garden art.
Run by Duncan and Natalia Broadcroft, of Broadcroft Design, the business is open every Wednesday and on the first Sunday of the month.
Sometimes popular metal artist Steve Weis opens Weis Art Works and Gallery on Gympie-Kin Kin Road to the public, and occasionally other locals will do the same.
Like stories about Sunshine Coast people doing great things? Help us deliver more by registering for our free daily news feed. All it requires is your name and email. See SUBSCRIBE at the top of this article. 
It's best to check with each individual producer or artisan to see what's on offer.
On the way into town, along the winding and scenic Pomona – Kin Kin Road, visitors will find the Kin Kin Arboretum.
The arboretum is dedicated to the memory of W.D. Francis, who was appointed assistant government botanist at the Queensland Herbarium in 1919 and promoted to government botanist in 1950.
He is known in botanical circles for his work Australian Rain-forest Trees, with many of the photos in the book from the Kin Kin area.
Kin Kin Community Group, Noosa Council and Noosa and District Landcare Group recently collaborated to mark individual plant species with names, QR codes and new signage at the arboretum.
The town is also home to Kin Kin Sawmill, built in 1948, and possibly the only remaining example of a small case mill still in operation, largely in its original layout.
Located on Sister Tree Creek Road, the sawmill was originally established to produce wooden packing cases for the local fruit industry. In 2008, it was included on the Queensland Heritage Register.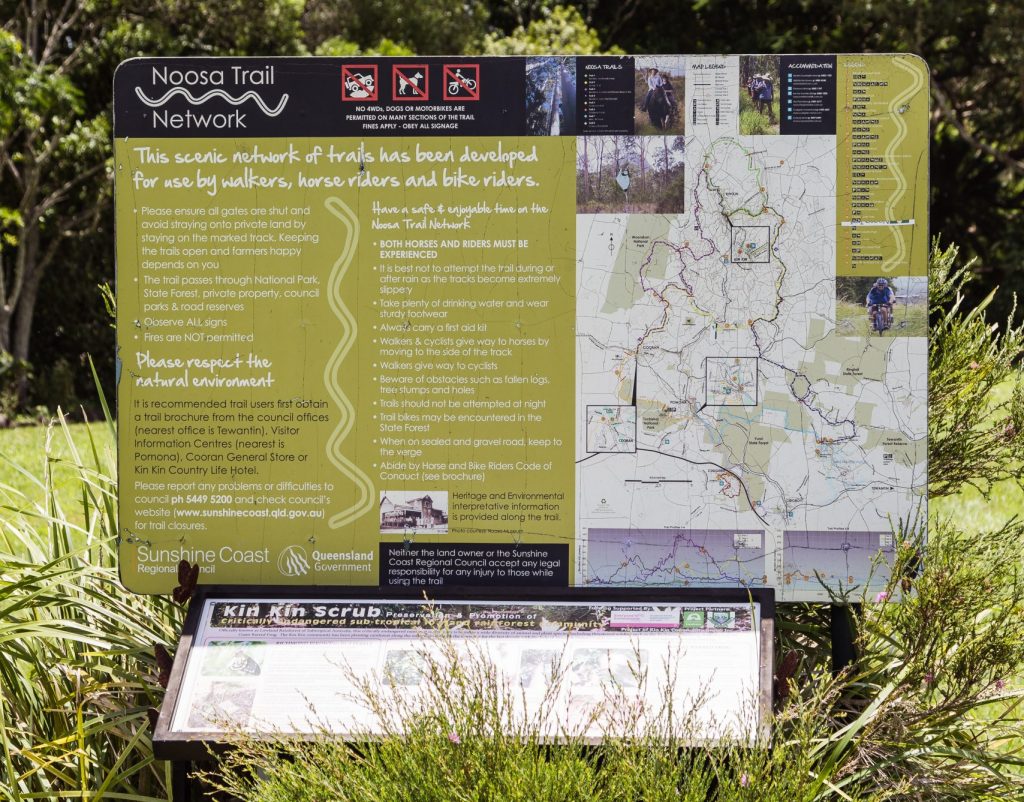 For adventurers, Kin Kin is at the heart of the Noosa Trail Network.
The trails link the hinterland towns of Cooroy, Cooran, Pomona and Kin Kin and can be travelled on foot, bike or horseback.
The Scenic, Kin Kin to Cooran and Kin Kin to Lake Macdonald trails all start or finish in town, while the Kin Kin Countryside Loop Trail offers a 14 km route passing through mango farms with a chance to spot your fair share of goats and dairy cows along the way.
The annual three-day Great Noosa Walk Trail is also a wonderful way for those with a good level of fitness to explore the region on foot.
This year, the event will run from October 1 to 3 as participants walk at their own pace through Kin Kin and nearby Cooran, Pomona and Cooroy.
YOUR KIN KIN ITINERARY
The romantic getaway – Clear your calendar for a few days and book a stay at one of the many accommodation options in the region. Pop into town for breakfast and a coffee or organise a decadent picnic hamper from Black Ant Gourmet.
The family digital detox – Pile the troops into the car and leave the devices at home! Head to the arboretum for an educational and interesting botanical experience before stopping in town for lunch. Treat the kids to a local ice cream at the general store and a play in the playground next to the Memorial School of Arts Hall, or in the skate park on Kin Kin oval.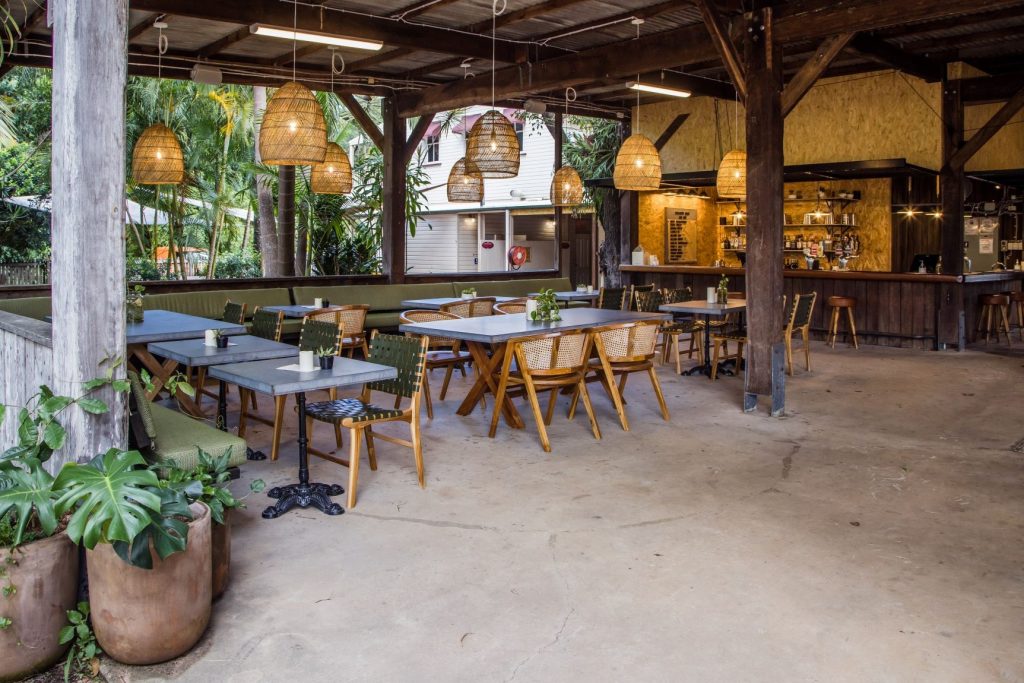 The weekend social – Round up your friends for an afternoon of pizza and drinks in the relaxed and recently renovated beer garden at the Country Life Hotel. If it is the first Sunday of the month, make sure you arrive in the morning to browse the markets.
The slow escape – Enjoy a slow drive and bite to eat before popping into Kin Kin Depot. Head to The Croft Garden Gallery and enjoy garden art or check out the arboretum. You might even have time for both.
The adventure seeker – Dust off your hiking shoes and tackle one or more of the Noosa Trail Network Trails. Start at one of the nearby towns and make your way through the network of trails into Kin Kin. Stay the night in town and conquer the Kin Kin Loop Trail, before refuelling with a delicious meal.
This great feature is from the Autumn edition of SCN's sister publication Salt Magazine, out now.