A Sunshine Coast charity hopes to shine a light on autism this month, with the help and generosity of the community.
April marks International Autism Awareness Month and the Compass Institute has been busy holding a variety of activations to encourage a greater understanding of the condition and raise funds for vital programs.
The inaugural Compass Shine a Light for Autism fundraising campaign will help the charity extend its life-changing programs for young adults with autism and buy new sensory equipment and resources to create Zen spaces.
A common experience for people with autism is sensory overload and being overwhelmed.
Compass' spaces and programs help reduce stress and overstimulation, so learning and development is possible.
Compass CEO, David Dangerfield said autism is more common than most people think and that in many ways everyone sits "on the spectrum".
"The reality is we also all know someone with autism and many of us have a connection to the condition," he said.
"I believe that everyone sits somewhere on the spectrum and many of us can find ways to manage our triggers and responses to the world around us at different times.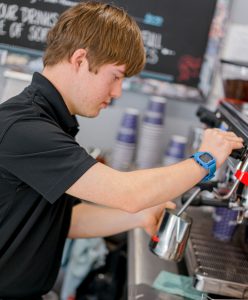 "The key to understanding autism is that no two people with the condition are the same – just as no two people without autism are the same.
"Our biggest aim this April is to encourage everyone in our community to be open to understanding more about autism and how we can build resilience and support around people with autism."
"We'll be sharing real stories from Compass families, hosting a workshop on how understanding autism can make you a better leader, and fundraising to reach our big $100,000 goal so we can extend our programs that can truly transform lives."
For more on the Compass Shine a Light for Autism campaign and to donate, visit Compass – Light It Up Blue. 
About autism
• No two people with autism are the same, this is why autism is described as a spectrum.
• Autism, or ASD, is a condition that affects how someone thinks, feels, interacts and experiences the world around them.
• Autism is a common developmental disorder and lifelong condition, not a disease.
• Early interventions can often lead to significantly improved outcomes in people's lives.
• Individuals with ASD can continue to develop and increasingly lead meaningful lives  through specialised support and opportunities for inclusion.
Help us deliver more stories that inform, connect and celebrate the Sunshine Coast by signing up for our free Daily News Feed: Please go to SUBSCRIBE at top of this article and add your name and email address.