It's taken 53 years but a Sunshine Coast man has finally been recognised for his work on a morning that could have changed the course of the Vietnam War.
Michael Ey, of Wurtulla, was presented with a gold commendation by the Royal Australian Navy on March 8, for his work as a navy clearance diver at Vung Tau Harbour on May 23, 1969.
He was recognised for superior achievement or devotion in the application of skills, judgement or dedication to duty.
Michael was part of a diving team that spent 11 hours clearing the water, after finding a bomb which could have blown up the whole harbour.
"It would have been the end of the Vietnam War. It would have ended that night," he said.
The divers' work began in the wee hours after two North Vietnamese sappers were spotted swimming in the harbour.
The harbour was packed with Western forces and their vessels, along with a stockpile of explosives.
Shots were fired at the duo and clearance divers were called, as the sappers usually swam in the harbour to set bombs on or near ships and infrastructure.
Shots were still being fired when Michael and colleagues Vic Rashleigh and Jeff Garrett arrived at the DeLong Pier, near where the swimmers had been seen.
Beside the pier was the MV Heredia, with 8000 tonnes of explosives on board.
Rashleigh, the senior officer of the three, sent Garrett down to have a look and he found a bomb attached by line.
Garret had resurfaced to tell them what he had seen when they heard a muffled bang.
Michael dove down and found the bomb had partially gone off.
"They hadn't packed it properly. If they'd packed it properly, I wouldn't be here talking to you," he said.
"It would have been a huge explosion. Eight thousand tonnes of ammunition were on that ship.
"The whole harbour would have been blown up, everything in it would have been blown up and probably around it as well," he said.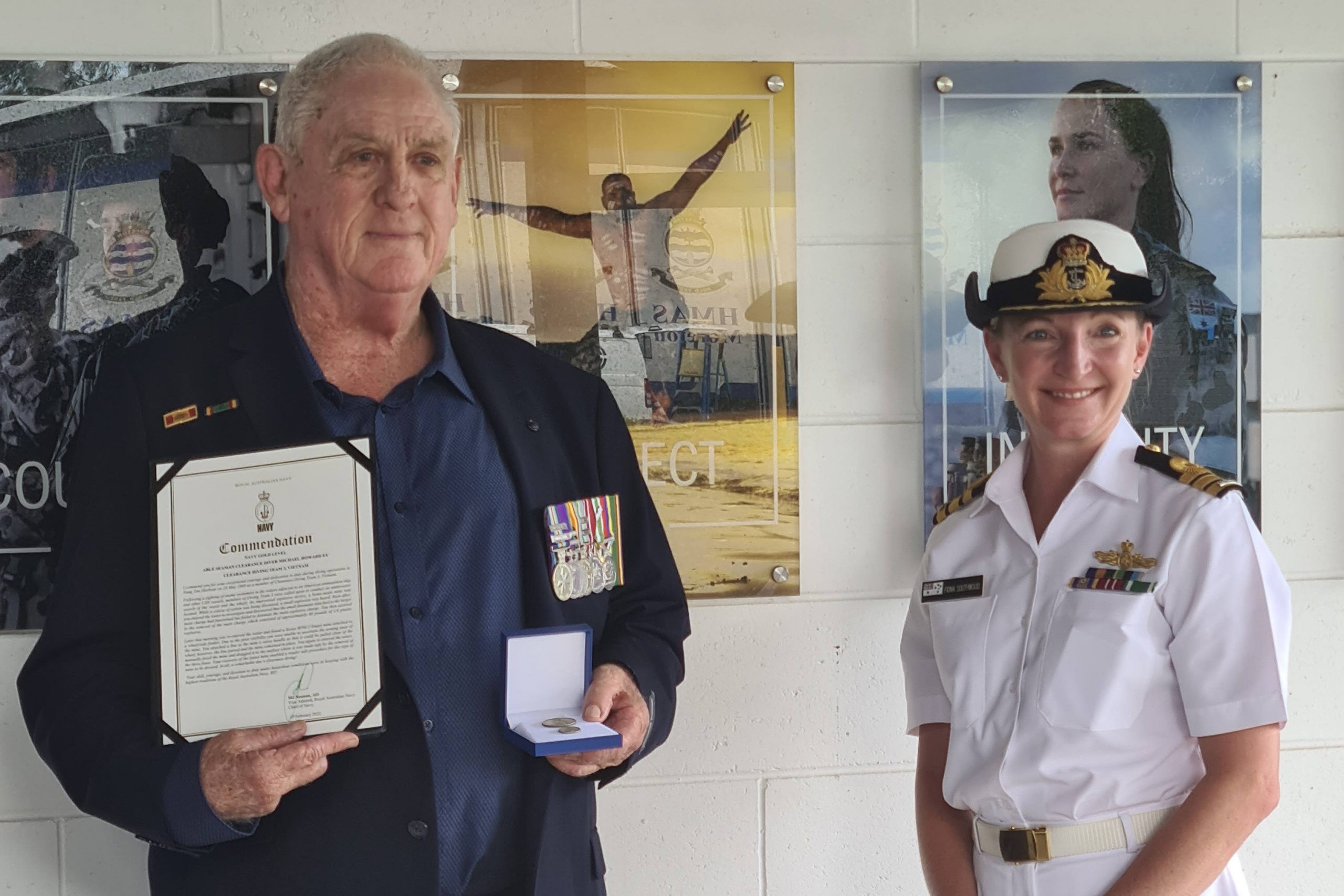 Although that risk had been resolved, the divers had to clear the rest of the harbour to make sure there were no other explosives.
"I was in the water 11 hours that day," Michael said.
He found a Russian limpet mine attached to a fender on a pier.
After determining that the mine was not set properly to explode, he shocked those watching by bringing it to the surface and holding it up.
"They thought it was going to go off. I knew it wasn't going to go off," he said.
The limpet mine was taken onboard a patrol boar and made completely safe by removing the three fuses.
The clearance divers' job was extraordinarily dangerous but it did not trouble Michael at the time.
"It sounds weird saying it, but we had a job to do and that's all we thought about," he said.
Vung Tau was a major port during the war. All of the Australian troops, and many American troops, went through it.
It was also full of ships, with two of them generating power, and there was an airport nearby.
The area in and around the harbour could have been destroyed, with all the ammunition on board the Heredia and it would have been difficult for the United States and Australia to have continued in the war.
In the end, the Western forces walked away from Vietnam, but they withdrew without a major incident that day.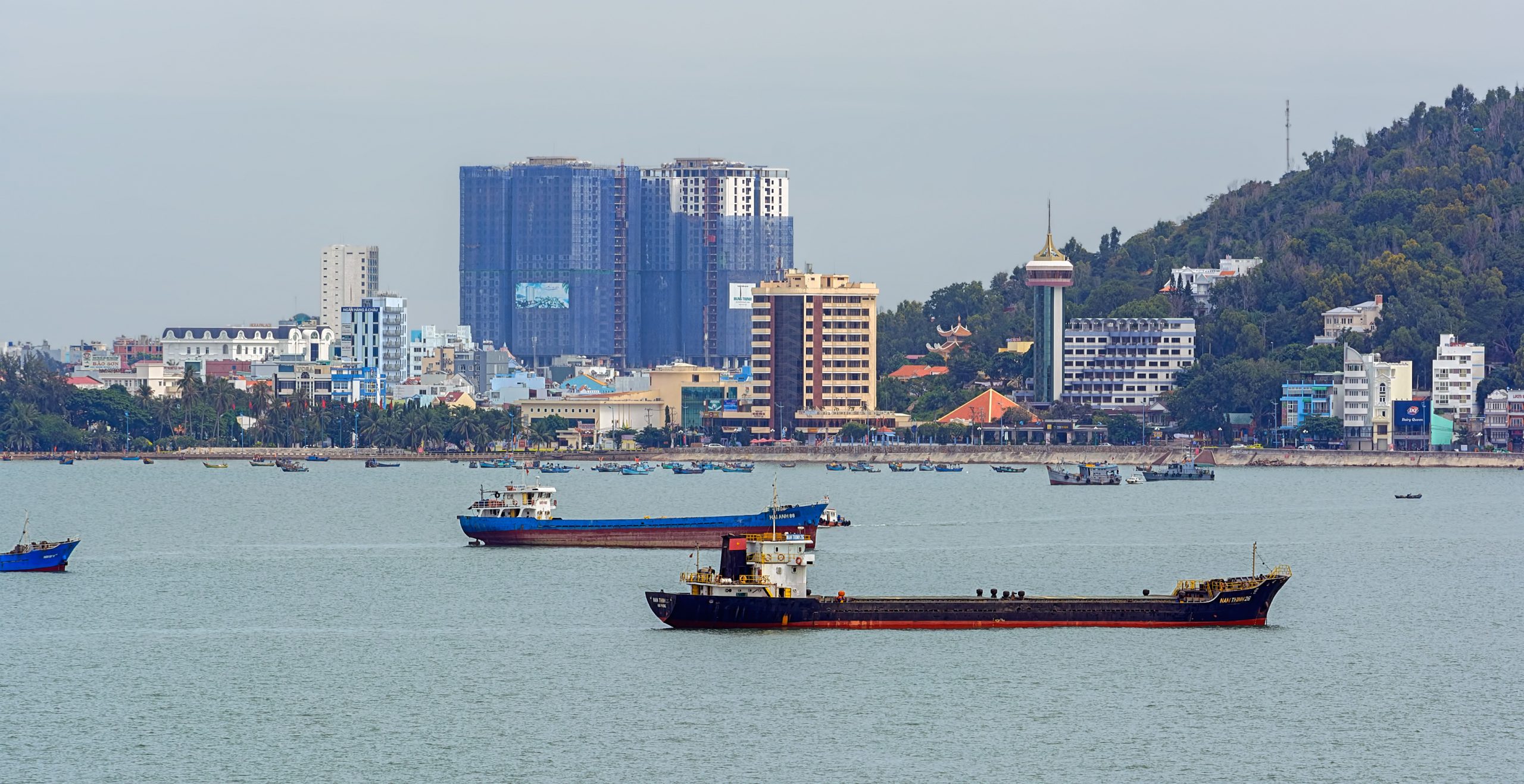 Michael had been inspired to become a navy clearance diver after watching a couple of 1960s Nancy Kwan movies which involved ports and exotic locations.
He was initially knocked back after admitting to previously having had concussion, the result of some motorcycle tumbles, which was a red flag when it came to assessment for joining the divers.
He instead worked as a radar operator but was convinced to give try applying to become a clearance diver again after someone suggested he had been too honest.
Second time around, when asked if he had ever had concussion, Michael answered in the negative and got into the training program.
In Vietnam, the Australian Navy clearance divers were attached to the US forces and lived in a cave at the entrance to the harbour.
Michael said the Americans could get their hands on whatever they wanted, including the odd package of steak, so he and his compatriots lived a little more luxuriously than other Australians serving in Vietnam.
Although he was nonchalant about the dangers they faced as clearance divers, 50 years later, talking about the Heredia, the limpet mine and the war more brought on some physical trembles.
After the war, Michael worked in the oil industry and finished his career working at Twin Waters during the canal estate's development.
He was one of a handful of men who established the Adavale Veterans Retreat, near Quilpie, for veterans who need some time out to de-stress.
Although Rashleigh and Garrett were recognised for their roles on May 23, 1969, Michael, now 77, had never received anything.
He said reports on the clearance divers' work were deliberately brief because the hierarchy would not have been amused if they had really known what was going on.
The navy clearance diving branch monthly reports contain only two lines about what happened on May 23, 1969 at Vung Tau: "Received information that swimmers had been captured in the water near the DeLong Pier at the Vung Tau sub port."
The clearance divers themselves became the keepers of their history.
Michael has been part of a small team working with the Australian War Museum to ensure some of it is recorded.
He was proud to be involved in documenting the workings of North Vietnamese birdcage bombs.
Cleverly made from odds and ends, they would float silently towards their targets and could break the back of a ship.
Rashleigh has passed away, Garrett is in care and it was only after a fellow veteran heard Michael's story and began campaigning for recognition for Michael, that he received his gold commendation.
The award recognises superior achievement or devotion in the application of skills, judgement or dedication to duty.
"It's good. It's given me some closure after all these years," Michael said.
Get your fix of local stories by subscribing to our free daily news feed: Go to SUBSCRIBE at top of this article to register