The autumn school holidays begin Friday, which means more people taking road trips and greater risks for motorists who don't take care and follow the rules.
Last year, six people died on Queensland roads over the Easter long weekend itself.
The Queensland Police Service is determined to avoid a repeat of this and will be out in force.
Sunshine Coast police are conducting 'Operation Regain', which will see saturated  patrols to enforce road use legislation.
The aim is to patrol the local road network in a bid to catch drivers engaging in the fatal five – speeding, drink/drug driving, not wearing seatbelts, fatigue, and distractions.
Recently, the Sunshine Coast Highway Patrol team executed 'Operation Saturation' which saw the officers conduct random breath tests over a four-day period. There were over 200 hundred infringement notices issued to drivers not abiding by the road rules.
Police will be taking a zero-tolerance approach to the fatal five.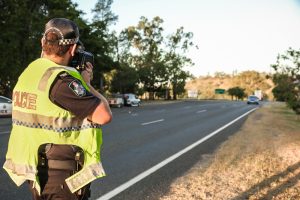 Speeding – is a major factor in serious and fatal traffic crashes. Speeding over the limit is sufficient to see a driver double the risk of a crash.
Drink/Drug driving – is the number one factor in over 20% of fatal crashes in Queensland. Drug driving is also an increasing issue associated with fatal crashes.
Not wearing seat belts – Wearing seat belts is a key factor in reducing the road toll. Fail to wear seatbelt will cost $413 and an additional 3 demerit points for yourself or a passenger.
Fatigue – is a high risky behaviour which can affect anyone, even the most experienced drivers. Get enough quality sleep before a long drive.
Distractions – mobile phones are one of the main causes of road crashes. It is illegal to use a mobile phone whilst driving. The infringement notice is worth $1033 and 4 demerit points and double demerit points for the second offence recorded within a year.
Police can be anywhere, anytime! Drive Safe.
This column is compiled by the Sunshine Coast District Crime Prevention Unit.
If you have information for police, contact Policelink by providing information using the online suspicious activity form 24hrs per day at www.police.qld.gov.au/reporting.
Report crime information anonymously via Crime Stoppers. Call 1800 333 000 or report online at www.crimestoppersqld.com.au.