The community has called on the State Government to 'Stop the Chop' and save a popular native bush park on the Sunshine Coast from imminent logging for power poles.
Concerned residents including bushwalkers, mountain bikers, environmentalists and even councillor Rick Baberowski gathered late on Friday in Landsborough.
Waving posters, banging drums and marching, they showed their public opposition to the State Government's planned "selective harvest" of the recreational reserve called Ferny Forest.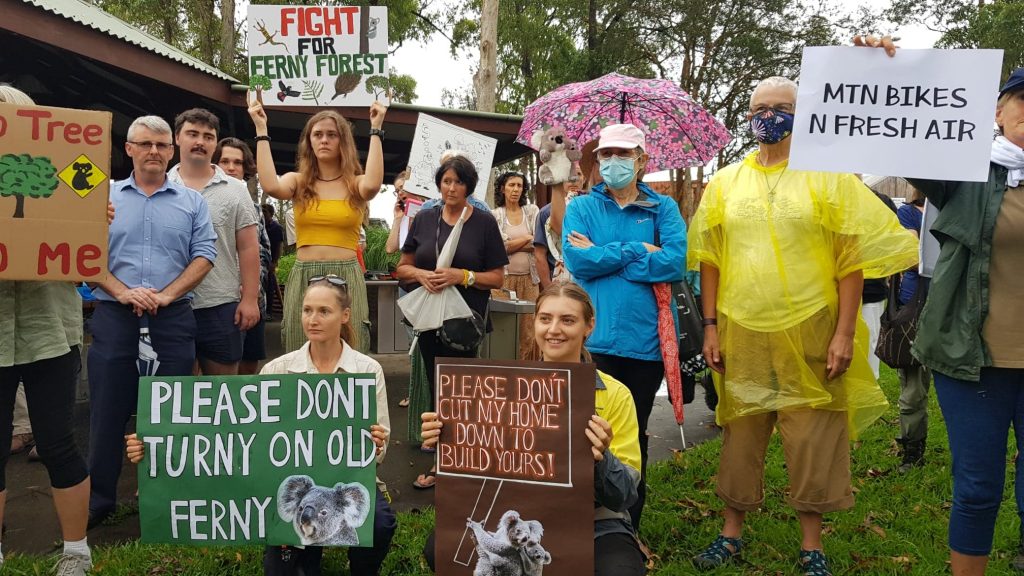 Ferny Forest is a 130 hectare section of Beerwah State Forest and forms a native corridor between Ewen Maddock Dam wetland and the protected Mooloolah River National Park.
The diverse forest is due to transition to a "protected area" in 2024 which is when logging of all native forests will end under the SEQ Forests Agreement struck in 1999.
But before then, the State Government is proposing one final "selective harvest", targeting species such as blackbutt, white stringybark, tallowwood, red mahogany, grey iron bark, flooded gum, turpentine and grey gum.
The towering trunks are then turned into power poles, sawlogs, girders and landscaping logs, among other uses.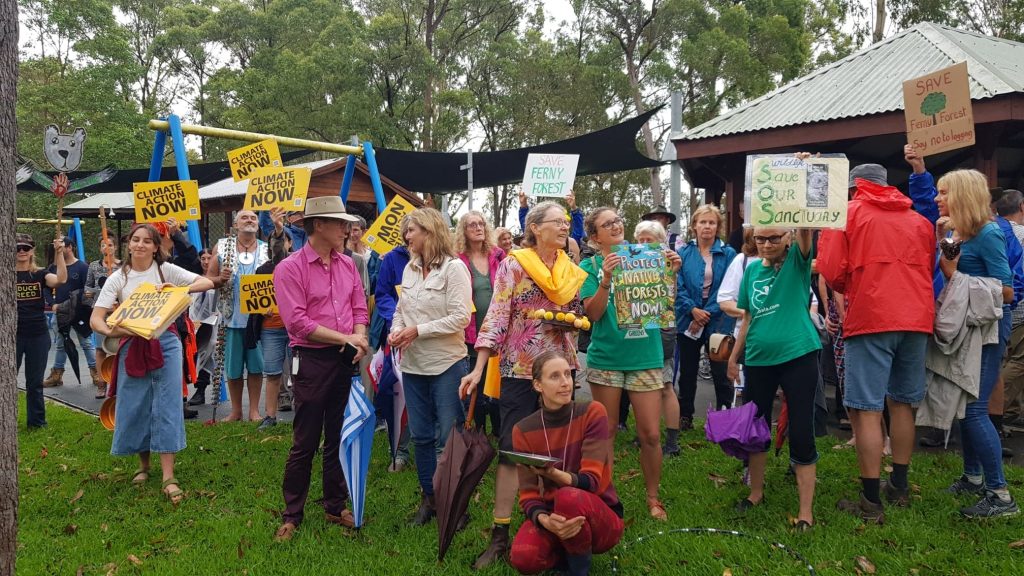 Alexandra Headland mountain bike enthusiast Cate Morrish said Ferny Forest was like a sanctuary that should be protected.
She said when walking or riding through the forest it was impossible not to notice the beautiful big trees like the iconic scribbly gums.
"For me it's like a happy place, it brings you back to nature and makes you grounded and peaceful," said Ms Morrish.
"Logging would pretty much destroy the whole thing."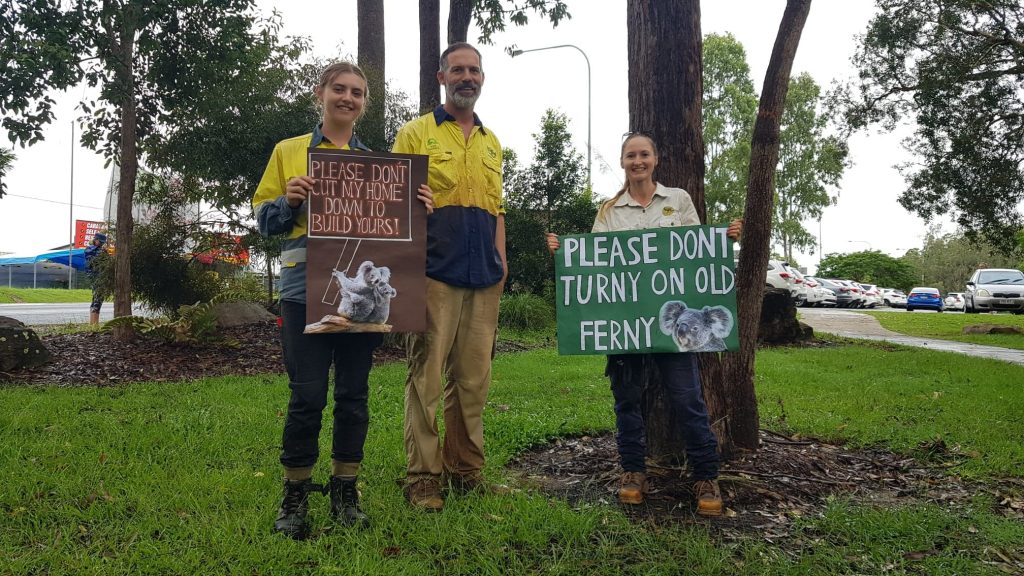 Protester Ross Mason said it was hard to believe native trees that could be hundreds of years old were still being chopped down for public infrastructure.
"We've got concrete; we've got steel, we're in the 21st century, you know."
Louanne Oakes, who has lived in the area for 28 years, said native bushland was dwindling rapidly with urbanisation and it was vital to protect the last remnants.
"It's pretty sad that they want to log in Ferny Forest. I would hate to see logging in there. I'd hate to lose anymore bush."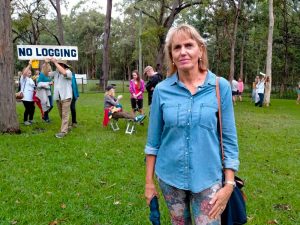 Divisional councillor Rick Baberowski attended the gathering and said he was opposed to the State Government's plans.
He told Sunshine Coast News that public sentiment had changed since the agreement was made in 1999 to allow one more harvest of the forest before 2024.
"What it boils down to is the attitudes and the sentiment that were embedded in the 1999 agreement don't reflect the attitudes and the values right now," he said.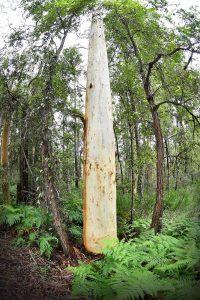 "And this community is saying, 'Please renegotiate this deal'."
The organisers of the protest and the campaign to prevent the timber-getting are the groups Save Ferny Forest and Save Beerwah State Forest.
In a media statement the group said the area supported threatened species, ecosystems and biodiversity that were "too precious to lose to a short-term, low-value timber harvest".
"In a time of biodiversity crisis and climate emergency, this forest must be kept intact and undisturbed," they said.
The eucalypt trees being targeted should "continue to grow and mature to provide critical habitat for endangered species such as koalas, and hollows which can take at least 100 years to form for greater gliders and other hollow-dependent threatened endemic species".
"The proposed harvesting of approximately 50 per cent of the basal area of this relatively small but biodiversity rich forest will severely diminish its irreplaceable conservation values.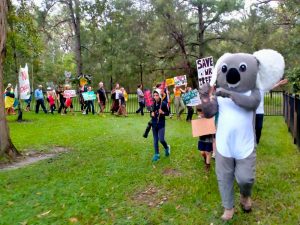 "Loss of food sources, foraging and nesting sites for wildlife, the spread of invasive plants and disease such as myrtle rust and connectivity would be a devastating blow to increasingly rare bushland in the face of rampant urbanisation of the Sunshine Coast."
The Save Ferny Forest campaign is backed by the Sunshine Coast Environment Council (SCEC), Queensland Conservation Council (QCC) and Australian Conservation Foundation (ACF).
More than 20,000 people have signed a Change.org petition demanding 'no logging' of the bushland.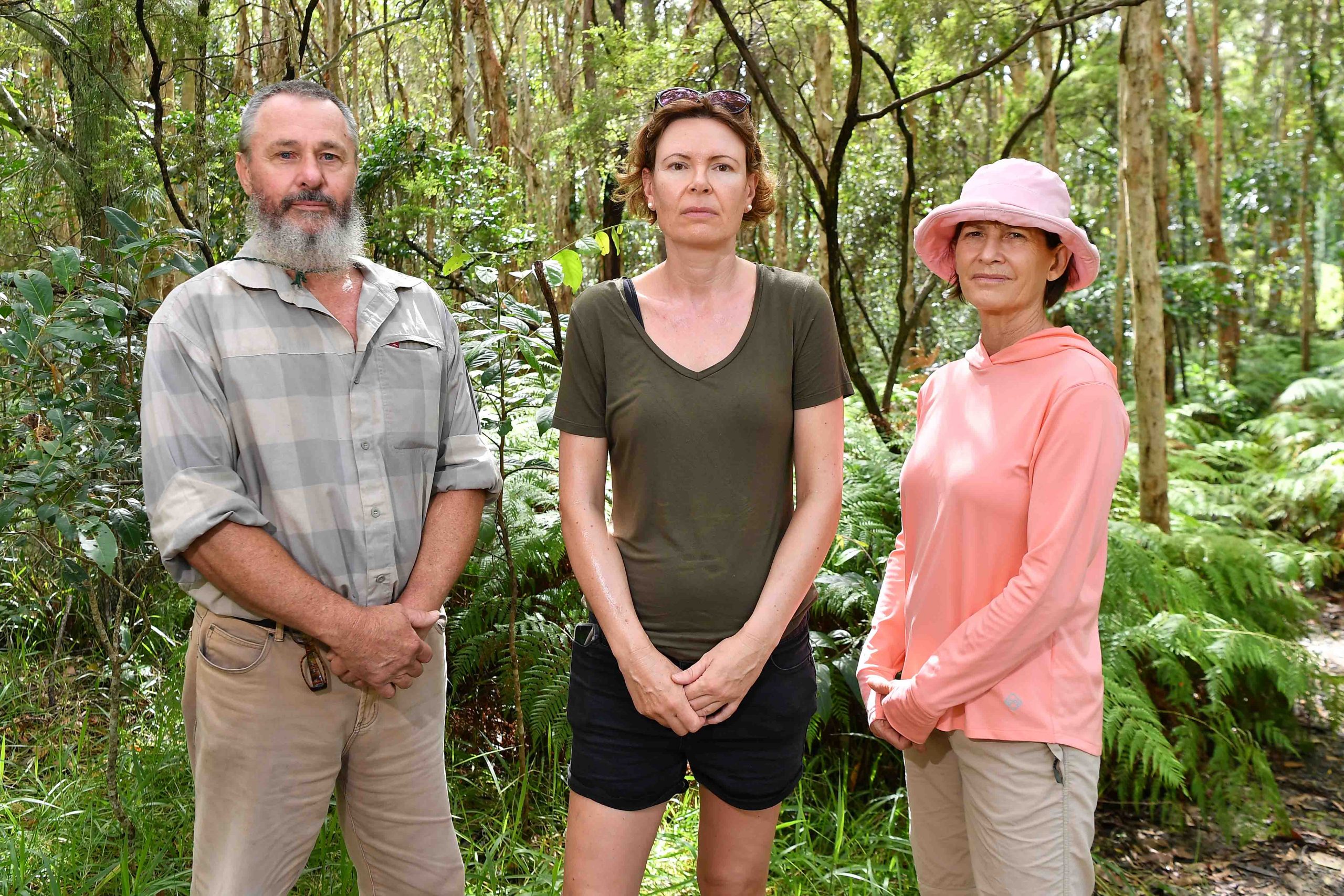 The campaigners have called on the State Government to:
Protect Cultural Heritage: The Indigenous community says Steve Irwin Way was originally a heavily used Indigenous trail and the forest was very likely to contain song-lines, silcrete tools, scarred and protected trees.
Protect against climate change:  The Intergovernmental Panel on Climate Change Report (IPCC) 2021 stressed the importance of conserving existing native forests.
Protect recreational facilities: The area has a 10km trail popular with mountain bikers and walkers. People also swim, kayak and picnic nearby. Between 2015-2021 there were around 1,000 users a month (Queensland National Parks and Wildlife Services.)
Protect Green Space:  They want the Coast to protect its natural beauty and green spaces as the population rapidly expands.
Protect Tourism:  The Sunshine Coast is touted as one of Queensland's premiere holiday destinations. Just 6km from Ferny Forest is world-famous Australia Zoo.