The Parklands estate record was smashed when the new four-bedroom home at 2 Agnes Place, Bli Bli, sold under the hammer for an eyewatering sum.
The successful buyers from Melbourne won the day with a $1.420 million bid.
The older couple, who recently relocated to the Coast, have been living in their caravan in Diddillibah while they looked for a bricks and mortar home.
Presented within "an inch of its life" by Century 21's Grant Smith and his team, the never-lived-in former sales office converted into a modern home with new fixtures and fittings, sold for $320,000 over the reserve.
The property was on the market for 14 days and Mr Smith said they could have had the auction within seven days of listing due to the level of interest in the 316sqm single-level home sitting on a 918sqm block.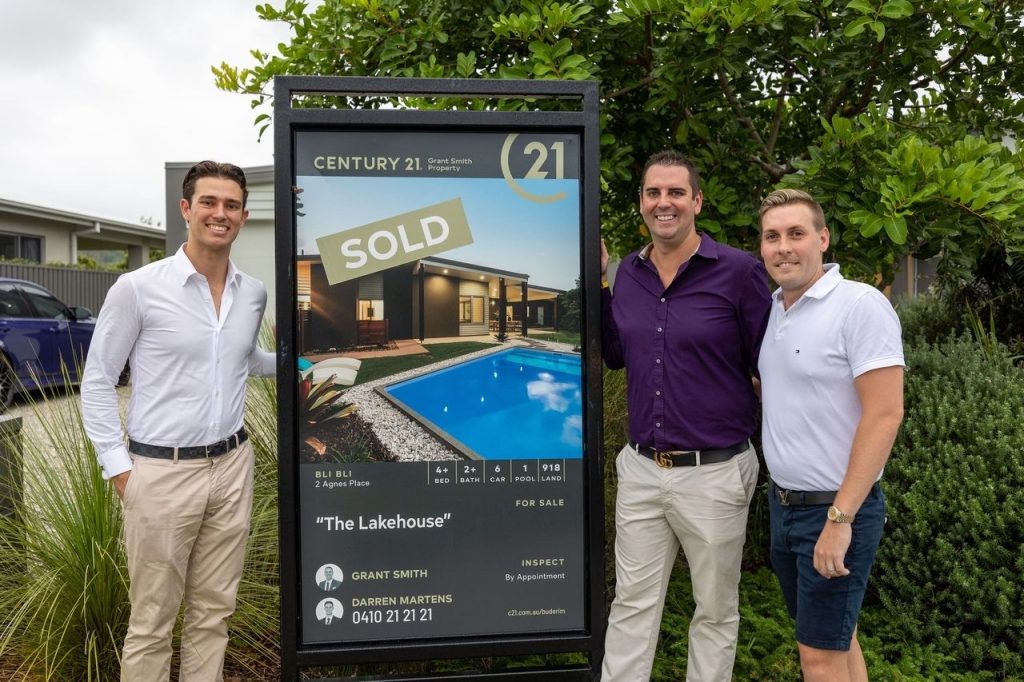 "We had an offer prior to which we considered but we decided to back the process and run it through the campaign which resulted in a much larger result than we had expected," Mr Smith said.
The early evening auction on the grey, miserable day, attracted a crowd of about 60 people including the nine registered bidders – two from Melbourne and others from Brisbane and the Coast.
"It drew a lot of Peregian Springs and Twin Waters buyers who are priced out of those markets," Mr Smith said.
The competitive bidding started at $800,000 then went up in $100,000 bids to $1.1 million.
It then slowed to $50,000 bids until it reached $1.35 million.
"The two last bids were $10,000," Mr Smith. "I think my underbidder and highest bidder set a limit of $1.4 million, but the auction environment got that extra $20,000."
It was back to the computer and online bidding for some agents as the weekend's torrential rain and road closures cut-off any chance of their scheduled auctions being conducted in-home.
For those agents with auctions scheduled prior to the weekend, even with the major rain event fast approaching, the enthusiasm for a good buy wasn't dampened.
WOW FACTOR AT FOREST GLEN 
"I knew it would be a popular property as not only is it attractive it ticked a lot of boxes," listing agent Dan Smith from The Agency said about the four-bedroom home at 76 Glenfinnan Court in Forest Glen, which was auctioned last Tuesday evening.
The stunning north-facing single-level home is on a large, flat and useable block. It is close to Montessori and Sunshine Coast Grammar schools.
It took about eight minutes for the popular property (pictured below) to sell under the hammer for $2.385 million, which was "considerably above" the reserve.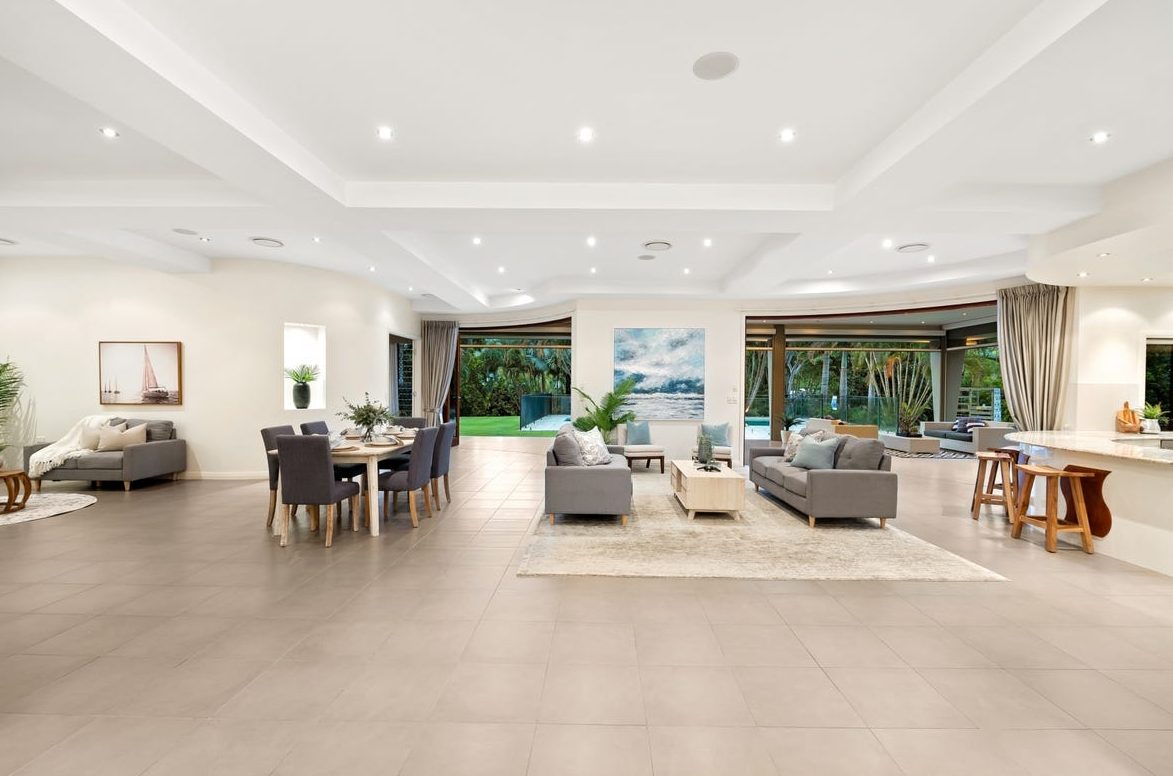 "I have done a lot of auctions, but this was one of the best I have ever had. It was basically all go from start to finish," Mr Smith said.
There were nine registered bidders from Brisbane, Sydney, regional Queensland northern NSW and the Coast who went non-stop. The bidding started at $1.5 million and went up quickly to $2 million. Several bidders then dropped out. Four bidders continued to push forward, but it was just two that fought it out for the last $200,000, Mr Smith said.
"The top bidders were a young couple from Buderim, who were the eventual buyers, and the underbidder was a couple from northern NSW who had recently sold down there and moved the family up to the Coast," he added.
ACREAGE TOPS SHOPPING LIST
Dan Smith said since the Christmas lull, the desire for acreage had returned to the top of the shopping list for many buyers.
"I had 50 groups of buyers inspect Glenfinnan through the campaign," he said. "With nine unconditional buyers, that reflects the depth of the market around the $2 million mark."
What's driving the desire for acreage comes down to three key factors Mr Smith said – families with children who wanted space for running around, people with a lot of "toys" who needed room to store them and finally, privacy.
"I have a lot of people coming out of the coastal strip who are on or near the water, who are saying they would rather have a bit more distance between them and their neighbours," Mr Smith said.
PHONES AND INTERNET GET A WORKOUT
Grant Whisker of Define Property was able to conduct the auction of 6/112 River Esplanade in Mooloolaba (pictured below) onsite on Saturday.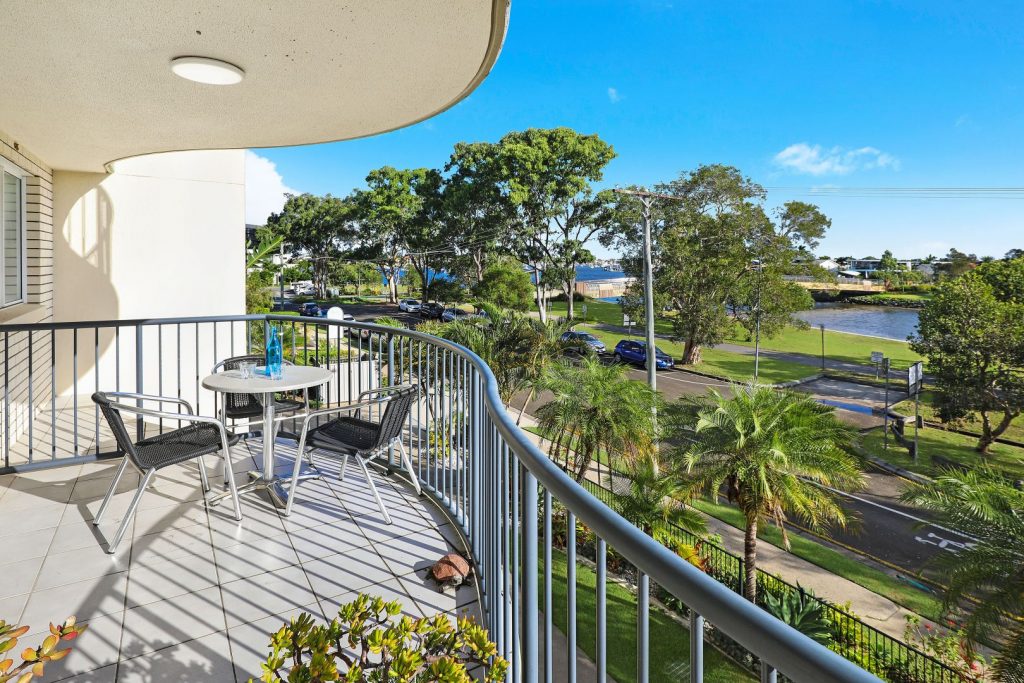 He had nine registered bidders, but only three attended. The rest stayed dry and on the phone. The property sold over the phone and under the hammer to a Melbourne investor for $670,000.
The team at Ray White Maroochydore chose to go fully digital with five auctions conducted online.
Like property stories? Get more direct to your inbox by subscribing to our free daily news feed: Go to SUBSCRIBE at top of this article to register. All it requires is your name and email. 
The Cotton Tree property at 6/52-54 Alexandra Parade, listed by Pam Thomas and Megan Murray, was the highlight of the auction with close to 38 bids over about 12 mins.
These started at $750,000 before fast bidding of $5,000 bids from the crowd moved the auction forward and up to sell under the hammer for $1.017 million.
UPCOMING AUCTIONS
Imagine the sound of the ocean waves while enjoying your morning coffee on your balcony or after a short walk to the coffee shop on the harbour front. That's what living at 22 Pacific Boulevard, Buddina, will be like.
Next Property Group agent Richard Scrivener described the four-bedroom home (pictured below) on the blue-chip strip as a unique property with its elevated location capturing views from both the ocean and harbour.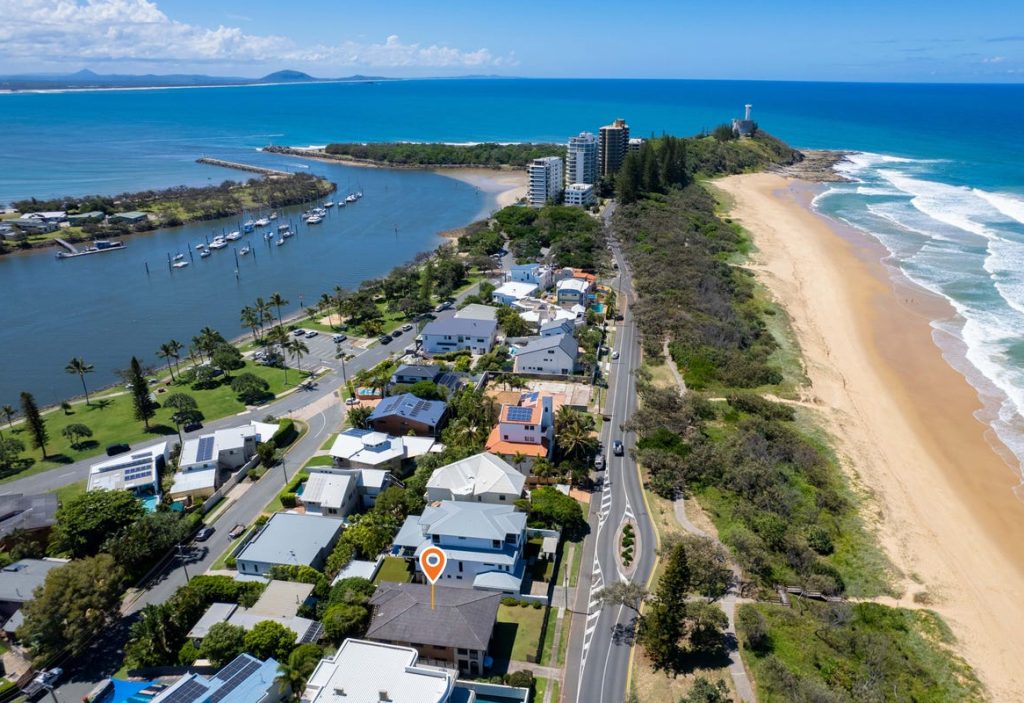 "It's the only beachfront property at the moment available in that section of the street," Mr Scrivener said. "It's highly sought-after real estate."
This Friday from 4.30pm, Ray White's 4556 Auction Event will be on in-rooms at 17 Main Street in Buderim and livestreamed on the Ray White Buderim Facebook page. Nine premium Buderim properties will be on the block.
The four-bedroom Buderim home at 3 Mayfield Street is likely to attract strong interest. The private, architecturally designed home is in a blue-chip street.
For investors, the modernised four-bedroom home at 34 Bribie Pine Court in Buderim could be a good buy. It's located close to schools and shops offers a "good rental return" said Ray White agent Ellen Lorenz. Between $795 to $825 per week is the expected income from this property.