After some wild and windy weekends, this one is shaping as a cracker for the beach.
The swell has backed off, the sun's out and we should see small but clean waves around knee to waist height.
While the recent strong southerlies have restricted visitors and locals to protected spots, all our beaches should be in play again.
There will very pleasant light variable winds that should take the edge off the heat without impacting the surf conditions too much.
They will turn south-east through Saturday and Sunday but are not expected to become strong.
Temperatures will remain just shy of the 30C mark and there's only the chance of a shower on Sunday.
Despite the likelihood of good conditions "she'll be right won't save your life" so please make sure to only swim at the patrolled locations.
We'll have low tides at 4pm and 4:30pm respectively, so will see the rips working hard through the afternoon as the tide drops.
Make sure to follow the advice of lifeguards and lifesavers during this time.
Surf competitors warm up for titles
At Mooloolaba this weekend we'll see our lifesavers and clubs going head-to-head in the Sunshine Coast Branch Championships.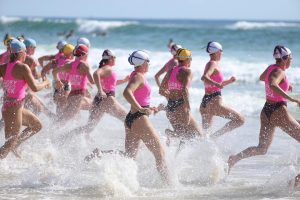 It'll be the last major hit-out for many competitors before the State Championships at Alexandra Headland on the last weekend in February for the juniors and the first weekend in March for the seniors.
Our senior competitors will be in action in the Branch Championships on Saturday and the juniors will compete on Sunday.
There should be some great racing, so if you're in the area head down and check it out.
Enjoy your weekend and if you're heading to the beach make sure you of course only swim between the red and yellow flags!
Aaron Purchase is Surf Life Saving Queensland's regional manager for the Sunshine Coast. His column in sunshinecoastnews.com.au keeps the community informed of what's happening on the beach and offers tips on how to stay safe.