The auction outcome of a four-bedroom home at 117 Millwell Road (pictured) in Maroochydore confirms the area is undergoing a significant change.
Listed by Define Property's Greg Turnbull, the house was sold under the hammer for a "phenomenal" $850,000 to a local couple who have two very young children, beating some investors to the prize.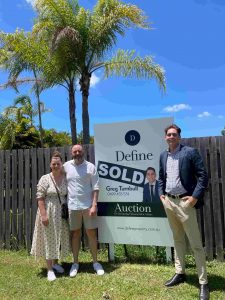 The buyers planned to renovate the original home, which has been rented out for some time.
"The price exceeded expectations," Mr Turnbull said.
"It's the biggest changing part of Maroochydore in terms of price.
"Most of the properties coming up for sale are rentals, like this one.
"It's owner-occupiers that are buying.
"Our last three in that pocket have been rental properties of ours that are now been taken over by owner-occupiers," he added.
The area is just a minute's drive from the major throughway of Maroochydore Road and is walking distance to early learning, primary and senior schools.
Hold on to your hats
The wind was howling around the hills during the weekend, but that didn't put off a determined Sydney buyer who secured under the hammer a Buderim unit for $211,000 more than its purchase price just under two years ago.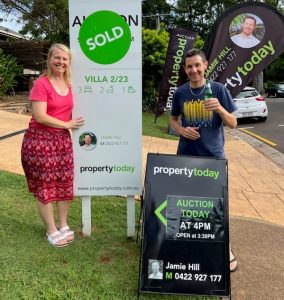 Property Today's Jamie Hill, who listed the villa 2 at 23 Clithero Avenue in Buderim, described the auction outcome as amazing.
"It was purchased 20 months ago for $500,000," he said.
"It's the market growth through that part of Buderim.
"In the last two years the housing market has grown 44 per cent in Buderim."
Eight registered bidders were chasing the unique property, but it was a recent Sydney relocator and now owner-occupier who has family in the area, who came out ahead at the fall of the hammer.
Holiday memories stay strong
It was the battle of the generations at the auction of the ground floor, two-bedroom apartment at 4/52-54 Alexandra Parade, Maroochydore.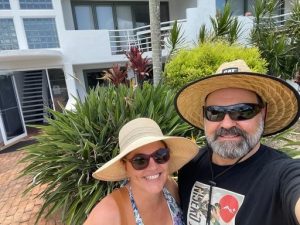 A retired couple who only recently relocated to the Coast after holidaying in the area over several years and a 40-something couple from Brisbane looking for a family holiday unit inched their way up by as low as $1000 bids to secure the perfect place in the tightly held complex.
Ray White agent Reuben Park said there were 10 registered bidders, all from Queensland.
The apartment was sold by a Sydney family who have fond memories of several generations holidaying at Alexandra Parade over almost 20 years.
The unit sold under the hammer for $834,000 to the Brisbane couple.
Both of the final two bidders were stretched to just over their limits, but Mr Park said they saw the value in the location and atmosphere of the neighbours.
"It just shows the social proof in auction; the ability for a buyer to look across and say, 'well that must be what it is worth if someone else is prepared to pay it," Mr Park said.
"And for the owner, it's the peace of mind they have achieved the best price and knowing that there is not another dollar they could achieve out of the market."
"The feel of that pocket is still sleepy, coastal village."
Across the road is a beach entrance and a short stroll down the road to Alexandra Headland Surf Life Saving Club.
Upcoming auctions
There are some notable auctions scheduled for this weekend.
The Prime Property listed three-bedroom house in 18 Tommy's Court in Buderim should garner solid interest. The bright, fresh-looking modern home is on large parcel of land and in a bushland setting.
In another corner of Buderim, the charming four-bedroom home at 27 Tindale Avenue. with its lush gardens has attracted strong interest.
Listed by Ray White, the auction is expected to generate quite some excitement.
Regional market remains remarkable
CoreLogic has released its quarterly Regional Market Update this week.
"(It) shows Australia's 25 largest non-capital city regions continued to achieve unprecedented increases in value," CoreLogic head of research Eliza Owen stated.
"Over the 12 months to January 2022, 24 regions recorded double-digit annual growth for houses, with 18 regions notching up gains in excess of 20 per cent."
Across the regional unit market, the Sunshine Coast was second highest with a 31.1 per cent increase.
"Days on market and vendor discounting rates remain tight in many areas, reflecting strong buyer demand continuing to outweigh stock levels," Ms Owen said.
The quickest selling region for houses was the Sunshine Coast.
The median time on the market, over the 12 months to January 2022, was 15 days. For the same period one year ago, time on the market was 35 days.
Units have also seen a significant change in the market going from a median 41 days on the market, for the period January 2021 to January 2022, down to 18 days on the market.
"Key drivers for performance in the regions will come down to higher interest rates and affordability constraints – the same headwinds capital city markets are facing," Ms Owen said.
"Regions have an additional factor to contend with and that is the possibility of a return to 'normality' and what that means for a potential refocus on cities.
"Employers may make a return to physical office space a priority in the years ahead, which would necessitate buyers to reconsider housing options closer to a capital city.
"However, this scenario seems less likely and more long-term than the arrival of the Omicron variant, which in many ways reinforced that this an ongoing health crisis and Australians prioritised their current housing needs to align with their desired lifestyle."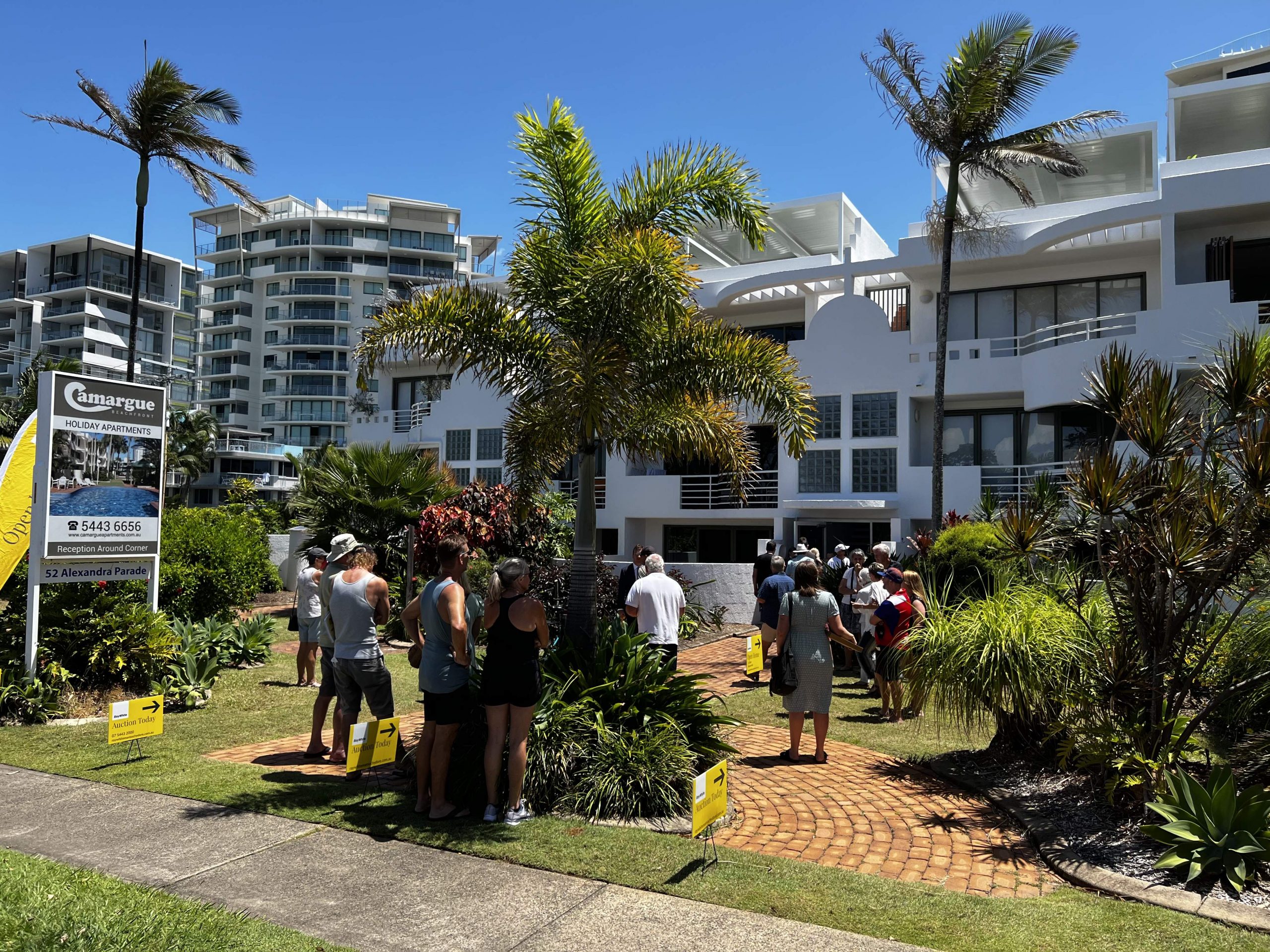 Auction results 
6 Solace Street, Birtinya 
Sold under the hammer for $870,000.
4 Bed, 2 Bath, 2 Car.
Ray White, Dan McNamara.
2/23 Clithero Avenue, Buderim 
Sold under the hammer for $711,000.
3 Bed, 2 Bath, 2 Car.
Property Today, Jamie Hill.
15 Kent Court, Buderim 
Sold under the hammer for 1.135m.
4 Bed, 2 Bath, 2 Car.
Ray White, Judy Wild, Lew Pottinger.
16/3 Orient Court, Buderim 
Sold prior to auction for $610,000.
3 Bed, 2 Bath, 2 Car.
Ray White, Robert Horne, Sally Horne.
17 Samson Circuit, Caloundra West 
Sold prior to auction for $820,000.
4 Bed, 2 Bath, 2 Car.
Ray White, Brent Higgins.
447 Ilkley Road, Ilkley 
Passed in for $852,500.
4 Bed, 2 Bath, 4 Car.
Ray White, Gregory Ward.
4/52-54 Alexandra Parade, Maroochydore 
Sold under the hammer for $834,000.
2 Bed, 2 Bath, 1 Car.
Ray White, Reuben Park.
10/18-20 Maroubra Street, Maroochydore 
Sold prior to auction for $545,000.
2 Bed, 1 Bath, 1 Car
Ray White, Pam Thomas, Megan Murray
117 Millwell Road, Maroochydore
Sold under the hammer for $850,000.
4 Bed, 2 Bath, 2 Car.
Define Property, Greg Turnbull.
1309/1A Mungar Street, Maroochydore
Passed in.
2 Bed, 2 Bath, 1 Car.
Ray White, Niall Molloy.
14 Treetop Court, Mooloolah Valley
Sold prior to auction for $950,000.
4 Bed, 3 Bath, 2 Car.
Ray White, Matt O'Grady.
4 Osmanthus Close, Mountain Creek
Sold prior to auction for $805,000.
3 Bed, 2 Bath, 2 Car.
Ray White, Jacob De Bruyn.
17 Holly Green Crescent, Palmwoods
Passed in at $730,000. Under negotiation.
4 Bed, 2 Bath, 3 Car.
Ray White, Chevonne Rees.
10 Lingard Street, Palmwoods
Sold prior to auction for $935,000.
4 Bed, 2 Bath, 6 Car.
Ray White, Chevonne Rees.
Receive the day's local news direct to your inbox by subscribing to SCN's FREE daily news feed. All it requires is your name and email. See SUBSCRIBE at the top of this article.