James Hill suffered in silence for a long time. He'd experienced bouts of depression his entire life, but didn't have the knowledge or vocabulary to put what he felt into words. All he knew was he felt bad.
So bad, that he reached a point in 2013 where he decided to end his life. But before he could go through with his plan, fate intervened and he picked up his phone. An ad for Beyond Blue popped up and it saved his life.
Now, he is helping others who are struggling to find a reason to live, having become an award-winning mental health advocate, a Beyond Blue public speaker and an international public health educator.
Based in Caloundra and an electrician by trade, he has been a full-time mental health advocate for Energy Queensland for four years.
"With my upbringing and working in a male-dominated environment, I had no concept or understanding of mental ill health," he says.
"It didn't happen to people like me. I didn't understand any of the signs or symptoms. I didn't know where to reach out for help. I just thought it was weak to show any emotion.
"I'd go through periods of depression, where I had no energy and no interest in anything. I had real low self-esteem. This would go on for days or weeks and then I'd have times of elevation, where I'd be unstoppable.
"It was like a mild bipolar. I had anxiety as well. Whenever there was uncertainty or plans changed, it really knocked me around a fair bit."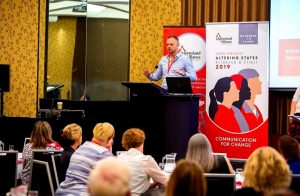 Help keep independent and fair Sunshine Coast news coming by subscribing to our free daily news feed. All it requires is your name and email. See SUBSCRIBE at the top of this article 
Mr Hill says it wasn't one thing that tipped him over the edge.
"I'd just gone through a particularly low patch for a couple of months and it was just getting deeper and deeper and there was no way out.
"I didn't really know how to articulate it. It wasn't ever something I'd spoken about before and I didn't want to seem like I was weak, so I just tried to hide it and carry on. I reached a point where it got to the end of the road."
As he sat with his plan to end his life, he picked up his phone and saw a Beyond Blue ad.
It was a test for depression and anxiety and he decided to do the test. The result was clear. He needed to see a doctor.
"Even that was hard," he says. "I didn't suddenly jump in the car and rush to the doctors, but it stopped me at that moment in time.
"It put the brakes on there and then. I'd never go to the doctors for anything and I certainly wasn't going to go for an emotional thing. I just said to him, 'I'm not sure what's going on, I'm not doing very well' and he was fantastic."
Mr Hill grew up in the UK and came to Australia in 2006 seeking a better lifestyle with his wife and two children.
He'd even tried to hide his pain from his wife and it was only when he began to get professional help that things changed.
"Seeing the doctor was the turning point," he says. "Things didn't get better overnight.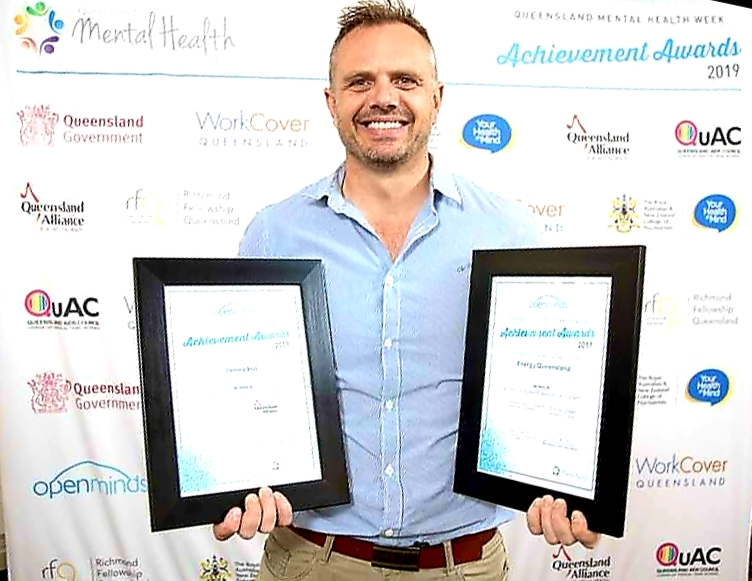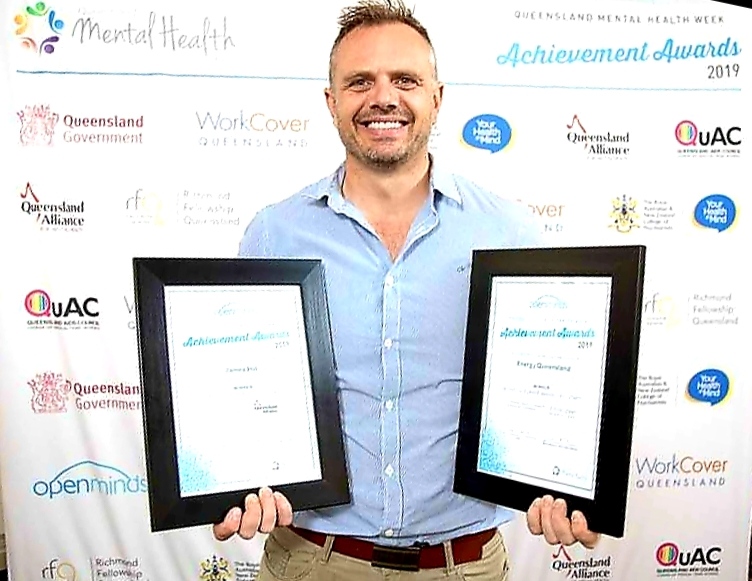 James Hill has received much recognition for his work in the mental health space.
"Over a period of six months, things started to click into place and I realised there's a lack of understanding. I realised I'm not the only person – and certainly not the only bloke – who has felt that way."
Having taken an apprenticeship straight out of school, that's all he'd ever done up until 2014. Then he had the idea with a friend to put a proposal to the CEO of Energex to create a dedicated role for a mental health advocate.
Now, Mr Hill looks after the mental health needs of more than 7500 workers in Queensland for Energy Queensland. He partnered up with suicide-prevention organisation Mates in Construction to form Mates in Energy, a suicide-prevention program for the energy sector.
In 2019, Mr Hill won the Jeff Cheverton Individual Award category for the Queensland Mental Health Achievement Awards for his work in mental health awareness and reducing stigma. Recently, he was a Local Hero nominee in the Queensland Australian of the Year awards.
Mr Hill is studying a Bachelor of Counselling through the University of the Sunshine Coast and travels the state to assist those in need through his role with Energy Queensland. From the darkest depths, his future looks bright.
"I have my ups and downs, like most people, and probably more than some," he says.
"But I'm better equipped to recognise now when I'm in a bad space and I have strategies in place.
"I'm just going to continue doing what I can do forever to improve the lives of individuals and hopefully reduce the number of people we lose … who take their lives. If I can impact that in any way, that's my motivation to do this forever."
For more information visit jameshillwellness.com or facebook.com/jameshillwellness.