Routine traffic queues at a troublesome intersection in Caloundra have remained throughout the festive season, even without the impact of schools runs and the usual working week.
The busy Buccleugh/Roderick St intersection at Moffat Beach sees an average 26,000 motorists pass through daily but lane changes implemented late last year resulted in peak-hour traffic chaos and confusion.
In early December, Sunshine Coast Council said it was "considering all options" to remedy the situation and the intersection would continue to be monitored to determine if any further improvements could be made.
A council spokesperson said late last week that the traffic study was still under way and was expected to be finalised in late February this year.
Further advice would be provided to the community after the report was reviewed, they said.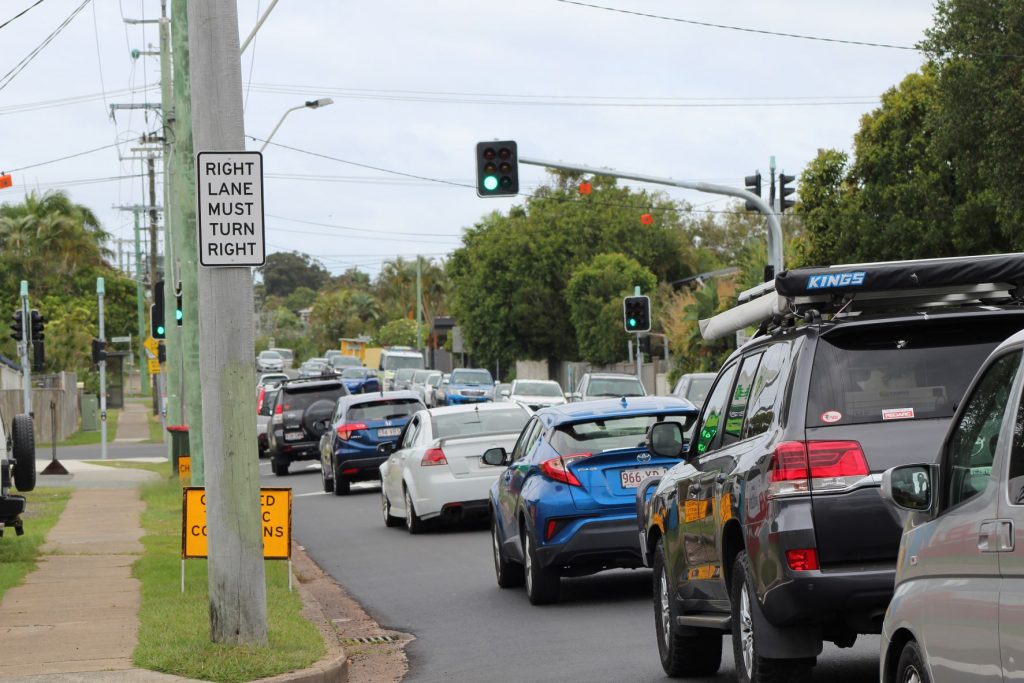 Lane changes heading south at the traffic lights at the intersection – used by motorists to access Moffat, Dicky, Kings and Shelly beaches, as well as the Caloundra CBD – have been frustrating motorists, with traffic banked back in some instances to Currimundi, 1.5km away.
The long delays have forced some motorists to seek alternative routes over longer distances to avoid the congestion.
Local journalists supporting local people. Help keep independent and fair Sunshine Coast news coming by subscribing to our free daily news feed. All it requires is your name and email. See SUBSCRIBE at the top of this article. 
Until recently, motorists could turn left to Moffat Beach via Roderick St at the Buccleugh St lights or go straight on to Caloundra, and use the right-hand lane to turn right into Roderick Street or continue southbound towards Caloundra.
Motorists have become confused and traffic has been delayed as a result of the two straight-ahead lanes that were previously used being made into one lane only to go straight or left into Roderick Street, and by the right-hand lane being changed to right-turn-only, which locals say is "bizarre" as hardly anyone turns right there.
It is controlled by an arrow at the lights, forcing great volumes of traffic heading left to Moffat Beach or straight ahead to Caloundra into the single left lane.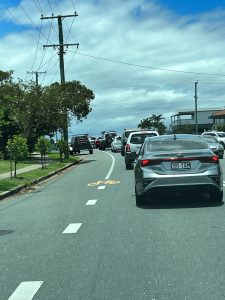 Local resident Kas Isaac started a petition on change.org seeking a solution to the daily headache that now extends across the day with the influx of holidaymakers and those unfamiliar with the changed traffic conditions.
Sunshine Coast News observed the southbound traffic lined back to Dicky Beach shops on Tuesday, January 3, at 10.50am and 11.30am – outside usual peak-hour times.
A total of 1960 to date have signed the petition that offers one possible solution to the congestion: no right turn from southbound Buccleugh St into Roderick St, forcing motorists to go past the intersection, then make the right turn at Nothling St and double back.
Ms Isaac said nothing had changed to ease the delays over the Christmas-New Year break, despite the inclement weather.
"As soon as the weather is half-decent, the traffic returns," she said.
"It's been badly backed up.
"It's no better, if not worse due to the 'holiday period', as predicted.
"Yesterday, I did see some more road rage and almost an accident happen as people chose to go through the right-hand turn only and go straight ahead like it was before.
"I saw this while sitting in the right-hand lane facing Dicky Beach to turn into Roderick street towards Moffat Beach."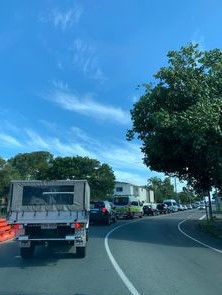 Caloundra resident Liset Teis regularly uses the Buccleugh/Roderick St intersection and wrote in a Facebook post on January 2: "Buccleugh and Roderick Street. The council seriously needs to rectify this issue. The traffic again was backed up the hill and causing traffic jams. It took three sets of lights before you could turn right into Roderick Street from Buccleugh. It is only going to get worse once the children go back to school. Rant over."
Do you have an opinion to share? Submit a Letter to the Editor with your name and suburb at Sunshine Coast News via: news@sunshinecoastnews.com.au
Ms Teis said she had "never seen anyone turn right" at Roderick St and the few people who needed to did not warrant such a disruption to the free flow of traffic turning left to Moffat Beach or heading straight to Caloundra.
The huge numbers now needing to merge into the single left lane also had slowed traffic through the intersection, she said.
"Once school goes back, it's just going to be chaos," Ms Teis said.
"And when people go back to work, that industrial estate at Moffat Beach has got to have an impact as well."