Holidaymakers watched in fascination and fear when what appeared to be a sinkhole opened up at Inskip Point, creating a chasm so deep that swimmers couldn't reach the bottom.
The sensational occurrence happened about midday on Monday, mid-way between the high and low tides, as campers and daytrippers were relaxing on the sand.
Kylie Fallon captured footage (scroll down) after realising sand was collapsing and "getting sucked away" into the sea in huge chunks, leaving an ever-widening gap.
Ms Fallon said she estimated the affected area stretched about 100m up the beach where people were swimming and fishing and about 60m into the water.
So-called 'sinkholes' have become a somewhat regular occurrence at the Inskip Point recreational area near Rainbow Beach, including dramatically in 2015 when a car, caravan, camper trailer and tents were swallowed into the ocean.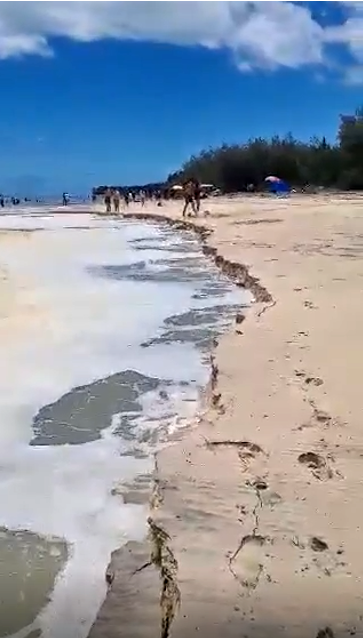 However, according to Australasian Science, this naturally occurring phenomenon is not by definition a sinkhole but more like an underwater landslide, with sand slipping down an over-steep eroded channel.
A department spokesperson said rangers were not aware of any reports of a sinkhole at Inskip Point, but "the very high tide and swells have caused erosion along the shoreline".
"This has impacted the access road to the peninsula including K'gari barge landing point and has been limited to single lane traffic, requiring repair."
"Members of the public are urged to take care during the high tide and to exercise caution when travelling and swimming."
Ms Fallon, who had been swimming nearby, said she became aware that the beach had washed away when she noticed a man who was standing on the edge of the water do a pin dive and disappear.
"He just jumped five centimetres in front and just disappeared and I was like 'What just happened? That's not possible. Then someone else did it," she said.
"We got up and went over to where people were jumping into this hole. The man who did the pin jump said he couldn't feel the bottom and he was pretty tall."
Stay up to date with the latest Sunshine Coast news by subscribing to our free daily news feed. All it requires is your name and email. See SUBSCRIBE at the top of this article 
For about 1.5 hours Ms Fallon and her partner watched more sand vanish and she said the falling edges, which felt like quick sand, made her feel anxious.
"It was falling in huge chucks like a building being demolished. It was very surreal to see that happening before you, and fascinating," she said.
"It was making me anxious to be near the edge . My partner was more daring. He had his foot there to see how much was falling. I didn't want to get too close."
The water at the crumbling edge was also "bubbling" which Ms Fallon found interesting as she listened to its sound.
Ms Fallon, who was visiting from Brisbane, estimated there were a few hundred people on the beach and it was a busy day for the barge to Fraser Island with a long line of 4WDs waiting to board.
In the video, she can be heard exclaiming: "Oh my goodness, the water (sand) is literally falling out from underneath us, almost like a sinkhole you could say.
"Somebody just jumped into the hole before and they said they didn't reach the bottom.
"It's just getting sucked away. In the space of half an hour that's what's happened."