The approval of two surf pools on the Sunshine Coast could create a wave of litigation.
The projects are within 21km of each other, with the first dating back to 2015 along Steve Irwin Way at Glenview.
The second, to be located on the western side of popular Bruce Highway stop Moby Vic's, was lodged 12 months ago and has just been approved by Sunshine Coast Council.
This application, by Surf Parks Australia, sought a material change of use to establish a $30 million facility and the reconfiguring of a lot along Johnson Rd, Glass House Mountains. It was supported subject to a range of conditions.
This has riled Sanad Capital, developers of the previously approved $130 million integrated attraction that incorporates the Endless Surf pool, Actventure water park and 160-villa Invigorate Resort.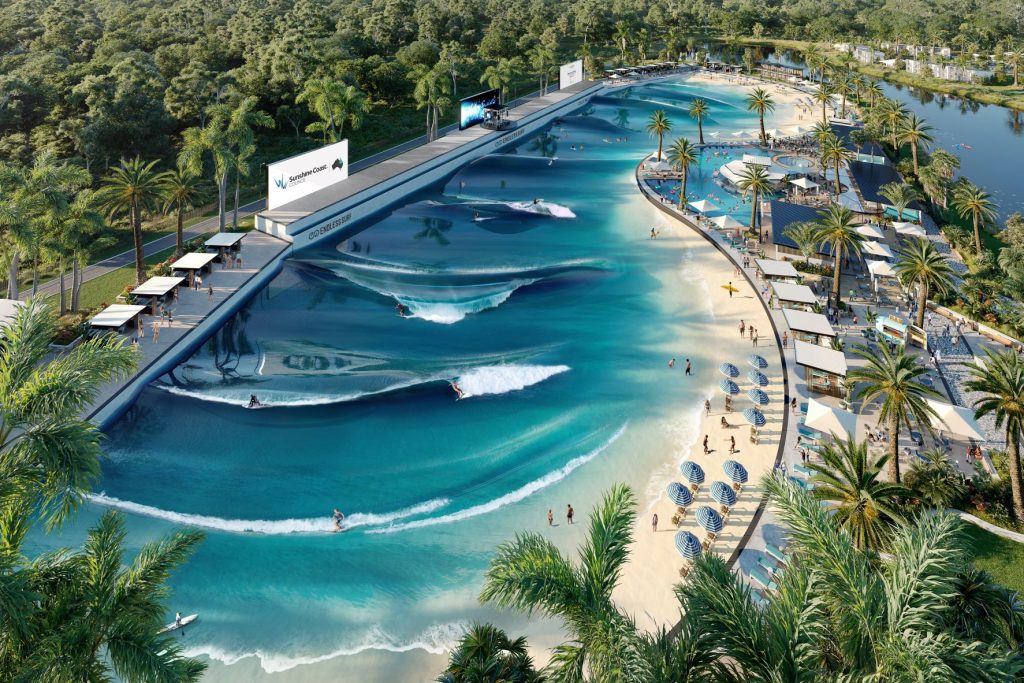 It says it is weighing its legal options and also the future of its major attraction.
"We are meeting with our lawyers and will decide where to go to from there," Sanad managing director Bradley P. Sutherland said.
Sanad made a submission to council outlining why it felt the rival bid should not be allowed.
This included that "the application has given no consideration to the existing Master Planned Tourist Attraction and subsequent approvals/applications (relating to the Glenview development)".
It asserted that there was no "demonstrated need for a second, similar facility within the catchment".
In the submission, it said there would be "no economic need for more than one facility on the Sunshine Coast".
However, Surf Parks Australia's application received a large number of positive submissions, and council officers found the application was properly made and followed the process set down in the Development Assessment Rules.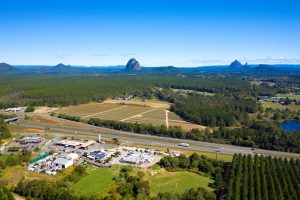 The council said the assessment manager had found that, subject to the imposition of conditions contained in the Decision Notice, the development complied with relevant assessment benchmarks.
More than $550,000 in council infrastructure charges will be required to be paid as part of the project.
Surf Parks Australia CEO Craig Morrison thanked council for its ongoing support throughout the development application and investment assistance program process.
The proposal aims to deliver a wave pool, amenities, wellness centre, paddock to plate food and beverage, ocean and marine protection education, learn to surf classes and surf coaching.
The pool and adjoining viewing beach would be approximately 315m long and 92m wide.
Help keep independent and fair Sunshine Coast news coming by subscribing to our free daily news feed. All it requires is your name and email. See SUBSCRIBE at the top of this article 
"We strategically selected the Moby Vic's location for this project due to its ease of access, proximity to both the Sunshine Coast and Moreton Bay regions, as well as the added benefit of minimal disruption to our community and our local environment," Mr Morrison said.
"The overall development will support the local building and construction industry as well as provide future employment for locals.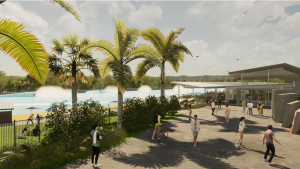 "It is predicted that around 60-100 jobs are likely to be provided both directly and indirectly as a result of the construction of this development, expected to start as early as next year.
"It will provide future employment opportunities for a number of tourism professionals."
Deputy Mayor and Divisional Councillor Rick Baberowski said the approval represented a major planning milestone for the project and was potentially a critical step towards the first major new tourism offering on the Sunshine Coast in decades.
"Once completed, this surf park will attract a new range of visitors to our region, visitors who would most likely extend their length of stay and generate a substantial economic benefit," Cr Baberowski said.
Sanad's Mr Sutherland earlier told Sunshine Coast News he was finalising contractors for the civil works at his integrated Glenview attraction, and site preparation would begin soon.
He said this would be done by a local contractor and others would be sought to build the villas and commercial elements, including the resort buildings, restaurants and micro-brewery, as well as the water park.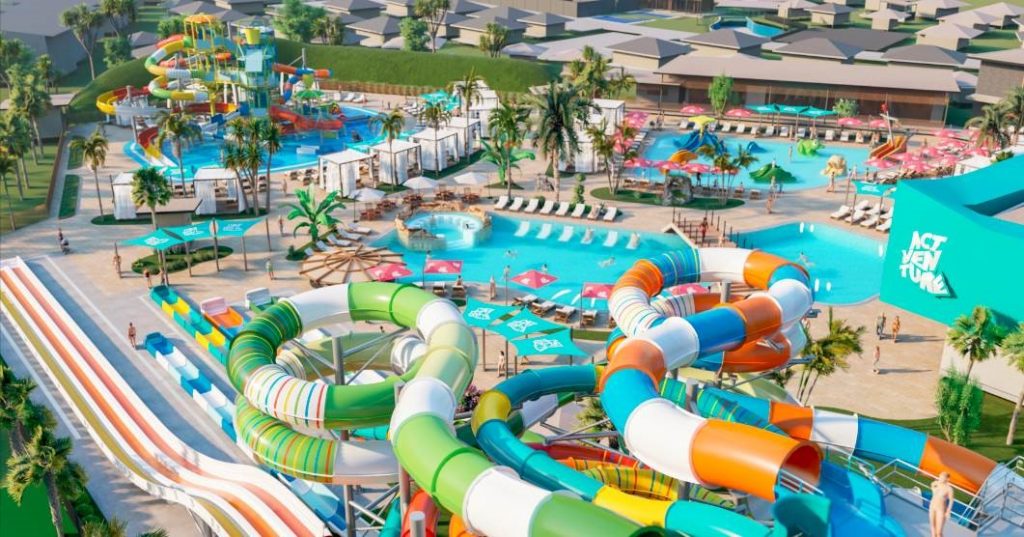 "This is a massive project. It will cost about $15m just to get the site ready.
"We want to make sure the jobs are offered locally and the Sunshine Coast community benefits."
Mr Sutherland said that while there were some concerns at the moment regarding the availability of trades and materials, he was working towards a grand opening at Christmas 2023.
Once fully operational, it is estimated that Actventure, Invigorate Resort and Endless Surf will support some 320 jobs, many suited to young people.