Unfortunately, it was a tragic start to summer on our beaches with 20-year-old Travis Davis drowning at Shelly Beach on Saturday afternoon.
Our thoughts and best wishes go out to his family in what is undoubtedly a very difficult time.
This tragedy unfortunately highlights how quickly and unexpectedly these types of incidents can occur in circumstances where the danger isn't obvious if you're not familiar with the surf.
Conditions on the beach last Saturday appeared rather innocuous however there was a large rip in the area which was running strongly as the tide ran out.
Lifesavers and lifeguards responded as soon as they were alerted after a member of the public called 000 and assisted in rescuing some of the people in difficulty, however Travis could not be located and a search ensued until last light.
The search involved lifeguards along with lifesavers from Dicky Beach and Met Caloundra Surf Life Saving clubs, jet skis and the Westpac Lifesaver Rescue Helicopter Service alongside the Water Police.
Surf lifesavers recommenced the search at first light the following morning and continued until Water Police located Travis.
This summer SLSQ and the Brisbane Heat have partnered to spread the message that "She'll be right won't save your life."
While a visit to the beach might seem pretty safe on the surface things can quickly go wrong so we're really encouraging people not to take any unnecessary risks.
Take the time to think about your trip and plan to only head to patrolled locations even if that means driving or walking a bit further.
Always swim with a mate and call them out if they suggest things like swimming outside the flags or after a few drinks.
Weekend outlook
Turning our attention to the weekend ahead, warm sunny conditions are expected once again with temperatures approaching the 30 degree mark.
The winds will swing from south-westerly on Saturday around to more south-easterly on Sunday and will consistently be range between 10 and 15 knots. They may make for some chop on the surface.
The surf will be around the 1m range across the weekend predominately from the south-east.
With the wind and surf from the south-easterly direction, the pick of the spots for a swim will be Noosa and Mooloolaba.
Enjoy the weekend and if you're heading to the beach make sure you of course only swim between the red and yellow flags.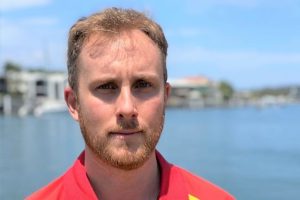 Aaron Purchase is Surf Life Saving Queensland's regional manager for the Sunshine Coast. His column in sunshinecoastnews.com.au keeps the community informed of what's happening on the beach and offers tips on how to stay safe.