It's been a pretty wet week but the rain has cleared — for now — as we head into the first weekend of summer.
Conditions this weekend have Saturday looking like the best day to head to the beach.
It is predicted to be sunny with light winds and a top of 29C. The UV is forecast to hit the extreme range through the middle part of the day so make sure you are well covered or have applied sunscreen.
Sunday is likely to be partly cloudy with the chance of a shower and slightly cooler, with a maximum of 27C.
The surf will be in the 0.75m range for most of the weekend, pushing up towards 1m as the swell increases from the south-east on Sunday afternoon.
With all the rain we've had, the water is discoloured in some areas and there may be debris in the ocean and along the beaches so take care.
We've seen high level of visitation to our beaches over the past few years and with the state borders reopening we're expecting numbers to be up again as interstate visitors return.
It's already been noticeable that there are more cars around the beaches.
Despite the crowds, the flags are the safest area of the beach to swim so please always pick a patrolled location when planning a beach visit.
Spread out on the sand to get your bit of space, but take the time to walk to the flags when heading into the water.
Surf sports success
On the surf sports front, our Sunshine Coast Branch team did us proud last weekend winning back the Interbranch Championships at Maroochydore beach.
They triumphed over South Coast and Point Danger. Great work teaming bringing the title back where it belongs.
This weekend, Dicky Beach will play host to the U11 to U14 Ironman Eliminator event. Good luck to all the competitors attending.
Enjoy the weekend and if you're heading to the beach make sure you only swim between the red and yellow flags.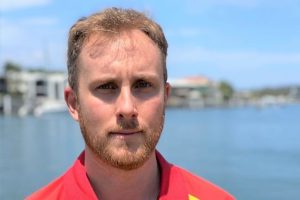 Aaron Purchase is Surf Life Saving Queensland's regional manager for the Sunshine Coast. His column in sunshinecoastnews.com.au keeps the community informed of what's happening on the beach and offers tips on how to stay safe.