Ron Drane left his mark on the Sunshine Coast, quite literally. He was the old school of signwriter who carried his brushes and paint pots from Glass House to Noosa.
Ron arrived on the North Coast in 1957, having bought the signwriting business of Simon Bracegirdle right beside the Bruce Highway at Parklands, north of Nambour, an estate that had been subdivided in 1949, by the Nambour solicitor R.D. Charlton.
The burnt remains of a big, old gum tree stood at the front and it was from this that Ron hung his shingle, regularly describing his address as "behind the black stump".
As it was on the main highway north, his "Ron Drane Signs" shed became something of a landmark for anyone living at Yandina or Coolum and beyond.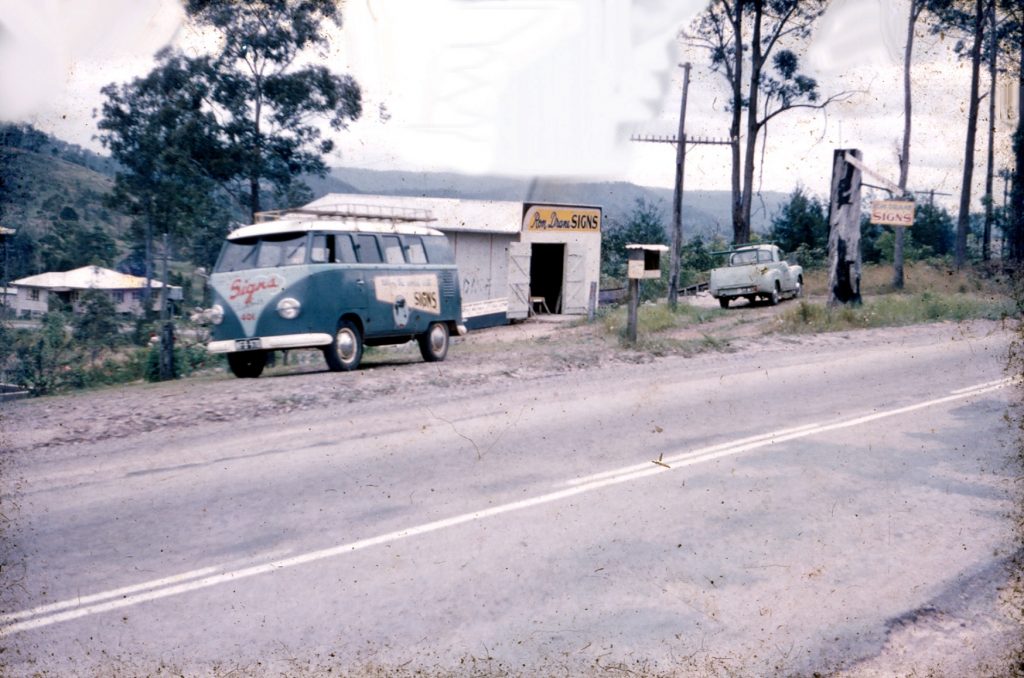 And his trademark was a canvas beret that he always wore not so much for its eccentricity, as for its usefulness in wiping out a chalk line or mopping up a drop of paint.
In the early years, he was the only craftsman signwriter serving the region, and would load up his Volkswagen Kombi with his tools of trade and head to Caloundra or Kenilworth, Beerburrum or Brooloo, or north to the fishing villages of Noosa and Tewantin and sometimes Gympie.
He wrote signs for national paint, petrol and ice-cream companies as well as for many old family businesses, including Wimmers Soft Drinks.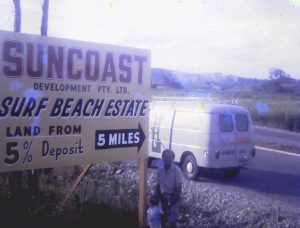 It was the days before computer lettering and he would craft perfectly formed letters – always priding himself that he could paint the perfect S, any size – every time and on every surface.
It was all brushwork, from the large hoardings announcing the development sites of major projects from Noosa to Caloundra, to fine stripes on the little trains at the new attraction, the Big Pineapple.
Honour boards in bowls and golf clubs around Nambour and Maroochydore still carry the delicate gold-leaf lettering he painstakingly applied every year for more than 20 years.
A gifted artist, he also annually painted the backdrops (pictured below) for the fruit exhibits at the Nambour Show and for the floats in the Warana procession. For one parade in the 1960s, he not only created the shoe for the Parklands entry, but also dressed up as the old woman who lived in it and took the neighbourhood kids with him.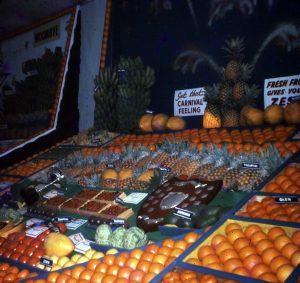 During these busy times he would employ another talented artist, Vern Lyle, to help him.
Ron would pick Vern up from the Club Hotel in Nambour and together they would create landscapes, street scenes and other artwork for the exhibits.
He never ceased to be amused by his story that when he would meet Digger Thomas, the town's funeral director, he would say "how's business, Digger?" and invariably get the reply "Pretty dead, Ron".
He painted the directional signage for the new Maroochy Airport in 1961, for the nearby Suncoast development and then erected the big hoarding, complete with an artist's impression, in the beachfront wallum announcing that on this site, Surfair Hotel was to be built.
At election time, his sign shop would be cleaned up and booths installed for voters to come in and make their mark. In the lead-up to the polls, Ron would chat with Frank Nicklin, Dave Low or Eddie De Vere and their contenders about their chances.
Many of their how-to-vote cards ended up with the reverse side covered in scribblings of ideas for signs and artwork.
Ron became a well-known figure around Nambour, not just for his signwriting but also for his active involvement in a number of community organisations including the Scouts, Nambour Civic Hall committee and later, garden clubs, senior citizens and pensioner groups.  His work for these groups was always gladly given.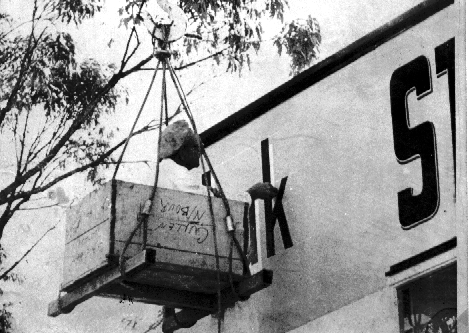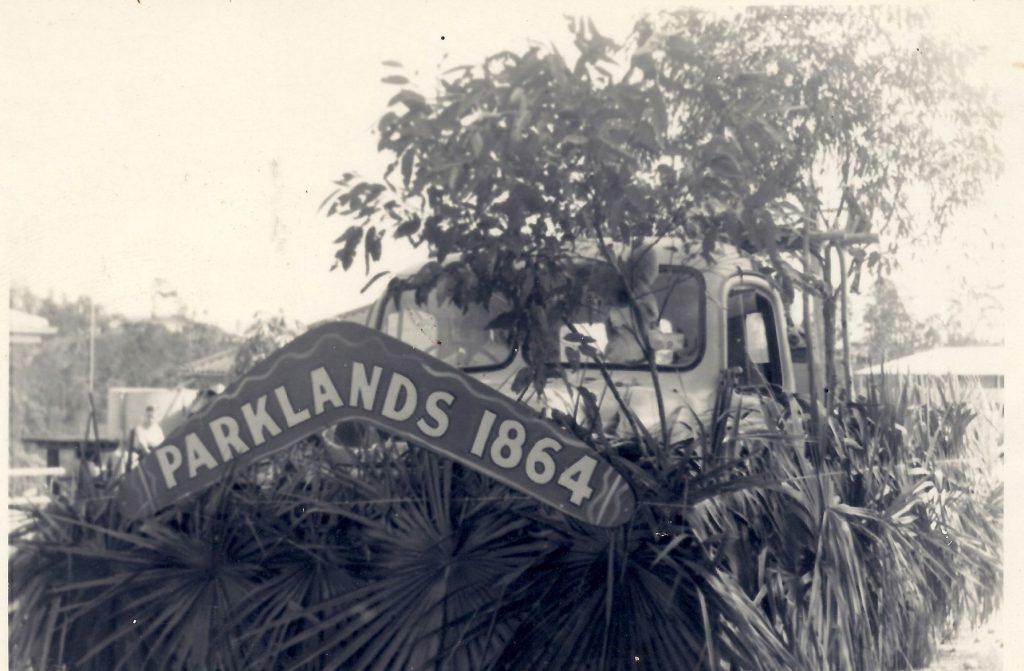 He was a wingman to the "parking meter man" Percy Rattray who conducted regular auctions to raise funds for charity.
Ron was briefly remembered with the naming of a street at Mons, where in 1994, his son subdivided his passionfruit farm and named one of the streets for his father.
Four years later, a disgruntled resident successfully demanded that the name be changed because potential buyers didn't want to live in Drane Court.
The cause was picked up by a couple of Maroochy Shire councillors and without further consultation it was changed overnight to Forest View Court (even though there is a Drane Street in the upmarket Brisbane suburb of Clayfield).
Nevertheless, he will not be forgotten.
Ron was 91 when he died at Sundale in Nambour. He would be 112 now.
I know his story well because he was my dad.
This flashback is brought to you by Sunshine Coast journalist and history writer Dot Whittington, also the editor of Your Time Magazine.