A global outbreaks expert says Sunshine Coast people shouldn't fear a major loss of lifestyle when the state's borders reopen, but will have make small behavioural changes to learn to live with COVID.
Queensland will drop quarantine restrictions for arrivals from COVID hotspots from December 17 when the state is at 80 per cent double dose vaccinations.
Dr Ian Norton, founder of Respond Global in Noosa, said the risk of community transmission would "no doubt" increase, but it was a fact we would have to get used to.
Dr Norton is predicting Queensland will record about 200 infections per day when community transmissions stabilise, with about 10 per cent of those needing hospitalisation.
But for most fully vaccinated Queenslanders, he said, the risks of serious illness were lower and there were other ways to reduce the chances of infection.
He also said the Sunshine Coast was well placed with its outdoor lifestyle to have lower likelihood of rapid seeding than dense city areas.
Dr Norton, a former WHO emergency coordinator, said people would learn to adapt to COVID being a normal part of life.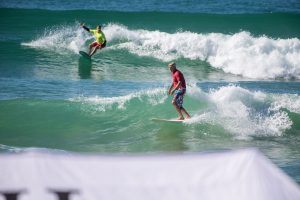 "We shouldn't be fearful of a major lifestyle change for us," he said.
"We should understand that everywhere else in the world has had to learn to live with this including New Zealand right now, places for a long time that were like us and free of illness.
"We can't continue to deny that COVID is a part of life and it's not going to go away.
"People who think we can outlast it and shut our borders and stay closed for 10 or 15 years, even then we probably won't outlast it.
"It's going to be with us for life. We're not going to ever get rid of COVID. It's just a matter of how may subsequent waves will come and how we can adapt and make sure we're as vaccinated and protected."
Subscribe to our free daily news feed. Go to Subscribe at the top of this story and add your name and email. It's that simple.
Dr Norton said people could make simple behavioural changes such as avoiding crowded locations like busy malls, spending more time in the great outdoors and not visiting family and friends if you are feeling unwell.
Then of course there's social distancing, hand hygiene and getting tested at the first sign of symptoms which will remain part of life, and the option of masks.
"Make sure that if you're visiting vulnerable that everyone is vaccinated. Cancel the trip, or cancel the party if anyone is unwell; don't continue if you have aches or pains, instead go and get tested," said Dr Norton.
"The over-the-counter tests, think about how to use them to ensure nothing else is going on.
"If you have symptoms, get a PCR and get diagnosed but don't go to work, don't go to the pub or visit mum and dad, but get tested and isolate until you get your results.
"Choose activities that are great about the Sunshine Coast, the outdoor lifestyle during summer."
Dr Norton said on the plus side, lockdowns would be a restriction of the past and extreme contact tracing should also be relaxed.
"I think that would be a real shame if we lose our nerve and lock down after saying that we were going to open. I don't think that's okay," he said.
"Lockdown is a very blunt instrument for the control of outbreaks, honestly they just really affect the poor and people who can't work from home.
"We can't look at lockdown as our response.
"Let's become more sensible about our approach to contact tracing so that casual contacts, if they're vaccinated, just have to watch for symptoms and don't have to quarantine."
Dr Norton said we shouldn't become fixated on the number of daily infections once our population reached the vital 80 per cent vaccination threshold.
"We'll all have to get very used to the fact that we will have cases in Queensland every day and really that's not so much of a number we should be worried about," he said.
"It should be a question of how many of those 200 people are vulnerable or higher risk because of their underlying medical conditions or have chosen not to be vaccinated and all of those people worry me because they're the ones that will end up going into hospital."
Dr Norton said people should not expect Queensland's case load to rise suddenly.
"This isn't going to happen on the 18th of December but over time as people come across the border and seed the infection amongst us," he said.