One of the state's highest profile organisations is bracing for the loss of hundreds of volunteers who have devoted their lives to protecting others.
Surf Life Saving Queensland (SLSQ) has announced that from March 31, 2022, it will be compulsory for all members aged 16 and over to be vaccinated against COVID-19.
The iconic movement "acknowledges that some staff and volunteers may disagree", but if they have not had the jab, they will not be able to patrol, train or compete.
SLSQ says more than 34,000 Queenslanders are volunteer members of a surf lifesaving club and more than 462,000 are members of an affiliated supporters' club.
With modelling showing about 6 per cent of Queenslanders are likely to opt against vaccinations, the losses could be significant.
Many lifesavers have devoted decades to public safety, raising funds and training the next generation of beach guardians.
As reported in Sunshine Coast News, Queensland Fire and Emergency Services (QFES) is close to making a decision on their volunteer groups, which include the SES and Rural Fire Service (RFS).
Alexandra Headland SLSC CEO Ashley Robinson said he understood why the state body had to act, but the timing was confusing.
Mr Robinson said that as with some other COVID rulings, such as the wearing of masks, there were inconsistencies.
"It's all very confusing. Volunteers will be able to patrol, train and compete until March 31 next year, but from December 17, all supporters' clubs will have to adhere to the restrictions imposed by the Queensland Government for unvaccinated people.
"So, fundamentally, between December 17 and March 31, 2022, supporters' club members, visitors and staff will be unable to enter clubhouses without having had the jab, but active members will enter the same premises (not the licensed area) without having to comply and also be able to mix with the public on patrol."
Mooloolaba SLSC president Darryl Johnson said that from his club's perspective, the committee understood and respected that people had the right to make their own decisions.
However, Mr Johnson said "we were in a different environment with COVID" and needed to respect the Chief Health Officer's directive.
"SLSQ has made a decision based on  advice and given members time to make other arrangements if they need to.
"Lifesavers are in clubs because they want to protect the community and I expect that we probably won't see as many volunteer losses as other organisations."
SLSQ's Board of Directors met to consider the impact and options.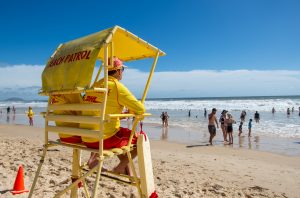 On Friday, it revealed the new requirements and vaccination deadline for volunteers.
Staff and volunteers 16 years and over will have to lodge their vaccination status by March 31, 2022.
SLSQ said it would be providing more details to staff and volunteers about how to do this in the coming weeks.
It would engage in a consultation process to ensure that all affiliates are informed of the decision and involved with the subsequent process.
Surf Life Saving Queensland CEO, Dave Whimpey, said the organisation had a duty of care to keep all staff, volunteers and members of the public safe.
Do you have an opinion to share? Submit a Letter to the Editor with your name and suburb at Sunshine Coast News via: news@sunshinecoastnews.com.au
"We are taking this step to actively protect all those involved in the lifesaving community, and align with the Queensland Government's Roadmap," Mr Whimpey said.
"A number of factors were considered when we made this decision, and we acknowledge that some staff and volunteers may disagree.
"Accordingly, we respect an individual's decision, and should they choose not to be fully vaccinated, they will be placed on Restricted Duties and unable to participate.
"Ultimately, we have to ensure the health and safety of our staff, volunteers and any other third parties who have interactions with SLSQ which is why we have made this decision," he said.
SLSQ recognises that if advice from the Queensland Government changes over the coming months, this requirement will be reviewed by the SLSQ Board of Directors.
Further information can be found on the COVID Hub page on the SLSQ website.
Help keep independent and fair Sunshine Coast news coming by subscribing to our free daily news feed. All it requires is your name and email. See SUBSCRIBE at the top of this article