Some fine wines just get better with age. And by wine, I refer to Kevin Costner.
Yes, he is looking as broody, sexy, and relevant as ever thanks to his starring role in the Stan TV western series, Yellowstone.
If you are late to the cowboy party like me, do not worry, but canter on as quick as you can to watch. It is wonderful.
It is dark and gritty and makes you want to run away in your RM Williams to Montana to live on a ranch and wear spurs and denim all day long.
It is an epic fiction that channels Dynasty in the dirt. Kevin plays John Dutton, a sixth generation patriarch, running a mammoth ranch and his crazy family members who are all battling demons. The plot revolves around this family drama and the bordering Native reservations and national parks.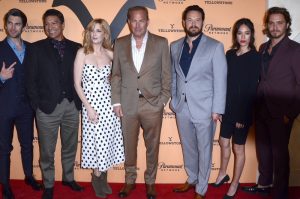 Anyway, let us just celebrate the hot tall cup of sexy that is Kevin Costner. He is now 66 years old. How did that happen?
My favourite Kevin movie will always be The Bodyguard. It is just a feast for the senses with so much sexual tension between Frank and Rachael.
There are so many great moments of lingering eye contact and steamy kisses between them, and do not even get me started on the music front.
Whitney coming off that airplane at the end of the film as she belts out I will Always Love You brings to my knees every time. I still do not understand why she didn't just put Kevin (Frank) on the pay roll and keep him around to make tea and toast every morning.
Kevin serving tea in bed is a steamy thought. Kevin in Robin Hood: Prince of Thieves is also one of my favourite Costner roles. Tight pants and jumping out of trees on top of bad guys' heads makes for good viewing.
And what about that power ballad with the iconic lines of Everything I Do, I Do It For You? Dances with Wolves, The Untouchables, Field of Dreams and Mr. Brooks.
The list of great Kevin movies is long. I am not going to mention Waterworld, because we all make mistakes.
But tough guy John Dutton in Yellowstone in his big country hat and dusty denim is my favourite Kevin ever.