A Sunshine Coast eco-giftware company has pushed the boundaries of sustainability by turning used flight safety cards into pots for plants.
Maleny-based Sow 'n Sow has developed its new product, Pop Up Pot, and they're the first foldable waterproof pots to enter the market.
The origami-style product is made from 100% recycled non-toxic polypropylene.
The material is produced via a closed-loop system that recycles post‑industrial waste such as manufacturing offcuts and used consumer products including flight safety cards that, if not recycled, would be sent to landfill.
Michelle Brady, the founder of Sow 'n Sow said that with plastic waste levels increasing it was more important than ever before to rethink waste and move towards a circular economy.
"Closed loop systems that support a circular economy approach whereby the waste from existing products is turned into new products that re-enter the local supply chain is important for a sustainable future," she said.
"By manufacturing our Pop Up Pots from 100% recycled materials, we're actively diverting waste from landfill and using it to create new durable and usable consumer products.
This keeps the materials circulating in the loop for longer to maximise and extract as much value from it and minimise its environmental impact."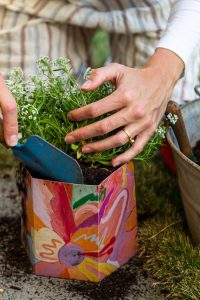 The material used to make Sow 'n Sow Pop Up Pots is the only Australian-made plastic sheet that is 100% recycled and 100% recyclable, and the world's first 100% carbon neutral plastic sheet certified by the Carbon Reduction Institute.
Through the sales of the new Jackie Anderson Pop Up Pot collection, Sow 'n Sow will divert the equivalent waste of 22,500 plastic 600ml bottles from landfill.
Follow us on Facebook: www.facebook.com/scnews2020/
Sow 'n Sow's Jackie Anderson Pop Up Pot collection includes three Pop Up Pots featuring hand-painted acrylic artwork by Newcastle-based artist Jackie Anderson.
Jackie's artworks are intuitively created with a focus on abstracted landscapes.
Characterised by vivid colour and bold shapes, her art aims to explore the duality of time from moments in her life.
Available in three sizes, you can plant directly into Sow 'n Sow Pop Up Pots or use them as a pot plant sleeve.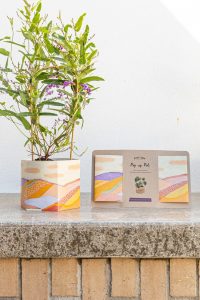 For more information or to view Sow 'n Sow X Jackie Anderson Pop Up Pots, visit sownsow.com.au.
Get more Sunshine Coast News direct to your inbox by subscribing to our free daily news bulletin. All it requires is your name and email. See SUBSCRIBE at the top of this article.
Combining a love of gardening with timeless design, Sow 'n Sow produces high-quality, sustainable gifts that delight green thumbs and novice gardeners alike.
Featuring bright botanical illustrations by Melbourne artist Daniella Germain, Sow 'n Sow offers a unique collection of Gift of Seeds – a cleverly designed greeting card with a packet of seeds to form a gift that grows, plus a curated range of products that complement their vision including traditional Flower Presses, Gift Tags and the Pop Up Pots,
Operating for more than 11 years, Sow 'n Sow is a well-established business that prides itself on producing sustainable Australian made products using environmentally friendly materials.
All products are assembled by hand in their studio in Maleny.