Rugby and political identity John "Knuckles" Connolly has vowed to walk again as he draws on his sporting toughness and resolve to recover from a freak fall.
The ex-Wallabies rugby union coach and former Sunshine Coast councillor will tackle the tough mission like many others faced during his career – with positive thinking, a sound plan and hard work.
Mr Connolly is six weeks into care in the Princess Alexandra Hospital in Brisbane following an horrendous accident at his father's house.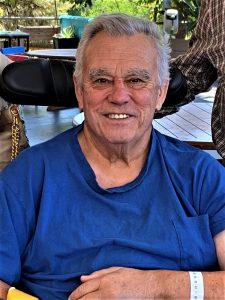 "I was on the phone talking to someone about business on the Sunshine Coast, believe it or not," he said.
"There's a 2m drop from my father's property to the next property, with a post. I lent on it.
"I was very relaxed at the time. I landed on my left side and in the fall, I broke my right arm, dislocated my left shoulder, broke a bone in my left hand and the worst injury is that I broke the lower part of my neck.
"When I landed, I couldn't feel anything. Nothing from the neck down."
The pain that followed was what Mr Connolly calls "the worst pain you've ever experienced".
"A broken arm pales into insignificance," he said, having broken many bones across his 70 well-lived years and sporting career.
"(The surgeons) spent six-and-half hours in surgery rebuilding the spinal column and it's a real waiting game now to see how much damage was done to the spinal cord.
"Half an inch higher could have been very different.
"Mentally, you just have to come to grips with that.
"I can now move my arms but can't move my hands.
"Nothing from the waist down. Anything below, I can feel people touching that.
"I have a tingling sensation in the feet.
"It will be a waiting game. At 12 weeks, we will know a bit more."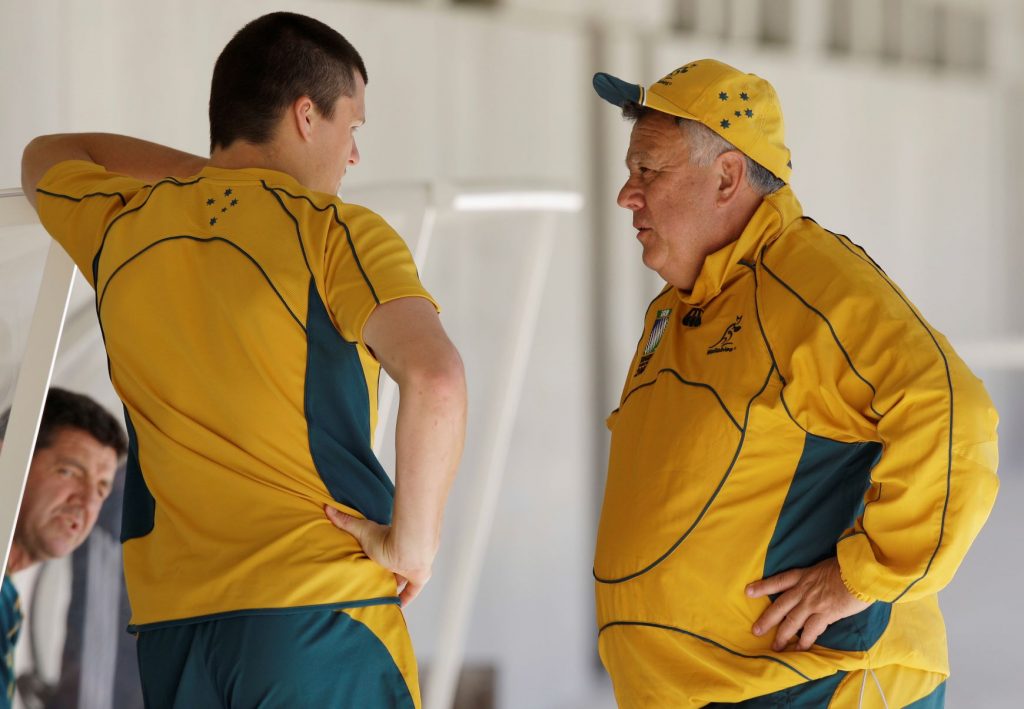 Mr Connolly took charge of 25 Tests as coach of the Australian team and was at the helm when the Wallabies played the 2007 World Cup.
The Queensland Reds (1989-2000) and European clubs Stade Francais, Bath and Swansea all have benefitted from his strategic thinking and coaching expertise.
At the time of the accident, Mr Connolly had made a return to his beloved rugby union roots at the Brothers club as Premier Grade advisor for Brendan Gabbett.
He said the well wishes he had received in phone calls, texts and on social media since the accident had been "overwhelming".
He has been buoyed by visits from Sunshine Coast business identities Tim Ryan, Mal Pratt,  Anthony Williams and Paul Thomas.
Former Wallabies legends Andrew Slack, Tim Horan and John Eales also had visited him in hospital, and he couldn't speak highly enough of the support from his wife Jo, Canberra-based son James and sons John and Jesse in Brisbane, as well as extended family.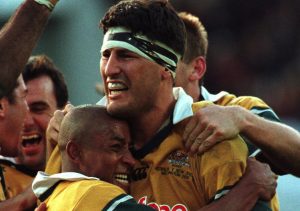 A huge card behind his hospital bed from Sunshine Coast Council employees and phone calls from Mayor Mark Jamieson are testament to the high esteem in which he was held as a division 4 councillor from 2016-20.
But he saves some of his biggest accolades for the hospital staff who had been "fantastic".
"People who whinge in life – they should take a walk through these wards here and they will realise how lucky they are," Mr Connolly said.
"To work here is a real calling. It's only when you get inside you realise how fantastic they (doctors and nurses) are."
Local journalists supporting local people. Help keep independent and fair Sunshine Coast news coming by subscribing to our free daily news feed. All it requires is your name and email. See SUBSCRIBE at the top of this article. 
While he jokes that he's feeling "as good as can be expected", he knows the real work is only just beginning on his road to recovery.
Over the course of two hours one day recently, for example, he tried to make his forefinger touch his thumb.
"I kind of got it there," he said of the frustrating effort.
"Mentally, you've just got to be strong.
"It's a massive mental challenge and you're not going to make it without a lot of hard work and if you do the hard work, you've got a chance.
"(I'll need) a few prayers. I can see things can go either way. I definitely need a strong mental approach, and work really hard (in rehabilitation).
"Where you end up, no one knows. No one knows where the story ends. You've got to fight hard and try to give yourself every chance."
Help keep independent and fair Sunshine Coast news coming by subscribing to our free daily news feed. All it requires is your name and email. See SUBSCRIBE at the top of this article 
Although the Connollys have been living in Brisbane for about 18 months, they hope to move back to the Sunshine Coast in the future.
Mr Connolly would dearly love to be home by Christmas but at this stage, he is unsure whether that will be possible and, if it is, whether he will leave with a walker or walking stick or in a wheelchair.
"You've got to be realistic," he said.
Mr Connolly draws strength from the philosophy of Hollywood tough guy, action man and acclaimed movie director Clint Eastwood.
Eastwood, 91, believes the secret to his success and longevity is: "You just don't let the old man in".
Mr Connolly knows the sports brain he has relied upon all his life also will play its part.
"Sport teaches you those things about being organised, fighting and determination to be successful," Mr Connolly said.
"Hopefully we've got some of that left.
"I don't want to spend too much time looking back but look to the future.
"This does give you time to reflect how lucky you've been in life.
"But you've just got to play the cards you've been dealt. It's a bit of a lesson for everyone."