Queenslanders who wish to study at TAFE in 2022 are being urged to apply for one of the 100 scholarships being offered and create an exciting career path.
Applications close on September 24, and successful recipients will receive up to $5000 to help cover the costs of course fees, text books and living expenses while they strive for any TAFE Queensland qualification in 2022, from a certificate III through to an advanced diploma or bachelor degree.
There are two types of scholarships available, including merit scholarships, which are aimed at supporting people who have demonstrated strong levels of achievement to advance their careers, and access and equity scholarships, designed to help students battling social or financial hardship.
The Sunshine Coast's Nicola Hatfield, 22, is pursuing her career goals this year, after receiving a merit scholarship last year.
She discovered her passion for sewing and fashion early in life, with her family supporting her.
"When I was little, I was always cutting out magazine pictures, and later mum bought me a book with fashion template models where I drew, designed clothes and outfits," Nicola said.
She finished top of subject for her year level three times in her high school fashion and OP home economics classes, so when it came time to choose a career path, her decision was clear.
Although she was accepted to study fashion at a university in Brisbane, Nicola decided to hold off on study and started working in retail in order to save money.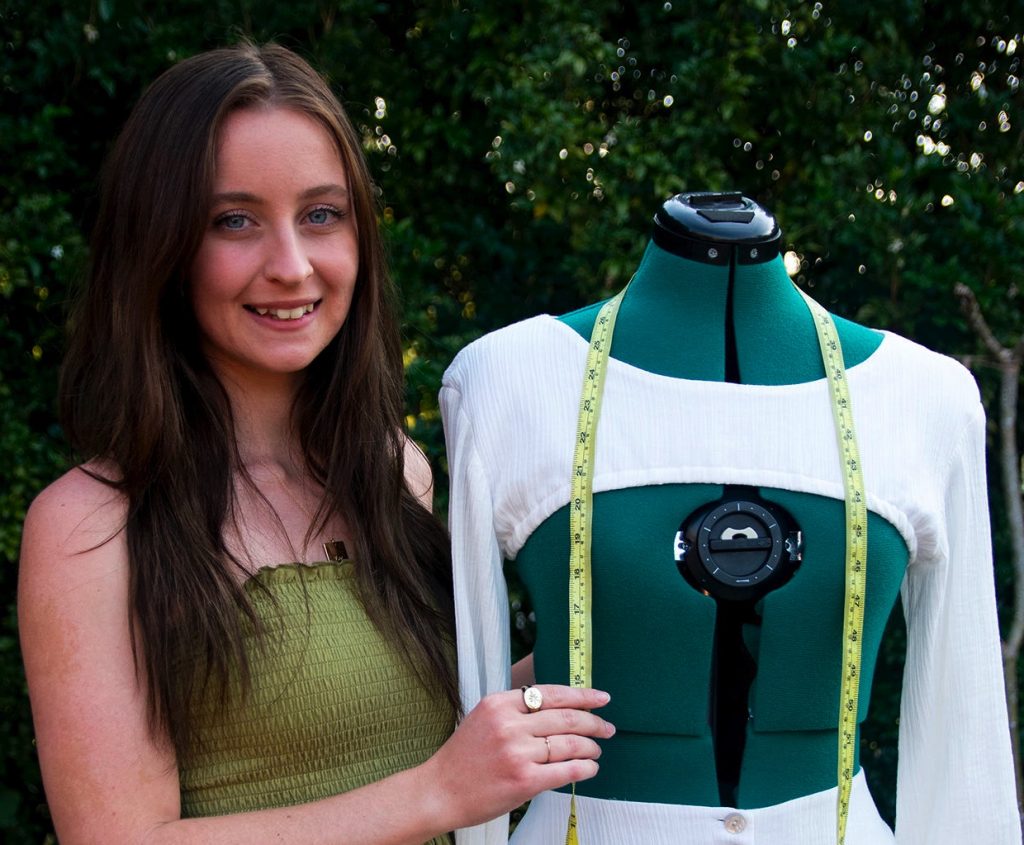 During this time, she began making and up-cycling her own clothes at home, which eventually inspired her to start an Instagram page @lionessnilafashion, showing people how easy it is to mend clothes, alter the size of a garment, or turn something old into something new.
"During high school I always said, 'I want a clothing label and I want to be as famous as Gucci one day," she said.
"But through studying this course, I have seen the unsustainable side of the fashion industry and I know now that I do not want to contribute to the world's pollution.
Help keep independent and fair Sunshine Coast news and opinion coming by subscribing to our free daily news feed. All it requires is your name and email. See SUBSCRIBE at the top of this article.
"Reflecting on my designs, I realised I didn't have the proper skills and knowledge to make everything I imagined, which is why I chose to study fashion at TAFE Queensland – because the units seemed more practical and hands-on than other university courses. I have now learnt how to make patterns from scratch and bring my designs to life."
Upon enrolling in the Diploma of Applied Fashion Design and Merchandising/Advanced Diploma of Applied Fashion Design and Merchandising at TAFE Queensland's Mooloolaba campus, Nicola heard about the TAFE Queensland Scholarship Program and immediately jumped at the chance to apply.
"This scholarship has taken some of the expense off my VET loan, which is greatly appreciated. But on top of that, the application process helped me figure out what my end goal is, because I had to really consider everything for the questions," she said.
Nicola is currently working on the designs for her final assessment, which will be showcased at TAFE Queensland's end-of-year fashion show in November.
Her dream is to eventually run workshops for the community to enable individuals to unleash their creativity through producing quality up-cycled clothing for themselves.
Follow us on Facebook: www.facebook.com/scnews2020/
"I want to inspire people to change their throwaway fast fashion lifestyle to be sustainable and re-establish preloved items into something they can reuse," Miss Hatfield said.
The TAFE Queensland Scholarship Program first launched in 2015 and has since awarded more than $1.8million, helping more than 390 Queenslanders pursue their careers goals.
RACQ and CPL have also partnered with the TAFE Queensland Scholarship Program, with RACQ's funding to support Aboriginal and Torres Strait Islander People who wish to study in the Townsville region, and CPL providing funding for scholarships under the access and equity category for Aboriginal and Torres Strait Islander people with a disability.
For more information visit scholarships.tafeqld.edu.au.