A wave park at Glass House Mountains – the second proposed for the Sunshine Coast – is riding a wave of popularity, sailing through its public notification phase.
Surf Parks Australia wants to create a stand-alone artificial surfing attraction on the western side of prominent Bruce Highway stop, Moby Vic's, and has received almost 1000 letters of support.
The site is only 20km south of Sanad Capital's integrated resort, water park and wave pool project that is close to coming out of the ground along Steve Irwin Way at Glenview. Sunshine Coast News readers have been given a sneak peek at the thrilling Actventure water park and its 30-plus slides.
Alexandra Headland-based development consultants, Project Urban, is acting on behalf of Surf Parks Australia, which is behind the separate Glass House Mountains proposal.
In December last year, it lodged an application to allow two rural-zoned parcels to be used for tourism.
On April 1, it submitted the final documents required to advance the project. These related to assessments of the local environment and bushfire and flood hazards.
Unlike the Glenview development that was code assessible, the Glass House project is impact accessible, meaning it required public notification as part of the assessment process.
Sunshine Coast Council told Sunshine Coast News this had now ended and the bid had attracted overwhelming support.
A spokesperson said public notification had occurred between August 4 and August 25, 2021.
"Council has received 963 properly made submissions for this application, 960 of these were in support of the application.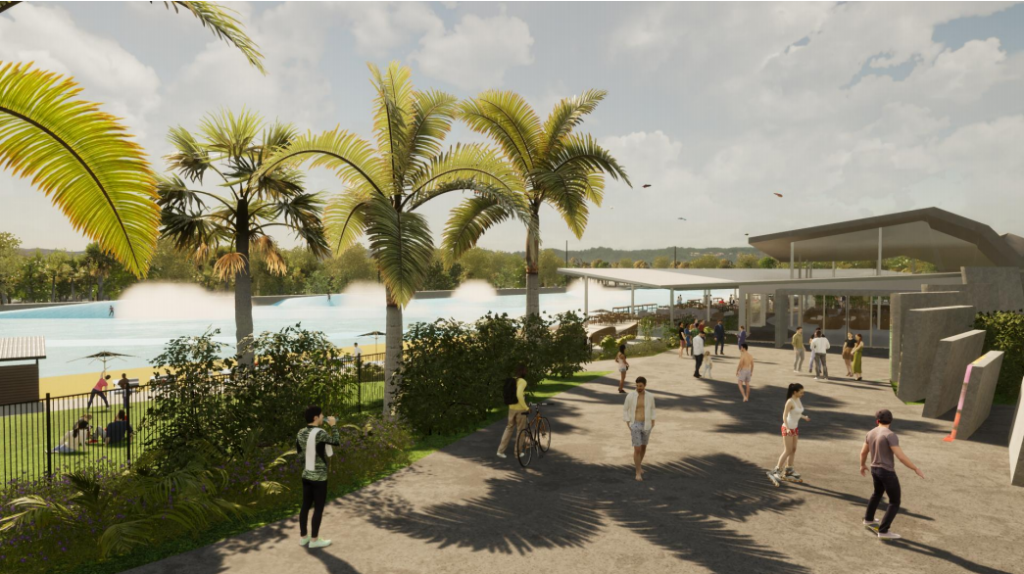 "As with all development applications, this application will be thoroughly assessed on its individual merits and a report will be prepared for determination of the application."
It is understood that if approval is soon granted, construction could start as soon as the end of this year.
The wave park and associated buildings are expected to cost around $25 million to construct, with proponents hoping the first artificial wave could be ridden in 2023.
The Glass House attraction would incorporate the latest artificial wave-generating technology from American Wave Machines, which has a Surf Ranch in Waco.