Vietnam war veteran Ted Robinson turned to a hut in the bush as he came to grips with his own demons
Rustic, wide-open spaces and the screech of galah flocks could not be further from the sweaty, tangled jungles of Vietnam — and that's just how Ted Robinson likes it.
A veteran of Vietnam's bloody war, Ted has carved out a peaceful niche in Australia's Outback as respite from the ongoing flashbacks of combat, and now shares it with other traumatised returned veterans and first responders as part of a novel healing process.
Many people will remember Ted, now 71, as chief photographer at a Sunshine Coast newspaper where he would cover news events from murder scenes and car accidents to new babies and fashion shoots.
His father Bill operated some of the first photography studios on the Sunshine Coast.
But when the PTSD of serving in Vietnam combined with his hectic job caught up with him some years ago, Ted realised he needed to slow down.
"When I sort of fell over and gave up work, my kids were still in primary school and I used to go out near Adavale where a mate was managing a property to get rid of the stress," he said.
"I used to think how great it would be to have a veterans' retreat there."
Help keep independent and fair Sunshine Coast news coming by subscribing to our free daily news feed. All it requires is your name and email. See SUBSCRIBE at the top of this article 
When, while en route to the Birdsville races one day, he spotted an old hut at Adavale and two blocks of land around it for sale for the princely sum of $200, it seemed that fate had stepped in.
He and two mates bought it from the local council, which had reclaimed it due to unpaid rates.
Situated 1000km from his Sunshine Coast home, with Quilpie as the closest major town, the hut was an old Cobb & Co staging post-cum-post office in Adavale, a tiny centre with a population of around 16.
"For 20 years, I've been going there … there's nothing – just peace and quiet," Ted said.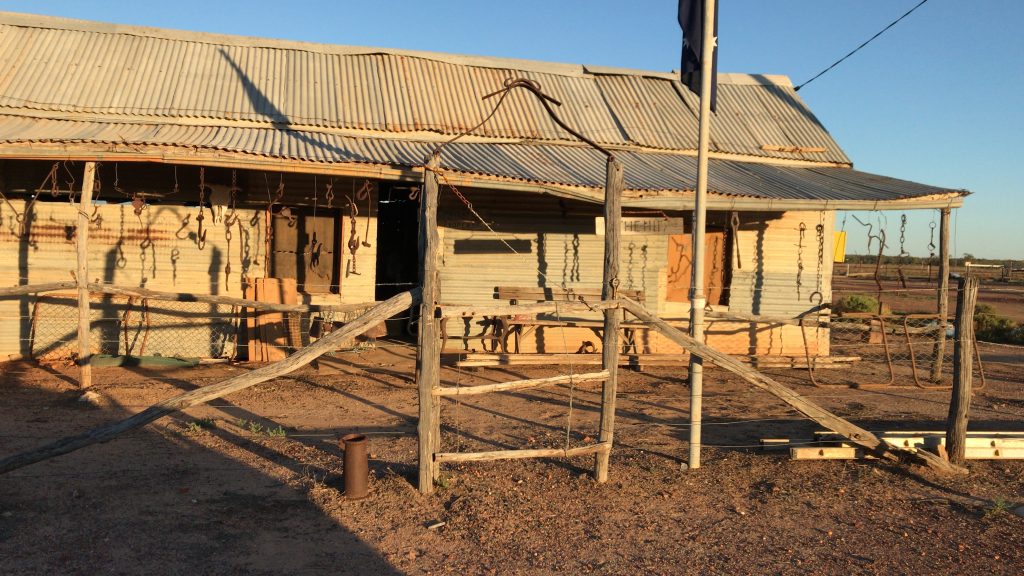 As president of the Sunshine Coast Vietnam Veterans Association, Ted originally centred the veterans' retreat on a nearby property called Alaric. But after 14 years, access to the property had ceased, and the focus switched to Adavale.
A charity was formed and the hut and land transferred into its name. Work began on cleaning up the property, building a lagoon and installing mining dongas donated by a generous benefactor.
With eight rooms with ensuites, air conditioning and fridges, Ted describes the new facilities now as "unbelievable".
While hundreds of veterans from all over Australia passed through the Alaric retreat before it switched to its new site at Adavale, Ted believes the therapeutic benefits remain the same.
"There's camaraderie and understanding. … and magnificent sunsets … it's a very healing place. It's quiet or you can go fishing or yabbying, hike or just read a book. You can do as much or as little as you want to."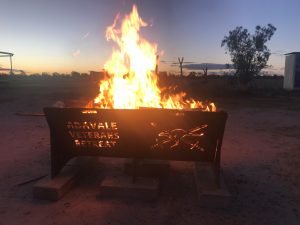 Ted says Adavale is now looking to involve the Younger Heroes organisation which is run by people on the Gold Coast. It would provide a place where fathers who may have disconnected from their children because of the trauma of war in places such as Afghanistan can come with their kids and chill out together and reconnect.
Four rooms are open and nominal fees are charged for the veterans, as well as stressed first responders such as fire and ambulance officers and their family members.
As well as the PTSD from serving in the 102 and 105 Field Batteries of the Royal Australian Artillery in Vietnam during 1968 and 1969, Ted believes he also suffered the effects of being in contact with Agent Orange.  In 2018, he underwent open heart surgery for an aortic aneurysm.
His experiences have made him especially passionate about supporting and caring for veterans and he has been active in the RSL in pushing for Vietnam veteran recognition in particular, as well as holding key positions.
"It's very satisfying to help people to understand what they're going through," he said.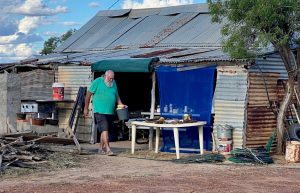 Married to Pip, with whom he has two sons, Ted also has two sons from his first marriage to Marilyn and now five grandchildren.
He knows from experience — and comments in the visitors' book — just how much his efforts in creating a safe and peaceful space for veterans and first responders has meant for his own and other families.
"Some of the comments, the wives say the change in their husbands in just a week at Adavale has been amazing. It's just having a sympathetic ear and the quietness and life out there," Ted said.
This article was provided by our sister publication, Your Time Magazine