A proud Indigenous woman stolen from her mother at birth is hoping to leave a cultural legacy for the next generation, sharing inspiring stories of her people through art.
Merryn Apma recently opened her retail store Apma Desert, Ocean, Fabric Art and Accessories in Eumundi, to continue education and advocacy on First Nation's culture.
"I paint to keep alive my journey … going home and honouring all my people," she said.
"I paint the strong Aboriginal women from the desert, I paint my countrymen who took care of country for a long time.
"I also paint the beautiful desert wild bush flowers and the water holes and the beautiful wild bush berries.
"It just comes out; I never plan what I'm going to paint. It is very much inside me and I'm really proud of where I come from."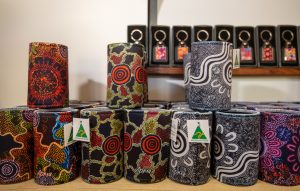 Merryn is one of Australia's Stolen Generation children, born in Murray Bridge, South Australia and adopted by a non-Indigenous family from Geelong, Victoria – where she grew up.
Growing up knowing she was different and eager to learn where she came from, at age 17 Merryn found and met her biological birth mother and learnt she had two younger brothers and a sister.
It wasn't until she was 22, she finally returned to her home – Arrernte country near Alice Springs (Mparntwe).
"To go home to our old country as a family was amazing," Merryn said.
"We went on a trip on the Ghan and it was a real culture shock because I didn't know anything about my family, let alone that I came from the desert and my family were still practising the traditional way."
It was upon visiting her relatives and immersing herself in her culture that Merryn realised her passion for art and storytelling.
"I watched what they were doing, and they were drawing our country in the dirt.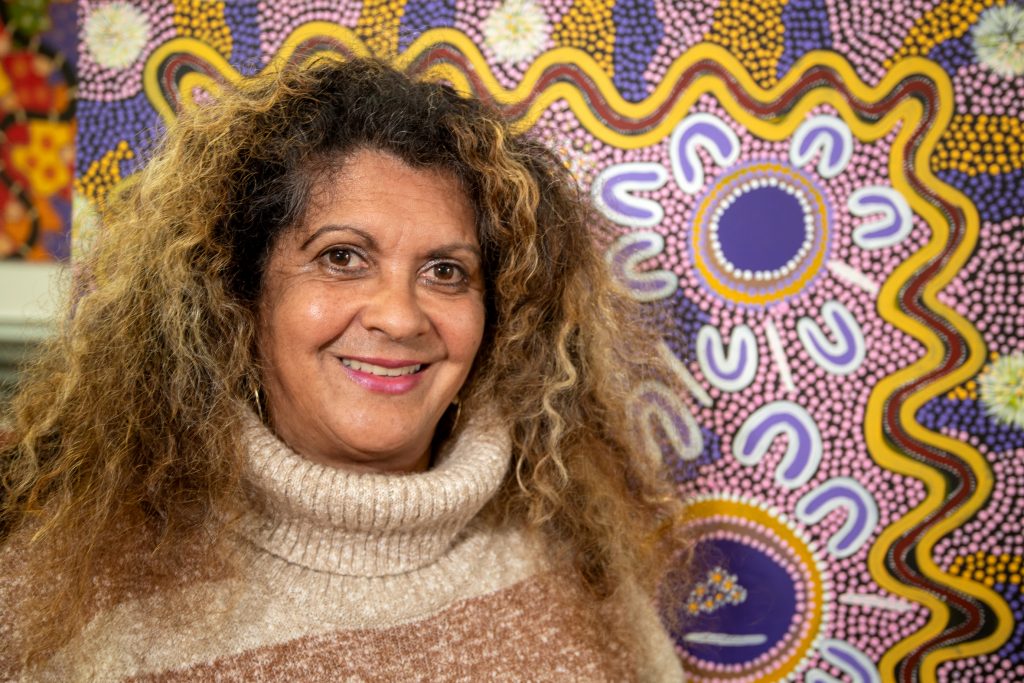 "I was going 'this is unavailable', and English is their second language, so I had to really listen.
"After that I started realising all the art around me and the penny dropped.
"I went home to Victoria, where I was living at the time, and I started painting and learning from what they were telling me.
"It took me a long time, but I started learning more about who I am and my people."
Nearly 60, Merryn has spent more than 30 of those years learning and perfecting her art and previously owned a gallery in New South Wales.
Merryn has been instrumental in advocating for Aboriginal Affairs and has spent more than 35 years working from grass roots to government levels.
"I worked for the Northern Territory Stolen Generations (NTSGAC). I was travelling all over country meeting many relations on that journey."
For her efforts, Merryn was awarded the Bicentennial Medal for her contribution to the Aboriginal Community in 2001, the Western Suburbs Indigenous Gathering Place Reconciliation award in 2005 and the Women in Culture award at the inaugural Victorian Aboriginal Women's awards in 2006.
Merryn also participated in the 2004 Long Walk initiated by AFL Essendon legend Michael Long, who walked from Melbourne to Parliament House in Canberra to raise awareness for the struggles of Aboriginal and Torres Strait Islander people.
"That was at a time when Aboriginal affairs came to a standstill. There was no voice," she said.
"I found out (Michael Long) was walking so I joined him.
"That was the most unbelievable journey of my life. It was a spiritual journey, and it changed my life and many people's lives."
Merryn then went on to be director of the Long Walk Foundation for six years and had the privilege of designing the 2019 Essendon jersey.
Follow us on Facebook: www.facebook.com/scnews2020/
With two daughters, six grandchildren, three stepchildren and three step-grandchildren, Merryn hopes to continue the legacy of her people for the upcoming generation, both Indigenous and non-Indigenous.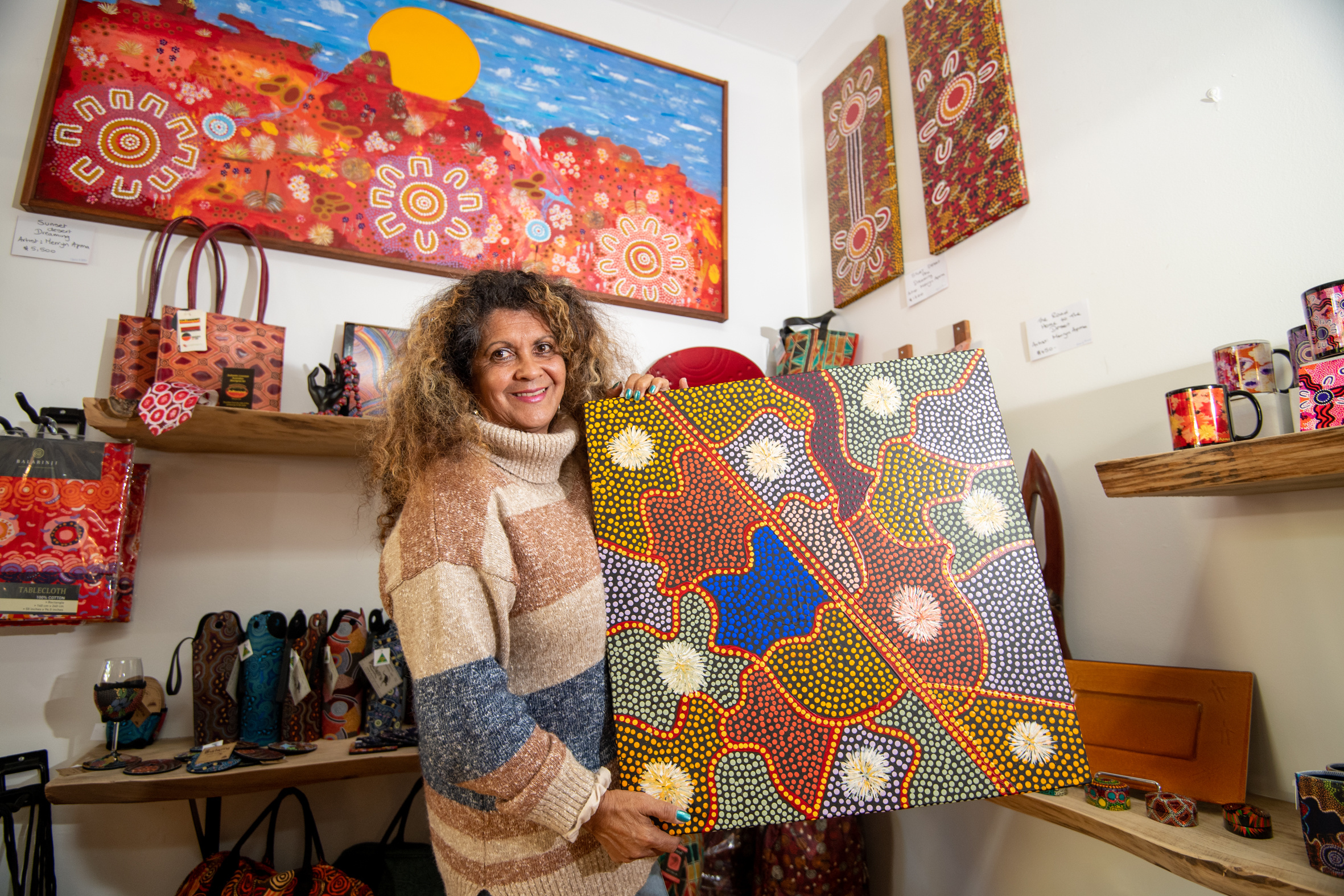 "I like to give cultural experience to people about my journey when they come in (to my store) – non-Aboriginal people – and I talk about my art with them.
"It's about teaching people this is what happened. But I like to do it in a nice way. I've gone through all the angry, hurting part.
"It's not all rosy and that's the damage that's been done. There are so many layers, it would take a lifetime to go through every layer.
Like stories about Sunshine Coast people doing great things? Help us deliver more by registering for our free daily news feed. All it requires is your name and email. See SUBSCRIBE at the top of this article. 
"It's about learning about our culture and what's happened and where we sit today as Aboriginal people. How far we've come and how resilient we are.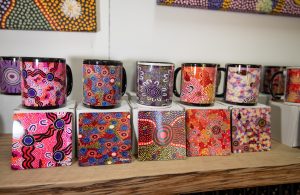 "What I strive for is creating a legacy for my children and my grandchildren to give them hope as Aboriginal people to not have to fight for generations and generations of things that have happened to our people – from genocide to removal.
"I'm pretty excited because I feel this generation are doing amazing things.
"There's still a long way to go but it's great to see more understanding and appreciation for culture."
Merryn's store, on Etheridge Street in Eumundi, sells original artwork, as well as handbags, cushions, coasters, mugs, and pieces made by Indigenous artists across Australia.
The store is open Wednesday and Saturday, from 8.30am to 3pm.