Millions of people in South-East Queensland have been released from an eight-day lockdown triggered by the state's worst COVID-19 outbreak in a year.
Premier Annastacia Palaszczuk emerged from a 14-day hotel quarantine after returning from the Tokyo Olympics to reveal the good news Sunday morning.
The Premier said the stay-at-home orders would be lifted for 11 local government areas, including the Sunshine Coast and Noosa, from 4pm.
However, there would be some restrictions in place and a renewed focus on protecting school students and staff.
Cairns will enter a three-day lockdown after a case was infectious in the community for up to 10 days and the Gold Coast recorded a new local case, currently under investigation.
The Premier encouraged people not to travel elsewhere in the state for two weeks.
"We expect more outbreaks in the future," she said. "What we have learned is that if you go hard and fast and get on top of these issues quickly, you can minimise the damage," she said.
"It's tough this virus, it's not going away and it's sweeping the world."
The Premier said masks were absolutely critical, but not necessary if out walking.
From 4pm, it will be legal to have up to 10 people in homes, including those who live there.
Pubs, clubs and businesses will revert to the one person per four square metres rule. Masks will be compulsory unless seated for eating.
During the next two weeks, community sport will not be permitted.
Weddings, funerals and hospital visits will be allowed, but with capped numbers.
Find out the latest restrictions here.
Chief Health Officer, Dr Jeannette Young, praised South-East Queenslanders for suppressing the virus "so  beautifully" and admitted it was a result she "truly wasn't expecting".
She said people would be able to return to a semblance of normal life from 4pm, albeit with restrictions in place.
Dr Young explained the details of a mystery positive case on the Gold Coast.
She said the person involved had tested positive but then two subsequent tests had come back negative and the entire family had been tested and were also negative.
The person's results had a high CT value meaning very little virus load was detected.
Dr Young said she was concerned about the taxi driver in Cairns who had tested positive and sparked the three-day lockdown up there and urged the community to get tested.
Much had been riding on Sunday's decision, with businesses forced to close or scale down operations since the lockdown began at 4pm on July 31.
The shutdown was initially supposed to last for three days, but when cases linked to the cluster surged it was extended for a further five.
Like stories that inform, connect and celebrate the Sunshine Coast? So do we. Join an independent local news revolution by subscribing to our free daily news feed: Go to SUBSCRIBE at top of this article to register
The risk posed by the Delta variant has convinced authorities to prioritise vaccinations for daycare and school staff, fly-in fly-out workers, and freight and distribution centre workers.
Ms Palaszczuk said those groups had been added to the "high risk" category, meaning they will go to the front of the vaccination queue.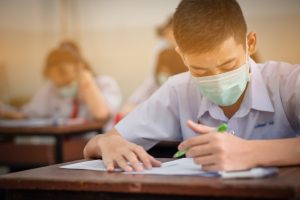 "The Delta strain has taken a heavy toll on our schools and we need to provide the best possible protection for staff and students," she said.
"This strain of the virus moves incredibly quickly, and we need to be just as fast in our response."
Despite the stay-at-home orders being lifted, more than 10,000 Queenslanders will remain in home quarantine, having had some level of contact with known cases.
Dr Young thanked those people, saying they are doing the hard yards to keep their fellow Queenslanders safe.
With further cases expected to emerge in infected households, Dr Young said there was more work to be done by those families.
"This is going to be a lengthy time for some of those people, because as each person in the household becomes positive, quarantine then extends for another 14 days from that point, going forward," she said.
"It is absolutely critical that no-one from any of those households goes out into the community."
People have been hit hard by the lockdowns but help is available (see below).
PAYMENT FOR INCOME SUPPORT RECIPIENTS – A weekly payment of $200 for eligible people on income support payments who have lost at least 8 hours work as a result of the lockdown. Claims opened from 8am Saturday, August 7. Eligible people need to lodge a separate claim for the COVID-19 Disaster Payment, and if eligible, it will be paid separately to their usual income support payments. After they've lodged their initial claim, future weekly instalments will be automatically paid until the lockdown ends. The quickest and easiest way to claim this payment is online via myGov. There's more information see: https://www.servicesaustralia.gov.au/individuals/services/centrelink/covid-19-disaster-payment-queensland-if-you-get-centrelink-payment
PAYMENTS FOR PEOPLE WHO HAVE LOST WORK AND ARE NOT GETTING INCOME SUPPORT – the COVID-19 Disaster Payment is a weekly payment of $750 (for people who have lost more than 20 hours work) and $450 (between 8 hours and 20 hours). Eligible Queensland residents can claim. More information can be found here: https://www.servicesaustralia.gov.au/individuals/services/centrelink/covid-19-disaster-payment-queensland-if-you-dont-get-centrelink-payment