Thousands of Sunshine Coast residents have responded to the Chief Health Officer's call for urgent testing to find a mystery virus spreader, or spreaders.
Within hours of Dr Jeannette Young's plea for community help on Sunday, hundreds of cars were queued at a private drive-through, no referral testing site run by 4Cyte on the Nicklin Way at Currimundi.
Sunshine Coast Hospital and Health Service facilities at Caloundra, Nambour and Gympie also were inundated.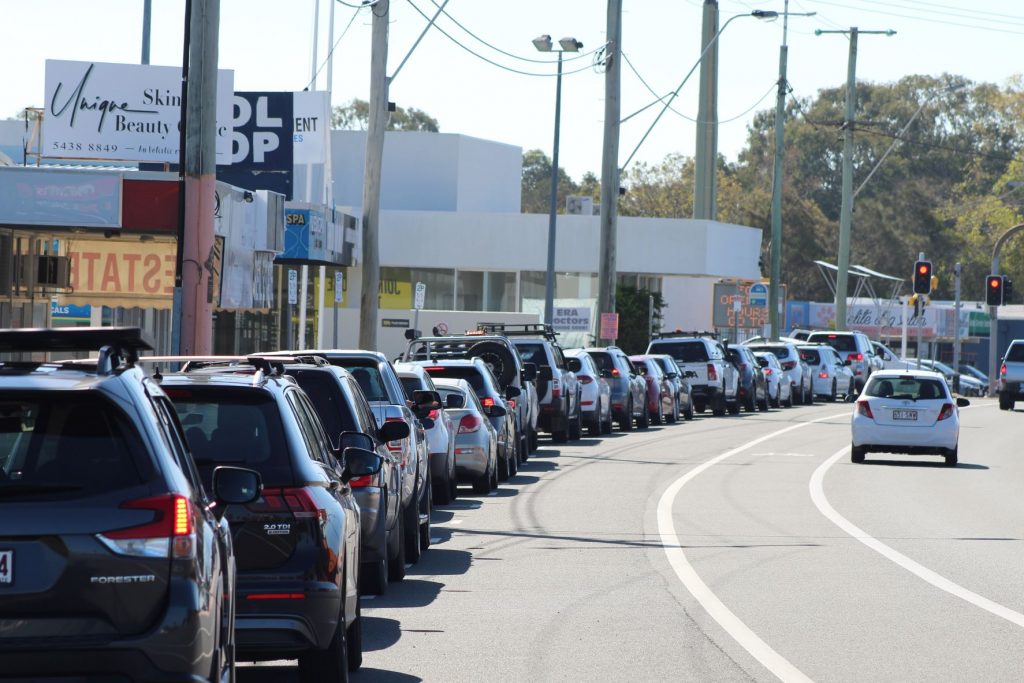 Dr Young said she believed the outbreak that had forced South-East Queensland's most severe COVID lockdown had started on the Sunshine Coast.
She said the latest cases in Brisbane, which involved the highly infectious Delta strain, had the same genomic sequence to two Australians who tested positive after returning home on the same flight from Singapore.
But they had not come into contact with the Brisbane cluster so there had to be other unknown infectious people in the middle.
One of the returning Aussies was sent to the Gold Coast and the other to the Sunshine Coast University Hospital (SCUH).
Both were discharged after negative tests a fortnight later, with the one cared for at the Gold Coast flying on to Western Australia, so ruled out as being of any further concern.
That's why the spotlight has fallen on the man discharged from SCUH on July 17, but there are many variables if he was the one who infected the as yet unknown "links" to the Brisbane cases.
These include him giving it to someone in the hospital and them walking it out, although the stringent measures in place would make this highly unlikely.
As he was only released after a negative test, it is also baffling as to how he could have been infectious after being discharged.
Queensland Health could not say whether he had been re-tested since, but more details would be available Monday.
There are currently five active cases of COVID-19 being treated at SCUH and Sunshine Coast News understands they are linked to a cargo ship where positive cases were recently detected.
Health authorities also are racing to track down the close contacts of a COVID case who flew from Brisbane to Rockhampton late last week.
The woman was an external contractor at the Rookwood Weir project west of Rockhampton and tested positive on July 31.
It's believed she was infectious when she took a Qantas flight from Brisbane to Rockhampton on July 28 and a return flight on July 30.
Authorities are contacting people who were on QF2362 at 8.30am on July 28 and QF2365 at 6.40pm on 30 July.
Local journalists supporting local people. Help keep independent and fair Sunshine Coast news coming by subscribing to our free daily news feed. All it requires is your name and email. See SUBSCRIBE at the top of this article 
Sunshine Coast Council Mayor and Local Disaster Management Group chair, Mark Jamieson, said testing locations were on the Queensland Health website, and urged community members to check the site regularly as the situation was evolving quickly.
"We're in this together and the Sunshine Coast has always done a great job keeping our community safe, so let's keep it up," Mayor Jamieson said.
"Queensland has never previously had to manage an outbreak of the Delta variant of COVID-19 so I urge every member of our community to be COVID-19 alert, get tested immediately if you have the slightest symptom and do your bit to help keep us all safe."
Sunshine Coast Council has closed several facilities in response to the strictest lockdown measures put in place by Queensland Health so far, in the interests of keeping our community safe and discouraging people from leaving home.
"Signage and fencing must be observed at skate parks, BMX tracks, mountain biking trails, playgrounds and exercise equipment which are among the facilities that are off limits.
"In addition, all libraries (including the mobile library), Caloundra Regional Gallery, Bankfoot House, Venue 114, Mary Cairncross Scenic Reserve, Maleny including the Rainforest Discovery Centre, Arts and Ecology Centre, Maroochy Bushland Botanic Gardens, Tanawha, Sunshine Coast Stadium, community halls and venues will be closed during the lockdown.
"Our waste facilities are also closed to the community in line with Queensland Health directives that people should only leave their homes for essential reasons.
"Businesses operating essential services are permitted to access council's waste facilities during the lockdown period and should use cashless payment.
"Our kerbside rubbish collection service will continue to operate as normal."
WHERE TO GET TESTED: https://www.qld.gov.au/health/conditions/health-alerts/coronavirus-covid-19/stay-informed/testing-and-fever-clinics
EXPOSURE SITES: qld.gov.au/health/conditions/health-alerts/coronavirus-covid-19/current-status/contact-tracing