A leading community services provider has come up with some warm ideas to help older residents avoid the chill of winter, and make the most of the cooler months.
Be, which is dedicated to improving health and wellbeing in Queensland, has developed some strategies to fight the winter blues and create a more comfortable environment.
"When the weather cools down and we enter the winter months, older adults have a reduced ability to control and regulate their body temperature, as well as being more vulnerable to the side effects of winter illnesses," Be's Manager for Wellbeing, Health & Safety Jason Quelch said.
"We want to support our clients to be more comfortable at home and stay well during winter."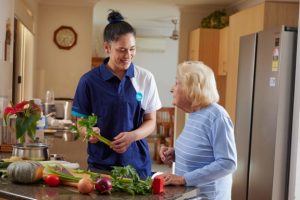 Follow us on Facebook: www.facebook.com/scnews2020/
Stay on top of local stories and join an independent news revolution by registering to receive our free daily news bulletin: Go to SUBSCRIBE at top of this article.
Be's State Manager for Care Mandy Adams said a nourishing and accessible diet was crucial.
"Supporting our clients to eat healthy and nutritious meals forms is incredibly important, particularly during winter."
"However, sometimes clients can find it difficult to prepare these kinds of meals that involve lots of chopping of vegetables and heavy pots.
"Our care team can provide meal preparation to meet specific individual needs as part of our Home Care Packages."
Winter tips
Check heaters or electric blankets before use to ensure they are safe to use. To keep your home warm when heating is on, keep windows and curtains closed, especially at night.
Winter makes us more vulnerable to cold and flu, so it's particularly important to have meals that support a healthy immune system. Be has some nutritious and mood-boosting food ideas. Staying hydrated during the cooler months is just as important as in summer.

Older residents should be comfortable at home during winter, to stay healthy.

It might be tempting to stay rugged up indoors however physical fitness will help regulate blood pressure, improve your mood, strength and balance. Be is a big fan of the Ageless Grace program that uses music and movement to help clients stay active. Activities are offered indoors or outdoors or if you prefer to stay home, Ageless Grace videos are available on Be's Facebook Page.

If you or a loved one is spending more time at home this winter, it is still important to maintain connections. Be's companionship program is designed offer regular one-on-one visits, pairing clients with a volunteer. The program, known as CVS, is completely free to approved clients.
Be provides a range of home care, transport and social support services. To find out more see wearebe.org.au or contact the team on 1300 761 011.