Taylor Moss has had an epiphany. At just 26, she has been a working musician since she first set foot in a recording studio at the age of 15 and has never slowed down.
But this year, she was forced to not only slow down, but to stop singing completely after she underwent vocal surgery. She took 10 weeks off to recuperate and realised it was time to drop the covers and start focusing on her original music.
The Tewantin country-pop performer is a stalwart of the Sunshine Coast music scene and has made a living from performing covers, while gradually building her profile as an original recording artist, visiting Nashville a number of times on self-funded trips to refine her art. But with chart successes bolstering her confidence, she has now come into her own.
"Personally, I feel the surgery was a bit of a blessing," she say. "I've been working flat out in the industry for 10 years and never really had time off. I'm at a stage in my life where more than anything, I want to be vulnerable, more open and connect with an audience. I feel I can connect more by speaking my truth. I love sitting in a room full of people, or even showing my mum a song I've just written, and pouring my heart out."
Taylor's most recent single, Ain't No Girly Girl, recently reached 1.2 million streams on Spotify and she's about to perform her first show of all-original material at the upcoming Red Hot Country Music Festival on June 25.
"Ain't No Girly Girl is definitely a bit of a girl anthem," she says. "I wrote that song as a bit of a statement to say, 'you know what? Girls can drive a ute, go fishing, go camping, enjoy drinking a rum and still be absolutely beautiful inside and out.' I've grown up around all those things; I'm a country girl at heart. I dress like a girl, but I'm a big tomboy.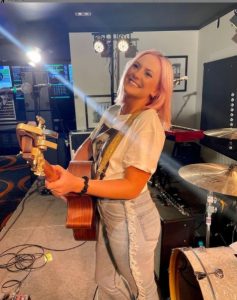 "I really would love to be a role model for young women. I want them to look at me and listen to my music and feel strong, powerful and beautiful. I think every single human on this earth should feel worthy. Women in this day and age have such an expectation to feel and do things in a certain way. At the end of the day, we're all unique and human."
Taylor is currently enjoying being young and single, living in Tewantin and channelling every spare second into her career.
"I love life and I'm just enjoying my own company," she says. "I'm married to my music. Your twenties are a really good time for personal growth. How you grow as a person is being super-independent and not needing anybody.
"I'm writing two songs a week at the moment and my ultimate goal is to be the most successful independent country-pop artist in Australia. While there are definitely benefits to being signed to a label, I want to stay independent as long as possible, because I have control over what I do."
Eight months ago, TV personality Ian 'Dicko' Dickson offered to manage Taylor because she is, in his words, "talented, likeable and marketable".
"The one thing Dicko said when he started working with me was that he wants me to be authentically myself as much as I can. He said, your personality sells your music. He has not once tried to change me. If anything, he has tried to encourage me to be even more comfortable in my own skin than I already have been."
For someone so young, Taylor is full of confidence and belief in herself and it's not hard to picture her reaching the heights of success in her chosen career. She's energetic and bubbly with a high-octane personality that has led some to dub her the 'Energizer bunny'.
"I recently wrote a song called Too Much. One verse in the song is, 'I've been made aware I'm exhausting, my confidence is overbearing and I'm annoying.' I'm aware I am too much and that's not my issue; that's someone else's issue," she laughs.
"I would say my brain is like scrambled eggs, 24/7. My brain is full of metaphors, ideas, concepts, branding…it doesn't switch off. I'm passionate and I have a vision. I want to connect with my fans on a personal level, whether that's actually getting to know them one by one or connecting with them on a musical level. I also want to go back to Nashville.
"As soon as we can travel again, I'm there. It's a really inspiring place to be. Everyone there has the same goal and the same dream and every single person supports each other.
"If I could sell out a venue with a couple of thousand people, I would be the happiest girl alive."
For now, she's focused on rehearsing for her shows at the Gympie Music Muster in August and future shows.
"Over the last two months, I've been focusing on building my Taylor Moss original show with my own band. They are a talented bunch of boys who are focused on the project…
"To find the right musicians who are dedicated to the project is actually really tough. I'll be showcasing my singles but I always want to show people my new songs. The show is full of new material that has never been heard before."
A LITTLE BIT COUNTRY
The unmistakable sound of good-hearted country music will take over the Sunshine Coast when The Red Hot Country Festival with Casey Barnes, Taylor Moss and The Buckleys kicks off on Friday, June 25. The event runs from 4pm to 10pm and is supported by Arts Queensland and NightQuarter. Visit tix.nightquarter.com.au/events