After a freak accident that ended his water-skiing career and almost his life, Wade Bennett called on a deep well of determination and strength just to survive. He shares his story in a new book.
"Life is tough, but you are tougher. If you get kicked in the guts by something? Kick back."
These are the wise words champion water ski athlete, Olympic torchbearer, gay role model and disability advocate Wade Bennett has lived his extraordinary life by.
He shouldn't have survived the horrific ski racing accident that left him in a coma with his body shattered, but he had at least two things in his favour: his physical fitness and his incredible mental fortitude and positive mindset.
"If you get kicked by life, you stand up with your back straight and you just carry on like a lady or a gentleman," he says.
"That's how I've always done my life; I have no enemies. You gotta enjoy life. If you want to lie down for the day, that's also enjoying life, if your body is telling you it's something you need to do."
No one could blame him for needing a lie down.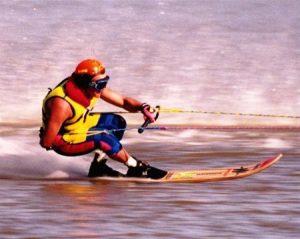 A country boy from Shepparton, Victoria, he was only four when he first began water skiing and nine when he started racing. He always knew he liked boys, but didn't come out as gay until he was 20. By then he was entrenched in the sporting community, which did not take kindly to his sexual preference.
"As a former Australian World Titles team selector once said to me: 'Wade, if you think I'm going to put a poofter on an Australian team that I select, you've got another thing coming.'"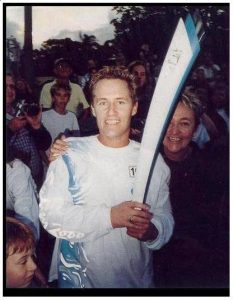 The hateful comment broke him at first, but he soon became filled with bold determination. He rose through the ranks quickly, snaring four national and 27 state titles, 13 state championships and more than 500 wins on the racing circuit, representing Australia numerous times.
This meteoric rise occurred in the space of seven years and ended in a split second.
On the Easter long weekend in 1995, 2000 people poured into the Goulburn Valley region for the Mildura 100 Water Ski Race. The final race of the day was a drag race up the Murray River. It was to be Mr Bennett's last race before retiring and moving onto triathlons. Due to the dangerous nature of the sport, it was to be the last ever race of its kind in Australia.
To really amp up the crowd, Mr Bennett decided to race behind the fan favourite, a triple-motored 1000-horsepower boat. He was halfway down the river when the nose of the boat lifted into the air, sending a tail of water cascading over his head and a surge of waves from another boat knocked him off balance and sent him into a horrifying spin.
Hitting the water at 180 kilometres an hour, he broke almost every bone in his body, tore an artery in his right leg and damaged his sciatic nerve. His bladder, bowel and intestines exploded through his stomach and torn perineum and into his wetsuit.
Stay on top of local stories and join an independent news revolution by registering to receive our free daily news feed: Go to SUBSCRIBE at top of this article to register
"Apparently the whole place was just silent, other than the noise of the boats screaming out to get me. An ambulance officer, Robyn Doyle, unzipped my wetsuit, realised what had happened and completely clamped her body around me and held me together, all the way to Mildura hospital. She saved my life."
Mr Bennett underwent a world-first 17-hour operation and spent 17 days in a coma.
"I've been halfway to going twice and it is the most beautiful experience you will ever have," he says. "I'm not in the slightest bit scared of death. When I was heading to passing, it just became this beautiful, warm, stress-free place where your soul is floating. You don't care about your body; you're just blissful, you're just happy."
Once he regained consciousness, it was too painful to laugh or cry. "To not be able to cry was the hardest part. I was 23 and every single thing in my life was gone."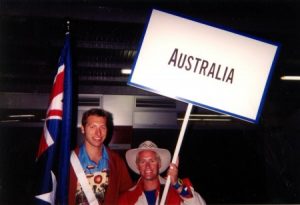 He moved to Noosa to recuperate, spending 22 years there before moving to Bellmere. During the years, he's had at least 80 operations and more than 200 procedures. He was honoured for his brave comeback with the opportunity to carry the Sydney 2000 Olympic torch on the Sunshine Coast. He was also invited to lead the Australian team into Stadium Australia at the Sydney 2000 Olympic Games.
Incredibly, Mr Bennett returned to water skiing in 2009, skiing with one paralysed leg. Today, he lives with chronic pain, but when he's in a dark place, he thinks about what makes him happiest – animals, nature, his garden.
"What I've learnt is this: every single decision you make in your life changes your life's direction. If you want to have a happy day, you have a happy day. If you want to have a crappy day, have a crappy day. You're in charge of your reality. My success rate for getting through bad days so far is 100 per cent. That's my motto."
Wade Bennett's story of overcoming adversity is one of 10 inspiring stories featured in volume three of Reasons to Live: One More Day, Every Day by Jas Rawlinson. For copies, visit jasrawlinson.com/presale.