Fisher MP Andrew Wallace quoted the Rolling Stones in his response to criticism about the Sunshine Coast Stadium missing out on Federal funding.
"If I can quote Mick Jagger: 'you can't always get what you want, but sometimes you get what you need','' Mr Wallace told sunshinecoastnews.com.au.
Proponents of the $68m upgrade to add an extra 10,000 seats had been lobbying for $20m from the Federal Government after the State Government already promised $20m and the Sunshine Coast Council and philanthropists pooled $28m.
Sunshine Coast philanthropist Roy Thompson has already signalled he would pull his offer of $10 million if the Federal Government did not come to the party.
Federal treasurer Josh Frydenberg did not include any money for the stadium in delivering his budget on Tuesday night, putting the upgrade under a huge cloud.
Mr Wallace said he was "100 per cent behind the project'', but the government had deemed it more important to put $160m – to be matched with equal State funding – towards the Mooloolah River Interchange replacement.
"It's about spending priorities. We need the interchange more. It will save lives. That intersection is a complete disaster,'' Mr Wallace said. "I think people would rather see us spend money there first. The project includes new flyovers, a new bridge and new local roads."
He also said the $7m towards easing Caloundra's traffic pain, with a new access point to the Nicklin Way that will take pressure off the Caloundra Rd roundabout, was also very important.
"That said, I'll keep fighting for the stadium funding and would ask Roy (Thompson) and Rod (Forrester) to keep money their money on the table. I know how much they want this to go ahead.
"I'm aiming to get this as an election commitment as it's an important project for the Sunshine Coast. It (current stadium) is a joke considering the size of the region.''
The Federal Government was accused of a "rotten rip off" after failing to deliver for a number of projects in Queensland, including funding for an upgrade to the stadium.
The Queensland Government immediately jumped on the omission and accused the Federal Government of ripping off Queensland.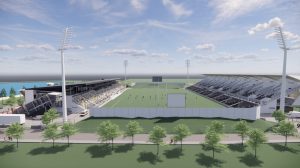 Queensland Treasurer Cameron Dick said half of the $1.6 billion promised to Queensland for infrastructure such as roads would not be delivered in this budget.
"The $1.6 billion the Federal Government claimed it would deliver for Queensland paled into insignificance against $3 billion each for New South Wales and Victoria and South Australia," said Mr Dick.
"Tonight, we have learned the truth – only $807.5 million of that supposed $1.6 billion, barely half of the amount promised, is in this budget.
"Scott Morrison is holding Queenslanders to ransom, saying they'd have to vote for him in at least two more elections before we'd see the money he promised.
"By comparison, the Liberal states of New South Wales and South Australia get $1.4 billion and $2 billion in this budget.
"Over the next four years, the Federal Treasury estimates Queensland will see net interstate migration gains of 84,600 new residents.
"At the same time, New South Wales will see a net loss 83,100 residents.
"New South Wales gets nearly twice as much infrastructure investment as Queensland, while a city the size of Rockhampton effectively moves north here across the border."
Frydenberg's 'renovation' budget ignores reform
Meanwhile, economists have slammed the budget for failing to rebuild the foundations for the economic growth needed to repair government coffers.
"This is not a stimulus budget," Jeremy Thorpe, chief economist at PwC Australia, said after the budget lock-up.
"This is a renovation budget."
He said the improved economic environment left the government in a much better place than it expected just six months ago, but warned that fundamental reform could not be put off forever.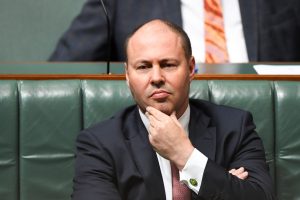 Josh Frydenberg's decision to focus on jobs and the economy means large budget deficits for years to come, and net debt on a trajectory towards $1 trillion.
President of the Australian Council of Trade Unions Michele O'Neill said the budget failed to deliver on two key issues that mattered to working Australians – insecure jobs and flat wages for years.
Innes Willox, chief executive of the Australian Industry Group said the budget flicked the switch from emergency measures to the long term, which would continue to support growth.
"We need, for this budget to succeed, a credible plan to get our borders open," he said.
"We're in a little bit of a gilded cage at the moment here and the quicker we can get out of that and be interacting with the global community, the better."
But he said longer-term projections showed the Morrison government didn't expect much productivity growth.
Ken Morrison, chief executive of the Property Council of Australia, agreed closed borders and not pursuing a population growth agenda had consequences for growth.
"We should begin to upscale our quarantine and border processing facilities immediately," he said.
"We can bring more people through the border in a COVID-safe way. We can provide the skills, we can bring the students in."
He said the cost was there in the budget papers – falling economic growth, employment at lower levels and dwelling investment going into negative territory.
Economists had expected a much improved budget bottom line in response to the strong economic rebound from last year's recession, a rapidly declining unemployment rate and a huge spike in the iron ore price.
Instead, deficit reductions were relatively modest as the treasurer went on another spending spree in a budget he describes as securing Australia's economic recovery.
Billions of dollars will be spent on aged care, infrastructure, the NDIS and employment incentives such as additional childcare funding, as well as tax initiatives like the further extension of the low and middle income tax offset.
"Jobs are coming back, the economy is coming back, Australia is coming back," Mr Frydenberg told parliament.
Georgie Dent, executive director of not-for-profit parent advocacy group The Parenthood, said the budget was big on spin but low on systemic reform.
"Until men and women in Australia are on an equal footing, the impact of every budget measure will differ depending on whether you're a man or a women."
-with AAP