There are renewed hopes the Federal Government will commit funding for a Sunshine Coast Stadium expansion ahead of the annual May budget.
It comes as Sunshine Coast Council released a fly-through of the proposed expansion revealing a revamped western grandstand with corporate and members' sections and a new larger western stand, including food and beverage outlets.
The Council, Queensland Government and local philanthropists have signalled their willingness to contribute funding of $48 million for the estimated $68 million project.
But expansion exponents were left disappointed in February, when the Federal Government said they it wasn't ready to commit the remaining $20 million.
With the 2021/2022 Federal Budget to be handed down on May 11 it's hoped there will be a change in tune.
Council officials joined rugby league legend Billy Moore and Sunshine Coast Falcons chairman Ashley Robinson at the Bokarina venue on Wednesday to re-iterate the need for a stadium upgrade.
"With the South East Queensland Olympic bid for 2032 it's really important (to have an expanded stadium)," said Mr Robinson.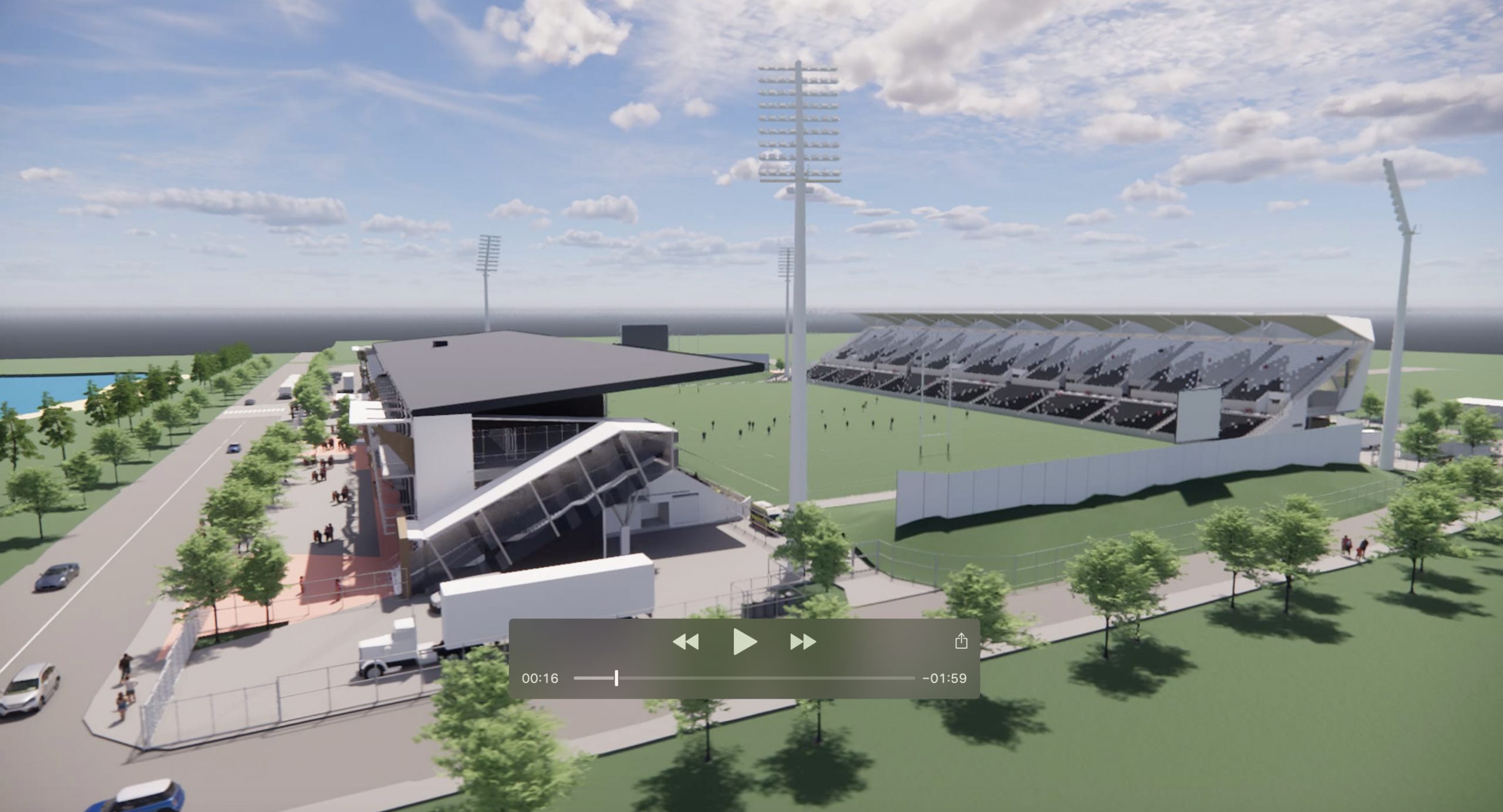 "And if we want to have an NRL team or NRLW team, it's important, and if we ever want to attract big entertainers, it's important."
"It would be very disappointing if the Federal Government doesn't come to the party, particularly when you look at Townsville, they've got two stadiums.
"And when you look at the facilities on the Gold Coast – once again we are a second cousin to there and everywhere else.
"It would only be fair, as a growing area, to get the funding for a stadium."
The Sunshine Coast's population is 330,000 and growing rapidly.
The expansion plans include adding a covered eastern grandstand, opposite the existing western grandstand.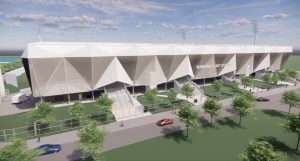 Capacity would be lifted from about 11,500 to 16,500, with the seating capacity to increase from 1046 to 11,618.
Council released a proposed expansion fly-through on Wednesday, which revealed a revamped western grandstand, including corporate and members' sections, and a new larger western stand, including food and beverage outlets.
Australian Sports Foundation partnership manager Chris Bond said the stadium expansion had been designed to cater for all abilities to enhance the event-day experience.
"The proposed design features additional lifts, seating platforms that are advantageous to people in a wheelchair, or not able bodied.
"The viewing experience and access will be awesome and with the potential Brisbane 2032 Olympics so close to home, this expanded stadium could be a critical component," he said.
"The opportunity to host Olympic events in the region and at Sunshine Coast Stadium has so many benefits and the venue will be a much-needed asset."
Sunshine Coast Mayor Mark Jamieson said in February a stadium expansion would create jobs and boost the economy. He said it was puzzling they could not get federal funding.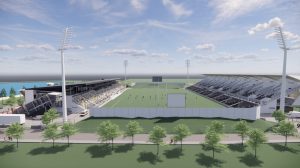 "It is perplexing why the Federal Government can't see it's way clear to contribute the remaining $20 million through its next budget – particularly when the Commonwealth has seen its way clear to contribute $15 million to the redevelopment of Ballymore in Brisbane and $23 million towards a stadium at Victoria Park in Rockhampton.
"This is also on the back of the $100 million the Federal Government contributed in recent years to the stadium in Townsville."
Federal member for Fisher Andrew Wallace said in February there was no room in the budget largely because the government had been supporting the country through COVID-19.
But he said there would be other opportunities.
Follow Sunshine Coast News on Facebook
The stadium hosted Elton John and six NRL games in 2020.
The $68 million stadium expansion was set to include funding from local philanthropists Roy Thompson and Rod Forrester ($10 million and $1 million respectively), Sunshine Coast Council ($17 million) and the Queensland Government ($20 million), while the remaining $20 million was being sought from the Federal Government.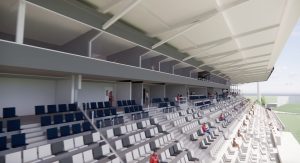 The financial support of the Queensland Government and Mr Thompson were dependent on the Australian Government also contributing.
"It (the Federal commitment) has got to come at the start of this year, otherwise Roy and Rod are going to pull their money out," Mr Robinson said.
"We can't wait for election promises, they have got to do something about it now.
"Why can't they come up with $20 million for a burgeoning community. We've been poorly treated (by the Federal Government) for as long as I can remember. They can think it's a safe seat but LNP thought Caloundra was a safe seat and they lost it to Labour.
"We're asking for a call to arms from the community.
"And it would be wonderful to see this built, because Roy isn't getting any younger and this is a massively generous offer and at 90 years old it would be a tragedy if we don't get this thing done in his lifetime, after all the things he's done for the Sunshine Coast."