They may not be the youngest or fittest on the beach at the Australian Surf Life Saving Championships.
But there's no denying the dedication, commitment and stamina of the dozens of white-uniformed officials who make up an essential element of the elite surf sports competition playing out on the golden sands of Maroochydore, Alexandra Headland and Mooloolaba until April 24.
They may be a brigade of largely faceless volunteers to the thousands of spectators, but many will be instantly recognisable and a comforting sight to those taking the line at "The Aussies", being held for only the fourth time in its history in our region.
After a hiatus last year due to COVID-19, the championships are bringing together patrolling members from Australia's 314 surf clubs to compete in more than 480 beach and ocean events in a spectacle as large as the Commonwealth Games.
Like stories about Sunshine Coast people doing great things? Help us deliver more by registering for our free daily news feed. All it requires is your name and email. See SUBSCRIBE at the top of this article 
Three stalwarts within the ranks of officials who hail from the Sunshine Coast – Judy Houley, Laurie Beer and Liset Teis – have overcome their own personal obstacles this year to ensure their attendance at the pinnacle event of the surf lifesaving calendar.
The trio has become firm friends through their officialling duties. Only Judy and Liset knew of each other earlier through their children at Kawana Waters SLSC and Kawana Waters State College.
But learning the ropes of being an official in all surf sports disciplines and turning up to carnival after carnival – from Under 8s to masters, across the region, state and country – creates strong bonds.
LAURIE: 'It's the people you meet'
For former medical secretary Laurie, 78, becoming an official 15 years ago was the tonic she needed after two years of general boredom, sitting under the tent with other parents at surf carnivals.
The mother-in-law of champion Alexandra Headland ski paddler Jeff Le Marseny stayed because of the surf lifesaving friendships she made – first at Mooloolaba, then at Noosa and now Australia-wide.
"It's the people I've met which I wouldn't have," she says over a coffee with two of her favourite officials-in-arms.
"I'm a pretty private person. I don't go seeking organisations to join.
"I knew Virg (Anderson) and Vonnie (Tallon), from Mooloolaba … the girls from Mooloolaba taught me a lot about officialling.
"Vonnie taught me everything I know about recording. I've done marshalling and judging, (even) ski judging on the tower."
And those friendships have helped her cope these past five years as this unassuming grandmother cared for husband Ron, who passed away with dementia only two weeks ago on March 31.
Ron had been a member of Clovelly Surf Club in Sydney in his younger days but Laurie only came into the fold of the surf lifesaving movement after moving to the Coast and watching Jeff, married to her daughter Danielle, compete as a boatie for Coogee, NSW.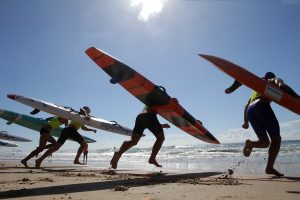 Doing the recording at the 2021 national championships will bring some degree of normalcy back into her life, surrounded by friendly faces while staying with Judy in an apartment in Alexandra Headland for the duration of the carnival, with Liset close by in the same complex.
Just like the competitors, the Aussies are a marathon, not a sprint, for officials.
Laurie, who lives at Buddina, is a fan of staying close to the action – even on home turf.
"It's an absolute pain not to stay at the beach," she says, after completing about seven national titles.
"You're buggered at the end of the day."
The nine-day ritual sees her wake at 5am, have breakfast under a big tent with all the officials from 6-7am, to take up her position on the beach by 7.30am.
The carnival starts at 8am daily and finishes between 3 and 4pm, with the officials lunching "on the job", courtesy of individual cooler bags of food and drink collected at breakfast.
Most officials will walk to their areas or take advantage of shuttle buses running to the carnival that is spread across the three central beaches.
They'll congregate at the officials hub after 4pm for a debrief and refreshments for about two hours, then return to their "home" base, have a shower, maybe join others for dinner and be in bed at a respectable hour to do it all again the next day.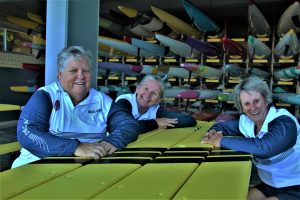 LISET: 'enjoying a grandstand view'
The thought of long days, coupled with soreness from a previous broken ankle, wouldn't keep Liset, 59, from her "grandstand view" of the Aussies' blue-riband racing.
Luckily, the required surgeries saw the ankle heal in time for the mother of professional ironwoman Maddy Dunn to take up her officialling duties late last week.
Despite being on duty at 10 Aussie titles, Liset admits she still feels the nerves when Maddy is competing and tries to keep the emotion in check while officialling, especially if her daughter is racing nearby.
"If it's a final that's important, I'm not there. I step back."
The Caloundra financial manager and bookkeeper has been involved in surf lifesaving for 21 years, since her eldest daughter Alex joined nippers in Under 8s and twins Maddy and Tim entered green caps (Under 7s).
She undertook her Bronze Medallion to help with water safety on the beach and at nipper carnivals but began officialling for various clubs after Maddy started to hit her stride in surf sports and Tim began competing in first-aid events.
One of her proudest moments occurred during a Coolangatta Gold event Maddy was racing in, when she learned that Tim had brought an unconscious man back to life using his resuscitation skills at a nearby shopping centre.
"As a sole parent, it was a great support network," she says matter-of-factly.
"I've made lifelong friends out of it.
"With officialling, you meet such a diverse range of people – there's always new people coming through. You learn to deal with lots of different personalities.
"I love it because of the people you meet and also the kids on the beach.
"I really get a kick out of watching them race, the camaraderie.
"And when they get really upset and throw tantrums, just dealing with it and saying 'Hey, it's not the end of the world, no need to cry, don't throw your board'. Because you've dealt with it for so long, you know what to do."
JUDY: 'women are just more organised'
Like Liset, retired aged care worker Judy, 58, has been a constant under the tent as an official at Sunshine Coast branch, Queensland and national titles.
Her contribution goes back 25 years ("I haven't stopped"), from when daughter Alyce and son Chris became Kawana nippers.
And while she hasn't kept count, Judy believes the Sunshine Coast might mark her 20th Australian championships.
For about 15 of those years, officialling was a hobby she could share with husband Geoff (nicknamed "Face The Water!") Houley. But he has since been forced to resign his beloved race starter duties due to long-time health issues.
While she has had health problems of her own, Judy has always revelled in representing Kawana and Dicky Beach clubs – whether that be at junior, open, masters or IRB competitions.
She enjoys the chance to create friendships with people from all over Australia, and relishes the laughter and fun that results.
She speaks fondly, for example, of her 20-year friendship with officials such as Dawn Luck and her husband Jeff, of Burleigh Heads.
"I really only see her at state titles and Aussies because she's down the Gold Coast," Judy says.
"But it's like we've never been apart."
Most of her official time has been spent marshalling: marking off the names of competitors for each race, taking them to the line and making sure they stay there until the starter's gun sounds.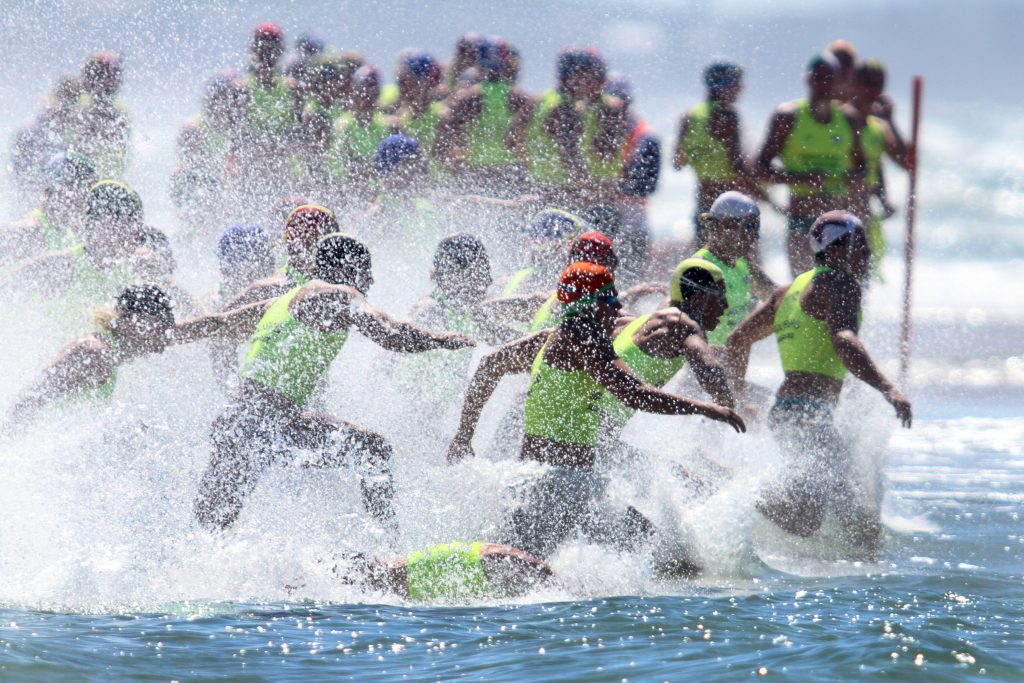 "If we don't do our job, the carnival can't run," she says.
"We have fun, especially us Sunshine Coast officials down the beach.
"It's not a chore most days."
After completing her senior official (level 2) training about four years ago, Judy notched up a milestone when she was referee in charge of an Under 8-10s carnival this year.
But perhaps her most memorable day was her 40th birthday, which she spent officialling at yet another junior branch carnival, when her lifesaving friends organised a stranger, every hour on the hour, to deliver her a present – much to her public embarrassment.
The three women no doubt will have many more memories to share after this week's efforts.
Support local news and subscribe to our FREE daily news bulletin.  See SUBSCRIBE at the top of this article.
And in true competitive form, they are quick to point out a particular home truth.
"Women make the best officials," Liset says adamantly.
"They're better organised."
And Laurie agrees, adding: "The men can become very impatient. They like to go quick, quick quick."
One thing is for certain: they each expect to put their hand up again to official in some capacity next season.
As Laurie confesses, "I'd be absolutely lost without it."