A thrilling wave park at Glass House Mountains that would attract thousands of tourists, create hundreds of jobs and host high-profile events is surging towards reality.
Surf Parks Australia is confident of developing what would be the biggest tourist attraction the Sunshine Coast has seen in decades on the western side of prominent Bruce Highway stop, Moby Vic's.
Acting on its behalf, Alexandra Headland-based development consultants, Project Urban, lodged an application in December 2020 and on April 1 submitted the final documents required to advance the project. These related to assessments of the local environment and bushfire and flood hazards.
The application seeks Development Permits for a Material Change of Use for Tourist Attraction (Surf Park) and Reconfiguring a Lot.
Sunshine Coast Council has 20 business days to ask for any additional information and then the application is expected to enter the Public Notification phase, where submissions can be made relating to the proposal.
Council will then make its assessment and sunshinecoastnews.com.au understands that if approval was granted by mid-year, construction could start as soon as the end of this year and continue for about 12 months.
The wave park and associated buildings are expected to cost around $25 million to construct, with the first artificial wave to be ridden by early 2023 if everything goes to plan.
Surf Parks Australia will use technology developed by American Wave Machines, which has delivered similar economically-viable facilities around the world. Its most famous creation is the BSR Surf Ranch in Waco, Texas.
American Wave Machines technology was recently endorsed by the International Olympic Committee and incorporated into a wave pool built in Japan for use as a training and warm-up facility for surf athletes contesting the 2021 Olympics. Surf Parks Australia believes the Sunshine Coast project could potentially add value to the 2032 SEQ Olympic bid and be utilised in a similar fashion.
Help keep independent and fair Sunshine Coast news coming by subscribing to our free daily news feed. All it requires is your name and email. See SUBSCRIBE at the top of this article 
The application states that the site is perfectly suited to the proposal, which represents "a regionally significant tourism development that will enhance the Sunshine Coast's tourism brand and reputation''.
It promises to deliver a holistic surfing experience, including a wave pool and associated amenities, wellness centre featuring yoga and meditation, paddock to plate food and beverage, ocean and marine protection education, learn to surf classes and surf coaching.
The pool and adjoining viewing beach would be approximately 315m long and 92m wide and  "performance oriented" sets of head-high waves that break left and right would be generated using an  air-powered system that mimics ocean waves.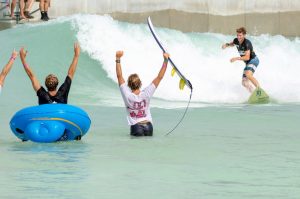 The site is adjacent to the Moby Vic's service centre and currently owned by Moby Vic's Pty Ltd.
It adjoins rural properties to the west and north and comprises an area of 13.433 hectares with a road frontage to the Bruce Highway of approximately 520m and a road frontage to Johnston Road of approximately 265m.
"Currently the site is partly used for agriculture and partly vacant land. The site is free of any significant vegetation,'' the application reads.
"It is evident that the site has long been identified as a suitable site for a Tourist Attraction since before the Moby Vic's Theme Park application was lodged in 1999 and right through to 21 May 2014 when the Caloundra City Plan nominated the site specifically as a Tourist Attractions and Services Area.
The main building associated with the proposal would have a maximum height of 8.5m and total gross floor area of approximately 1,500m².
The building's architecture would have "obvious references to wave forms".
"The approach to the main building from the carpark has the wave pool in full view at all times. This is to replicate the feeling of walking up a sand dune and looking at a surf break for the first time," the application reads.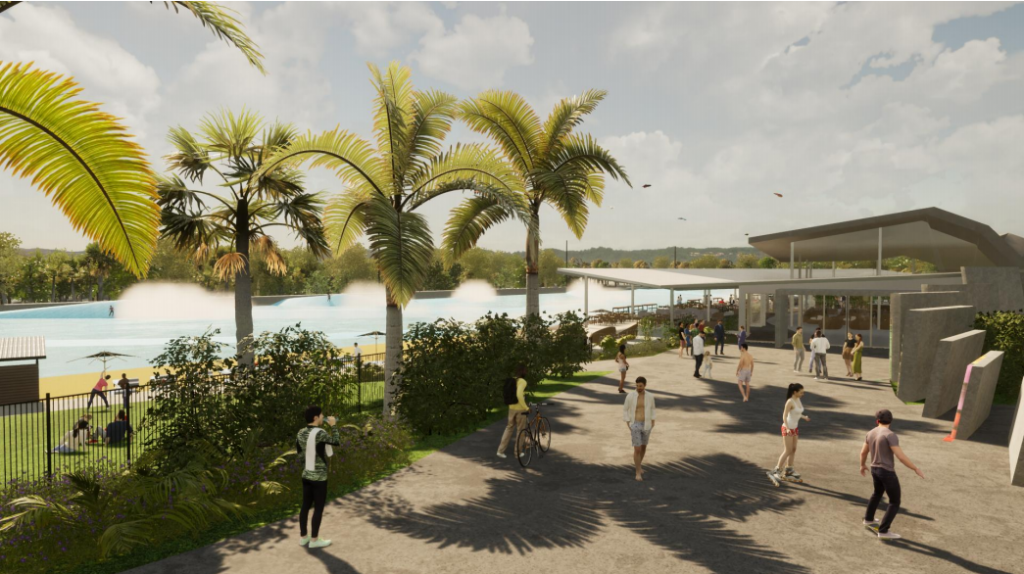 "The internal layout of the proposed building includes an entry foyer, a ticketing/reception area, a bar, a kitchen, an ancillary shop, an equipment hire room, a lounge area, seating space, a meeting room, amenities and office and storage space.
"The building design creates spaces that make the most of the subtropical climate.
"A wide overhang and overlapping roof forms protect users from the western sun. The use of a wide verandah space integrates with gardens and with different seating areas allowing passive control of micro-climate." 
The application says there will be ample capacity in the major transport infrastructure adjacent the site to cater for the traffic generated by the development.
Road upgrades are proposed to Johnston Road to cater for traffic entering and exiting the attraction.
The development will manage effluent on-site and won't be connected to the reticulated sewerage network.
Water supply is proposed to be provided from the existing spring fed dam on the premises, with 'top-up' supply as needed from the existing private water main. In pre-lodgement discussions, Unitywater confirmed support for this approach.