Strawberry farmers suffering from a lack of workers hope a promotion offering $100,000 will encourage people to pick or pack, as consumers face a supply shortage and soaring prices.
COVID-19 travel restrictions have hit the horticultural industry hard, with leading growers forced to reduce the number of plants they grow.
"Working holiday makers normally pick up to 80 percent of our fruit in Queensland," Queensland Strawberry Growers' Association (QSGA) president Adrian Schultz said.
"However, there are 79,000 fewer working holiday makers left in Australia compared with this time last year and up to 1000 are leaving per week.
"In addition, there are no new working holiday makers coming in to replenish this shortage due to the continued closures of international borders".
It's hoped the promotion will encourage Australians, especially school and university leavers, to help fill the gap left by the dwindling backpacker numbers.
The incentive offers potential workers with the chance to play to win up to $100,000 in cash prizes.
Registration opens on April 8 and workers need to be at participating farms from June to October.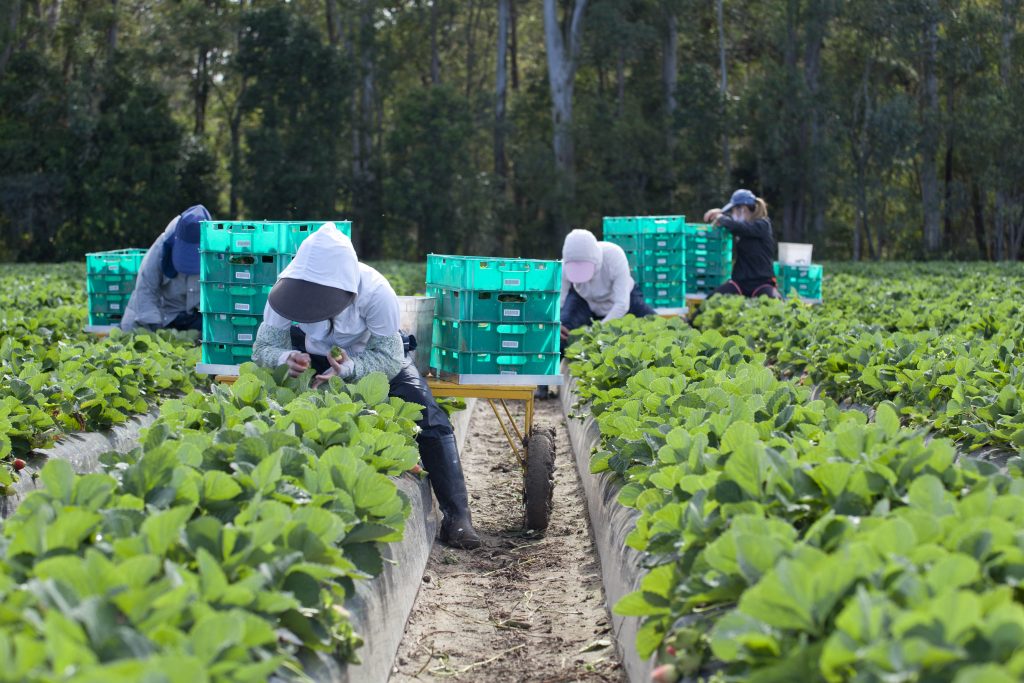 The promotion aims to attract people to come and give farm work a go, with a view to staying at a single strawberry farm for the entire winter season.
The more average weeks a worker completes, the more entry points they can earn.
Strawberries are a challenging crop, largely because the plants are picked every two to three days.
When the berries are ready, they have to be picked or they will rot on the plant.
"Without pickers and packers, a farmer can lose entire blocks to disease issues very quickly," QSGA Marketing Manager Jane Richter said.
"It really is the case with strawberries that you cannot negotiate with Mother Nature."
It's also hoped workers will benefit from local tourism operators who are offering deals, discounts, and prizes to boost the value to workers who come to pick and pack.
"Workers will have the opportunity to explore Queensland, meet new people, learn new skills and earn good money if they're prepared to work hard," Ms Richter said.
The program also offers workers horticultural experience and training. It's hoped they will go on to other crops once the winter strawberry season is over.
"Even though there is a feeling of great concern in the industry, we're all really excited about what the incentive program will bring, and we are confident that it will help alleviate the workforce shortage significantly, and not just for our industry," Mr Schultz said.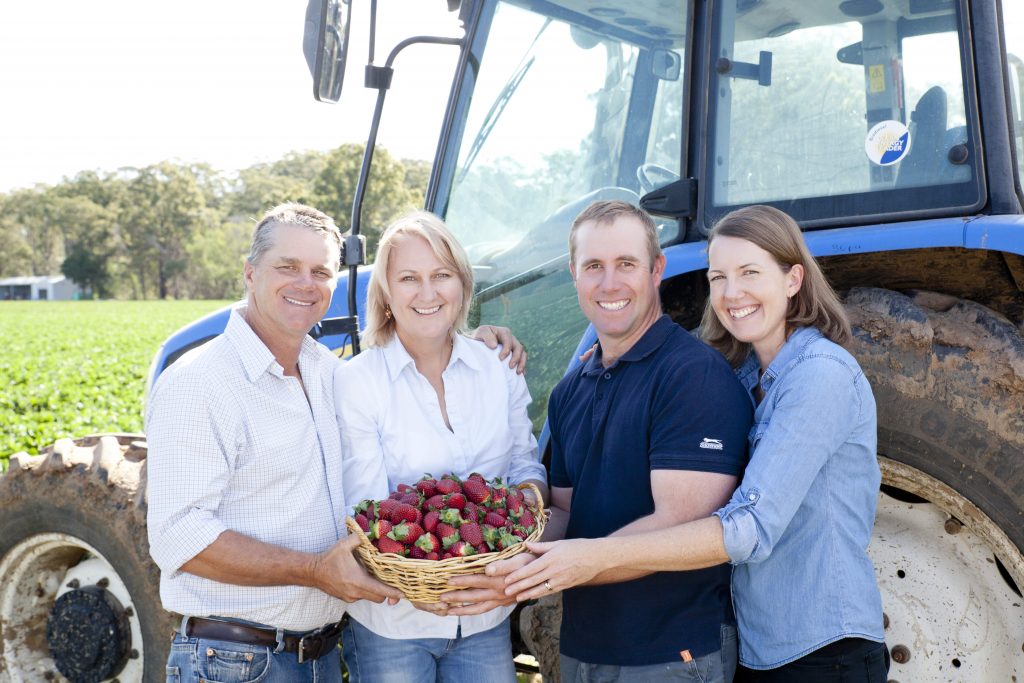 Ashbern Farms, at the Glasshouse Mountains, is among the participating farms.
Brendon Hoyle and his wife Ashley own the business, along with Jon Carmichael and his wife Bernie.
Mr Carmichael is an experienced grower from the Sunshine Coast, with his family operating Strawberry Fields for more than 35 years.
Brendon and Ashley left Zimbabwe for the Sunshine Coast in 2008, when Brendon became farm manager at Strawberry Fields.
They started their own site at the Glasshouse Mountains in 2018 and now grow 27 hectares of strawberries in winter, along with 11.5 hectares of strawberries at Stanthorpe in summer.
The couples relish the hands-on nature of horticulture.
"It's the love of producing high quality food that people enjoy," Mr Hoyle said.
"When we get feedback from consumers about how much they love eating our strawberries, it's a real sense of achievement."
Mr Hoyle said his farms, like most, had suffered as a result of the worker shortage.
"It's been very tough for us," he said.
"Strawberries are notoriously labour intensive, and we grow strawberries 12 months a year so we're always in need of high numbers of staff.
"Since borders have closed … we've been really struggling to find enough labour to keep the farms going, so it has been a struggle.
"We started to really notice at the end of the last winter, in September, that we just couldn't find the number of people we required, and it's basically been worse since.
"Our farm at Stanthorpe really suffered, to the extent we had to start cutting blocks out of the picking cycle.
"We'd planted there and started to harvest but didn't have enough people, so had to start dropping them."
He said it's a dire situation.
"We've never seen anything of this nature."
"We're always facing a challenge of some nature but in our industry, people are a major component of what we do."
Help us deliver more stories by registering for our free daily news feed. All it requires is your name and email. See SUBSCRIBE at the top of this article.
"Growing the strawberries is the easy bit. Managing, harvesting, packaging is where it becomes a bit more complex."
"We're trying to deal with people, find workers, train them and get them into positions and the season is really intense so you've got to put in the hours and days in order to get the crop packed and to market because it's very perishable."
Mr Hoyle said it's difficult to know how much to grow and they've started producing less crops to ensure nothing goes to waste.
"We have to plan our crops in advance, like the other farms, but because you're unsure whether you're going to be able to harvest the crop, you tend to step back and not put in as much, because you want to make sure you can get it off (to market).
"We're down to 60% of our capacity.
"We weren't prepared to put in a full crop knowing we wouldn't get people to harvest, and I think all the farms are the same.
"They're putting in less and working really hard with the people they can get, to try and look after what they do have."
He said the supply shortage should see increase in prices.
"In the normal case, if there's less strawberries, they would fetch a higher price."
But that wasn't necessarily what happened during summer, when there was less demand and a surplus of strawberries as cafes and shops closed during lockdowns.
He said the industry needed to do something bold, like the promotion, to get workers to farms.
"We've continued to face the challenges and coming into this winter season we knew the cards are the same and we knew we needed to do something to attract people into the industry."
"We're trying to get the industry on the front foot and do something out of the box in order to try and attract people," he said.
"We understand the industry hasn't got the best name (but) there are a lot of farms out there that are great farms to work on and we want to promote that and showcase it.
"We're hoping this (promotion) will give us a platform to get the strawberry industry through the winter, when it's at its peak, and into a position where we can get the crop off."
The plants establish in winter, and August to October are peak production times.
"That's when time will tell (so) we have to get on the front foot early," Mr Hoyle said.
"We've got to get people into positions and skilled."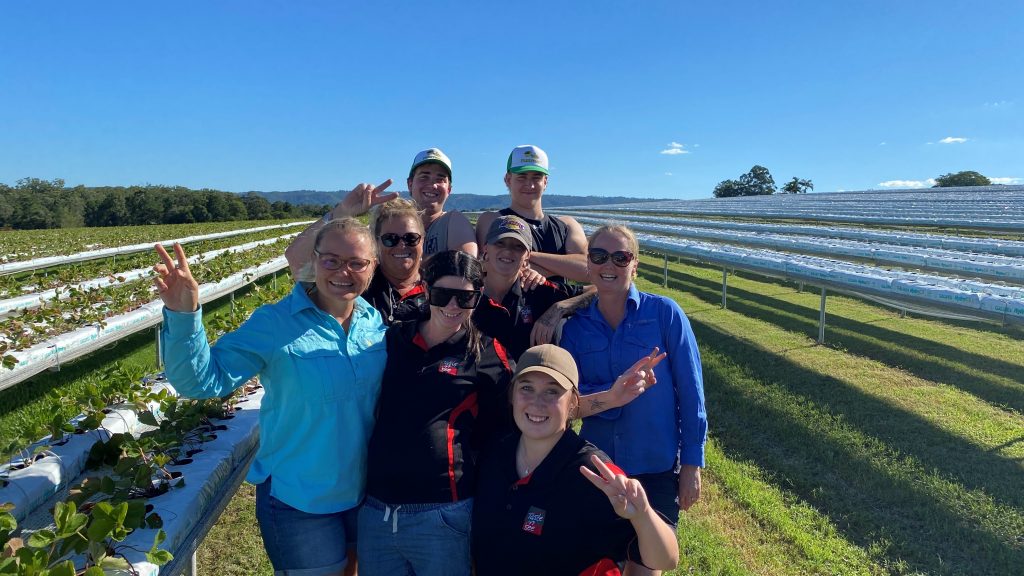 TSL Family Farms, which supplies the brand Taste 'N See' to Coles Supermarkets, is also involved in the promotion.
It essentially started 42 years ago via Merv and Marilyn Schiffke, who started with 3000 plants, before expanding at Bellmere.
Merv's three daughters Sam, Laura and Tracey took over the business three years ago.
The Shiffke family and their friends, the Stothart family, run the farm side by side.
"Our families have worked together for so long that we just see it as a single business," Laura said.
Three generations of family are active on the farm, alongside the workers.
"Our workers are so important to us," she said.
"We know that without every individual that contributes their energy to our business we simply could not exist.
"And we like to reward our team with fun social activities like pizza nights and barbecues. It helps get everyone through the really busy times."
Half of the available land is given over to tabletop production, where strawberry plants are grown in coir substrate bags on a steel frame raised at about table height and fed via a sophisticated fertigation system design for efficiency and yield optimisation.
There are ergonomic benefits of workers being able to operate at table height.
More information on the promotion at www.qldstrawberries.com.au
Promotion details
Workers who register at the entry portal and then go on to work on a participating farm earn entry points for each week they work, with loyalty bonuses on top for staying with a single farm for long periods
The entry points are accumulated, and all converted into draw entries at the end of the promotion
In total an individual can earn 9950 entry points
There will then be a draw to select 10 people at random – and those 10 people will each go on to play the game for the chance to win up to $100,000
Each game has a 1 in 100 chance of winning $100,000 with a consolation prize of $1000 cash per game and there are 10 separate games
In total, there will be 10 x $100,000 cash prizes up for grabs
Participating farms at the Sunshine Coast and surrounds
A&E Coco & Sons, Elimbah
Ashbern Farms, Glass House Mountains
Athea, Wamuran
Berry Obsession, Wamuran
bBowers Berries, Wamuran
Erbachers Fruit and Vegetables, Diddillibah
GG Group, Glass House Mountains
Hammond Farm, Elimbah
Hermes Strawberries, Wamuran
Harrison Farm, Elimbah
Luvaberry Farm, Wamuran
Oasis Berries, Caboolture
Oz Strawberries, Beerwah
Pim's Organics, Glass House Mountains
Pinata Farms, Wamuran
Queensland Berries, Caboolture
Sonnschein Strawberries, Wamuran
Suncoast Harvest, Bells Creek
Sunray Strawberries, Wamuran
Sunrise Strawberries, Chambers Flat
Stothart Family Farms, Bellmere
TSL Family Farms, Bellmere