The Sunshine Coast's flagship Emergency Department is becoming "one big line of patients on stretchers" as it struggles to cope with increasing demand, health sources say.
Sources told sunshinecoastnews.com.au some patients, with paramedics by their sides, were waiting up to four hours for treatment at the $1.8 billion Sunshine Coast University Hospital (SCUH).
The concerns have been backed up by doctors who say the hospital is not keeping pace with the Coast's surging population.
Sunshine Coast Local Medical Association president, Dr Roger Faint, said he was well aware of the pressures facing the Sunshine Coast's EDs, particularly the one at SCUH.
Dr Faint, a Buderim GP, said he had spoken with colleagues within the hospital system and they agreed it was getting much busier with some "shaking their heads at the amount of people coming through".
"This is a relatively new hospital and for a while it was coping, but it has not kept pace with the increase in demand," he said.
"I don't think there is a problem with management and those in the ED are as efficient as they are able to be. They are doing all they can. It's just the sheer weight of numbers," he said.
Nambour General – which SCUH replaced as the region's main health facility – has been helping during peak periods.
It is utilised when the Queensland Ambulance Service (QAS), in consultation with hospital staff, initiates what's known as a "Level 3 escalation''.
This is called when SCUH can't handle any more arrivals, which happened on Monday, March 22, and Wednesday, March 24.
Photos taken on March 24 at 3.30pm show 10 ambulances filling every designated bay outside the ED and another two, plus a QAS supervisor's vehicle, overflowing into a non-designated parking area.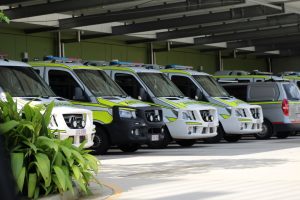 As the State Government engages with health service chiefs, unions and consumer groups to target "ramping'' and rising demand for beds, sources say SCUH is one of the hospitals that requires a rethink and more funding and staff.
A health insider said that the ED was often congested with Mondays becoming "a nightmare''.
They said the inability to swiftly move patients to a hospital bed also meant paramedics were unable to attend other jobs as they were not allowed to leave until a handover had been completed.
"Sometimes the area near the ED is basically one big line of patients on stretchers,'' a source said.
Sunshinecoastnews.com.au understands the Queensland Ambulance Service (QAS) keeps a log of delays, which it records as "lost time''.
On a single day recently, more than 70 hours of "lost time'' was tallied at SCUH, compared with 26 hours at Nambour and four at Gympie. On another weekday, SCUH recorded almost 50 hours of "lost time".
Do you have an ED experience to share? Contact us at news@sunshinecoastnews.com.au
Sunshine Coast Hospital and Health Service (SCHHS) chief operating officer, Karlyn Chettleburgh, said demand for all services had been increasing each year and this year was no exception.
Ms Chettleburgh said EDs were appropriately staffed by highly-trained health professionals, who prided themselves on providing safe, quality care to our community.
She confirmed that the period between 3pm and 4pm on Wednesday, March 24, was a period of high demand and there were delays in QAS processing.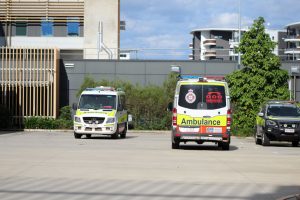 "Patients are treated according to their acuity not in the order they arrive. Patients not requiring urgent care may have to wait for treatment,'' she said.
"I can advise that on Monday (March 22), the median wait time for treatment was 24 minutes. Unfortunately, some patients waited up to 234 minutes for treatment, however these were patients in the lower categories.
"Demand for health services in our region is growing with presentations to Sunshine Coast University Hospital's (SCUH) Emergency Department increasing by approximately eight per cent each year. On average over the past two weeks, 243 patients presented to the SCUH emergency department every day.
"Emergency Departments are extremely busy places and patients are categorised (1 to 5, with 1 being the most urgent) so that they can be seen based on clinical urgency rather than on a first-in, first-served basis.
"While it is acknowledged there is still room for improvement, there are several actions underway to address this.
Do you have an opinion to share? Submit a Letter to the Editor with your name and suburb at Sunshine Coast News via: news@sunshinecoastnews.com.au
"SCHHS has a Patient Access and Coordination Hub (PACH) which is a command centre to manage patient flow across the SCHHS region. Its aim is to help manage and identify any surges in demand and/or delays in care so we can take action to rectify. PACH uses real-time data to monitor and coordinate patient arrivals, admissions and departures."
Ms Chettleburgh said that during periods of peak demand, the QAS and SCHHS Patient Access Coordination Hub worked together to dynamically manage demand for safe care, patients going to the right hospital first time and to reduce the likelihood of QAS delays.
"There are four Emergency Departments within Sunshine Coast Hospital and Health Service (Sunshine Coast University, Gympie, Nambour and Maleny hospitals) all of which play a role in providing emergency care for our community. Patients coming by ambulance are transported to the most clinically appropriate emergency department that is closest to them," she said.
Dr Faint said that any solution to the ED overload would require more funding and perhaps upgrading Nambour Hospital again, or increasing capacity at Caloundra.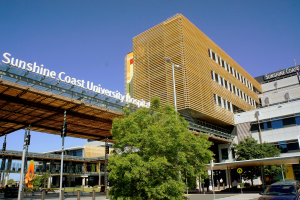 "The Coast is growing far more rapidly than most thought it would. New developments and COVID have inspired an exit from the city and there are so many people coming here … and it's not going to stop," he said.
"Governments often play catch-up, whether it's roads or hospitals. It's always the same story. They won't want to spend money, but there's no other option."
Dr Faint said he was aware paramedics faced lengthy waits in EDs, but this was not something hospitals really cared about and their presence – and help – was actually "quite convenient".
Help keep independent and fair Sunshine Coast news coming by subscribing to our free daily news feed. All it requires is your name and email. See SUBSCRIBE at the top of this article 
Both the health service and QAS say that adding to the pressure on EDs is the number of people who call for an ambulance, or present at an ED, with medical issues that could be handled by a trip to a GP.
Health Minister Yvette D'Ath met with health service chief executives recently to discuss concerns about delays in people accessing hospitals.
"We are getting on with addressing this issue, we're meeting with these key people and I look forward to listening to them and their contribution about what else we can be doing," she said during Question Time.
Ms D'Ath said ramping, where patients were cared for by paramedics until beds became available, was on the rise.
More than 1.39 million people presented at Queensland hospital Emergency Departments between July 1, 2020, and January 31, 2021 – a 12 per cent increase over the previous period.