It wasn't April Fool's Day, so that wasn't it, but there was an overt wink and nod at the launch of the state advertising campaign.
All smartly packaged up for Youtube and social media, the South Australian domestic travel campaign is sharp, beautifully filmed and crisply presented – inviting visitors to "go down south, with your mouth".
With subtle double entrendres galore, it features sweeping coastal and vineyard footage, wine sliding provocatively into glasses, crackling open fires and lively wildlife.
It even has a professional logo. But local SA tourism authorities say they know nothing about it.
"It is so not us," the state's tourism commission responded, probably as they spat out their coffee and reached for the phones.
How hilarious! It seems a big leap from the 'where the bloody hell are you', the campaign launched internationally that offended other nations and had to be ditched, but indicates how our lines of acceptability have shifted.
Do you have an opinion to share? Submit a Letter to the Editor with your name and suburb at Sunshine Coast News via: news@sunshinecoastnews.com.au
It looks as if the SA campaign is from Queenslanders Adam Blackburn and Blaze Tripp, who are the people behind the CU in the NT campaign – the very cheeky campaign which the NT government have banned in promotional material, but which so many of us find daringly amusing.
The creators also have many tongue-in-cheek campaigns for online merchandise.
Let the authorities be sensitive, I say – we need some regulation to stop the crass and seriously offensive ads finding their way onto TV and radio – but let us blush and have a little titter at something clever and slick such as SA's pitch for our tourism dollars.
These 'wink and nod' ads are not the lip-licking, provocative sexualised ads such as those that get Honey Birdette repeatedly into trouble. They are the kind that require a bit of reading between the lines.
How much do we Aussies love a clever ad? We adore them, almost as much as we love a mischievous renegade and a cheeky rebel.
We remember them more than song lyrics and certainly more than movie lines.
Some slogans are sharper in my consciousness than essential details of big events in my life.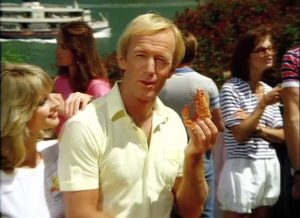 Paul Hogan audaciously asked foreigners to "come and say g'day" and the US went crazy for us in 1984. We all felt for likeable, pudgy Norm in the Life. Be in It campaigns. Qantas had us all calling Australia home in song even if we weren't Peter Allen fans, just as we could sing the Slip Slop Slap jingle in our sleep.
We all recall 'don't chop the dinosaur, Daddy!', Rhonda and Ketut's budding romance and that phlegmatic elderly woman in the ad for Smarter White milk. I still say Not Happy, Jan! on occasion, and don't even have a copy of the Yellow Pages anymore.
Perhaps a good, slick, slightly cheeky ad is what Queensland needs to get the attention is desires about being Good To Go. But it seems unlikely the current crop of politicians and message controllers would go for it.
So maybe we should just sit back, marvel at the audacity and cleverness of those creative souls who conjure something that simply, joyfully makes us smile.
Jane Stephens is a USC journalism lecturer, media commentator and writer.