From trackless trams to battery-powered buses, the Sunshine Coast community will soon have its say on a preferred public transport system of the future.
"Hundred of pages" of detailed analysis of the options for a mass transit system are on track to be released for public consultation, Sunshine Coast Council has confirmed.
Residents will soon be able to read about and give feedback on potential choices ranging from dedicated bus lanes to wireless light rail.
The council's 'Options Analysis' paper is the second phase towards producing a detailed business case after the first phase – a strategic overview – was completed in 2019.
The council is pushing for a mass transit system from the Maroochydore CBD to the Sunshine Coast University Hospital (SCUH) as its priority transport project for the region, with the potential to expand to Caloundra and inland.
The Sunshine Coast Mass Transit Project is considered more important than other ideas like passenger rail from Beerwah to the coastal strip (along the CAMCOS corridor) because it aims to improve traffic and lifestyle in the busiest parts of the Coast where most people live.
However the proposed project is already receiving some push back in the community from people who believe the council is pursuing light rail and who are concerned about becoming the Gold Coast.
The 13km first stage route, from Maroochydore to Kawana, is expected to become even busier as the population swells from 320,000 to 518,000 in the next 20 years, clogging up Nicklin Way and creating traffic chaos.
The council estimates this traffic congestion would cost about $1.4 billion a year.
Sunshine Coast Council has proposed a fast-moving form of public transport that draws masses of people out of their cars and cuts travel times as the way of the future.
Currently only three per cent of Sunshine Coast people use public transport and 85 per cent drive private cars.
Sunshine Coast Council urban growth program director James Coutts told sunshinecoastnews.com.au the Options Analysis report would be released in the next few weeks.
The options that have been explored include:
Quality bus corridor: high-frequency bus service running in dedicated lanes along the kerbside
Bus Rapid Transit: 25m-long battery-powered, rubber-tyre vehicles in a dedicated busway corridor, mostly in the centre of the road
Light Rail Transit: 45m-long rail vehicles on a dedicated trackway, mostly in the centre of the road
Trackless tram: 32m-long battery powered, rubber-tyre and multi-axle guided vehicles in a dedicated corridor, mostly in the centre of the road
WLRT: Wire-free light rail system identical to light rail but minus the overhead wires, with on-board batteries and charging equipment at select stations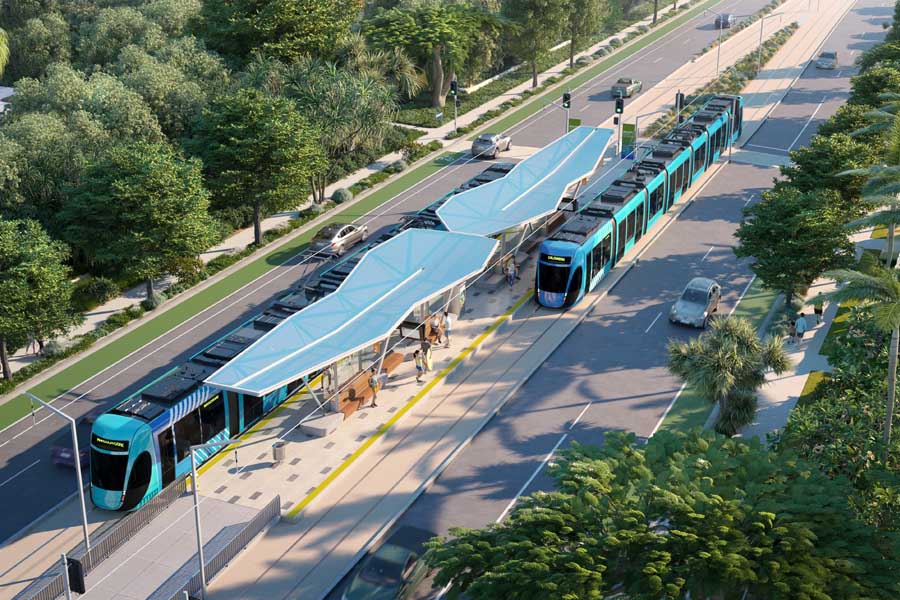 The report also looks at cheaper alternatives to upgrade the existing public bus network and operations such as:
Enhancing new and existing routes with higher frequency, more direct routes and better connections
Upgrading bus infrastructure such as better shelters, adding sections of bus priority lanes and park 'n' ride facilities
Mr Coutts said there was a "perception" that the Sunshine Coast Council was pushing for light rail as its preferred option but that was not the case.
"Two to three years ago everyone (in governments) was fixated on light rail but now we have battery-powered buses and other options that have the capacity to carry people reliably that have emerged as serious propositions," Mr Coutts said.
"Technology has given us a bigger suite of options and we are presenting all those. We haven't selected one option."
Do you have an opinion to share? Submit a Letter to the Editor with your name and suburb at Sunshine Coast News via: news@sunshinecoastnews.com.au
For example, advances in battery technology meant a light rail system did not need to have overhead wires and the rail vehicles could be recharged at charging stations or even while on-the-go.
Trackless trams were another option developed in Europe and China which gave the fast and smooth ride of a tram. They have rubber tyres which run on the road and do not require overhead wires.
Mr Coutts said the paper did not rule out any ideas but examined a range of transport options for their characteristics, dimensions, carrying capacity, power, battery charging and costs among other details.
He said the cost of a mass transit system could range from $300 million for a quality bus corridor to $1.5 billion for light rail.
It would be funded between the State and Federal Governments and developed and managed by the State Government.
Mr Coutts said it could take another seven years before a new public transport system was operational in 2027 because of timeframes involved in preparing a business case, obtaining funding and developing detailed design.
He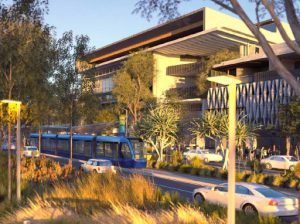 said the biggest transport challenge for the Sunshine Coast in the future was not a fast connection to Brisbane but being able to move quickly and easily within the region, especially between major populated centres.
"Seventy-five per cent of people work on the Sunshine Coast. Less than five per cent work in Brisbane," he said.
"So if we are to provide good public transport as a priority we need to provide that locally.
"We need to look at how we move around the Coast because traffic is becoming a nightmare and we need local solutions for that."
Any mass transit system will need to be supported by more bus services, improved routes and timetables, and better connections to reduce travel times to areas not directly serviced by mass transit, a council spokesperson said.
Mr Coutts said part of the consultation period would be having conversations about "urban consolidation" and a fear that some in the community had expressed about higher density residential development along a mass transit corridor.
The strategic report during phase one stated there was an "urgency" for a mass transit
solution in order to meet infill development targets set by the State Government.
Without a "catalytic project" like this, only 41 per cent of the required 53,700 in-fill dwellings would be built, the report stated.
However, Mr Coutts said higher density living and in-fill development were not caused by a mass transport system.
Like stories that inform, connect and celebrate the Sunshine Coast? So do we. Join an independent local news revolution by subscribing to our free daily news feed: Go to SUBSCRIBE at top of this article to register
"Urban consolidation will happen already; it's happening now but we are not talking about high-rise," he said.
"That will be part of the consultation – if (urban consolidation) occurs, how would you like to see it? Where is it best placed?"
The draft Options Analysis report is due to be released in the next few weeks for a period of public consultation.
Feedback from the community will be included in the draft report and presented to the State Government.
It will then fall upon the State Government to consider the options and decide whether to proceed with a detailed business case on the preferred options within the next two years, exploring more detail such as the route alignment and property acquisition.
The next stage would be funding decisions through Infrastructure Australia around 2024/25.
Anyone interested in staying up-to-date with the Sunshine Coast Mass Transit Project can sign up for alerts here.