Two years after a motorcycle accident left a Nambour-based police officer and mother-of-two with a life-threating brain injury, Ellie Jupp has finally met the helicopter team who helped save her life.
Ellie was riding home from her shift on January 24, 2019, when a four-wheel drive pulled out in front of her at Maroochydore's Dura Street and Bradman Avenue intersection.
"Fortunately, I don't remember it. I never ever want to remember it," Ellie said.
"The Queensland Ambulance Service took me to the Sunshine Coast University Hospital. I was there for a few hours and it was not going well.
"Then LifeFlight came in and gave me a lift down to Royal Brisbane Hospital."
Although she has no recollection of the 20-minute flight, Ellie now knows without the help of the RACQ LifeFlight chopper, the outcome could have been very different.
"My situation was so critical that to get me to Royal Brisbane any other way would not have been a viable, healthy option," she said.
"It has probably saved a lot more damage and it got me the help that I needed quickly."
Like stories that inform, connect and celebrate the Sunshine Coast? So do we. Join an independent local news revolution by subscribing to our free daily news feed: Go to SUBSCRIBE at top of this article to register
Ellie spent two days in a coma and eight days in the intensive care unit as she underwent treatment for two brain bleeds, nerve damage, collapsed lungs and broken bones.
"I was there for a few weeks and then I went to the Princess Alexandra Hospital to the brain injury unit and I have been recovering ever since."
Ellie said the recovery had been long and tiring but she felt fortunate to be where she was today.
"For a brain injury, the initial healing period is two years.
"It sounded like a long time to me at the time, but in brain injury terms it is only just the beginning."
Chronic neuro fatigue has made day-to-day life very difficult for Ellie as her recovery continues.
"I am tired a lot more than I have ever been before.
"The brain injuries will never heal. The brain will just build new pathways around it and that takes a lot of energy.
"I had a lot of (bone) breaks as well and they are a little bit sore and uncomfortable sometimes, but I've healed pretty well.
"It's been an ongoing journey, but I am happy to be alive."
It was a joyous but emotional moment as Ellie recently met with Sunshine Coast LifeFlight pilot Andrew Caton, who was on duty that fateful day.
Andrew said he and his team, which included an aircrewman, doctor and paramedic, had not long begun their day shift when they were called to SCUH to transport Ellie.
"The emergency department at SCUH was getting her ready for transport and our doctor and paramedic took over the packaging of Ellie for the 20-minute flight from rooftop to rooftop," he said.
"That rooftop to rooftop flight is very important because it shortens that period of time the patient is actually away from the hospital care."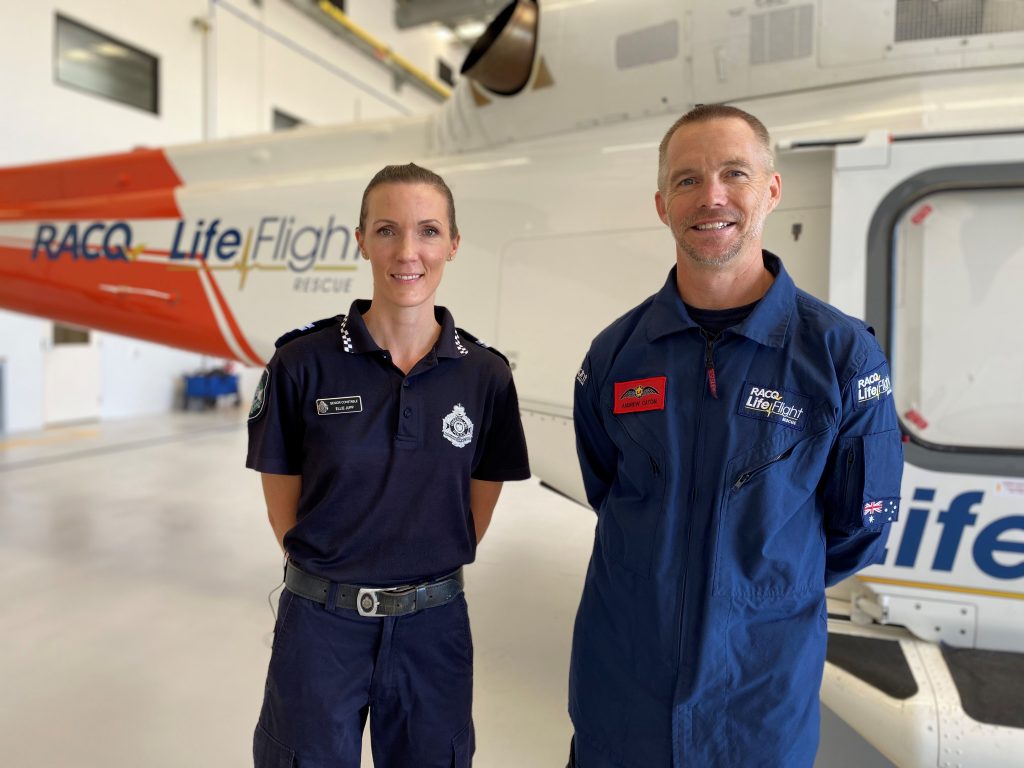 Andrew, who previously flew in the army, has been at the LifeFlight base for 12 years and told sunshinecoastnews.com.au some jobs remained with him forever.
"There are certain jobs that happen every year that most of us do hold on to where you do feel like you are actually making a significant difference to that patient.
"Whether it be in Ellie's case where you are shortening the time that patient is away from hospital to a situation where the only thing that can change the outcome is us in a helicopter."
Ellie will be the guest patient at this year's Sunshine Coast LifeFlight gala dinner on March 27, an opportunity to raise much needed funds to keep the lifesaving choppers in the sky.
"I went to the LifeFlight gala dinner quite a number of years ago, but I never ever thought I would be a patient.
"I'm very honoured. The meaning of LifeFlight is much more significant now."
Ellie has also run her own fundraising campaign and raised more than $2000 in a week through social media for her birthday last year.
She also said aviation was in her blood.
"I'm from a family of pilots. My brother's a pilot, my grandfather was knighted for his services to aviation, my uncle's a pilot, so we are surrounded by aviation.
"There has always been an appreciation for aviation in our family, it's just more so than ever now."
Each RACQ LifeFlight callout is estimated to cost $25,000 and in 2020 alone Sunshine Coast crews completed 502 critical missions, valued at more than $12.5 million. Those airlifts come at no costs to patients.
The top five Sunshine Coast callouts of 2020 included 109 cardiac condition, 102 motor vehicle accidents, 44 neurological conditions, 34 falls (including bushwalking and domestic) and 27 serious illnesses or infections.
The Sunshine Coast LifeFlight gala dinner is sold out, however donations can be made at www.lifeflight.org.au.