Sunshine Coast residents will be called on to shape the region's future after the council voted overwhelmingly on Thursday to start creating a new town plan.
The new planning scheme could take years to finalise, but over that period residents will be asked for their views on everything from housing density to green space and parking.
The council has promised to go above and beyond its statutory duties to engage the public as legislated by the State Government.
It is pushing ahead with devising a fresh planning document at a time when the region is experiencing a sudden surge on top of continued growth over the past decade.
As more people move here, housing pressures are intensifying the urgency to plan for accelerated growth and consider higher-density living.
But at the same time, many locals are likely to push back against changes they fear might erode their cherished lifestyle and environment.
Mayor Mark Jamieson said the current town plan had been in place since 2014 and a new scheme would need to respond to emerging issues such as the COVID-19 pandemic, climate change and new technologies.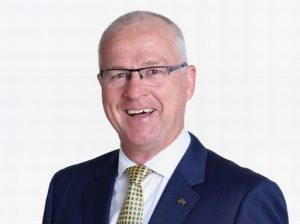 "A lot can change in 10 years, but one thing that remains constant is the importance of maintaining our region's identity, character and lifestyle," Mayor Jamieson (pictured) said.
"We have seen our Sunshine Coast transform from a collection of small towns to a connected healthy, smart, creative region, yet we've still managed to retain a sense of a community of communities.
"The planning scheme is, and will continue to be, the key tool to assist council in responding to growth management challenges."
We can't stop the tide
Cr Jamieson said the council had to plan for more and more people moving to the Sunshine Coast to share our enviable lifestyle.
"Here on the Sunshine Coast, we've been experiencing growth for some decades now – it's not something new," he said.
"We cannot escape the fact that people move to the Coast to enjoy our laid-back lifestyle, community spirit and of course, our spectacular beaches and hinterland.
Cr Winston Johnston told sunshinecoast.com.au people often asked him why we could not stop hordes of people flooding in but he said it was not an option to "shut the gate".
"The reality is there is a tide of people who want to live here," Cr Johnston told Thursday's meeting.
"We can control that tide with our town plan."
Get the day's top local stories direct to your inbox — subscribe for our FREE daily news bulletin at the top of this article
The state government has set a planning target for the Sunshine Coast to house 500,000 residents by the year 2041.
At Thursday's meeting it was revealed that the top end of that projection could be 602,000 people if every block that could be developed was utilised, however that was unlikely to ever be reached.
A more realistic figure was 20 to 30 per cent below that level of development.
Cr Johnston warned that putting a cap on population growth could force up property prices even further.
Build up, not out
One of the most contentious aspects of the next town plan is likely to be a push to increase development on existing available land, known as infill development, rather than bulldozing new greenfield sites.
Infill development, also known as consolidation, includes knocking down old houses to build higher density apartments and townhomes, adding second dwellings, or building upwards on spare blocks.
Thursday's meeting heard that although subsequent town plans have been "gradually amping up" infill development, the trend was still to expand ever further on the urban fringes in major estates.
Cr Joe Natoli, whose division encompasses built up areas like Mooloolaba, Maroochydore and Alexandra Headland spoke at length about his concerns about high-density living in areas where people cherished their standard-sized blocks.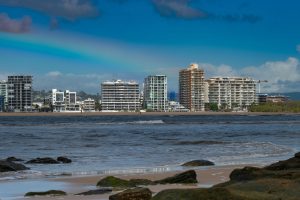 Cr Natoli said it was unfair for residents to watch neighbouring houses be replaced with multi-storey apartments butting up against their fences.
He questioned why that style of housing could not be built on greenfield sites.
As Sunshine Coast News has previously reported, the State Government's SEQ Regional Plan 2017 sets out a target of 62 per cent infill development on the Sunshine Coast by 2041 (53,700 dwellings) and 38 per cent greenfield (33,700 dwellings).
Cr Natoli questioned whether the council could "push back" against these numbers. He was told that "as a general rule" town plans had to be aligned with the SEQ Regional Plan.
For many of the other councillors,  Thursday's meeting was too early to discuss housing density because the vote was only focused on whether to start a new town plan.
Consultation is key
It's only been a week since council revealed it was due to start thinking about a new town plan but already councillors have been hearing from concerned residents.
Councillor Maria Suarez told Thursday's meeting she was aware of some unsureness in the community about council's commitment to listen to the people.
Cr Suarez was one of a number of councillors who placed great emphasis on the need to head off misinformation and ensure people were "educated" about what it meant to draw up a new town plan.
One of the first misconceptions already circulating was that the council was already signing off on a revamped planning scheme.
In fact, council's next step is to undertake background planning before starting the formal plan-making process which typically takes several years.
It will require input from across the organisation and external stakeholders, including the community, development industry and State Government over the coming years and is intended to be in place by 2024.
Council has already published a brief 'Community Engagement Approach', the first stage of which will be letting people know where they can find information, subscribe for updates and attend face-to-face activities.
The council says it will "go beyond the requirements legislated under the Queensland Planning Framework".
Early on, a Community Reference Group will be formed to provide input and help guide the consultation process.
There will be various phases of consultation, starting with a preliminary feedback stage once council has released its broad objectives.
Some planning drafting will be followed by Formal Public Consultation on the content of the proposed planning scheme.
Submissions from residents will be considered and reported on.
Visit council's website to register your interest in the New Sunshine Coast Planning Scheme project to be directly informed about project updates and future consultation activities.