La Nina has delivered buckets of rain in recent months, and now we are entering the time of year when, historically, conversations turned to cyclone season.
Most of the meanest tropical cyclones to hit the Sunshine Coast have arrived in February, bringing teeming rain and powerful winds to flood fields, homes and streets, and to strip sand from beaches and whip up walls of ocean foam.
Although we haven't experienced a damaging direct hit for years, "cyclone season" regularly threatened the local landscape for two decades from the mid-1950s.
There were others before and after that period – as well as regular annual attacks by king tides, high winds and torrential rain to strip beaches back to coffee rock – but cyclone season had some major contributors.
In early February 1972, two tropical cyclones hit within a week of each other.
Cyclone Wendy started her attack on the beaches on February 7, and four days later, Daisy backed up with heavy rain, king tides and high winds to cause widespread flooding, and property damage, while biting into sand dunes and washing away sand.
Cyclone Pam, a large intense cyclone, passed 500km east of the Coast, from February 3-6, 1974, but still managed to send a storm surge to batter beaches with huge waves, floods and gales.
Cyclone Wanda, which crossed the coast near Maryborough at the end of January 1974, was more famous for flooding Brisbane than for the 50 knot winds she hurled down the coast from Tewantin to Caloundra.
Do you have a cyclone or storm story to share? Let us know via news@sunshinecoastnews.com.au
On January 29, 1967, Cyclone Dinah brought a storm surge of 1.5m that left water knee-deep in Hastings St and inundated Bli Bli cane farms with salt water.
On the ocean side of Bribie Island, two huge concrete World War II gun emplacements were undermined by the sea and shifted about 2m.
At the time, Dinah was considered a 1-in-100 year event and credited with generating the largest waves seen in the previous century.
For Sunshine Coast holidaymakers, the greatest blow was on New Year's Day, 1963, when camping grounds that lined the beachfront from Cotton Tree to Mooloolaba were decimated by Cyclone Annie.
A Category 2 cyclone, her destructive power was felt west to the Blackall Range.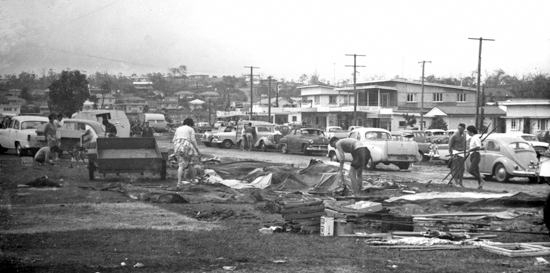 Crossing the coast near Maroochydore in the early hours of January 1, she gave little warning to the campers and flattened their tent city.
Canvas was shredded, caravans overturned and cars slammed by torrential rain, followed by ferocious winds that reached almost 150km/h.
It was particularly nasty in 1954, when on February 19, an unnamed cyclone was reported as the "worst known blow in 69 years". It lasted 18 hours and even though it saved its worst for the Gold and Tweed coasts, it caused havoc on the Sunshine Coast.
Buderim reportedly came through the cyclone badly battered and bruised. A total of 832 points of rain fell in 48 hours.
"In the opinion of one resident, who has lived on the mountain for nearly 69 years, it was the worst cyclonic blow that Buderim has suffered," it was reported. "Several houses were wholly or partly unroofed, and several sheets of iron were torn off the
School of Arts roof.  Countless sheds were destroyed.
"The banana plantations have suffered heavily, many of them looking as if a bulldozer had been through them."
Roads were blocked by fallen trees and "telephone lines are broken everywhere, and poles are leaning at all angles."
Power and communication was cut for days.
Kenilworth district was isolated.
"Everywhere great trees that have stood many a violent storm were uprooted and others were stripped of their branches. A bull was killed by a falling tree."
In Maleny, buildings, crops and cattle were lost and "a 2000-gallon tank, almost
full of water, was moved six inches on its stand".
The bus service couldn't get through to Landsborough.
Former shire chairman Fred Murray wrote in his memoirs that he witnessed "huge swells breaking over the higher dunes and saltwater rolling back west of the coastal highway" at what is now Kawana, south to Warana.
"If residents had seen the huge seas of those days they would have nightmares every time a cyclone comes down the Coast," he wrote. "I stood on top of Cathedral Hill behind Mooloolaba and witnessed these huge swells breaking over the dunes and sweeping up to 600 yards inland."
There was further "cyclonic disturbance" in July 1954, when floods and winds reaching 75 miles an hour left a trail of destruction along a 320km stretch of the coast south to the Gold Coast.
Families were evacuated in Nambour and Maroochydore, 50 houses lost their roof in Caloundra and a shop and five houses were unroofed in Nambour.
"Caloundra beaches were littered with wrecked launches and dinghies," it was reported. "At the height of the blow last night, roofing iron swirled through the air and wrapped round telephone poles like cardboard."
February was bringing cyclones long before that, although a far lower population limited the impact.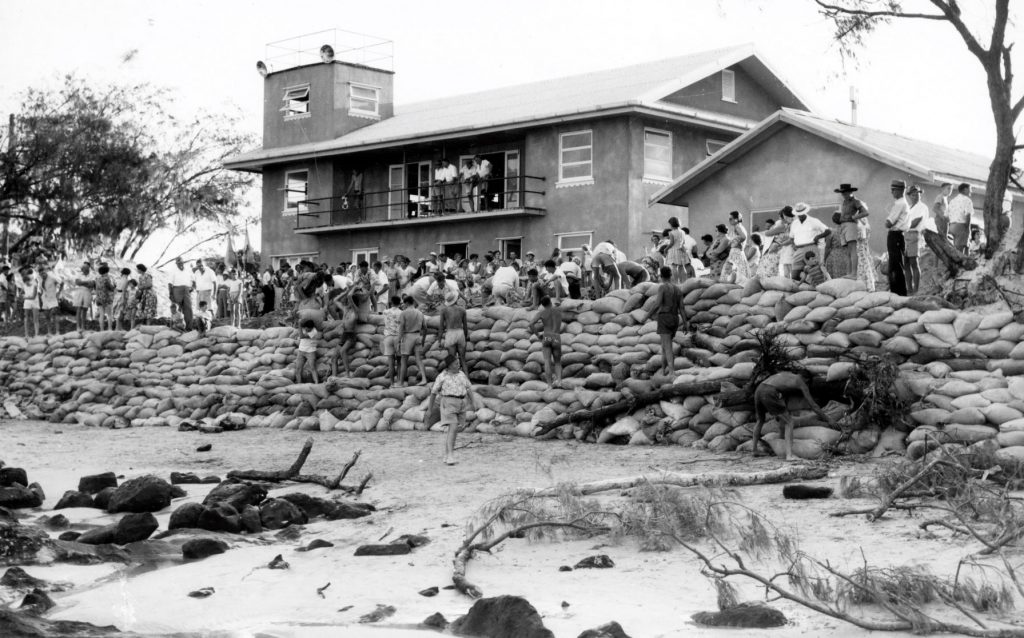 In February 1874, a "furious gale" near Maryborough, caused flooding on the Coast and a year later, the shoreline was again eroded by high seas and floods.
Overnight on February 8, 1887, a severe gale whipped up huge seas that caused flooding and prevented ships reaching Brisbane.
By February 1, 1893, the "furious gale" terminology had been replaced by "a cyclone" crossing the coast near Rockhampton, then moving south to cause major flooding here, with 907mm of rain recorded in the 24 hours to February 3.
The steamer SS Dicky was blown ashore by cyclonic winds and seas the next day, and gave its name to Dicky Beach.
In the first week of February 1931, a cyclone heading down the coast caused floods and beach erosion and it was reported that there had been "heavy falls throughout the district, rain and wind of high velocity, floods and washaways."
Although the beaches have had many an annual scouring since the 1970s, no cyclones have come quite as close or quite as fiercely as they did last century.
In mid-February, 1980, cyclone Ruth petered out off the Central Queensland coast before it could cause any flooding or structural damage here, but not before it created the highest tides in a decade, the heavy swell causing extensive erosion to the foreshores.
A week later, cyclone Simon meandered 100km off the coast and swung to within 30km of Fraser Island before heading off towards New Zealand on February 28. It churned up big seas to further erode the stricken beaches.
Cyclone Beth, which unroofed houses in Maryborough on February 21, 1976, delivered only a heavy swell and waves up to 10m to pound our beaches.
A year later, on February 15, 1981, Cyclone Cliff swept across Fraser Island, sending heavy rain to flood the Sunshine Coast and in February 1990, Cyclone Nancy crossed the coast near Byron Bay causing flooding in low lying areas of the Sunshine Coast.
And on February 21-22, 1992, a tropical low produced record rain and caused disastrous flooding. Petrie Creek broke its banks and homes and businesses were flooded.
It's now a case of wait and see what next month brings.
This flashback is brought to you by veteran Sunshine Coast journalist and history writer Dot Whittington, also the editor of Your Time Magazine.