Starting your morning with a fresh cup of coffee is just a hop, skip and a jump from a popular Sunshine Coast beach.
Lisa and Keith Marshall opened Coolum's Rock Hop Espresso just one week before Christmas after months of research to find the right fit to fulfil their business dreams.
Now they hope their new venture is paying off after a successful holiday period.
While some thought they were "crazy" to open during an economic crisis and in the height of the pre-Christmas madness, Ms Marshall said locals and holidaymakers are loving what they have to offer.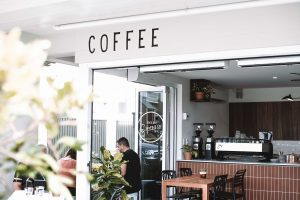 "It has been busy," Ms Marshall said.
"The community has been really, really supportive and we've been amazed how friendly [people have been] and even other cafe owners have come in and welcomed us to the area.
"We have a lot of people moving into the new Allura estate near us and they are saying they are so glad to have a local place right on their doorstep."
Ms Marshall admitted they are riding the wave that comes with owning a small business and are glad they took the risk to remain open across the recent public holidays.
"We're so glad we did it because we had so many people coming in who were so excited to get their daily cup of coffee on Christmas and Boxing Day," Ms Marshall said.
Do you have a story or experience to share? Let us know via news@sunshinecoastnews.com.au
"Like every new business there are days when it's really busy and then you get a quiet day where you get a bit worried, so it's a bit of a roller coaster at the moment.
"We've spoken to lots of people who have done similar things and they say you need to give it three months or so."
Previously owning a business in Sydney before moving to Queensland four years ago, the Marshalls knew they wanted to combine their love of coffee and the outdoors in one.
"It's hard to know when the idea of opening our own cafe actually became a reality," Ms Marshall said.
"We talked about it for a long time, researched the industry, looked at suitable locations, found an amazing mentor in the industry, visited many cafes, and then one day we were actually on our way and the dream became a reality.
"We have young children and value time with them, and so we were looking for a business that would give us the opportunity to work hard at something we love, but balance that out with quality family time."
Plenty of planning
The couple thoroughly researched the industry and the ever-changing health pandemic to ensure they created a business that would provide both staff and customer satisfaction and be flexible to adapt to potential restrictions.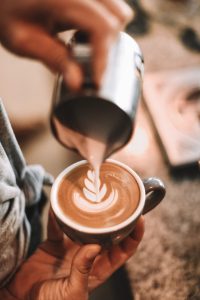 "I think the biggest thing is juggling how many staff you have on to be able to provide people with a good experience," Ms Marshall says.
"We have really tried to put on as many staff as we can so that people aren't having to wait long periods and they can have a good experience without the staff feeling stressed too.
"We also did a lot of research. We went to lots of coffee shops and what we also saw were a lot of cafes are very small in the area they have available for their staff to work in.
"A lot of people that we interviewed, baristas especially, said it was very challenging working in the smaller spaces.
"When we designed the cafe, we specially made it a lot bigger in terms of the area allowed behind the machine.
"Also, given the COVID regulations we knew we needed to have a space that would work if the restrictions came back in."
The cafe name itself was inspired by the Marshall's love of outdoor adventures.
"I am and avid mountain climber and ocean swimmer and Keith a diver and spear fisherman, so our combined love of the ocean and mountains seemed a natural fit with Coolum – where the mountain meets the sea," Ms Marshall says.
"Rock hopping brings back wonderful childhood memories of freedom, adventure and delight, and we wanted to bring this mixture of nature and adventure to the cafe."
Rock Hop Espresso serve Sunshine Beach roasted Entity Coffee as well as treats from several wholesome food providers across the Sunshine Coast.
The cafe is open daily from 5.30am to 12.30pm at 12b Elizabeth Street Coolum Beach.