A former SAS solider who spent time in combat in Afghanistan is now helping other past and present service personnel break down barriers with a unique wellness and upskilling program.
Maritime Warrior has been set up to give new purpose to defence personnel and their families through a series of team building activities all set on or around the water.
Still working in uniform on a part-time basis with the Reserve Forces, Grant Monaghan has spent recent years mentoring and working with soldiers suffering complex medical and mental issues through the Soldier Recovery Centre.
Leading the troops through a range of activities he began seeing significant positive changes in mindset when they were around the water.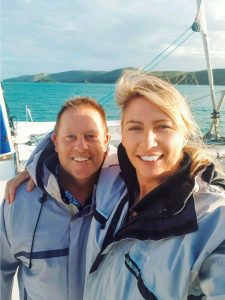 "Taking them on the water, they open up and start communicating," Mr Monaghan said.
"This really planted the seed to create the Maritime Warrior project."
Beginning on the Gold Coast one year ago, Mr Monaghan and his wife Deb relocated the not-for-profit program to Mooloolaba in late 2020.
"We have an ocean-going yacht where we bring veterans and current serving members into Mooloolaba and do a program.
"We go down to the beach and do some grounding and then we bring them on the yacht and give them the reigns and assign tasks so they can start to take ownership of the yacht themselves and the different little responsibilities they have to do."
Activities provide therapy
Mr Monaghan said they did day trips to Caloundra or Mudjimba or overnight trips to Moreton Bay, incorporating team building exercises and water activities such as stand-up paddle boarding and kayaking.
Ms Monaghan said most soldiers they deal with had been impacted mentally or physically from their experiences and for many it could be difficult to leave the house.
Like stories that inform, connect and celebrate the Sunshine Coast? So do we. Join an independent local news revolution by subscribing to our free daily news feed: Go to SUBSCRIBE at top of this article to register.
"They come on not wanting to participate, not engaging and by the time they are on the boat they're just really engaged and by the end of it they don't want to get off it," she said.
So far about 180 people have been through the program, and with Mr Monaghan having lost friends to suicide, knows how important it is to give purpose troops and their families who often sacrifice so much.
"It builds that all important purpose, we upskill them and give them a purpose," he said.
"From a personal perspective, you could say it's for my own therapy as well.
"I want to share those experiences on and educate people."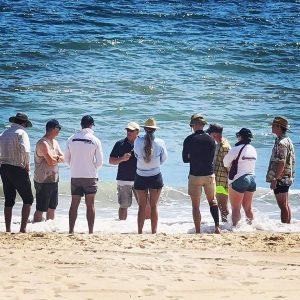 During his career, where he was deployed to more than 20 countries including Afghanistan, Mr Monaghan served in the Navy and as part of the SAS air and water troop and as a sniper.
Through their separate entity Run Amuk Cruises, the Monaghan's run social cruises open to the public or teambuilding cruises for businesses to raise money for the veteran program.
Visit maritimewarrior.org or runamukcruises.com.au